This post may contain Amazon affiliate links. I earn a small commission (at no extra cost to you) when you purchase using one of those links. I only recommend products I use and love. Thanks for supporting Stem and Spoon.
Does your love for Korean cuisine run deep? Good news! Low-carb beef bulgogi is totally possible, and fantastic, too. I had never tried to make beef bulgogi until recently, when I ended up with a whole flank steak in my freezer and zero creative ideas of how to use it. A blogger friend of mine had recently posted her own bulgogi recipe, and I was inspired to put a sugar-free version to the test.
This low-carb beef bulgogi is worth trying, friends. If you're in search of easy keto dinner ideas, I hope you give it a shot.
The beef bulgogi is:
full of flavor
tender and juicy with the help of the marinade
seared and browned perfectly over the stovetop
easy to prepare
sugar-free, gluten-free, and dairy-free
While this Korean-inspired dish is not authentic by any means, it's still delightful and I tried to keep the recipe as close to a traditional bulgogi as possible.
what is beef bulgogi?
Beef bulgogi, sometimes known as Korean BBQ beef, is thinly-sliced and tender pieces of marinated beef, usually chargrilled (hence the term BBQ beef). The marinade is usually a balance of salty and sweet, made with soy sauce, sesame oil, sugar, and loaded with aromatics like ginger and garlic.
the best cut of meat
As I mentioned earlier, I was originally inspired to make this dish when I had a flank steak. It's honestly not the best cut of meat to use, but it works okay as long as you marinade it for a while. Flank steaks are very lean and can be tough if they're not prepared right. They also have less flavor than a cut that's marbled with fat (like ribeye), so a long marinade = a more flavorful flank steak.
I also tried this recipe out with ribeye, which is what is traditionally used for beef bulgogi. You can use ribeye or any other tender cut of beef, like tenderloin or sirloin. The more tender the cut, the less time you need to marinade.
The difference? I'd choose ribeye over flank steak any day, but the flank steak was still great, tender, and had a really nice flavor. My husband actually liked them equally.
the marinade is everything
The marinade is where all the flavor is at, and what's nice about this recipe is you can easily adjust this beef bulgogi recipe to your liking. If you prefer more garlic, add it. A sweeter beef bulgogi? Increase the monk fruit. I used part of a grated pear for sweetness and to tenderize the meat, but you don't really need it. (I figured the sugar content of a third of a grated pear would be minimal enough to keep things low-carb, plus most of it is discarded along with the marinade). Tamari instead of traditional soy sauce makes this more low-carb and gluten-free. And instead of sugar, I used drops of monk fruit extract, an all-natural (one-ingredient) sugar substitute with zero carbs, zero grams of sugar, and zero calories.
Here's what you need for the marinade:
grated pear
minced garlic
fresh, grated ginger (or ground ginger powder)
Chipotle pepper in adobo sauce (these are canned, try to find a brand with little to no sugar, like this one)
adobo sauce (from the canned chiles)
salt and pepper
red pepper flakes
If you're using ribeye or a more tender beef cut to make this low-carb beef bulgogi, you can get away with marinading only 30 minutes, but I'd probably go for an hour. For a tougher cut of meat like flank steak, I'd marinate it at least two hours, only because a leaner cut has less flavor than a fattier cut like ribeye, so you'll really want to taste that marinade.
how to make beef bulgogi
Ready to make low-carb beef bulgogi? It's this simple:
Place the meat in the freezer for about 30 minutes. This is optional, but makes it easier to slice.
Combine all the marinade ingredients in a large bowl, and stir. (I like to taste it before adding the meat, adjusting for flavor if needed).
Slice the meat into thin strips, then cut in half crosswise so they're not too long. Place the meat in the marinade, tossing it in the mixture so all the meat is evenly coated. Marinade for the appropriate time (at least 30 minutes for ribeye and two hours or longer for a leaner cut).
When the meat is done marinading, heat the coconut oil in a large frying pan or skillet over medium/high heat. You want it very hot.
Layer a few paper towels on a plate, and working in sections, place the meat onto the paper towels and pat the meat dry. Transfer the meat to the frying pan and sear each side for 1-2 minutes, or until brown.
Remove and cool the beef bulgogi on a clean plate with clean paper towels to allow some of the oil to drip off. Repeat with the remaining meat.
don't skip this step
I know it's kind of annoying to have to pat dry the meat before you cook it, but please don't skip this step! If you transfer the meat directly to the skillet, all that marinade will cook out and you'll end up with meat boiling in the marinade instead of browning. This is why it's important to dry the marinade off if you want a nice, seared beef bulgogi. I promise, you won't be losing any of that good flavor!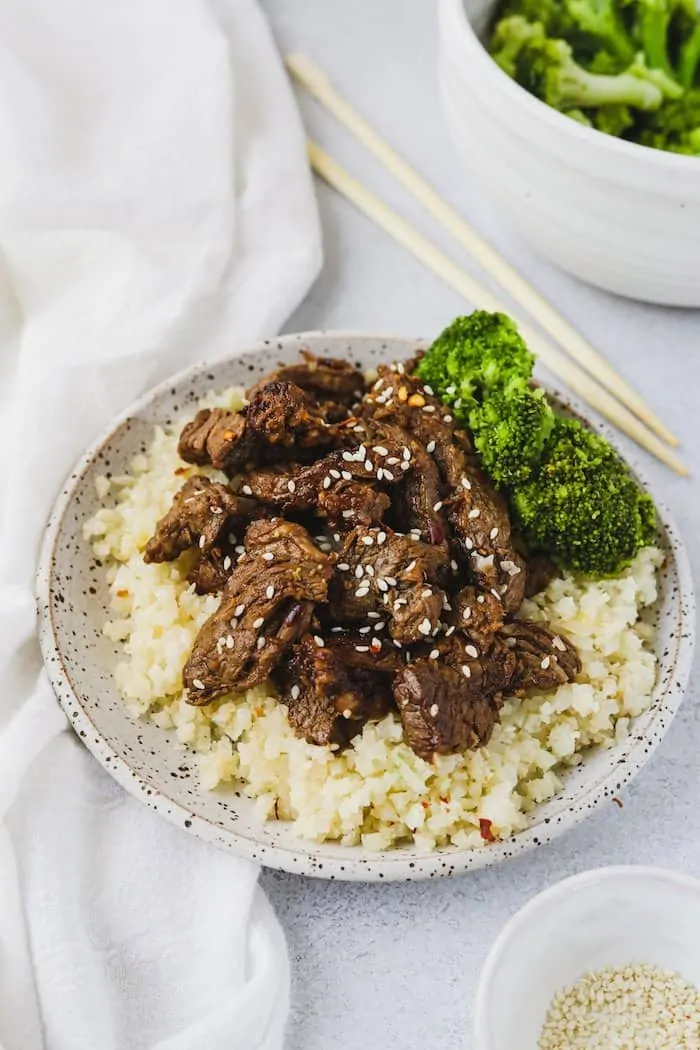 easy keto dinner ideas: beef bulgogi for the win!
This might be one of my favorite keto dinner ideas, mainly because it's so tasty and simple to make! Pair it with some cauliflower rice (YES to frozen cauli rice to make things really simple), a creamy cauliflower mash, or even this flavorful zucchini noodle salad for a fantastic low-carb meal!
Bonus tip: if you're serving this with cauliflower rice, sautéing it in a few spoonfuls of that beef bulgogi marinade will make you happy. 🙂
This low-carb beef bulgogi is soo good, now I want to try it out with chicken or pork, too! Just to vouch for how tasty this beef bulgogi recipe is, I couldn't keep my three-year-old daughter away from the beef to get enough photos. There she was, sneaking bites, chopsticks and all.
you might also love...
This keto coconut cake, the most tender almond flour bundt cake with a sweet coconut glaze.
A shaved Brussels sprouts salad is always a good idea, and with this one, the vegetables might be negotiable but that tasty mustard dill vinaigrette is a must.
Filipino chicken adobo is what I grew up on, and I was thrilled to keto-fy my mama's recipe! Tender chicken thighs cooked in a flavorful marinade, served with garlic green beans.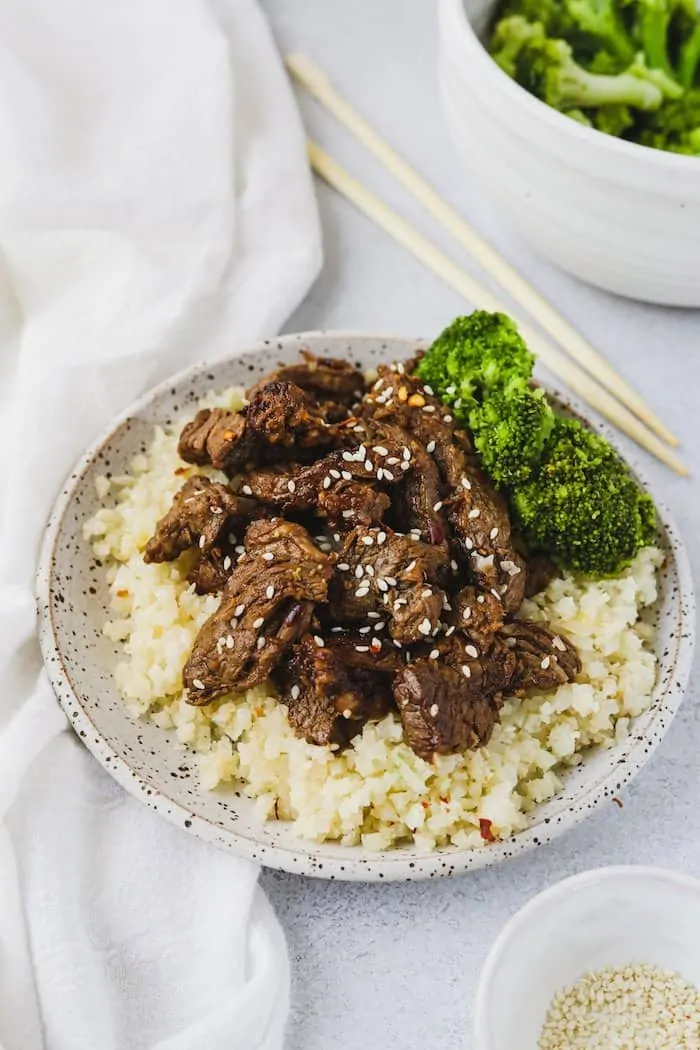 low-carb beef bulgogi
Additional Time:
30 minutes
Total Time:
1 hour
20 minutes
This low-carb beef bulgogi is tender and the perfect balance of flavors. The sugar-free bulgogi marinade is easy to make, and cooking the bulgogi requires less than 30 minutes. Enjoy this delicious, Korean-inspired keto dinner idea!
Ingredients
2 pounds ribeye steak* (or other tender cut - see notes for using flank steak)
⅓ cup tamari 
2 tablespoons sesame oil
⅓ pear, grated (optional)
½ teaspoon monk fruit extract* 
4 large cloves garlic, minced
1 tablespoon fresh ginger, peeled and grated
1 whole chipotle pepper (in adobo sauce)
1 tablespoon adobo sauce
1 tablespoon apple cider vinegar
½ teaspoon ground black pepper
½ teaspoon salt
½ teaspoon red pepper flakes
2 tablespoons coconut oil (for frying)
sesame seeds and chopped scallions (optional toppings)
Instructions
Place the meat in the freezer for about 30 minutes. This short freeze will make it easier to thinly slice the meat.
In a large bowl, combine all of the ingredients, except for the coconut oil, scallions and sesame seeds. (There's no need to cut the chipotle pepper, it can sit in the marinade whole). Stir the marinade and adjust to taste, if needed.
Remove the beef from the freezer and slice it into thin strips, about ½ an inch thick. Cut crosswise, slicing the long strips in half. Place all the meat in the large bowl, tossing it in the marinade until it's evenly coated. Refrigerate for 30 minutes (see notes if using flank steak-it'll need to marinate longer), turning the meat in the marinade about halfway through.
When the meat is done marinating, heat the coconut oil in a skillet over medium-high heat. You want it really hot.
Set a couple of paper towels on a clean plate or chopping board. Place a portion of the marinated meat onto the paper towels, and gently dab the meat to dry it off. (Don't skip this step or your meat won't brown-see notes!)
Transfer the meat to the hot pan/skillet, and cook for about 2 minutes, then flip each piece over to brown the other side. The meat will cook quickly, but you can adjust the cook time based on how you like your steak done. Transfer the cooked bulgogi to another plate with clean paper towels to allow the oil to drip off.
Repeat the process with the remaining meat until all the meat is cooked and has cooled.
Serve with your side of choice, and an optional sprinkle of scallions or sesame seeds on the bulgogi.
Notes
If you're using a leaner cut like flank steak, marinade it longer, at least two hours or more.
I like llinea monk fruit because it's a concentrated, one-ingredient sugar substitute and the liquid drops are ideal for a marinade. However, you can swap in erythritol or granulated monk fruit sweetener. I recommend using about 2 tablespoons.
Drying the meat by dabbing off the marinade with paper towels allows the meat to brown quickly in the skillet. If you skip this step, you'll likely end up with meat boiling in the marinade instead of browning in the oil.
Nutrition Information:
Yield:

5
Serving Size:

1
Amount Per Serving:
Calories:

507
Total Fat:

30.2g
Saturated Fat:

3g
Cholesterol:

0mg
Sodium:

922mg
Carbohydrates:

2.3g
Net Carbohydrates:

2.2g
Fiber:

.1g
Protein:

30g
This nutritional information is approximate and is provided for convenience as a courtesy.