This post may contain Amazon affiliate links. I earn a small commission (at no extra cost to you) when you purchase using one of those links. I only recommend products I use and love. Thanks for supporting Stem and Spoon.
I don't care that summer's nearly over- I'm all about this low-carb red sangria recipe and will be making it year-round! It's a refreshing, light, and fruity beverage that's so simple to make! Swap the traditional sugar for monk fruit, throw in a few low-carb berries, and make it fizzy if you wish. This red sangria recipe has all the fun and flavor without the sugar. Cheers to that!
is wine keto friendly?
Before I get to this keto sangria, first a bit about wine (and alcohol, in general). Here's a snippet from my Simply Low-Carb meal plan that I developed with Noor Struik (a low-carb expert and dietician). We discuss alcohol in relation to low-carb eating:
We believe it's important to look at the bigger picture when it comes to health and overall well-being -taking all dietary factors, as well as physical activity, stress and other lifestyle factors- into account. A healthy, well-balanced diet leaves room for a glass of alcohol per day, in our opinion. We do advise to be mindful about the carb content of alcoholic drinks, and to choose dry wines or spirits.
I will add that some people on a low-carb and keto diet find they have a lower tolerance than they used to, and the effects of alcohol are sometimes felt more quickly.
how much sugar in a bottle of wine?
With that said, how do you know how much sugar is in your wine? Truth is, you don't. Have you ever wondered why wines lack a nutrition label? While every other food product is required by the FDA to display nutritional information, wine is not since it is regulated by a separate federal agency. (It's pretty fascinating, actually-- you can read more here. And maybe you'll end up down a similar rabbit hole on wine ingredient transparency).
Anyways, due to the lack of nutritional info on most bottles of wine, it's safer to judge the sugar content with your taste buds. Dry wines are typically lower in sugar and carbs, as in an average of 3-4 grams of carbohydrates per serving. A drier wine, such as a cabernet, sauvignon blanc, or champagne can usually be enjoyed in moderation on a keto or low-carb diet. And that's great news for red sangria lovers.
how to make red sangria (without sugar!)
So about that sangria. A red sangria is usually made with a Spanish Garnacha or a pinot noir. Both are dry red wines that pair really well with added fruit. Since the wines are already low-carb, it's easy enough to turn a classic red sangria recipe into a keto sangria!
As for the fruit, you'll often find a mix of fruit in sangria- from apples to peaches to fresh berries. I'm not a big wine-soaked-fruit eater, although I know that's sort of the appeal of a red sangria. So if you are, rest assured that this red sangria recipe uses strawberries and raspberries which are lower in carbs and natural sugars. You can have your fruit and eat it too!
ingredients for this red sangria recipe
Here is what you will need for this keto sangria:
a chilled bottle of pinot noir or Garnacha (no need to splurge on this- you can get an inexpensive bottle but be sure it's still enjoyable on its own)
medium orange
small lemon
liquid monk fruit sweetener (I use llinea monk fruit drops)
raspberries
strawberries, sliced
Optional add-ins:
orange flavored sparkling water (like tangerine La Croix) if you prefer a fizzy sangria
a splash of citron vodka or brandy if you want a stronger keto sangria
mix up that keto sangria
Add the citrus: First, cut the orange in half. Slice one half of the orange into thin rounds and squeeze the juice of the other half into the bottom of a pitcher. Add the lemon and orange slices to the pitcher. (I have also done this after pouring the wine in, mainly because I can't decide which way is best or if it even matters). 🙂
Add the wine: Pour the chilled wine into the pitcher. Add the berries and monk fruit sweetener, and stir.
Serve or chill: You can serve the keto sangria immediately over ice, or let it sit for a while to let all the fruity flavors enhance. I prefer the latter but honestly, both are tasty!
For a stronger keto sangria, add a splash of brandy. You can easily turn this into a sparkling red sangria recipe by pouring a bit of orange-flavored soda water into a serving glass before adding the sangria.
red sangria recipe notes
Pure monk fruit has a distinguishable flavor that blends nicely with the fruit and dry wine. It is different than a granulated monk fruit (like Lakanto, which I usually use for baking) since the granulated monk fruit is almost always found as a blend, usually with erythritol.
If you don't have liquid monk fruit, you can swap it out for liquid stevia drops, but I definitely prefer the flavor of monk fruit over stevia. I have not tested this red sangria recipe with granulated monk fruit, but I imagine you could easily make a simple syrup with it and stir it in.
I hope you enjoy this red sangria recipe! It's a tasty keto sangria that's also really versatile-- whether you're looking for a refreshing summertime drink or even a simple holiday sangria.
you might also love...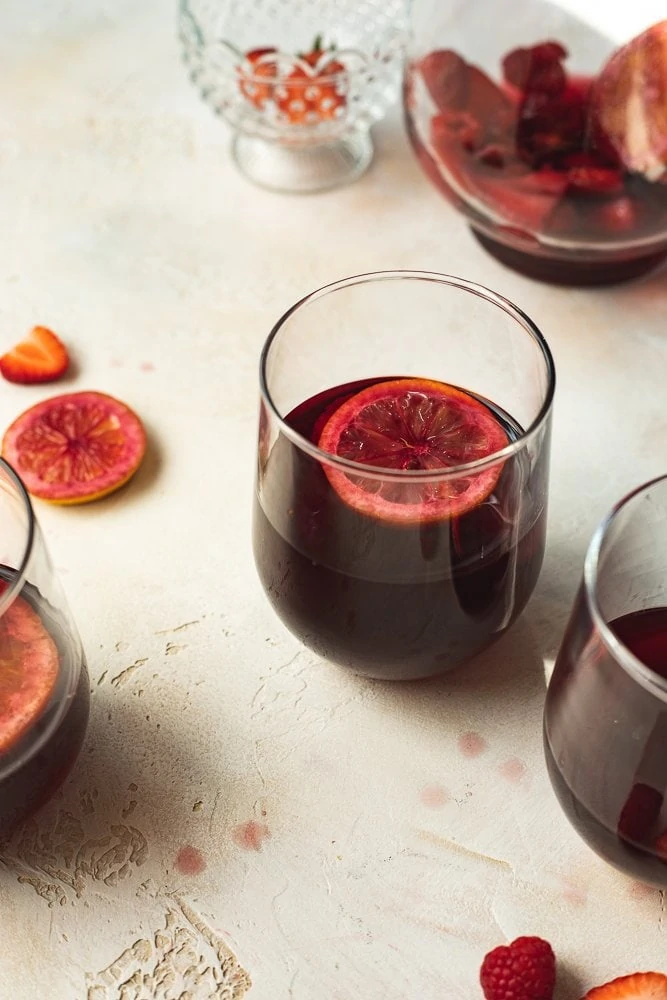 a low-carb red sangria recipe
A fruity and refreshing red sangria recipe without any added sugar! This is a keto sangria that is sweet, smooth, and so simple to make.
Instructions
Slice the orange in half. Squeeze the juice of one half of the orange into the pitcher. Slice the other half of the orange into thin rounds and add them to the pitcher.
Add the lemon rounds to the pitcher, then pour in the chilled wine.
Stir in the monk fruit sweetener, starting with ¼ teaspoon and adding more at the end based on your sweetness preference.
Add the fresh berries and stir.
Serve the sangria immediately over ice or allow it to chill to enhance the fruity flavors.
Notes
for a stronger drink, add ¼-1/2 cup brandy or citron vodka to the pitcher
for a fizzy sangria, pour ¼ cup orange-flavored sparkling water (unsweetened, like La Croix) to each serving glass before adding the red sangria
I prefer liquid monk fruit drops with this drink, but you can substitute stevia drops (to taste) if you wish
Nutrition Information:
Yield:

4
Serving Size:

1
Amount Per Serving:
Calories:

181
Total Fat:

0g
Saturated Fat:

0g
Trans Fat:

0g
Unsaturated Fat:

0g
Cholesterol:

0mg
Sodium:

1mg
Carbohydrates:

4.8g
Net Carbohydrates:

3.8g
Fiber:

1.5g
Sugar:

2.7g
Protein:

.5g
This nutritional information is approximate and is provided for convenience as a courtesy.