This post may contain Amazon affiliate links. I earn a small commission (at no extra cost to you) when you purchase using one of those links. I only recommend products I use and love. Thanks for supporting Stem and Spoon.
This keto ranch dressing recipe is one to save and make ASAP! And then make it again and again because ranch dressing is a salad staple. This homemade ranch dressing also checks all the boxes, including dairy-free, gluten-free, low-carb and keto diet friendly. It's ultra creamy and savory and flavor-packed despite having no added sugar and being entirely dairy optional!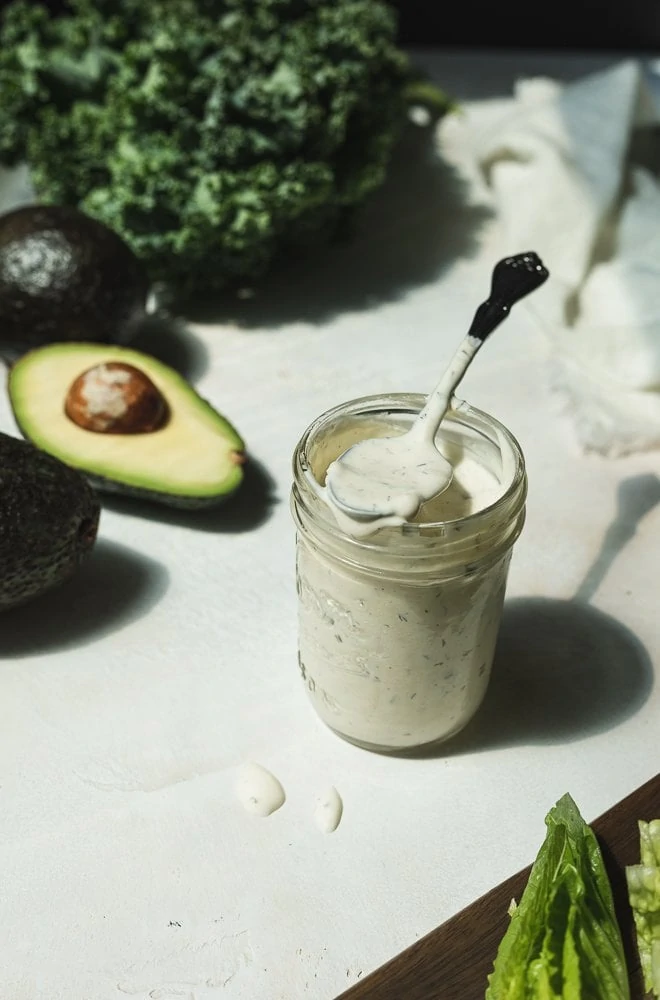 You know those ranch-dressing-on-everything type of people? I've never been one of them. I like ranch dressing okay, and it's definitely delicious on a Cobb salad or as a dipping sauce.
But this homemade keto ranch recipe is one I've been making for a couple of years now and I think I finally understand ranch lovers a bit better. You can drizzle this on everything (chicken wings, salads, veggie tots, etc.) for extra flavor and creamy, zesty goodness.
why this recipe works
This keto ranch dressing recipe is packed with flavor and comes together in just a few minutes! Plus, it's dairy optional and I'm including instructions for both dairy and dairy-free ranch dressing.
It is:
quick and simple
dairy optional, gluten-free and low carb diet friendly
made with real ingredients
really, really difficult to mess up
It's easy to make your own dressing and this one has a flavor profile and nutritional information that is sure to impress!
the ingredients
The base of this keto ranch dressing is mayonnaise, and whichever kind you use will determine how "good for you" it is.
Regular mayo is often made with unhealthy, inflammatory oils (i.e. canola oil, corn oil and vegetable oil). Even products labeled as "olive oil mayo" typically only include a tiny amount of it, mixed in with other inflammatory oils high in omega-6s (always read the ingredients list to check!).
You can always opt for homemade mayo, but if you want a quick, clean product, I like the avocado oil mayo by Chosen Foods. It's available at most grocery stores (I buy it from Costco!) and it's made with 100 percent avocado oil. I've tried a few other similar products but I always come back to this one. 
To make this keto dressing, you need a combination of mayo, a non-dairy milk (see recipe notes for a dairy version), and a keto ranch seasoning which is a basic mix of dried herbs and onion powder, garlic powder, and salt/pepper.
Here's the full ingredient list:
avocado mayo (or mayonnaise of choice)
unsweetened, full-fat coconut milk or macadamia milk
fresh lemon juice
onion powder
garlic powder
smoked paprika (optional)
salt and black pepper
About the keto ranch seasoning: I'm writing this recipe using dried herbs because the keto ranch dressing will keep longer in the fridge. However, you can absolutely use fresh herbs, too, and it's a great way to make use of an herb garden!
the low-carb ranch dressing recipe
Here's the five-minute (no joke!) process:
Mix: In a small bowl, combine all of the ingredients and whisk them together until smooth. Taste and adjust to your preference.
Chill: Serve immediately or chill in the fridge for a bit. The flavors will become a tad more intense if the dressing sits for a while before serving.
Note: You can use a dairy-free milk of choice, like unsweetened almond milk, hemp milk, or even flaxseed milk, without it affecting the flavor too much. I've made this with a variety of different types of non-dairy milks and my favorites are macadamia and/or coconut milk because they're slightly thicker and creamier.
tips for the best results
Adjust the spices and consistency to your own preference. Keep in mind the flavors will slightly intensify.
If you're using fresh herbs, I recommend doubling the amount.
The best way to store this dressing is in an airtight container (a mason jar with a lid is perfect for this) in the refrigerator.
Apple cider vinegar is a good substitute for fresh lemon juice.
This mixes well in a small bowl but you can also use a food processor or blender.
For a dairy version: If you're not concerned about dairy, you can easily adjust this recipe by swapping in heavy cream or sour cream for the non-dairy milk. If using sour cream, thin it down with 1-2 tablespoons of water or until it reaches desired consistency.
For a keto ranch dip: If you're more interested in a keto ranch dressing dip, I recommend using less non-dairy milk OR thick coconut cream OR sour cream (if you're okay with dairy).
frequently asked questions
How long does homemade ranch dressing last?
Homemade ranch dressing will keep well in the fridge for up to two weeks if using dried herbs. If you swap dried herbs for fresh herbs, it should still keep for at least a week, maybe longer. You can judge this yourself by how wilted the herbs look.
Is ranch keto?
For the most part, the popular ranch dressing brands you're used to seeing at the grocery store (like Hidden Valley ranch and other brands) are not made with keto-friendly oils or the carb count is not ideal. But thankfully, making your own ranch dressing that is keto-friendly only takes a handful of ingredients and five minutes, and it's the best ranch dressing you could ask for!
That's it, friends! This low-carb ranch dressing recipe makes a delicious dressing for salads and a wonderfully zesty veggie dip or sandwich spread.
You can go that ranch-and-pizza-route or serve up a side dish of keto ranch dressing with these zucchini tots. I totally get the ranch-on-everything hype, especially when it comes to this clean, keto ranch dressing that packs a good dose of healthy fats and flavor.
I hope you love this low carb dressing! If you try it out, I'd love to know what you think. You can drop a comment or rate it below (please do!) or share on Instagram and tag @stemandspoon.
you might also love...
Easy Keto Ranch Dressing Recipe (Low-Carb, Dairy-Free)
A zesty, creamy, and easy-to-make keto ranch dressing that is flavor-packed! This keto ranch dressing recipe is made with simple, whole ingredients, and is gluten-free and dairy optional.
Ingredients
¾ cup avocado oil mayonnaise (like Chosen Foods)
⅓ cup unsweetened macadamia milk or full-fat coconut milk (canned)
3 teaspoons fresh lemon juice
1 teaspoon dried dill 
1-½ teaspoons freeze-dried chives
1 teaspoon onion powder
½ teaspoon garlic powder
¼ teaspoon smoked paprika (optional)
½ teaspoon salt
ground pepper (to taste)
Instructions
In a small mixing bowl, combine all of the ingredients. Whisk the mixture together until it's smooth and creamy.
Taste and adjust as needed. For a thinner consistency, add a tad more macadamia or coconut milk.
Serve immediately or chill in the refrigerator.
Notes
If you're not concerned about dairy, you can swap out the non-dairy milk for heavy cream or sour cream (thin down the sour cream with a bit of water).
You can use fresh herbs instead of dry herbs but you'll want to double the total amount of herbs.
To make a thicker, keto ranch dressing dip, use sour cream or coconut cream instead of coconut milk.
This ranch dressing will keep well for up to two weeks; slightly less if using fresh herbs.
Nutrition Information:
Yield:

10
Serving Size:

1
Amount Per Serving:
Calories:

153
Total Fat:

17g
Saturated Fat:

2g
Trans Fat:

0g
Cholesterol:

22mg
Sodium:

131mg
Carbohydrates:

0g
Fiber:

0g
Sugar:

0g
Protein:

0g
This nutritional information is approximate and is provided for convenience as a courtesy.