This post may contain Amazon affiliate links. I earn a small commission (at no extra cost to you) when you purchase using one of those links. I only recommend products I use and love. Thanks for supporting Stem and Spoon.
Jump to Recipe
I've tried so many keto brownies recipes in the past couple of years, I've lost track. The consistency always seemed to be off- too dry, too crumbly, not dense enough, etc. But THESE... This keto brownies recipe requires one bowl and exactly 10 ingredients. Plus, it's gluten-free, dairy-free, and can easily be made paleo. The best part- they are REAL brownies, good enough to meet even the highest, sugary, non-keto brownie expectations. Fudgy, chocolate-y, dense, and slightly gooey (because any good brownie must be a tad underdone.)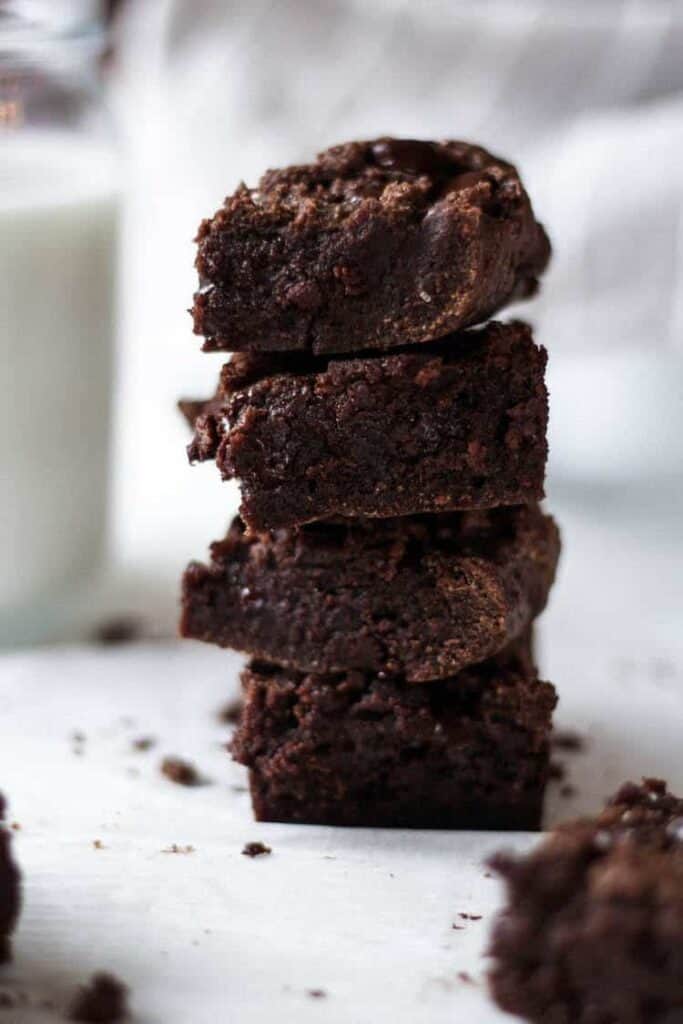 bummer alert: brain cancer thoughts (but they're happy-ish!)
First, besides keto brownies, I have gratitude on my mind. Life is crazy. Life is good. I'm feeling extra thankful lately because we're in this season of hitting milestones and for our family, that's a big deal. When Ian was first diagnosed with brain cancer, life was crazy. And not good. In the first year-and-a-half after his diagnosis, Ian had two brain surgeries, three types of chemo, radiation, two recurrences, ineligibility for a promising clinical trial, and a dumb brain tumor that despite all these efforts, continued to come back and grow. The brain cancer battle is different than other cancers because (and what many people don't realize) brain cancer patients are not only trying to survive, but the disease can also steal their identity, personality, memories, speech, mobility, all the basic BRAIN FUNCTIONS. It's unlike any cancer diagnosis because the fight takes place in the most sophisticated region of the body- the part of the body that defines who you are.
now for the happy part
I know this is all a big bummer and my brain cancer tangent is totally unrelated to this bomb keto brownies recipe (although one could argue keto brownies are necessary in trying times) but here's what I want to share:
Ian just had another stable MRI. Hallelujah. Coming up on a YEAR of MRIs with no change! After that awful first year-and-a-half, this milestone is amazing. Although we have challenges and more tough decisions to make, I will camp right here in this happy moment for a while.
I just turned 33 and celebrated with my family, and my husband was there for it.
My birthday also marked one year since Ian has been on any type of chemotherapy.
In the brain cancer world, when survival is usually measured by months, we're feeling extra blessed to celebrate a year chemo-free and 32 months since Ian's glioblastoma diagnosis. God is good. He has carried us through what feels like the deepest valley, and shown us all the blessings that can come along with it. The big good things and the little good things. Including keto brownies. 😉 We are sooo looking forward to another Christmas together, and celebrating a new year.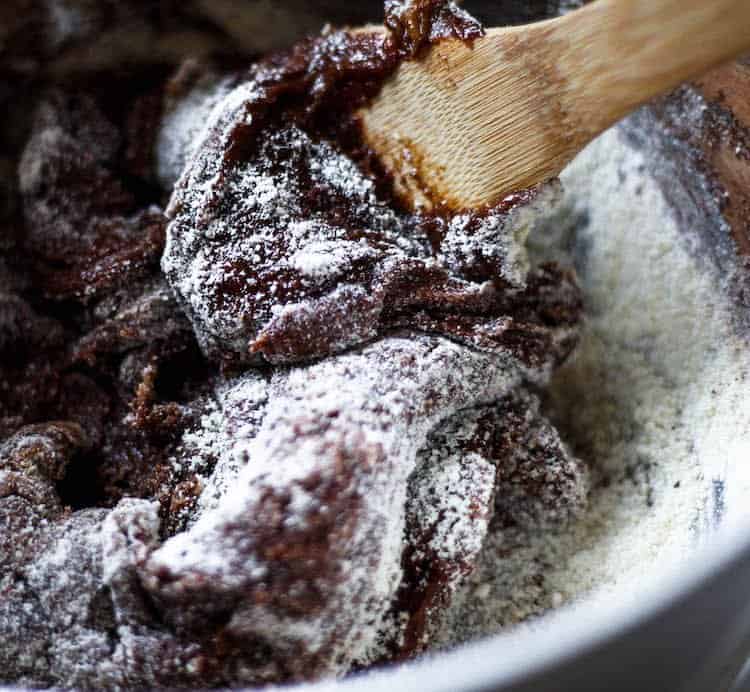 why this keto brownies recipe is THE BEST
So about the brownies. These are keto brownies with coconut flour, which surprises me because I think coconut flour can be hard to work with. The really important ingredient, and what sets this keto brownies recipe apart, is the cup of almond butter. It makes these ever so fudgy and dense, and once you toss in the sugar-free chocolate chips (baking chips made by Lily's and sweetened with stevia), you've reached ultimate #ketobrowniegoals.
A quick note on the batter consistency. When you dump everything into the bowl and stir it up, the batter will be really, really thick and you'll think something is wrong. There's not. Just go with it and work that batter, making sure everything is combined.
I hope you love this keto brownies recipe! I could barely keep my kids off of them long enough to get some photos! We'll be eating these through the holidays and beyond. Fun fact: they're great with some peppermint oil or extract, too! I'm adding these keto brownies (oh, and this BLOG and everyone who cares about our little keto journey!) to the long list of everything else I'm feeling grateful for. 🙂
you might also love...
an easy keto brownies recipe
Course: dessert, snacks
Cuisine: keto, low-carb, paleo, gluten-free, dairy-free
Difficulty: easy
The EASIEST keto brownies recipe, made with almond butter and monkfruit sweetener, for the yummiest, fudgy, dense and chocolate-y keto brownies that are low-carb and sugar-free!
Ingredients
1 cup almond butter

½ cup monkfruit sweetener

3 eggs

1 teaspoon vanilla extract

⅓ cup unsweetened cocoa powder

2 tablespoons coconut flour

1 tablespoon almond flour

½ teaspoon baking soda

½ cup stevia-sweetened chocolate chips (I prefer Lily's baking chips)

sprinkle of sea salt on top
Directions
Preheat the oven to 350°F and grease or line a baking dish with parchment paper (I use an 8 x 6). In a large mixing bowl, combine the almond butter with the monkfruit sweetener, eggs and vanilla. Stir well with a wire whisk.
Add in the cocoa powder, slowly working it in to the almond butter mixture. Add the coconut flour, almond flour and baking soda and use a rubber spatula to combine the batter.
Stir in the stevia-sweetened chocolate chips (or other add-ins like walnuts or coconut!*). Pour the batter into the prepared baking dish and sprinkle the sea salt on top. Bake for 20-25 minutes (I like to leave mine a bit on the underdone side, so the "clean toothpick test" doesn't work if you like them gooey).
Allow the keto brownies to cool for at least 20 minutes in the baking dish before serving (they'll be difficult to cut if they're still warm).
Notes
This recipe works great with extra add-ins like walnuts, pecans, shredded coconut, etc. For keto peppermint brownies, add ½ teaspoon of peppermint extract or a 1-2 drops of peppermint oil.