This post may contain Amazon affiliate links. I earn a small commission (at no extra cost to you) when you purchase using one of those links. I only recommend products I use and love. Thanks for supporting Stem and Spoon.
Sweet, tangy, and irresistible, this keto lemon curd recipe results in sunny goodness in a jar (which, by the way, you will want to eat by the spoonful). It is creamy, rich, and perfect. A satisfyingly sweet-tart balance.
Spread it onto a keto buttermilk biscuit or lemon blueberry scones, serve it on this citrus cake or top a pretty pavlova. Truth: there really is no wrong way to eat lemon curd.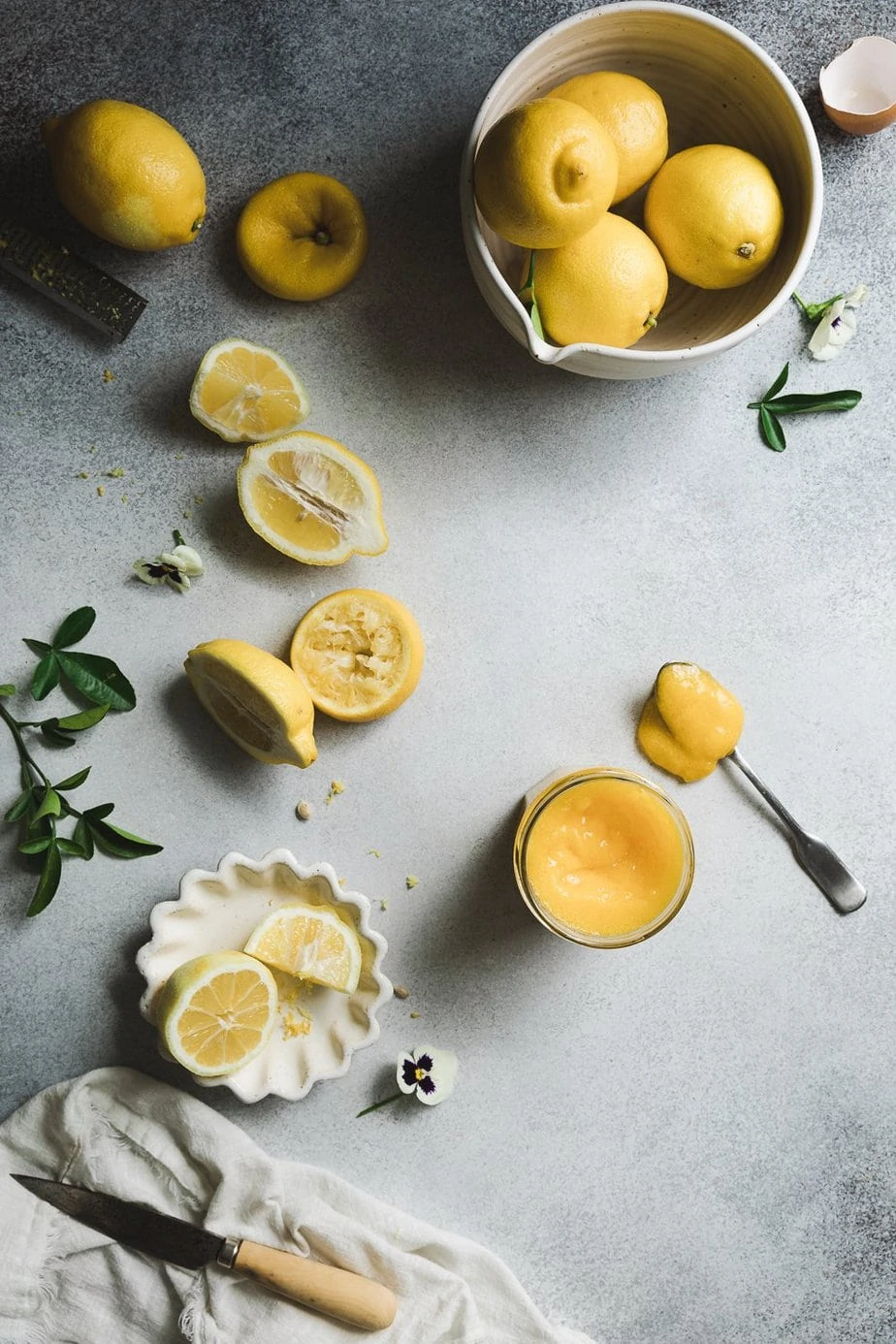 why this recipe works
Here's what I know you'll love about this sugar-free lemon curd recipe:
it is gluten free, low carb and keto diet friendly with only x g net carbs per serving
you can make it the "traditional" way with butter or opt for a dairy-free lemon curd option
it's ready in 15 minutes
there are only six ingredients required
it has a bright lemon flavor and a thick, velvety texture.
Fruit curds, gotta love 'em. I know I do. These cranberry curd bars are what I look forward to during the holidays, and lemon curd is the citrus-y equivalent.
Just like traditional lemon curd, this recipe has so many uses!
Enjoy it as a topping for rich and creamy cheesecake, transforming it into a lemon cheesecake.
Or try it with this keto lemon pound cake or lemon poppy seed muffins. Lemon desserts are in a league of their own if you ask me and there's nothing like lemon on lemon on lemon!
I'm sharing two methods for making a sugar-free and low carb lemon curd. It can be done with or without dairy, and for the latter, olive oil is a surprisingly wonderful alternative.
ingredient list
This easy keto lemon curd recipe uses egg yolks only, and is cooked in a double boiler, a method that helps prevent any egg from scrambling.
If you don't have a double boiler, you can easily make your own by placing a heat-proof bowl on top of a saucepan of boiling water.
This also means there's no need to strain the mixture after cooking, which some lemon curd recipes call for to remove any lumps (usually zest and overcooked egg).
Here's what you'll need for homemade lemon curd:
Fresh lemon juice. I use the juice of about three large fresh lemons.
Lemon zest. Grate it very small- a microplane works best.
Egg yolks. No whole egg required for this recipe. Make sure to save the whites for later use. 
Granulated allulose. My preferred sweetener of choice for this keto lemon curd recipe. Allulose dissolves better than sweeteners containing eyrthritol, which can often crystallize once cooled. It's not as sweet as regular sugar or other 1:1 sugar substitutes, so you'll use a tad more.
Salt. A pinch of salt always adds flavor, even in sweet recipes.
Softened butter or extra virgin olive oil. Traditionally, lemon curd is made with butter. But swapping in olive oil is a dairy-free alternative that also works well.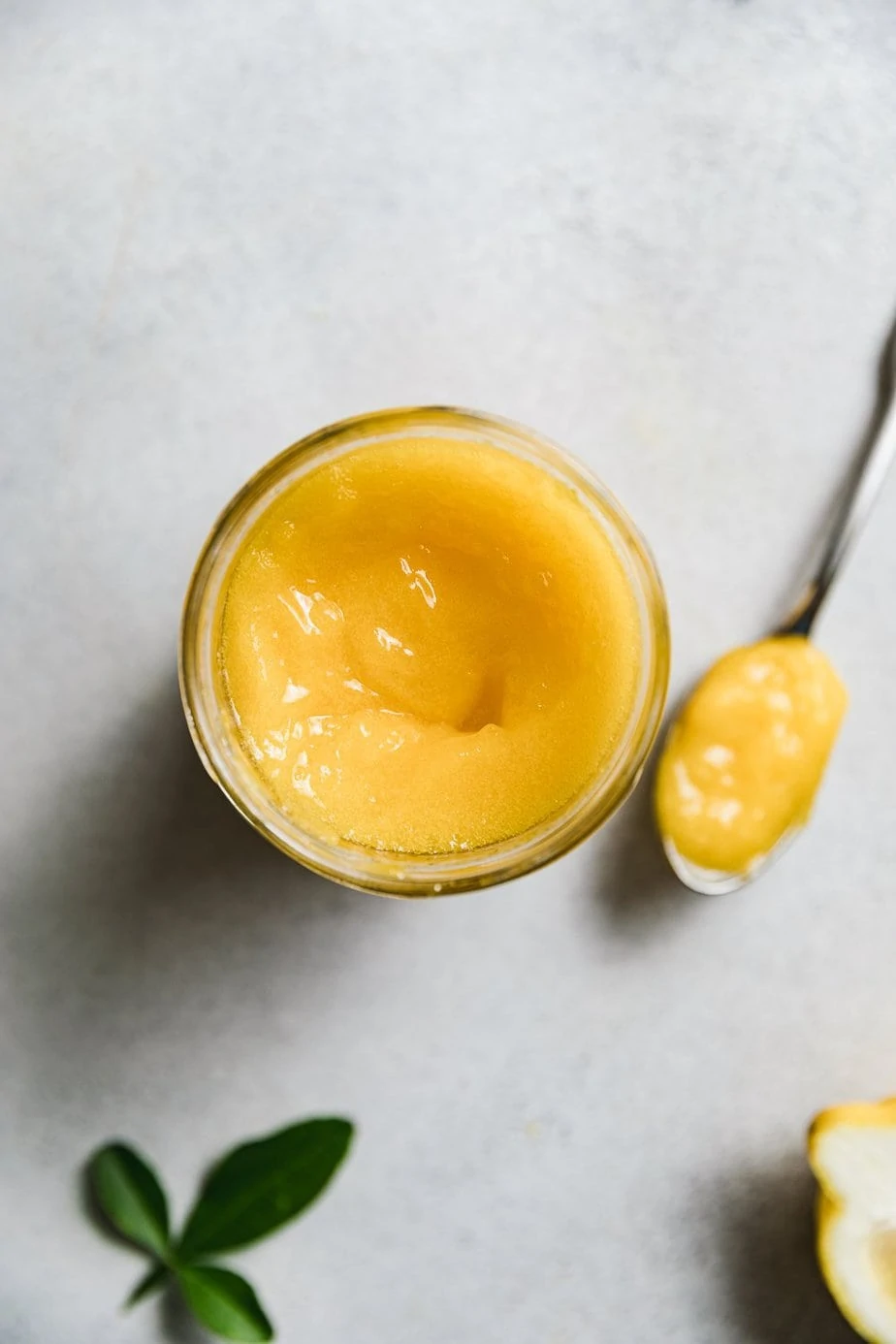 lemon curd with butter vs. dairy-free lemon curd
Let's break down the difference in texture and taste!
Keto lemon curd with butter: It's rich, creamy, and... buttery. Honestly, it's hard to beat that thick texture and buttery flavor that curds are known for.
Keto lemon curd with olive oil: A nice quality, extra virgin olive oil adds a light touch of olive oil flavor that is surprisingly delicious paired with the tangy lemon. It's not over powering and it tastes light and fresh.
Whichever version you go with, the steps are almost identical and both result in a delicious keto lemon curd.
the process
Here's a look at how to make the best keto lemon curd. The process is pretty much identical to classic lemon curd and the main difference is swapping in granulated allulose for sugar.
Check out the full printable recipe card at the bottom of the page for all of the details and ingredient amounts.
Juice and zest! Heat water in a pot to use a double boiler setup (if you don't have one, simply use a glass or metal heat-safe bowl set on top of a medium saucepan of boiling water). Juice the lemons and zest one of them.
Combine and cook. In the bowl or top of your double boiler, whisk together the egg yolks, allulose, lemon juice, zest, and salt. Cook and gently whisk for about 10-12 minutes over medium heat, or until the mixture thickens. It will turn foamy as it cooks and is done when it becomes pale yellow and similar to the consistency of gravy. The curd should cling to the back of a spoon. Note: This process will feel like it's taking a while, but stick with it! The lemon curd will thicken right toward the end.
Stir in the butter/oil. Remove from heat and stir in the softened butter. If using olive oil, drizzle it slowly into the lemon curd while whisking to combine.
Pour and cool. Pour the curd into a heat-safe glass jar and let it cool before storing in the refrigerator covered with a lid.
keto lemon curd recipe video
recipe notes
Allulose is a keto-friendly sweetener that you can find in liquid or granulated form. For this lemon curd recipe, you'll want to use granulated allulose. Keep in mind that it's about 70% as sweet as sugar, which means if you choose to use a different low-carb sweetener of choice, like a granulated monk fruit sweetener blend, you will not need as much (I'd go with about ½ cup). Allulose dissolves well and won't crystallize when the lemon curd cools to room temperature (or colder). This ensures a creamy lemon curd. It also has a clean taste with zero aftertaste, and I'm using it more and more in my baking these days.
If you're making your own double boiler with a pot of water and a heat-safe bowl, be extra careful when removing the bowl from on top of the pan. It will get pretty hot during the cooking process- use a dish towel or oven mitts to quickly lift it up and away from the pot and be mindful of the steam that will release.
If you don't want to use a double boiler setup, you can cook the curd directly in the saucepan over medium-low heat. However, you will have to take the extra step of straining the curd through a fine mesh strainer to remove any lumps of cooked egg and zest. 
how to use keto lemon curd
This is a wonderful recipe with so many uses!  It's the perfect low-carb lemon curd recipe for cake, biscuits, cookies, pancakes, etc.!
Here are a few more ideas: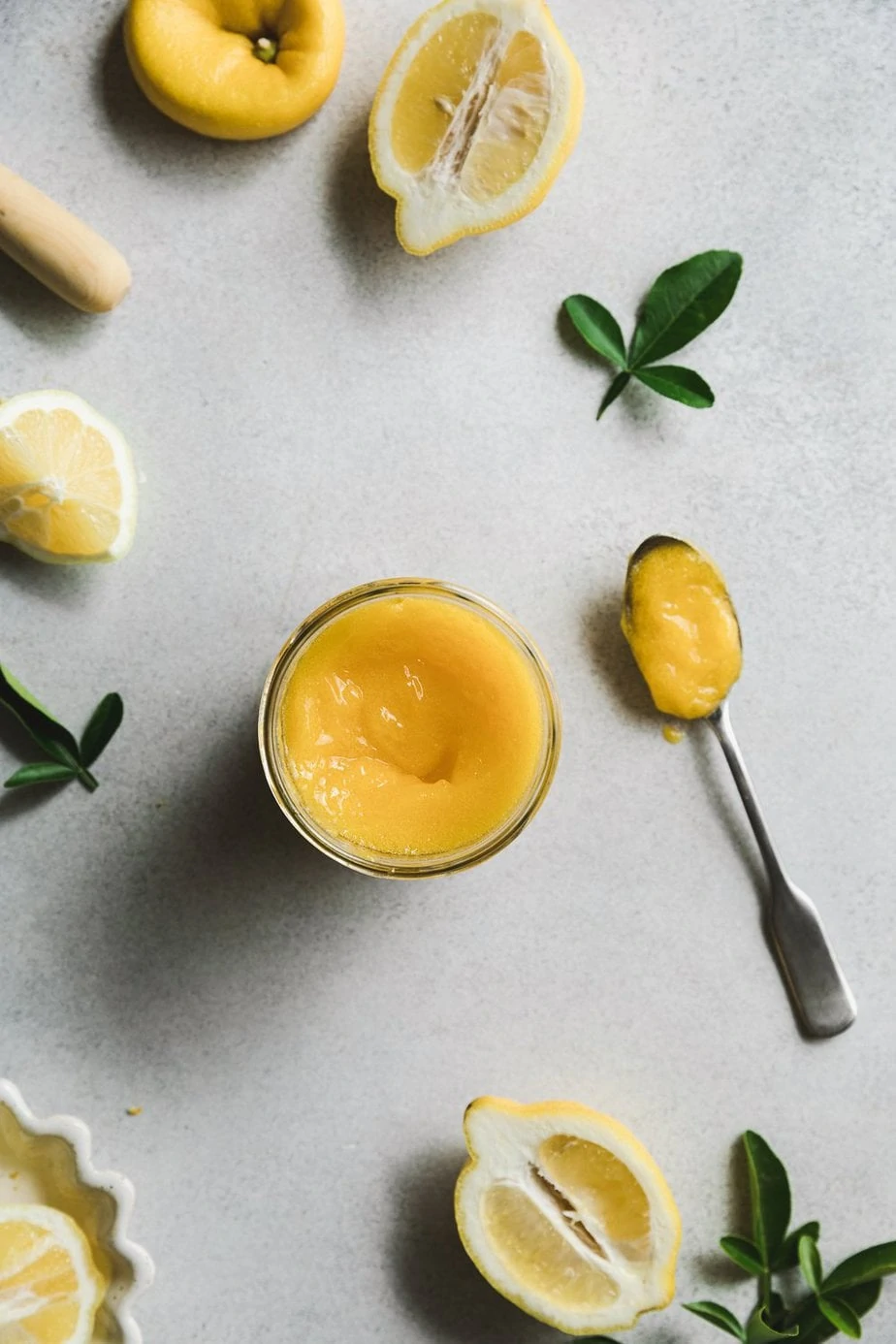 you might also love...
Easy Keto Lemon Curd Recipe (Dairy Optional)
Tangy, creamy, and sweet, this is an easy keto lemon curd recipe that only requires six ingredients and 15 minutes to make! It's sugar-free and also includes a dairy-free option.
Ingredients
5 egg yolks (preferably pasture-raised eggs)
½ cup fresh lemon juice (about 3 large lemons)
¾ cup granulated allulose*
1 tablespoon lemon zest
Pinch of salt
4 tablespoons softened butter (or substitute extra virgin olive oil for dairy-free lemon curd)
Instructions
Heat water in the bottom pot of your double boiler until it comes to a boil. Reduce the temperature to medium.
Place the egg yolks, lemon juice, allulose, lemon zest and salt in the top pot of the double boiler (or in a heat-safe bowl set on top of the pot of boiling water to make your own double boiler).
Whisk the ingredients together and cook the mixture for 10-12 minutes. The liquid will turn slightly frothy, then a more pale yellow color. It will thicken toward the end of the 10 minutes- hang in there and keep whisking the curd gently. It is ready when it is the consistency of gravy or hollandaise sauce.
Carefully remove the top pot (or bowl) from the heat and immediately fold in the softened butter. If using olive oil, drizzle in one tablespoon at a time, whisking it into the mixture to combine.
Pour the lemon curd into a heat-proof glass jar. Allow the curd to cool to room temperature. Store in the refrigerator.
Notes
If the curd doesn't appear to be thickening after 10 minutes, increase the heat and continue whisking another 5 minutes. If using a makeshift double boiler, use oven mitts or a dish towel to lift the bowl off of the pot of water, as the bowl will be hot to the touch.
I prefer granulated allulose for this keto lemon curd recipe because it dissolves well and has a clean aftertaste. If you'd like to use a granulated monk fruit sweetener or erythritol sweetener blend, reduce the amount to ½ cup since it is sweeter than allulose. Keep in mind that erythritol-based sweetener can crystallize when cooled.
Nutrition Information:
Yield:

12
Serving Size:

1
Amount Per Serving:
Calories:

59
Total Fat:

6g
Saturated Fat:

3g
Trans Fat:

0g
Unsaturated Fat:

2g
Cholesterol:

87mg
Sodium:

45mg
Carbohydrates:

1g
Net Carbohydrates:

1g
Fiber:

0g
Sugar:

0g
Protein:

1g
This nutritional information is approximate and is provided for convenience as a courtesy.