This post may contain Amazon affiliate links. I earn a small commission (at no extra cost to you) when you purchase using one of those links. I only recommend products I use and love. Thanks for supporting Stem and Spoon.
I've been fully immersed in this blueberry-muffin-making mission, determined to make a keto blueberry muffin with almond flour that tastes as close to the fluffy, real deal as possible. Tall, light, blueberry muffins with a crumb topping, you know, the kind you'd see at your favorite bakery. While it took a dozen few tries, I'm happy to say these were well worth the effort! Our freezer is stocked, too, and that's always nice.
my inspiration: bakery-style blueberry muffins
You know the bakery-style blueberry muffins that look like perfection? A toasted crumb topping and a fluffy, not-too-sweet batter that carries a juicy blueberry in every bite? It's a requirement of any good blueberry muffin. These keto blueberry muffins are all my muffin goals come to life!
why you should make these muffins
They're not too sweet, they're very filling, and they're an easy, grab-on-the-go type of breakfast that freezes well too.
Plus, these muffins are also:
gluten-free and grain-free
low-carb
dairy-free if you opt for coconut oil instead of butter
tender, but not crumbly
filling but not too dense, as many almond flour muffins tend to be
simple to make
how to make keto blueberry muffins
Want to know what I love about this recipe? 1) most of the ingredients are in your pantry, and 2) it only takes about 10 minutes of prep before you can slide that full muffin tray into the oven for baking.
Here's what you'll need:
superfine almond flour (I either use the Kirkland brand at Costco or Bob's Red Mill)
monk fruit sweetener or erythritol
baking powder (preferably gluten-free and aluminum free)
cardamom (optional, but I love the light flavor of this spice)
grass-fed butter or coconut oil
eggs (I try to use pasture-raised as often as possible)
vanilla extract
fresh blueberries (frozen works too, but they carry some extra moisture)
You'll also need a standard sized muffin tin, muffin liners (I like these parchment ones) and a sheet of aluminum foil, if you plan on making the muffins with the crumb topping (see the full recipe below).
To make the muffins, combine all the dry ingredients in a bowl.
Add the butter (or coconut oil), eggs, coconut milk, and vanilla. Stir the mixture until it's well combined.
Fold in the blueberries, being careful not to crush them.
Gently press the crumb topping onto the tops of the muffins.
Bake and then cool!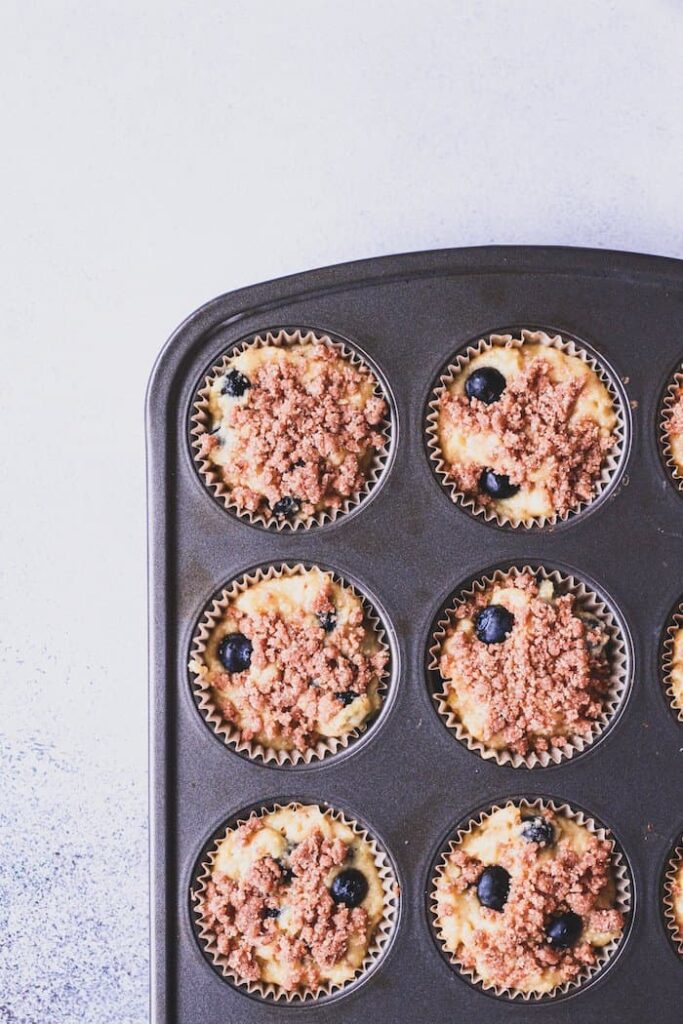 keto blueberry muffin tips
If you've ever baked with almond flour, you know it can be very dense. I like using flaxseed meal to help lighten up the batter. Plus, I think it gives a nice, tender texture to the muffins. Butter will do the same, but you can easily make these dairy-free by swapping the butter for the same amount of coconut oil.
For a prettier blueberry muffin, gently press 2-3 blueberries into the top of each muffin before baking.
about that crumb topping
The crumb topping is completely optional, but adds a nice change in texture to the top of these blueberry muffins.
If you make it with the crumb topping:
You'll need 1-2 teaspoons of crumb topping per muffin. Spoon it on top of the batter and gently press it into the tops of the muffin to help prevent it from falling off later.
After about 10 minutes of bake time, lightly place a sheet of aluminum foil over the muffins to prevent the crumb topping from burning.
how to get tall blueberry muffins
I start by baking these at a higher temperature because it results in a taller muffin. Baking powder is activated first by moisture, and second by heat, so blasting these muffins for five minutes at a higher temperature will help the muffins rise! Just don't forget to turn down the temperature after those first five minutes. 🙂
And there you have it: a keto blueberry muffin recipe I know you'll love. Whether you're baking for brunch or baking with kids, this is a simple and easy keto recipe for a Saturday afternoon in.
Happy baking, friends! Stay well.
you might also love...
keto blueberry muffins with crumb topping
Tall, tender and fluffy almond flour blueberry muffins with a large crumb topping, inspired by my favorite bakery-style blueberry muffins. Keto-friendly, dairy optional, and the perfect low-carb breakfast or snack.
Ingredients
3 cups superfine almond flour
½ cup + 1 tablespoon monk fruit sweetener or erythritol 
2 tablespoons flax seed meal
2 teaspoons baking powder (gluten-free and aluminum-free)
½ teaspoon cardamom (optional)
⅓ cup grass-fed butter, melted (or sub coconut oil)
½ cup canned, full-fat coconut milk (unsweetened)
3 eggs (pasture-raised when possible)
1 teaspoon vanilla
1 cup fresh blueberries + optional small handful extra for topping 
crumb topping
1 tablespoon grass-fed butter (or coconut oil)
4 tablespoons almond flour
2 tablespoons coconut flour
2 tablespoons monk fruit sweetener or erythritol
1 teaspoon ground cinnamon
¼ teaspoon salt
Instructions
Preheat the oven to 425°F. In a large bowl, measure out and mix all the dry ingredients.
Add the melted butter (or coconut oil), eggs, vanilla and coconut milk. Stir to combine.
Gently fold in the fresh blueberries, being careful not to crush them.
Line a muffin tray with parchment muffin cup liners. Spoon the muffin batter into each of the cups, filling it almost to the top. (It won't overflow when baking!)
In a small bowl, combine all the crumb topping ingredients, mixing it with a fork or your hands until it forms crumbles. If it's too wet, add a little more coconut flour.
Spoon 1-2 teaspoons of the crumb topping onto each of the muffins, and gently press it down so it's secure in the batter. (Not really in the batter, but secure enough to where it won't fall right off).
Bake at 425°F for 5 minutes. Gently place a large sheet of aluminum foil over the tops of the muffins so the entire tray is covered. (This will prevent the topping from burning.) Turn the oven down to 350°F and bake for 15 more minutes or until a toothpick inserted into the center of a muffin comes out clean.
Remove the muffin tray from the oven and allow it to cool for 10 minutes. Carefully transfer all the muffins to a rack to finish cooling.
Notes
For prettier muffins, gently press 2-3 extra blueberries into the tops of each of the muffins after you've added the crumb topping and before you bake them.
The first 5 minutes of bake time at a higher temperature activates the baking powder and results in a taller muffin. Just don't forget to turn it down to 350°F after 5 minutes!
Covering the muffins with the aluminum foil prevents the crumb topping from burning.
Nutrition Information:
Yield:

12
Serving Size:

1
Amount Per Serving:
Calories:

308
Total Fat:

27g
Saturated Fat:

9g
Trans Fat:

0g
Unsaturated Fat:

17g
Cholesterol:

62mg
Sodium:

195mg
Carbohydrates:

10g
Net Carbohydrates:

4g
Fiber:

6g
Sugar:

2g
Protein:

9g
This nutritional information is approximate and is provided for convenience as a courtesy.