This post may contain Amazon affiliate links. I earn a small commission (at no extra cost to you) when you purchase using one of those links. I only recommend products I use and love. Thanks for supporting Stem and Spoon.
Almond flour blueberry muffins are tender and sweet, bursting with juicy blueberries and topped with a cinnamon crumble. You know, the kind you'd see at your favorite bakery. Except these are healthy blueberry muffins, made with low carb, nutrient dense ingredients... A baked good that's tasty, gluten free and can be made sugar-free and keto friendly, if you wish. 
I've been fully immersed in this blueberry-muffin-making mission, determined to make a low-carb blueberry muffin with almond flour that tastes as close to the real deal as possible.
why this recipe works
You know the bakery-style blueberry muffins that look like perfection? A toasted crumb topping and a fluffy, not-too-sweet batter that carries a juicy blueberry in every bite?
It's a requirement of any good blueberry muffin. And while almond flour baked goods have a tendency to be dense and crumbly, these are surprisingly different.
The secret? There are several elements at play. Flax seed meal and almond flour, combined with leavening from the eggs and baking powder, plus a special baking method to help create tall muffins. 
It's a baking tactic I use in my Gluten-Free Almond Flour Banana Muffins, my Keto Cinnamon Muffins and these Healthy Lemon Poppy Seed Muffins.
The result is gluten-free, low-carb and keto blueberry muffins that are muffin goals come true.
They're not too sweet and have a light, nutty flavor. Plus, they're very filling, and make an easy, grab-on-the-go type of breakfast that freezes well too. 
These healthy almond flour blueberry muffins are:
gluten-free and grain-free
low-carb and keto-friendly 
dairy optional
tender, but not crumbly
filling but not too dense, as many almond flour muffins tend to be
simple to make.
the ingredients
Want to know what I love about this almond flour blueberry muffin recipe?
It calls for minimal ingredients that you probably have in your pantry already, and it only takes about 10 minutes of prep before you can slide that full muffin pan into the oven for baking. 
Here are the main ingredients:
superfine almond flour (not almond meal)
granulated monk fruit sweetener (or coconut sugar if you don't need these to be keto/sugar free) 
baking powder (preferably gluten-free and aluminum free)
cardamom(optional, but I love the light flavor of this spice)
grass-fed butter or coconut oil, melted and slightly cooled 
eggs (pasture-raised if possible)
canned, full-fat coconut milk or sour cream
vanilla extract
fresh sweet blueberries (see notes for using frozen blueberries)
You'll also need a standard sized muffin tin, paper liners (I like these parchment muffin liners) and a sheet of aluminum foil, if you plan on making the muffins with the crumb topping (see the full recipe below).
the recipe
The great thing about this healthy muffin recipe is you can adapt it to fit your needs.
If you're looking for paleo blueberry muffins, use the paleo-friendly ingredients like coconut sugar and dairy substitutions like melted coconut oil and coconut milk.
If you want keto blueberry muffins, make sure to use granulated monk fruit sweetener, a sugar substitute with a zero glycemic index.
I like to use Lakanto's Golden (affiliate link) or Brown Sweetener since they have a flavor similar to brown sugar and less of the cooling aftertaste that an erythritol-blend sweetener can have. 
And if you're simply looking for a gluten-free blueberry muffin made with almond flour, coconut sugar is a healthy granular sweetener with a lower glycemic index than regular sugar. 
Here's a look at the steps for making these almond flour blueberry muffins but be sure to check out the recipe card for the full instructions and ingredient amounts. 
Combine all the dry ingredients in a medium bowl. Whisk almond flour mixture until there are no lumps. 
Add wet ingredients- the butter (or melted coconut oil), large eggs, coconut milk, and vanilla. Stir the mixture until it's well combined.
Fold in the fresh blueberries, being careful not to crush them. 
Spoon the muffin batter into the muffin cups, filling them about ½ to ¾ of the way full. 
Gently press the crumb topping onto the tops of the muffins.
Bake and then cool the muffins on a wire rack at room temperature.
tips for the best results
If you've ever baked with almond flour, you know it can be very dense. I like using flaxseed meal to help lighten up the batter. Plus, I think it gives a nice, tender texture to the muffins. Butter will do the same, but you can easily make these dairy-free by swapping the butter for the same amount of coconut oil. 
For a prettier blueberry muffin, gently press 2-3 blueberries into the top of each muffin before baking. 
Store muffins in an airtight container at room temperature. 
Do not substitute coconut flour for almond flour. They work very differently and will affect the end result!
For a higher protein keto blueberry muffin, you can swap in Greek yogurt for the coconut cream. 
A higher temperature for the first five minutes will give you a taller blueberry muffin. Baking powder is activated first by moisture, and second by heat, so blasting these muffins for five minutes at a higher temperature will help the muffins rise! Just don't forget to turn down the temperature after those first five minutes. 🙂
flavor variations
Add a dash of almond extract or a squeeze of lemon juice and lemon zest to the muffin batter to create different flavor variations. A sprinkle of cinnamon or even a little bit of chopped whole almonds stirred are also tasty add-ins!
how to make the crumb topping
The crumb topping is completely optional, but adds a nice change in texture to the top of these blueberry muffins.
If you make it with the crumb topping:
You'll need 1-2 teaspoons of crumb topping per muffin. Spoon it on top of the batter and gently press it into the tops of the muffin to help prevent it from falling off later.
After about 10 minutes of bake time, lightly place a sheet of aluminum foil over the muffins to prevent the crumb topping from burning.
And there you have it: a keto blueberry muffin recipe I know you'll love. Whether you're baking for brunch or baking with kids, this is a simple and easy keto recipe for a Saturday afternoon in.
you might also love...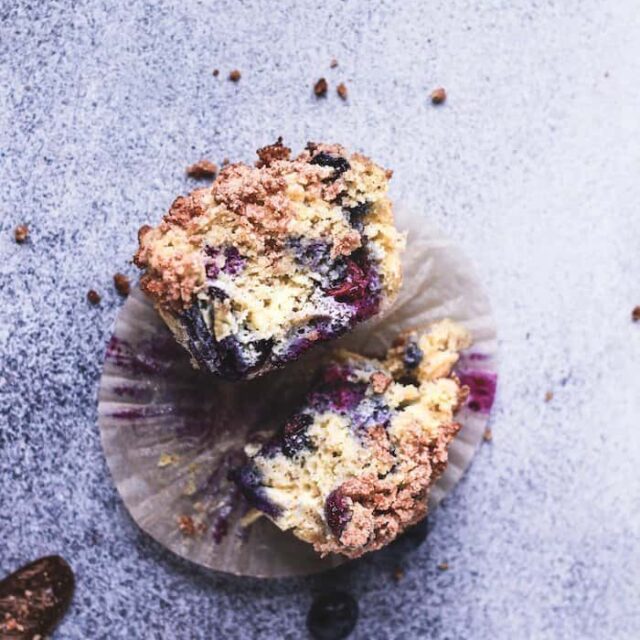 Almond Flour Blueberry Muffins (Keto, Gluten Free)
Tall, tender and fluffy almond flour blueberry muffins with a large crumb topping, inspired by my favorite bakery-style blueberry muffins. Keto-friendly, dairy optional, and the perfect low-carb breakfast or snack.
Ingredients
3 cups superfine almond flour
½ cup + 1 tablespoon monk fruit sweetener or erythritol 
2 tablespoons flax seed meal
2 teaspoons baking powder (gluten-free and aluminum-free)
½ teaspoon cardamom (optional)
⅓ cup grass-fed butter, melted (or sub coconut oil)
½ cup canned, full-fat coconut milk (unsweetened)
3 eggs (pasture-raised when possible)
1 teaspoon vanilla
1 cup fresh blueberries + optional small handful extra for topping 
crumb topping
1 tablespoon grass-fed butter (or coconut oil)
4 tablespoons almond flour
2 tablespoons coconut flour
2 tablespoons monk fruit sweetener or erythritol
1 teaspoon ground cinnamon
¼ teaspoon salt
Instructions
Preheat the oven to 425°F. In a large bowl, measure out and mix all the dry ingredients.
Add the melted butter (or coconut oil), eggs, vanilla and coconut milk. Stir to combine.
Gently fold in the fresh blueberries, being careful not to crush them.
Line a muffin tray with parchment muffin cup liners. Spoon the muffin batter into each of the cups, filling it almost to the top. (It won't overflow when baking!)
In a small bowl, combine all the crumb topping ingredients, mixing it with a fork or your hands until it forms crumbles. If it's too wet, add a little more coconut flour.
Spoon 1-2 teaspoons of the crumb topping onto each of the muffins, and gently press it down so it's secure in the batter. (Not really in the batter, but secure enough to where it won't fall right off).
Bake at 425°F for 5 minutes. Gently place a large sheet of aluminum foil over the tops of the muffins so the entire tray is covered. (This will prevent the topping from burning.) Turn the oven down to 350°F and bake for 15 more minutes or until a toothpick inserted into the center of a muffin comes out clean.
Remove the muffin tray from the oven and allow it to cool for 10 minutes. Carefully transfer all the muffins to a rack to finish cooling.
Notes
For prettier muffins, gently press 2-3 extra blueberries into the tops of each of the muffins after you've added the crumb topping and before you bake them.
The first 5 minutes of bake time at a higher temperature activates the baking powder and results in a taller muffin. Just don't forget to turn it down to 350°F after 5 minutes!
Covering the muffins with the aluminum foil prevents the crumb topping from burning.
Nutrition Information:
Yield:

12
Serving Size:

1
Amount Per Serving:
Calories:

308
Total Fat:

27g
Saturated Fat:

9g
Trans Fat:

0g
Unsaturated Fat:

17g
Cholesterol:

62mg
Sodium:

195mg
Carbohydrates:

10g
Net Carbohydrates:

4g
Fiber:

6g
Sugar:

2g
Protein:

9g
This nutritional information is approximate and is provided for convenience as a courtesy.