This post may contain Amazon affiliate links. I earn a small commission (at no extra cost to you) when you purchase using one of those links. I only recommend products I use and love. Thanks for supporting Stem and Spoon.
These healthy lemon poppy seed muffins are incredibly light, springy, and tender! They have a bright lemon flavor that pairs well with the subtle nuttiness of poppy seeds. Sweetened with monk fruit and made entirely with coconut flour, they're also gluten free, grain free, low carb and keto friendly.
Top them with some keto lemon curd or a low-carb strawberry rhubarb jam for an even more delicious low-carb breakfast or snack.
Lemon treats are a favorite of mine (keto lemon pound cake! sugar-free raspberry lemon bars!) and lemon with poppy seed is always a winning combination.
Fresh lemon zest and lemon juice add the perfect citrus notes that pair beautifully with the nutty poppy seeds and a hint of cardamom (citrus and cardamom is also the flavor profile of this delicious gluten-free orange cake.)
Each ingredient adds its own distinct flavor to these lemon muffins that results in a delicious (and nutritious!) treat.
health benefits of coconut flour
I don't often use only coconut flour in my low-carb baking, but it's something I'm trying to do more as it's really nutritious and filling, high in fiber, protein and MCTs.
Also, it's a great alternative to almond flour baked goods. If you're nut-free or watching your almond flour intake, coconut flour is ideal.
how to use coconut flour
Unlike almond flour, coconut flour is not a 1:1 flour substitute. It's really absorbent and dry, which means a little goes a long way (for instance, this recipe calls for just over ½ cup of coconut flour!).
Because of its unique properties, coconut flour can be a bit tricky to work with, but this healthy lemon poppy seed muffins recipe is actually quite simple.
My best advice for working with coconut flour is to make sure you're measuring correctly, since the smallest amount over or under can drastically change your results.
Don't pack it into the measuring cup- spoon it in and then level it off with the edge of a table knife will give you the the best results (it's how to measure all flours, actually). Of course the most accurate method is with a kitchen scale, but it's definitely not required.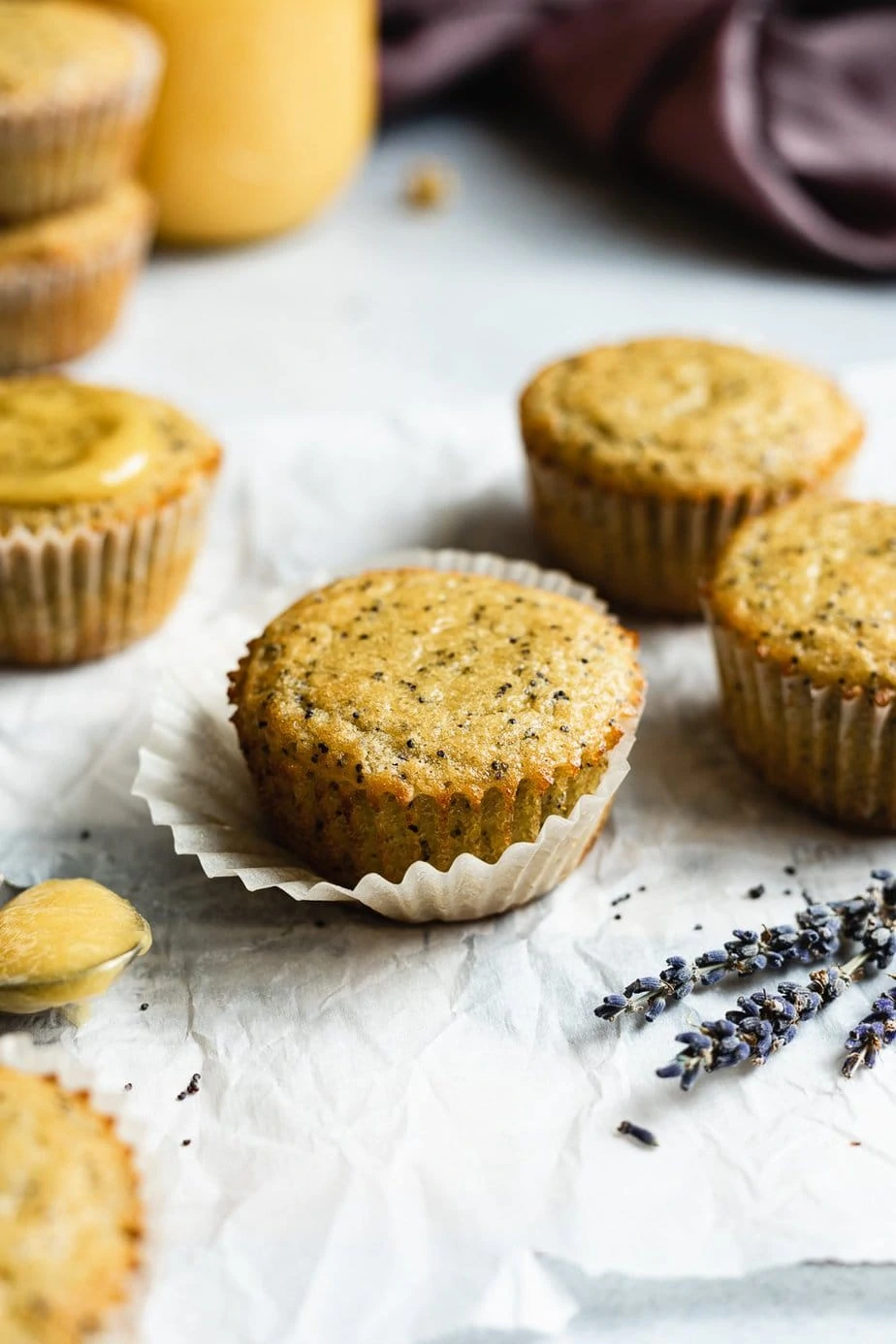 why this recipe works
The biggest issue with coconut flour is when it's not used at the proper ratio, baked goods can turn out really dense and almost chalky. But these healthy, gluten-free lemon poppy seed muffins are the opposite of that.
Four eggs give the muffins a fluffy texture (without tasting egg-y), while the fresh lemon juice, leavening agents, and baking method produce a soft and airy muffin.
They are:
tender, light and lemon-y
a delicious, healthy treat to satisfy your sweet tooth
made with simple ingredients
grain free, gluten free, low carb, keto and dairy free.
the ingredients
This healthy muffin recipe calls for:
large eggs (at room temperature, pasture-raised when possible)
vanilla extract
almond extract (optional)
fresh lemon zest
coconut oil, melted and cooled (olive oil works too)
baking powder (preferably gluten-free and aluminum-free)
baking soda
salt
cardamom (optional)
fresh lemon juice
I also recommend using muffin liners as they're the easiest way to pop the muffins right out of the muffin cups.
let's make healthy lemon poppy seed muffins
The easy part! Did I mention grain and gluten-free lemon poppy seed muffins only require one bowl? 🙂
First, prep a muffin tin with paper liners and preheat your oven to 425°F. It's a much higher baking temperature than what we'd typically use, but you'll turn it down later.
The big blast of heat in the first few minutes of baking help these coconut flour muffins rise and get a little taller than they would if they went in at 350°F.
Here are the steps but be sure to check out the printable recipe card at the bottom of the page.
In a large bowl, whisk together the eggs, vanilla, almond extract, lemon zest, and coconut oil. Make sure the eggs are at room temperature- you can do this quickly by letting them sit in a bowl of warm water. Coconut oil will solidify when mixed with cold eggs, which is why room temp eggs are best. Tip: wait to add the lemon juice in with the other wet ingredients (I explain this below)!
Mix in the dry ingredients: monk fruit sweetener, coconut flour, baking powder, baking soda, salt, cardamom, and poppy seeds. Stir in the lemon juice last since the acid will react with the baking powder and baking soda- you want that to occur right before baking.
Divide batter into the muffin cups and bake. Fill each baking cup with about ¼ cup of the muffin batter (I usually get 7 muffins). Place the muffin tin in the oven and bake at 425°F for 5 minutes, then turn the temperature down to 350°F and bake for 11-13 minutes or until they're slightly golden brown around the edges. Remove, cool them on a wire rack, and enjoy!
tips for the best results
Use parchment paper baking cups! I've found they easily peel away from the muffin, while some types of baking cups stick and the muffin breaks away with it.
Don't forget to set the timer for those first 5 minutes of baking at a higher temperature. Turn it down to 350°F immediately after 5 minutes.
The muffins are done when the edges are slightly browned and a toothpick inserted in the center comes out clean.
Room temperature ingredients work best and will prevent the melted coconut oil from solidifying and making the batter lumpy.
Store leftover muffins covered or in an airtight container at room temperature for up to five days, and in the freezer for up to two months.
A traditional muffin made with all purpose flour (white flour or whole grain) will rise a lot more during the baking time simply because of the properties the flour and how it reacts to the leavening agents. These coconut flour muffins will not turn out quite as tall as a glutenous muffin, but the baking method helps get them a bit taller than traditional coconut flour baked goods.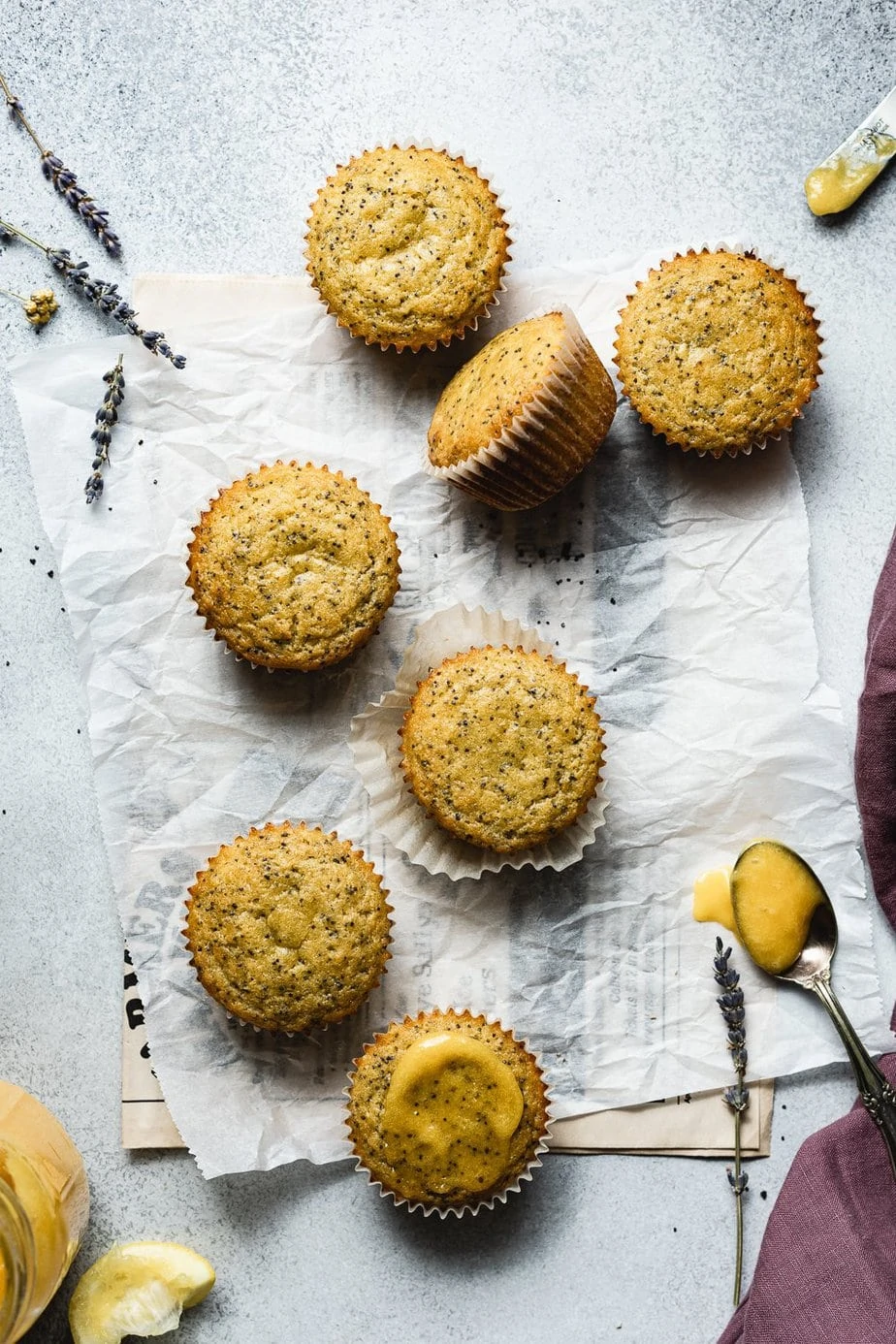 I hope you enjoy these healthy lemon poppy seed coconut flour muffins!
This easy, one-bowl recipe makes the perfect, low-carb and high protein meal to start your day. Plus, they're quick and simple and ready for the oven in less than 10 minutes.
A great recipe for healthy muffins that's easy enough to make on a weekday morning? Can't beat that.
more healthy muffin recipes to try
If you give these a try, let me know! Drop a comment below, leave a five-star review, or tag @stemandspoon on Instagram! I love to see what you create.
you might also love...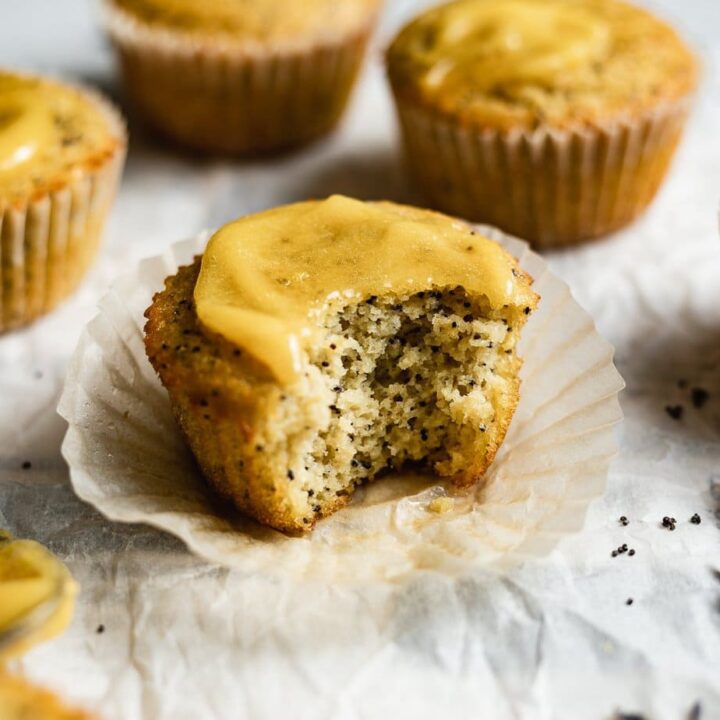 Healthy Lemon Poppy Seed Muffins
Additional Time:
5 minutes
Tender and fluffy with a subtle citrus flavor, these keto lemon poppy seed muffins make a delicious breakfast or snack! They're an easy coconut flour muffin recipe that is also gluten-free, dairy-free, and nut-free.
Ingredients
4 eggs, at room temperature (pasture-raised when possible)
1 teaspoon vanilla extract
¼ teaspoon almond extract (optional)
1 tablespoon lemon zest
¼ cup coconut oil, melted and cooled
½ cup + 2 tablespoons coconut flour (preferably sifted)
¼ cup granulated monk fruit sweetener
1 teaspoon baking powder
½ teaspoon baking soda
¼ teaspoon salt
¼ teaspoon cardamom (optional)
2 tablespoons poppy seeds
¼ cup fresh lemon juice
Instructions
Preheat the oven to 425°F. Line a standard sized muffin tin with parchment paper baking cups (you'll only need 7-8).
In a large mixing bowl, whisk together the eggs, vanilla, almond extract, lemon zest, and coconut oil. Mix until well-combined.
Add in the coconut flour, monk fruit sweetener, baking powder, baking soda, salt and cardamom. Stir to combine, then mix in the poppy seeds.
Next, mix in the lemon juice (this is reserved for last since the acid reacts with the baking powder/soda and is best when immediately transferred to a hot oven).
Spoon about ¼ cup batter into each of the baking cups (they'll be about ¾ full).
Transfer to the oven and bake at 425°F for 5 minutes. The initial blast of heat reacts with the baking powder and results in a taller muffin.
After 5 minutes, turn the temperature down to 350°F. Bake another 11-13 minutes. The edges should be a light golden brown and a toothpick inserted in the center of a muffin should come out clean.
Remove the muffin pan from the oven and let them cool for about 5 minutes in the pan. Transfer them to a baking rack to cool completely.
Serve plain, with keto lemon curd, or a low-carb jam!
Notes
Room temperature eggs will work best. If cold, the eggs could lead to the melted coconut oil solidifying and turning the batter lumpy. To quickly take the chill off the eggs, place them in a bowl of warm water for 5-10 minutes.
Store the lemon poppy seed muffins covered, at room temperature for up to five days, and in the freezer for up to two months.
Nutrition Information:
Yield:

7
Serving Size:

1
Amount Per Serving:
Calories:

143
Total Fat:

12g
Saturated Fat:

8g
Trans Fat:

0g
Unsaturated Fat:

3g
Cholesterol:

106mg
Sodium:

278mg
Carbohydrates:

4g
Net Carbohydrates:

3g
Fiber:

1g
Sugar:

2g
Protein:

5g
This nutritional information is approximate and is provided for convenience as a courtesy.