This post may contain Amazon affiliate links. I earn a small commission (at no extra cost to you) when you purchase using one of those links. I only recommend products I use and love. Thanks for supporting Stem and Spoon.
This post is sponsored by llinea monk fruit, a brand I love. Thanks for supporting the brands that support Stem and Spoon!
This keto Key lime pie is fresh, tart, and creamy, with a toasted almond flour crust and a mousse-like filling that has the perfect amount of pucker. Sweetened with pure monk fruit, it's a low-sugar, keto, and vegan key lime pie recipe that is easy to assemble and can be completely no-bake if you choose!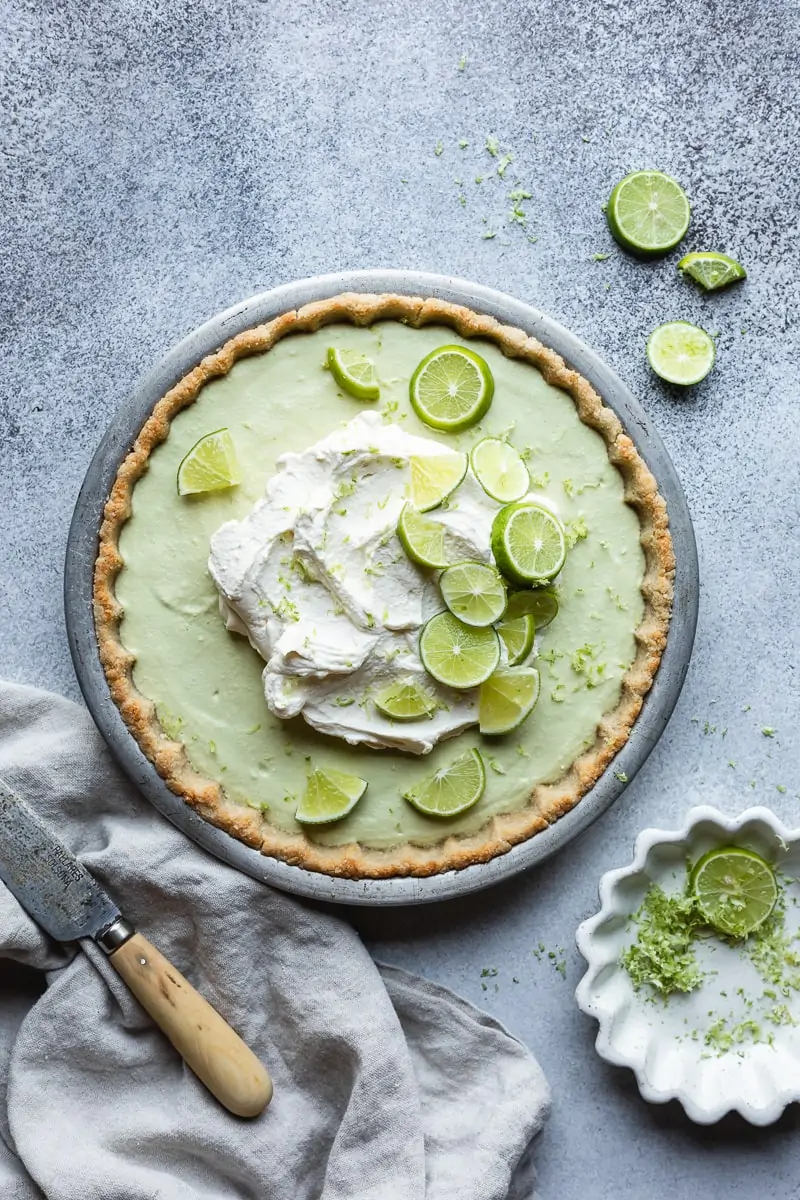 I've never met a pie I didn't like, but Key lime pie is right up there on my "favorites" list, which is why a low-carb and keto version had to exist here.
Come to think of it, lime has been the flavor of our summer- the last few weeks have been a non-stop rotation of this pie, avocado mango salsa, and homemade limeade, with a margarita or two in the mix.
why this recipe works
This sugar-free Key lime pie is a healthier spin on the traditional recipe yet still captures everything that's best about the classic (but without the sweetened condensed milk! or graham crackers! or eggs, even!).
It has that sweet-tart taste of lime that is mellowed by the creaminess in the filling and the topping.
And while fresh key lime juice has a delicious and distinct flavor, you don't even need actual Key limes. Regular limes will do just fine and will save you some time and effort.
My keto Key lime pie is:
so easy to make (the filling is made in the blender!)
fresh, tart and delicious
low-carb, gluten free, grain free and keto diet friendly
a no bake pie, if you choose
This keto and vegan Key lime pie is also sweetened with llinea monk fruit, pure monk fruit in liquid form (and one of my favorites for everyday use- like chia pudding, salad dressings, and even sticky chicken wings!).
It's diabetic-friendly, doesn't spike blood sugar, and is an ideal option if you prefer an all-natural sweetener.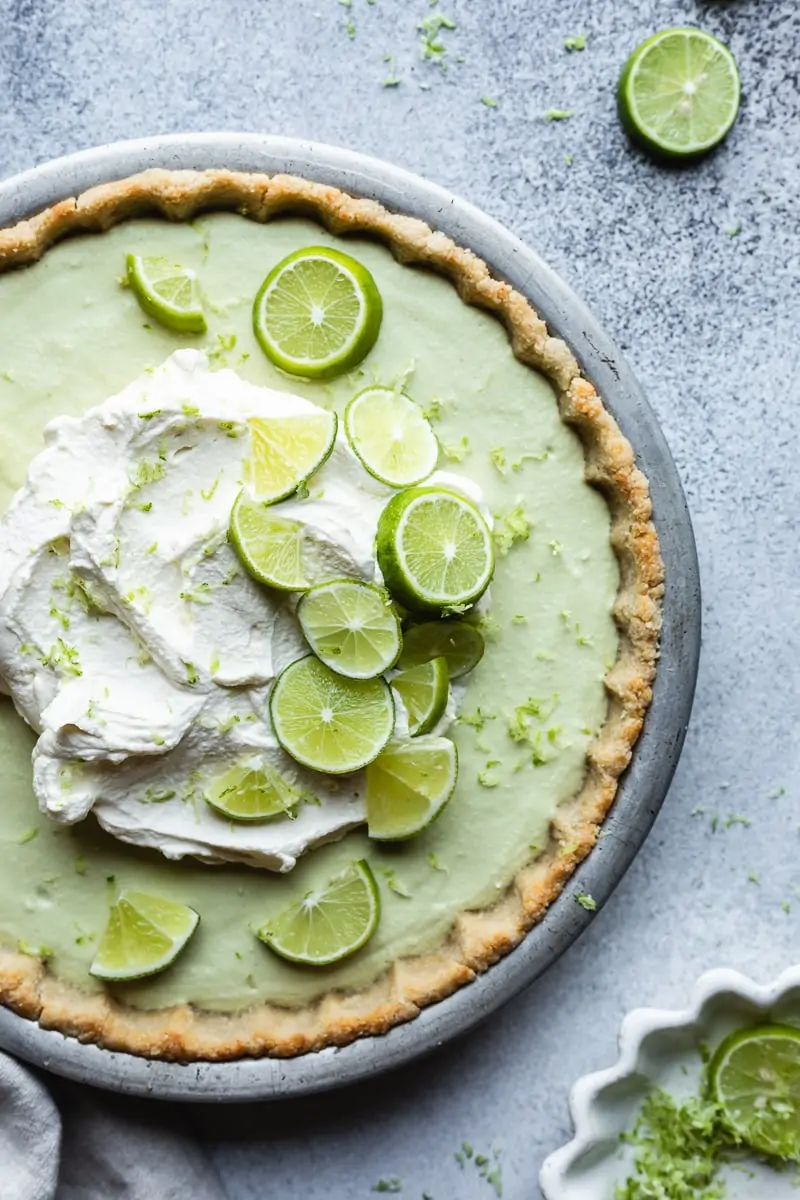 the ingredients
The ingredient list for this low-carb Key lime pie recipe is fairly simple, possibly surprising, and please trust me when I say this- it works.
The recipe took many iterations to get right, and I ended up with this version because I love the fresh flavor, and creamy filling.
Here are the simple ingredients you will need:
Almond flour. For a low-carb version of the graham cracker crust. If making a vegan or no-bake crust (without egg white), toast it in a pan first to get a deep, nutty flavor.
Coconut oil. Not only is it used in the crust, but coconut oil also helps the filling set. I prefer using refined coconut oil for this recipe because of its neutral taste.
Monk fruit sweetener. Use llinea monk fruit sweetener- it's a sugar substitute in liquid form that is easy to use in the crust and in the pie as well as adjust to your own taste preference.
Egg white. For the vegan recipe, omit the egg white and add 1 extra tablespoon of coconut oil to form the crust.
Vanilla. Both the crust and the filling call for vanilla extract. It adds that something "extra" and helps mellow out the tart lime.
Cashews. You'll need raw, soaked cashews. They are the base of the key lime filling. Soak them overnight in cool water or for 1-2 hours in a heat-proof dish covered with boiling water. This softens them and allows them to blend really smooth.
Avocado. One large avocado is enough to make this rich and creamy (and also a beautiful light green color) but not too much to where you can taste it.
Key lime zest and juice. Use Key limes or regular lime juice and zest. Note that Key limes have a slightly sweeter and tart flavor and while I do prefer the taste, they are much smaller and more difficult to juice (it takes about 15-18 Key limes to get ½ a cup of juice!).
Coconut cream. Chill a can of unsweetened, full-fat coconut milk overnight to get the best coconut cream (or purchase canned coconut cream). You will also need some for the optional whipped topping.
Note: This keto key lime pie recipe requires a high-speed blender or food processor, a 9-inch pie pan, and a small grater or microplane for the lime zest.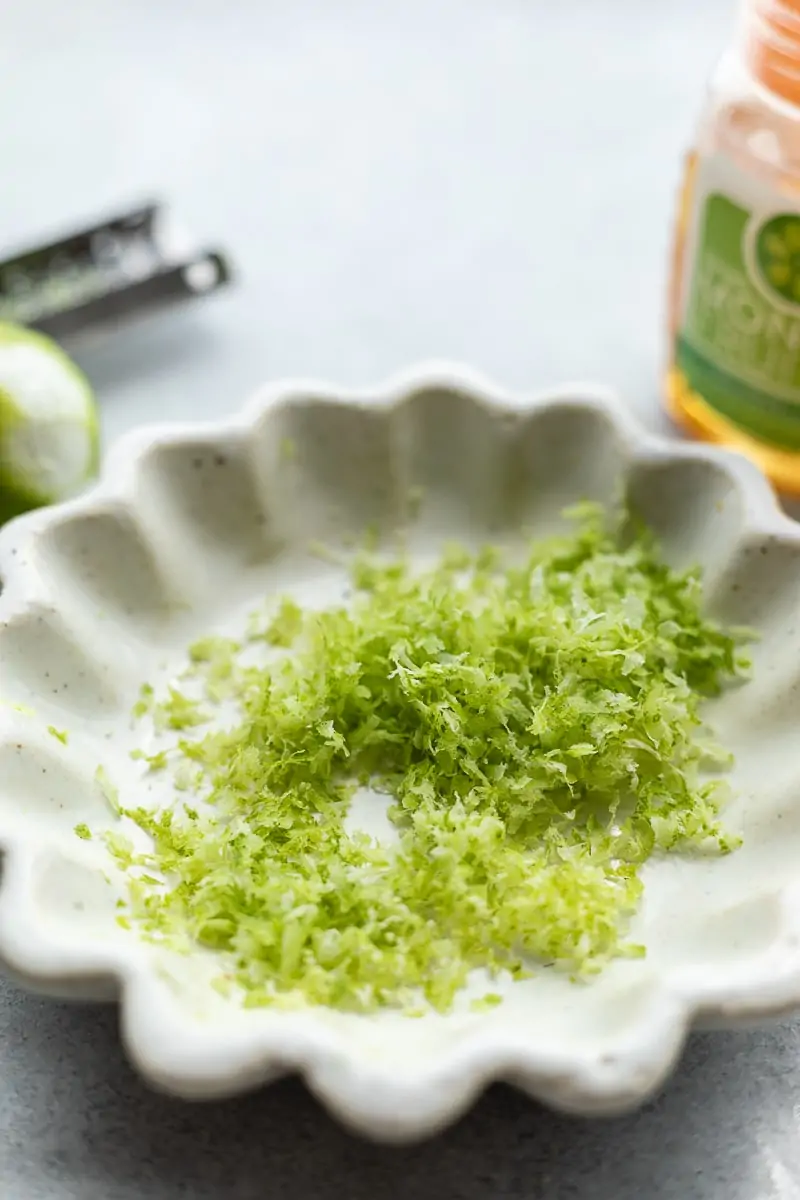 an easy keto key lime pie recipe
This sugar-free and low-carb Key lime pie couldn't be any easier! The filling is made entirely in the blender and doesn't require any baking.
This recipe also includes two options for making the crust- a standard baked crust (with egg white) or a no-bake crust (vegan option) that requires toasting the almond flour in a pan.
Here's a look at the steps but be sure to scroll down to the bottom of the page to view the printable recipe card.
Make the pie crust. In a large bowl, combine the crust ingredients. Stir them together until a crumbly dough forms. Press it into your pie pan, evenly along the sides and the bottom, then bake. Vegan crust: Toast the almond flour in a pan beforehand, stirring it for about 5-8 minutes, just until it turns a golden brown. Combine it with the other crust ingredients (omit the egg), press it into the pie plate, then place into the freezer to set.
Make the vegan Key lime pie filling. In a high-speed blender or food processor, combine the filling ingredients (except for the oil), then blend until smooth. Drizzle in the melted coconut oil, blend some more, then taste and adjust if needed.
Pour and chill. Pour the filling into the pie crust, smooth out the top with a spatula, then chill in the refrigerator for at least four hours or overnight. Top with whipped coconut cream or a whipped cream topping, fresh lime slices/zest, then serve!
tips for the best results
Can you have lime on keto? Absolutely! Lime juice is very low in carbs and is a wonderful ingredient to incorporate into cooking, baking, beverages, etc. for a splash of citrus flavor. Enjoy these blackberry lime popsicles or this keto tropical smoothie for more ways to include lime.
Can you substitute limes for Key limes in Key lime pie? Yes, you can use regular limes if you can't find Key limes or would like an easier, faster option.
If making the vegan pie crust, don't skip toasting the almond flour. Since it's a no-bake crust, this step will give the almond flour a nutty flavor that tastes like keto graham crackers when combined with the sweetener and vanilla.
Taste the filling. For this keto key lime pie with avocado, the flavor will vary based on the ripeness of the avocado, your limes, etc. Please taste and adjust if needed, adding a few more drops of sweetener or a little more lime juice if you prefer the dessert to be on the tart side. Note that it will mellow a little bit once it's completely cool.
Substitutions: You can use butter or vegan butter in the crust if you'd prefer a buttery flavor. And while the recipe is for a keto key lime pie with coconut milk, if you're not concerned about keeping it dairy free, top it with whipped cream instead.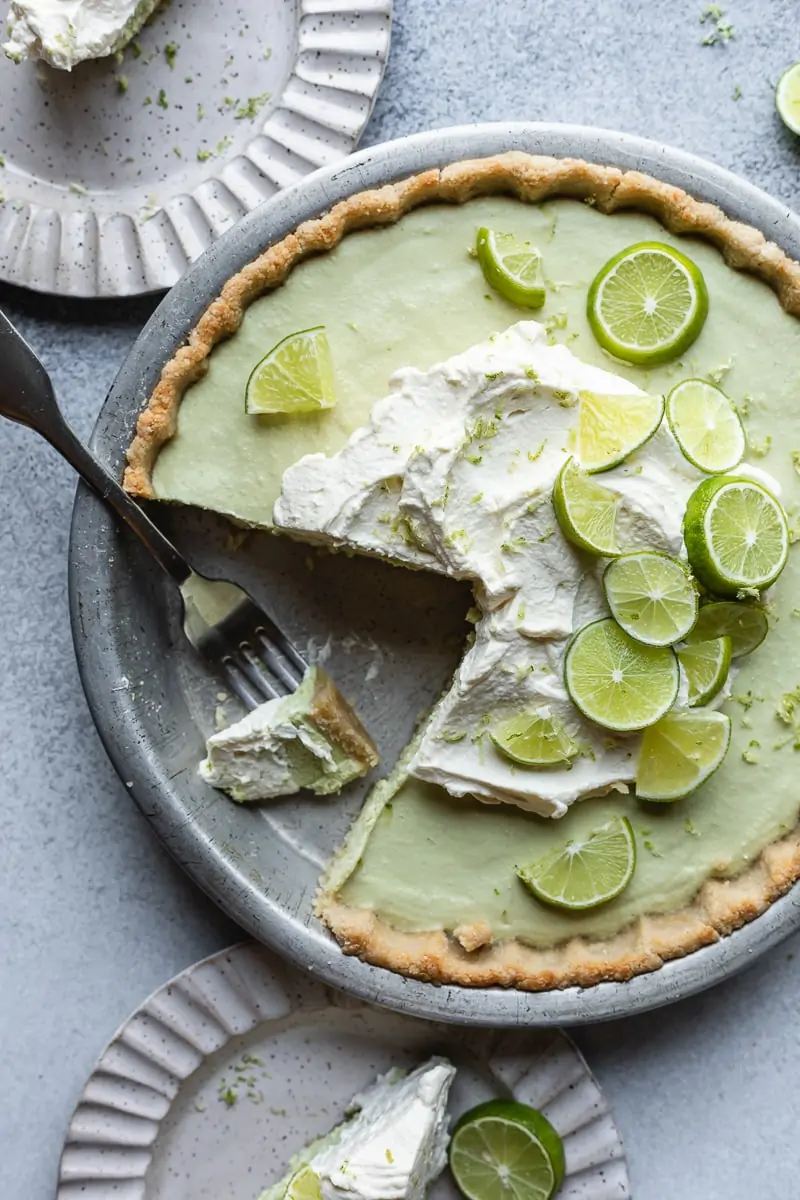 This low-carb pie is light and healthy and still offers all the flavor of a classic Key lime pie recipe. It's a summer-y pie that all eaters can enjoy!
If you make this keto key lime pie recipe and enjoy it, please consider leaving a star review and/or comment below! I also love seeing what you're making- feel free to tag me on Instagram. 🙂
you might also love...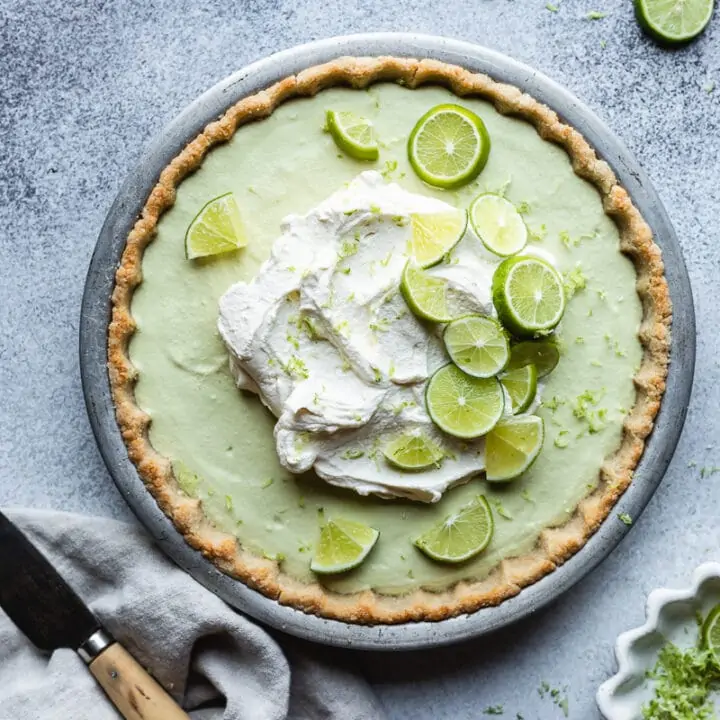 Keto Key Lime Pie (Sugar Free, Low Carb)
Total Time:
4 hours
30 minutes
This keto and vegan Key lime pie has a creamy, sweet-tart filling that is made in the blender! It's a delicious, healthy spin on classic Key lime pie that is simple to make.
Ingredients
Pie crust
2 cups fine/blanched almond flour
3 tablespoons coconut oil, melted and slightly cooled
1 egg white (if vegan, omit and add 1 more tablespoon of coconut oil)
½ teaspoon vanilla extract
¼ teaspoon salt
¼ teaspoon ground cinnamon
key lime pie filling
1 cup raw cashews, soaked for 1-2 hours in hot water or 6-8 hours in cool water, then drained
1 large avocado
½ cup fresh lime juice
2-3 tablespoons lime zest
½ cup coconut cream
1 teaspoon vanilla extract
⅓ cup coconut oil, melted and cooled slightly (preferably "refined" for its neutral taste)
whipped coconut cream and lime slices, wedges and/or zest for topping (optional)*
Instructions
for the pie crust
Preheat the oven to 350°F. (See notes for vegan and no-bake crust). In a medium bowl, combine the almond flour, coconut oil, egg white, monk fruit, vanilla, salt, and cinnamon.
Mix until a crumbly dough forms. Transfer it to a 9-inch pie pan and press it into the pan to form the crust, working it up the sides and evenly along the bottom of the pan (about ¼-inch thick). Flute the edges if you like. I use a small measuring cup to flatten the crust along the base of the pan. With a fork, poke holes in the bottom of the pie crust. Bake for 10-13 minutes, or until it is golden brown. Remove and allow it to cool completely- you can place it in the freezer to speed up the process.
In a high-speed blender or food processor, add the soaked/drained cashews. Pit the avocado and use a spoon to scoop it from the skin, place in the blender. Add the lime juice, lime zest (start with 2 tablespoons), monk fruit sweetener, coconut cream, and vanilla.
Pulse the blender a few times, then blend/process on high for 3-5 minutes, scraping down the sides with a spatula every minute or so. When the mixture is smooth, turn the blender to low speed and slowly drizzle in the melted coconut oil. Blend on high for another minute to combine.
Taste and adjust, adding a few more drops of sweetener or more lime juice or zest if needed.
Pour the Key lime pie filling into the almond flour crust. Smooth the top of it with a spatula. Transfer the pie to the refrigerator to chill for at least 4 hours, preferably overnight.
Before serving, top with coconut whipped cream.* Decorate with lime wedges, lime slices, and lemon zest (optional).
Notes
For a vegan pie crust: Toast the almond flour in a pan set over medium heat for about 5-8 minutes, or until the almond flour turns a light golden brown. It toasts quickly so watch it carefully and stir it continually to prevent burning. Transfer the almond flour to a bowl and add the remaining crust ingredients (omit the egg white). Stir to combine. Press the crust into the pan- it will more closely resemble a "graham cracker crust" instead of a workable dough. Place it in the freezer for at least 15 minutes to set.
To make whipped cream topping: Place ¾ cup coconut cream OR whipped cream (if not dairy-free/vegan) in a chilled mixing bowl. Add ½ teaspoon the monk fruit sweetener and ½ teaspoon vanilla. Beat on low for about 1 minute, then increase to high speed and beat until it thickens, about 3-5 minutes. Spoon on top of the entire pie or serve individual slices with a spoonful of the whipped cream/coconut cream.
Substitutions: You can use butter or vegan butter in the crust if you'd prefer a buttery flavor. Use Key limes for a more traditional flavor (slightly sweeter and more tart) but regular limes will also work fine and are much easier to juice.
Taste the filling: The flavor can vary a bit based on the ripeness of the avocado, the limes used, etc. Taste and adjust as needed. Note that the lime flavor will mellow a bit once the pie is chilled.
Store the pie covered in the refrigerator for up to 7 days.
Nutrition Information:
Yield:

12
Serving Size:

1
Amount Per Serving:
Calories:

257
Total Fat:

23g
Saturated Fat:

12g
Trans Fat:

0g
Cholesterol:

0mg
Sodium:

9mg
Carbohydrates:

8g
Net Carbohydrates:

6g
Fiber:

2g
Sugar:

1g
Protein:

5g
This nutritional information is approximate and is provided for convenience as a courtesy.