This post may contain Amazon affiliate links. I earn a small commission (at no extra cost to you) when you purchase using one of those links. I only recommend products I use and love. Thanks for supporting Stem and Spoon.
This keto peanut butter fudge recipe is sponsored by llinea monk fruit, a brand I use and love!
It's the season of all things sweet, and this keto peanut butter fudge is currently my favorite way to properly celebrate! Sweet, nutty, and melt-in-your-mouth delish, this sugar free fudge only requires five ingredients which means there's really no excuse not to make it! Best of all, it is dairy-free, gluten-free, and is naturally sweetened. A healthier take on fudge, so indulge away.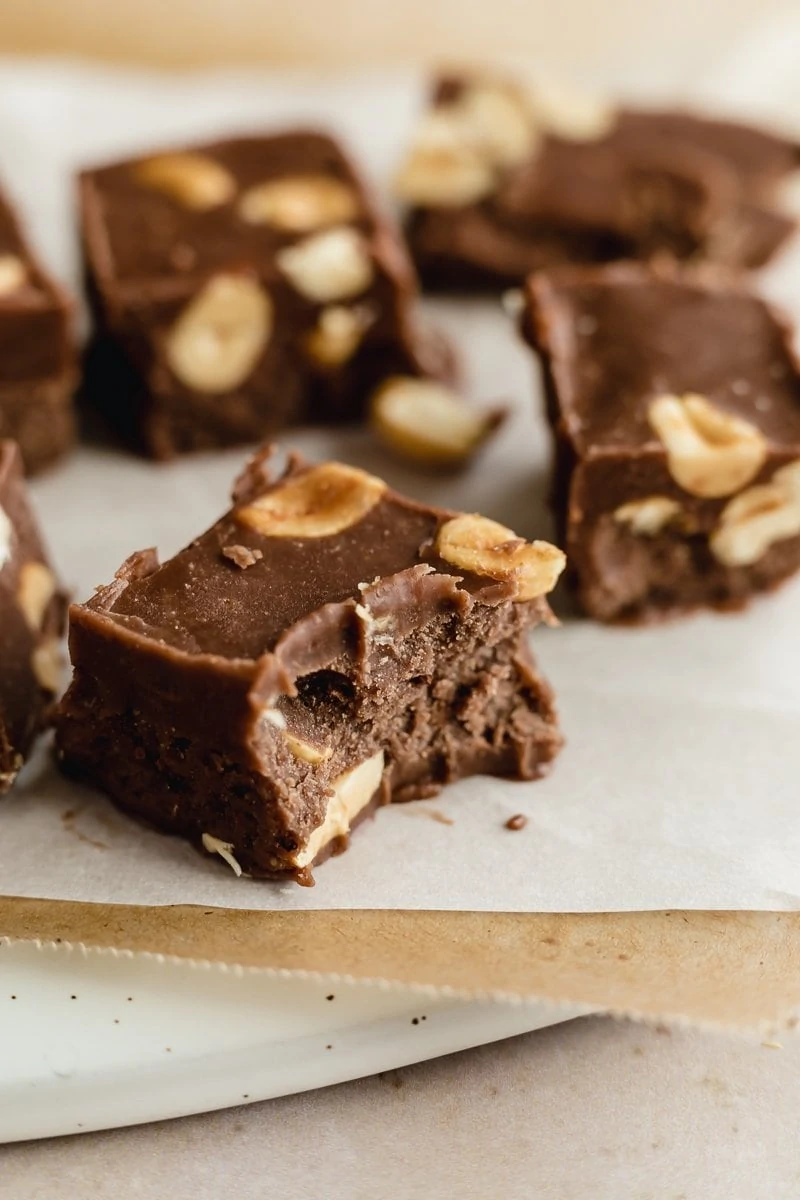 Keto peanut butter fudge is ultra creamy, rich, and decadent. Enjoy it plain or throw in some salted and roasted peanuts for a lovely crunch.
You'll be amazed at how simple this sugar-free peanut butter fudge is!
It's great for special occasions or anytime you need to curb that sweet craving. I highly recommend keeping a stash in your freezer for convenience- you'll be so happy you did. 🙂
why this recipe works
This easy keto peanut butter fudge only requires a few simple ingredients, and is sweetened with all-natural monk fruit. The best part? Each serving only contains 3 g net carbs!
It is:
low-carb, gluten free and ketogenic diet friendly
a healthy spin on homemade peanut butter fudge with no added sugar
a quick and easy recipe that will satisfy your sweet tooth.
I use llinea monk fruit which is a one-ingredient, sugar free sweetener with a zero glycemic index. Llinea monk fruit is especially easy to use since the extract is extra concentrated sweetness. A few drops go a long way.
Pure, liquid monk fruit like llinea is different than granulated monk fruit sweeteners (and other sugar substitutes), since most of the granulated sweeteners labeled "monk fruit" actually contain a blend of monk fruit with erythritol (or another sweetener).
Pure monk fruit is an especially great option if you don't stomach erythritol well. Or if you don't care for the cooling aftertaste that erythritol can sometimes have.
Plus, it's simple to use and I often turn to it to sweeten drinks, make salad dressings, baked goods, and any other time I need a little extra sweetness.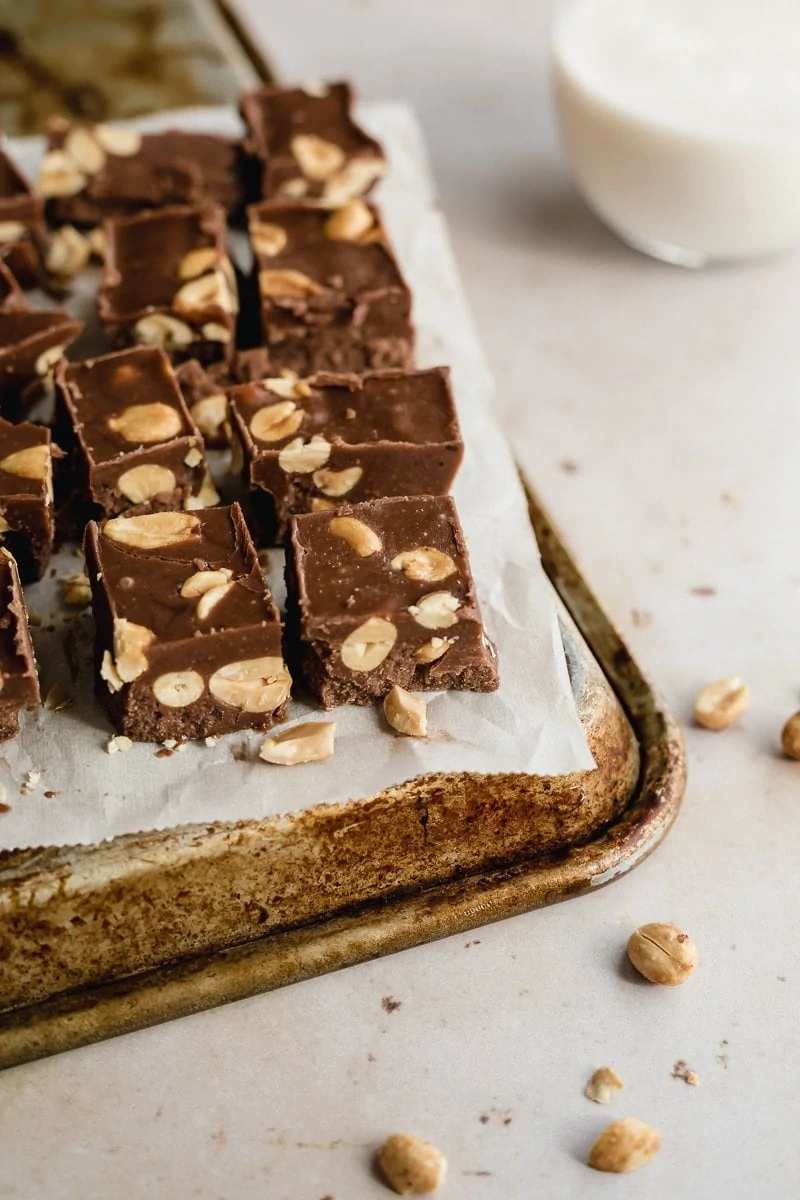 the ingredients
Other than using monk fruit, the next trick to making this keto peanut butter fudge as low in sugar as possible is to use all-natural peanut butter with no added sugar or oils. (The drippy kind, that you most likely have to stir.)
For this dreamy, low carb peanut butter fudge recipe, you'll need the following ingredients:
all-natural, unsweetened peanut butter
vanilla extract
unsweetened cocoa powder
coconut oil
roasted and salted peanuts (optional)
how to make keto peanut butter fudge
You can prep this sugar-free peanut butter fudge a couple of different ways, but I find the best texture results in fudge that has been cooked.
It ends up being less melty, and holds its shape better. Regardless, since this keto fudge recipe lacks sugar (and therefore the candying process that is traditionally used), I recommend enjoying it frozen.
Here's a quick look at the process but be sure to scroll down to the bottom of the page to view the full recipe card.
Mix. In a small saucepan over medium heat, combine all of the ingredients except for the peanuts, stirring it together with a whisk.
Heat. Continue heating the mixture, stirring often, until it comes to a near-boil (about 5 minutes).
Pour. Immediately remove the fudge mixture from the stovetop- you do not want to burn the chocolate. Stir in the majority of the peanuts, reserving a few for the top. Pour it into a parchment paper-lined, prepared pan (a small square dish, rectangular dish or loaf pan works well). Sprinkle the remaining peanuts on top.
Freeze. Place the entire dish in the freezer for at least two hours or overnight. To cut, gently pull on the parchment paper to lift the entire piece of fudge out of the dish. Cut frozen on a chopping board. Serve the individual squares frozen.
tips for the best keto peanut butter fudge
Keep the pieces chilled- preferably frozen- as they will melt quickly at room temperature.
Don't skip the parchment paper! It makes transferring and cutting the fudge a thousand times easier.
I've made this with cacao powder as well as baking cocoa. Both work well, but I suggest tasting the fudge before pouring it in the pan to see if it's sweet as you'd like. If you prefer it sweeter, add a few more drops of monk fruit.
Don't have peanuts? Just like traditional peanut butter fudge, you can toss in your favorite add-ins. A few ideas: keto-friendly white chocolate chips or dark chocolate chips, shredded coconut, or topped with Maldon sea salt flakes.
The peanut butter can be substituted with another kind of nut butter like almond butter or a crunchy peanut butter. Just make sure it's all-natural and free of added sugars/inflammatory oils.
Store the fudge in the freezer in an airtight container.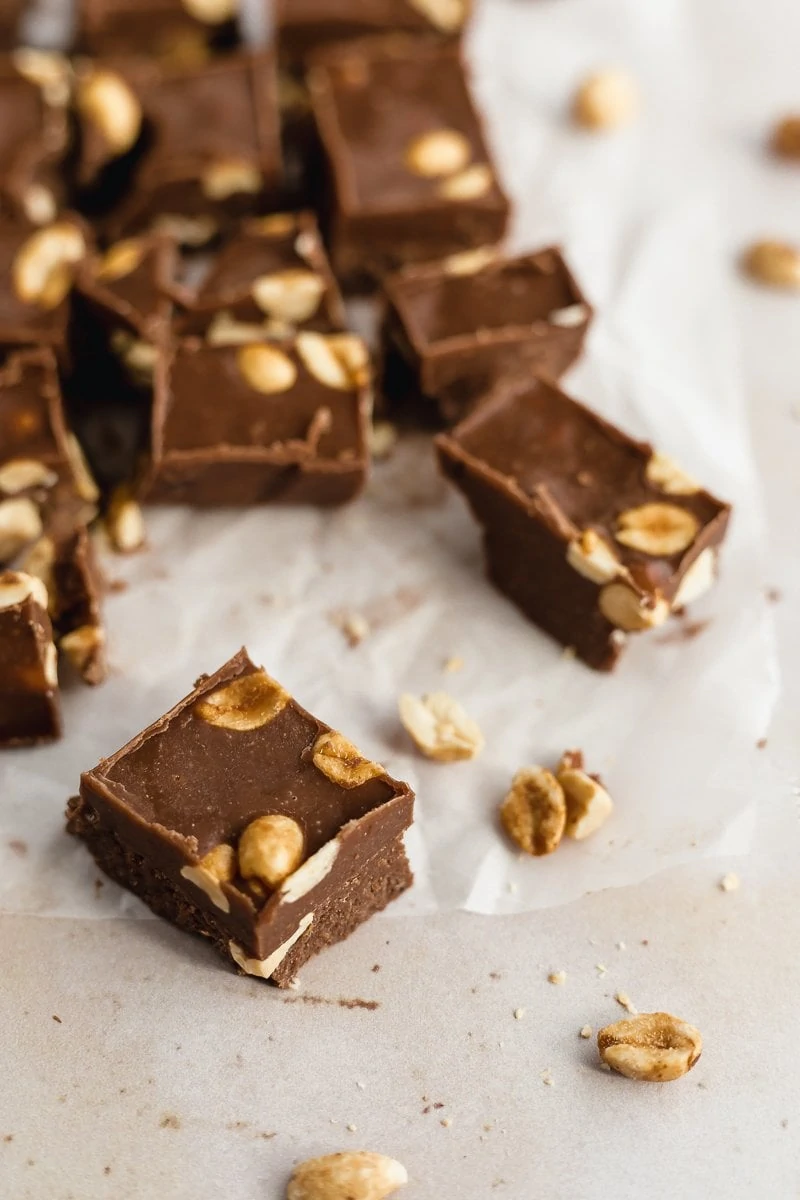 If you're looking for healthier sweet treats, this is an awesome, low-effort treat for any peanut butter lover. It's delicious, addicting and seriously, sooooo good.
Whatever the occasion may be- whether it's a holiday or a Tuesday- keto peanut butter fudge is the perfect low-carb treat!
you might also love...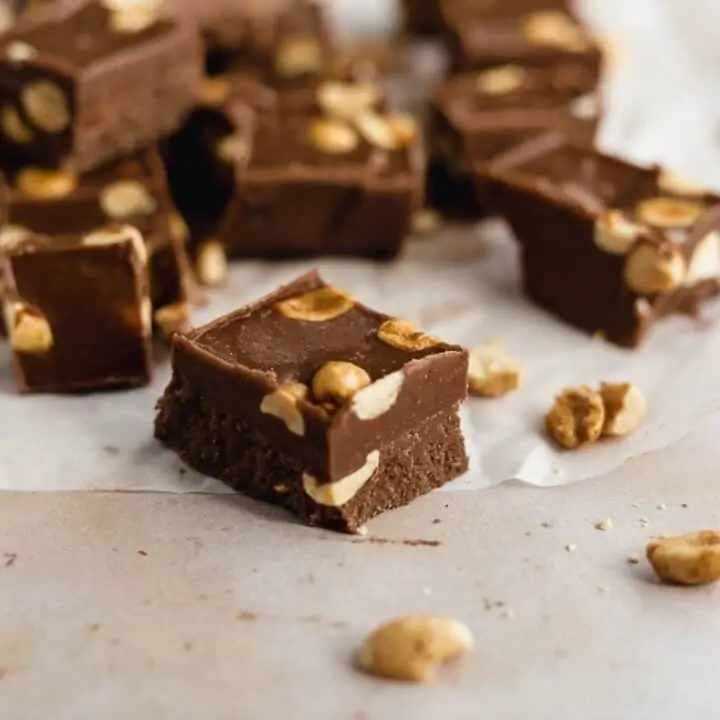 Keto Peanut Butter Fudge (5 Ingredients!)
Total Time:
2 hours
5 minutes
Keto peanut butter fudge is ultra rich, creamy, decadent, and a healthy indulgence! This keto fudge recipe only requires five ingredients, and is gluten-free, dairy-free, and sweetened with pure monk fruit.
Ingredients
1 cup natural, unsweetened peanut butter 
⅓ cup coconut oil
3 tablespoons cocoa powder
2 teaspoons vanilla
⅓ cup salted and roasted peanuts (optional)
Instructions
Prepare a square or rectangular freezer-safe dish (smaller sizes will give you taller fudge pieces- I use a 8" x 6" Pyrex dish) by lining it with a sheet of parchment paper. Leave excess paper hanging over the edges so you can easily lift the fudge out later.
In a saucepan over medium heat, combine all of the ingredients (except for the roasted peanuts). Whisk the mixture together as it melts. (Taste it at this time and add a few more drops of sweetener if needed based on your preference).
Cook the fudge for about five minutes, or just until it begins to boil, whisking the mixture frequently. Immediately remove it from the stovetop. Stir in most of the peanuts, setting a few aside to sprinkle on top later.
Pour the fudge into the prepared dish. Sprinkle the peanuts on top. Place the dish in the freezer and freeze for at least two hours (or overnight) to set the fudge.
To cut, remove the dish from the freezer. Gently loosen the fudge from the dish, and holding the parchment paper, lift it out of the dish and set it on a cutting board. Cut into small, 1-inch squares. Transfer the fudge squares onto a dish to serve or place them back into the freezer.
Notes
The keto peanut butter fudge should be kept chilled, preferably frozen. Store it in the freezer and serve it frozen (or at least refrigerated) to prevent it from losing its shape and melting.
Optional add-ins: You can swap the roasted peanuts for other add-ins like low-carb white chocolate chips, unsweetened shredded coconut, or omit the peanuts altogether and sprinkle some Maldon sea salt on top.
You can easily swap almond butter (or other nut/seed butters) for the peanut butter, if desired.
Nutrition Information:
Yield:

10
Serving Size:

12
Amount Per Serving:
Calories:

190
Total Fat:

16g
Saturated Fat:

7g
Trans Fat:

0g
Cholesterol:

0mg
Sodium:

56mg
Carbohydrates:

5g
Net Carbohydrates:

3g
Fiber:

2g
Sugar:

1g
Protein:

6g
This nutritional information is approximate and is provided for convenience as a courtesy.