This post may contain Amazon affiliate links. I earn a small commission (at no extra cost to you) when you purchase using one of those links. I only recommend products I use and love. Thanks for supporting Stem and Spoon.
If you're short on quick, keto dinner ideas, I've got you: hello, teriyaki chicken meatballs and broccoli! Turn some chicken sausage into tasty keto meatballs, served on top of a broccoli stir fry with a simple, sugar-free teriyaki sauce, and you've got a low-carb dinner ready in half an hour flat! This dish is healthy, quick, and seriously good.
how to make keto meatballs, teriyaki-style
Can I give meatballs a moment here? They're pretty amazing, and this recipe is extra great because there's zero frying required. These oven-baked keto meatballs are perfectly crisp on the outside without the need to hover over a frying pan, turning a ball of meat in hot, splashing grease. By all means, let's skip that step. 😉
To make these teriyaki chicken meatballs, you'll need:
ground chicken, preferably mild Italian chicken sausage
chopped onion
egg
salt and pepper
coconut flour
ground ginger
Combine all of these ingredients in a bowl, use a fork (or your hands) to mix it all up until the meat mixture is well combined. Then scoop out portions and roll them into meatballs. I like to use a cookie dough or ice cream scoop to make sure the meatballs are evenly-portioned.
Place the meatballs on a lined baking sheet, spaced apart. Bake at 450°F for 15 minutes. Remove from the oven and brush the top of each meatball with olive oil, then return to the oven and bake for another 5 minutes at 500°F. That last step browns the meatballs and makes them toasted and crisp on the outside.
While the meatballs are cooking, you can make the teriyaki sauce and stir fry the broccoli with the cabbage.
an easy keto teriyaki sauce recipe
This keto teriyaki sauce recipe (adapted from Sugar Free Londoner) is really quite simple, and doesn't have all the sugar and preservatives that you're sure to find in store-bought teriyaki sauce.
To make it, you'll need a few special ingredients. If you keep a fully-stocked keto pantry, you'll most likely already have them on hand!
Here's what it calls for:
Xanthan gum is a must-have ingredient for this sauce. It's a gluten substitute and thickener, and just a little bit (¼ teaspoon) will be enough to thicken the teriyaki sauce. If you don't have it, the sauce will still taste great, but it won't have that thick, sticky consistency.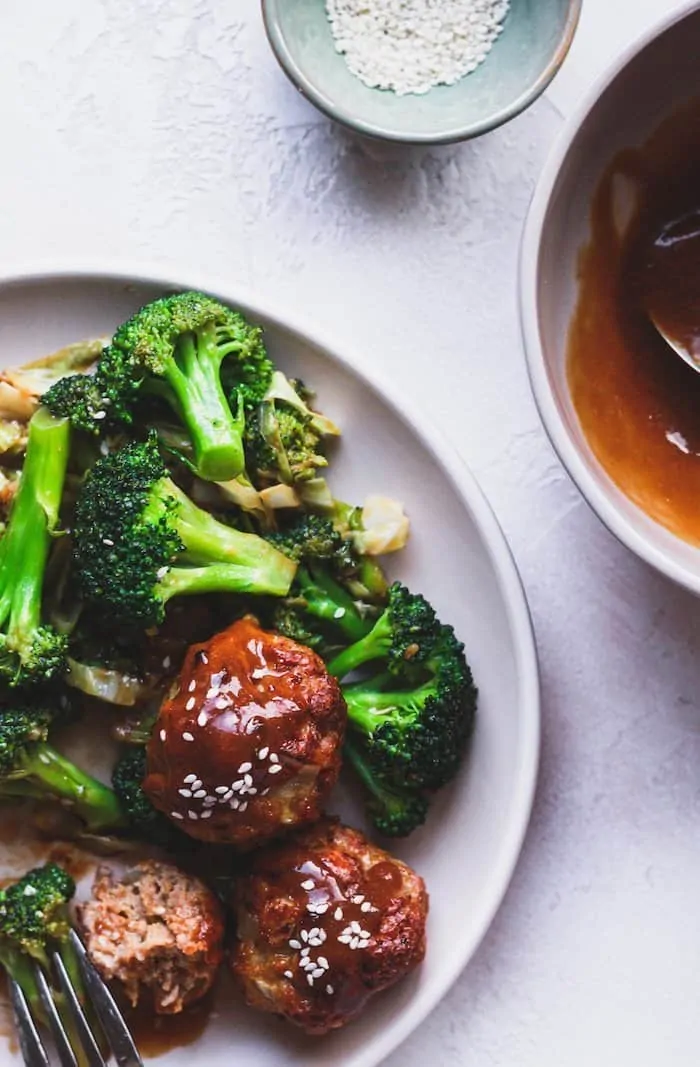 why I love this keto meatball recipe
About those keto meatballs- it's a really easy, versatile recipe that you can change up however you like! I use ground Italian chicken sausage (with no added sugar) because it makes an easy base for chicken meatballs.
tips for keto meatball substitutions
If you're going for a more Italian-style meatball, without the teriyaki sauce, leave out the ginger. If you want to use ground beef or bison or ground chicken or turkey, the recipe works great for that too. Just note you'll most likely have to add a few extra spices (like Italian seasoning or some red pepper flakes for heat), plus extra salt and pepper (see recipe notes).
If you don't have coconut flour, almond flour will also work, but you'll need to use more. Coconut flour is extra absorbent and makes a great binder. It cannot be swapped 1:1 for almond flour, so I'd start with ¼ cup of almond flour and slowly increase if needed. (I haven't tried this but it should work fine). You're going for a meat mixture that is firm enough to hold a meatball shape.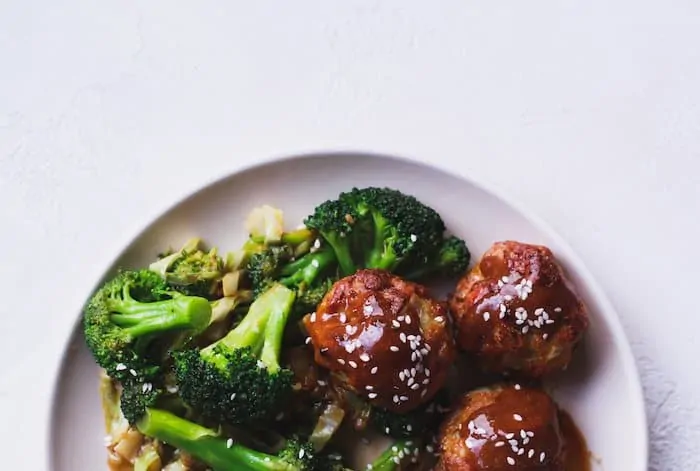 Enjoy this quick and delicious keto dinner idea! And if you try out these keto teriyaki chicken meatballs, let me know by dropping a comment below or tagging Stem + Spoon on Instagram!
you might also love...
keto teriyaki chicken meatballs and broccoli
Keto meatballs, teriyaki style! Served with a low-carb broccoli and cabbage stir fry, and a sugar-free teriyaki sauce, these keto teriyaki chicken meatballs are easy and delicious, and ready in 30 minutes flat!
Ingredients
keto teriyaki chicken meatballs
1 to 1-½ pounds mild Italian chicken sausage
1 egg
½ cup diced onion
1 tablespoon coconut flour
½ teaspoon salt
½ teaspoon ground pepper
½ teaspoon ground ginger
1 tablespoon olive oil
broccoli stir fry
2 tablespoons olive oil (or coconut oil)
2 heads of broccoli, stems removed and cut into florets (about 5 cups)
1 cup thinly sliced cabbage
2 garlic cloves, minced
sugar-free teriyaki sauce
1 tablespoon toasted sesame oil
1 garlic clove, minced
1 teaspoon ground ginger (or 1-inch piece of fresh ginger, peeled and grated)
⅓ cup tamari
¾ cup water
1 teaspoon apple cider vinegar
1 to 1-½ teaspoons monk fruit extract (or stevia drops) or 2 tablespoons granulated sweetener
¼ teaspoon xanthan gum
sesame seeds for topping (optional)
Instructions
keto teriyaki chicken meatballs
Preheat the oven to 450°F. In a large mixing bowl, combine the chicken sausage*, egg, salt and pepper, chopped onion, ground ginger, and coconut flour. I use either my hands or a fork to mash it all together. If the mixture seems too sticky, add 1 extra teaspoon of coconut flour.
Using a cookie dough or ice cream scoop, scoop out evenly-portioned meatballs, rolling each slightly between your hands to round out the flat side.
Place each meatball on a parchment-lined (or silpat) baking sheet. Bake in the oven for 15 minutes.
Remove the meatballs from the oven and brush the top of each meatball with olive oil. Increase the oven temperature to 500°F and return the meatballs to the oven for 5 minutes, or until they're browned.
When they're done, remove the meatballs from the oven and allow them to cool for five minutes on the baking sheet.
sugar-free teriyaki sauce
You can prepare this teriyaki sauce in advance or while the meatballs are baking. In a medium saucepan, heat the sesame oil for 30 seconds over medium heat. Add the minced garlic and grated ginger (if using fresh ginger). Cook for 1-2 minutes to soften.
Add the tamari, water, apple cider vinegar, ground ginger (if you're not using fresh) and monk fruit extract. Whisk all the ingredients together and heat for 5 minutes over low-medium heat.
Whisk in the xanthan gum until the powder is completely blended in (no lumps), and continue to heat the mixture until it thickens (2-3 minutes).
Remove from heat and allow it to cool. It will also thicken more as it cools. Taste and adjust sweetness, adding more monk fruit drops as needed.
broccoli stir fry
In a large frying pan, heat the olive oil (or coconut oil) for 1 minute over medium heat. Add the broccoli florets and cook for about 5-7 minutes.
Stir in the minced garlic, sliced cabbage, and 2-3 tablespoons of the teriyaki sauce. Continue to cook the stir fry for another 5 minutes or so, until the broccoli is tender (but not mushy).
Serve the stir fry with the keto chicken meatballs. Drizzle teriyaki sauce over each serving and sprinkle with sesame seeds.





Notes
You can also use ground chicken or ground beef if you don't have chicken sausage. However, you'll need to increase the amount of salt and pepper (possibly double). I'd also add either 1 teaspoon of Italian seasoning and/or ½ teaspoon red pepper flakes (for heat).
The teriyaki sauce recipe will make about ½ cup. You can store extra in the refrigerator in a sealed container for up to two weeks.
Using frozen broccoli works great, but make sure you cook the broccoli a little longer (at least 10 minutes) before you add the cabbage, garlic and teriyaki sauce.
Keto teriyaki sauce recipe adapted from Sugar Free Londoner.
Nutrition Information:
Yield:

4
Serving Size:

1
Amount Per Serving:
Calories:

340
Total Fat:

17g
Saturated Fat:

4g
Cholesterol:

133mg
Carbohydrates:

6g
Net Carbohydrates:

4.5g
Fiber:

1.5g
Sugar:

3g
Protein:

26g
This nutritional information is approximate and is provided for convenience as a courtesy.