This post may contain Amazon affiliate links. I earn a small commission (at no extra cost to you) when you purchase using one of those links. I only recommend products I use and love. Thanks for supporting Stem and Spoon.
This healthy air fryer chicken wings recipe features a not-so-secret ingredient (baking powder!) that results in the BEST chicken wings ever. And I don't say that lightly.
Chicken wings are one of my all-time favorite foods, and this recipe requires just a handful of ingredients for amazingly crispy chicken wings, seasoned to perfection and so very easy to make.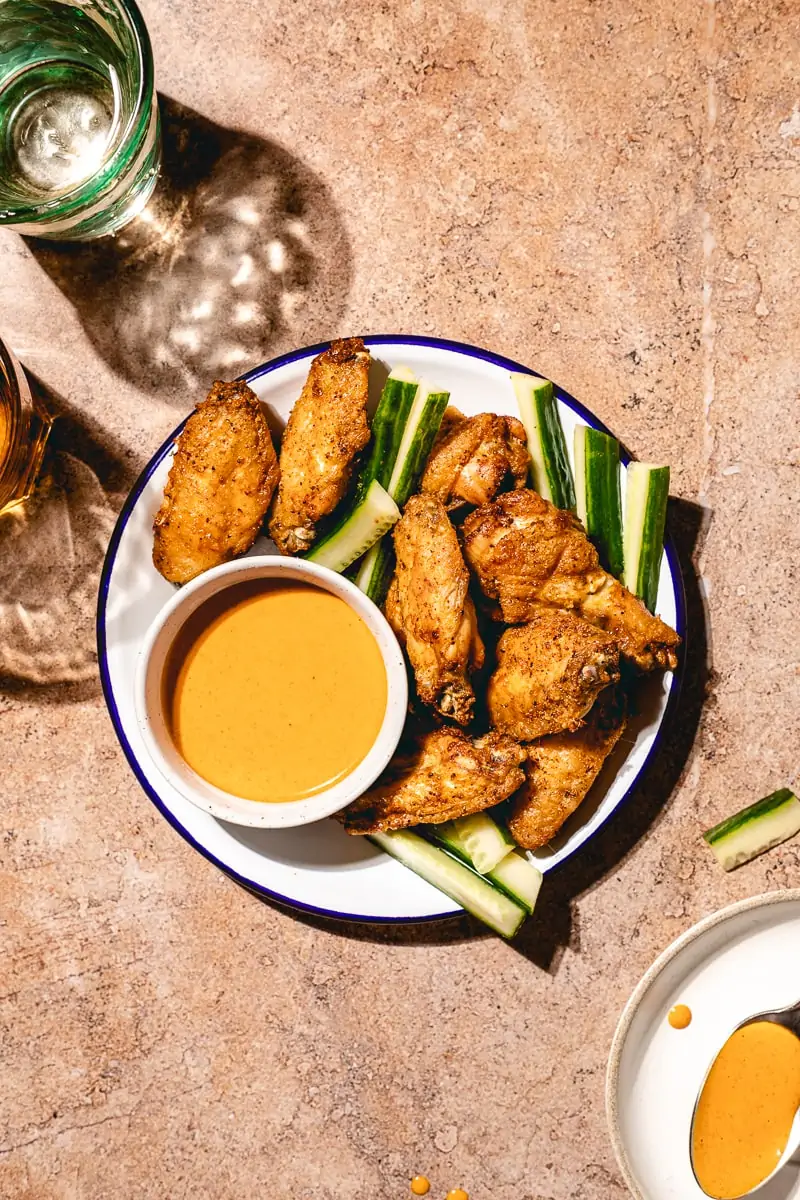 There's no breading or deep frying required, and all you have to do is pop these wings into the air fryer basket and get your favorite sauce ready. I'll go as far as saying that crispy air fryer chicken wings are THE number one reason to get an air fryer if you don't already have one. 🙂
The main trick here is to incorporate a small amount of baking powder into your dry rub mixture. Just like this chipotle air fryer chicken thighs recipe, it will result in extra crispy skin.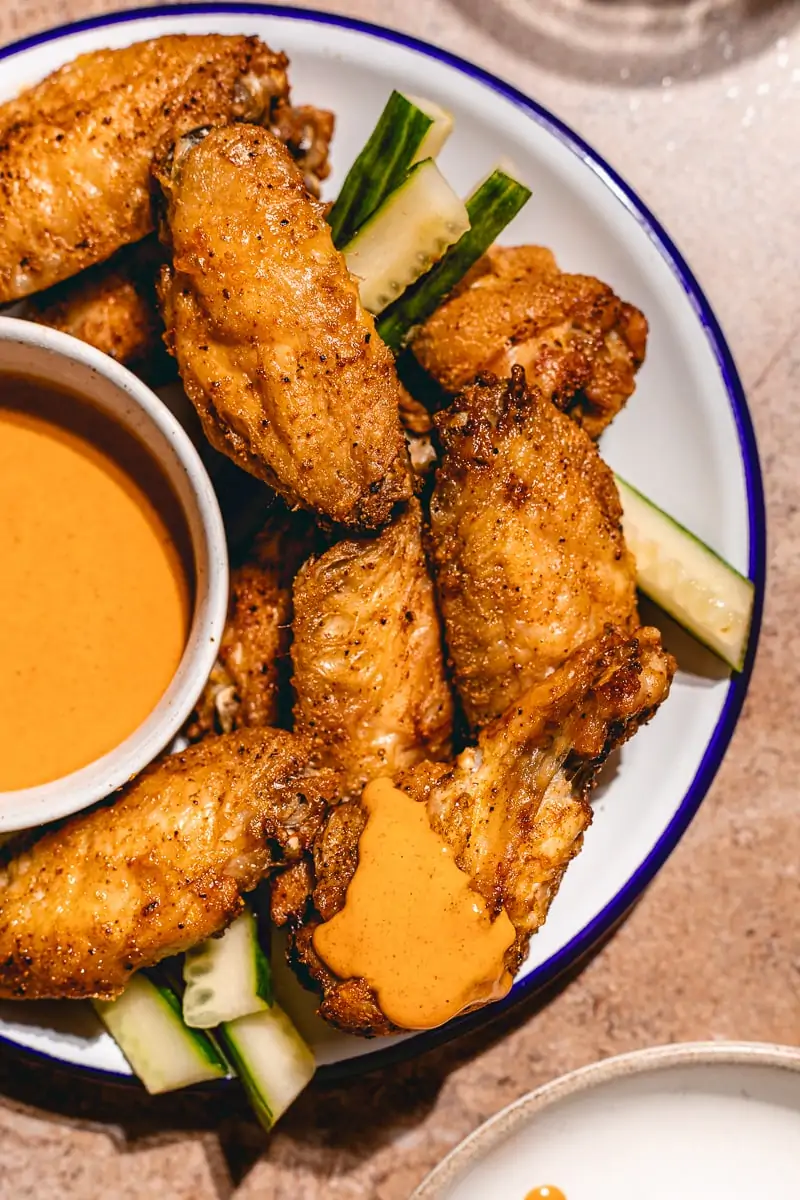 why air fryer chicken wings with baking powder?
The baking powder is the best way to get the chicken skin extra crispy without any sort of breading or flour mix. You'll just need a little bit, along with a few other spices to make an easy dry rub.
While these are dry wings, you can always incorporate your favorite wing sauce for dipping like hot sauce, buffalo sauce, blue cheese dressing, barbecue sauce or this five-minute keto ranch dressing.
More reasons to love this air fryer chicken wings recipe? It's also super easy (zero deep frying involved) and a healthy recipe to keep in your back pocket!
These wings are:
juicy, tender and extra crispy wings
seasoned perfectly with just the right amount of salt, garlic, and a bit of optional chipotle for the tiniest amount of heat
an easy recipe
kid-friendly (I suggest skipping or reducing the chipotle if making these for kiddos)
gluten-free, grain-free, low-carb, and keto diet friendly
These wings are some serious eats for dinner, game day and any other occasion you deem wing-worthy.
ingredients for healthy air fryer chicken wings
You'll need these simple ingredients:
chicken wings, fresh or frozen (if frozen, defrost first)
baking powder, gluten-free (I also opt for aluminum-free)
garlic powder
salt
black pepper
smoked paprika (or regular paprika)
chipotle powder (optional)
Tip: You can play around with the different seasonings and flavor profiles and still get awesome results! Use a little garlic salt or make lemon pepper wings or add your favorite dry rub blend to create air fryer buffalo wings.
Essentially, this basic recipe is really easy to change up with your spices of choice. Just be sure to include the baking powder if you'd like to enjoy the crispiest wings.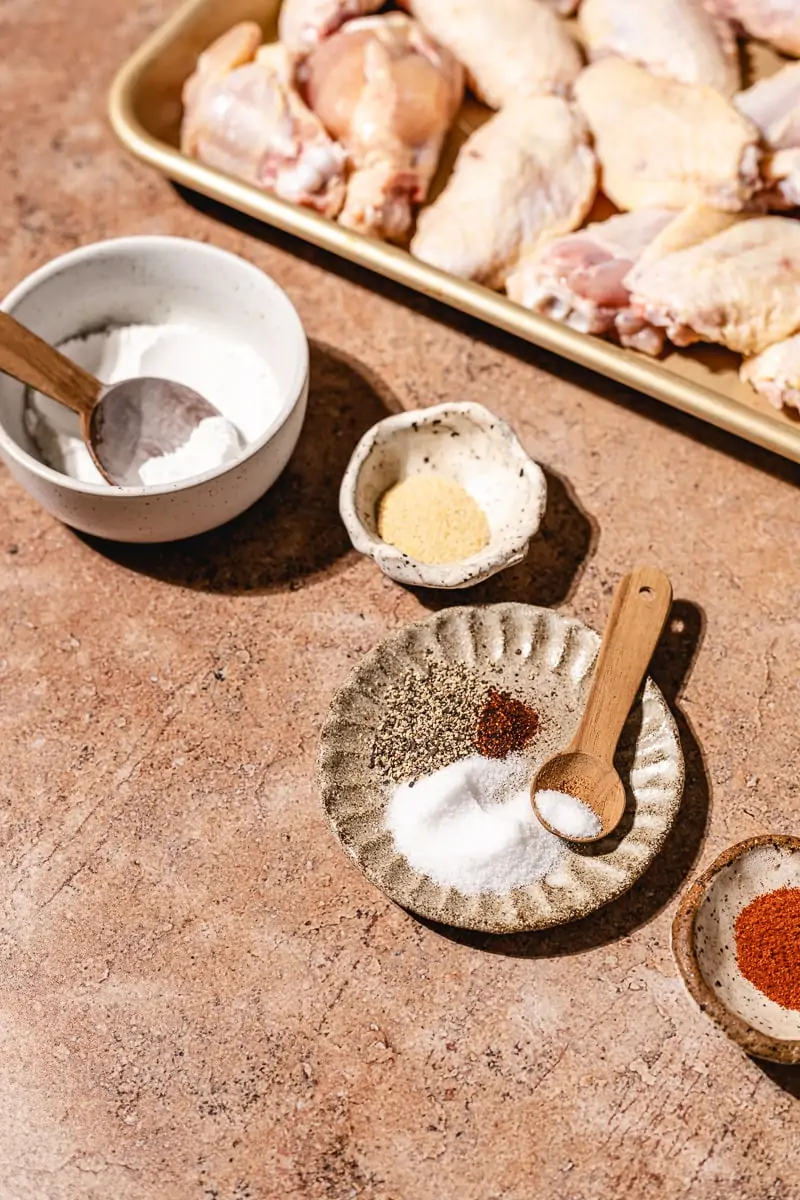 how to make the best air fryer chicken wings
The prep time is so quick, and the air fryer speeds up the cooking time even more.
Keep in mind that I developed this recipe for basket-style air fryers. Other styles of air fryers may work a bit different and I'm not familiar with how the air fryer temperatures may vary.
Also, I feel it's important to emphasize that you will always get the best results if the wings are arranged in a single layer in the air fryer basket, preferably set on a rack so that the hot air can circulate.
For the full recipe, including ingredient amounts and the full cooking process, scroll to the bottom of the page to view the printable recipe card.
Here's how to make the crispiest chicken wings in the air fryer:
Prepare the simple spice rub. In a small bowl, combine the baking powder, garlic powder, salt, pepper, smoked paprika, and chipotle (optional). Stir until it's mixed well.
Coat the chicken. There are two ways you can do this, but the fastest is to use a gallon-sized Ziploc bag and shake half the chicken wings with half of the dry rub, then repeat with the second half. The other way is to set the wings on a plate or baking sheet and sprinkle the rub onto the chicken pieces, flipping them over to coat both sides. Be sure to always use a paper towel to pat dry the wings before seasoning them.
Air fry the chicken wings. Depending on your type of air fryer, you will likely have to air fry in two separate batches (I air fry about eight at a time). Remove the air fryer rack. Preheat the air fryer to 360°F. Rub a little oil (avocado or coconut oil) onto the rack. You can also use an avocado or olive oil spray to prevent the chicken from sticking. Place the first batch of chicken wings onto the rack, then set the rack into the air fryer once it is preheated. Cook for 15 minutes at 360°F. Flip the chicken wings and increase the temperature to 400°F. Cook another 10 minutes or until the wings are golden brown and done on the inside. You can use a meat thermometer to check for doneness.
Serve. Let the wings sit for a couple of minutes before serving. Dish up your favorite dipping sauces or cucumber, carrot or celery sticks to go along with them. Serve and enjoy!
One disclaimer to this air fryer chicken wings recipe: the wings go FAST.
They're my family's all-time favorite and seriously, SO GOOD. Just thought it was worth a mention in case you feel the need to double the batch. 😉
air fryer chicken wings recipe tips
If you're using frozen chicken wings, make sure they're fully thawed first. Since frozen wings will release more water, be sure to pat them dry very well. Don't spread the baking powder mixture on until right before the wings are going into the air fryer, just in case the wings release more water as they sit.
You can thaw frozen wings in the microwave by using the defrost setting for bone-in poultry.
If you're cooking the wings in batches, place the first cooked batch of wings onto a plate and tent with aluminum foil to keep them warm while you cook the second batch.
Store leftovers in an airtight container for up to five days.
If you want to add a bit of heat but you don't have chipotle powder, try chili powder or ground cayenne.
This air fryer chicken wings recipe results in the tastiest, crispiest, better-than-restaurant chicken wings! Pair them with a keto Cobb salad, keto ranch dressing for plenty of dipping action, or check out other air fryer recipes like these cook your entire air fryer zucchini tots and air fryer broccoli.
I hope you enjoy these healthy air fryer chicken wings. They're a great way to make the most of your air fryer! This is a recipe I always come back to and I hope you love it as much as my family does.
p.s. If you try this recipe, I'd be so grateful if you rated it with a star review below. And show me your wings by tagging @stemandspoon on Instagram!
you might also love...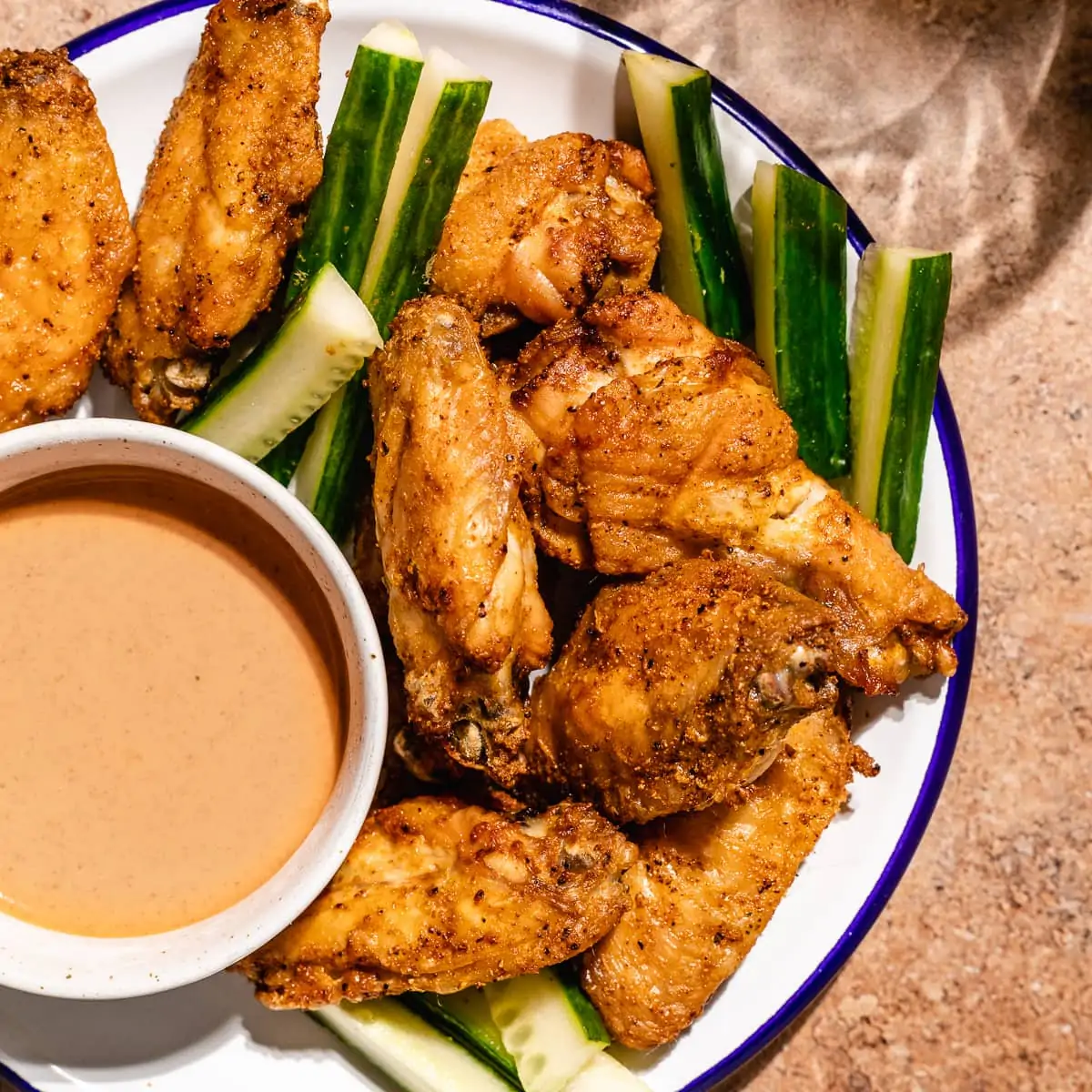 Healthy Air Fryer Chicken Wings (with Baking Powder!)
This healthy air fryer chicken wings recipe results in amazingly crispy, tender-on-the-inside, and perfectly seasoned wings! An easy dry rub made with baking powder gives these wings the yummiest flavor and results in extra crispy party wings that will disappear fast! Keto, low-carb, gluten-free and grain-free.
Ingredients
2-½ pounds chicken wings, fresh or thawed if using frozen (about 14-16 pieces)
1-½ tablespoons baking powder (gluten-free and aluminum-free)
¾ teaspoon garlic powder
½ teaspoon sea salt
½ teaspoon smoked paprika (or regular paprika)
½ teaspoon black pepper
pinch of chipotle powder (optional)
1 teaspoon avocado oil or coconut oil
Instructions
If using frozen wings, first make sure they are completely thawed.* Place the wings on a plate and pat them dry with paper towels. Depending on the size of your air fryer, you may need to cook the wings in batches. If that's the case, only work with half the wings at a time, leaving the remaining wings in the refrigerator.
If your air fryer has a rack that fits inside the basket, remove the rack before preheating the air fryer to 360°F. In a small bowl, combine the baking powder (NOT baking soda), garlic powder, sea salt, pepper, paprika, and chipotle powder.* Stir to mix well.
Place half the wings in a gallon-sized Ziploc bag along with half the seasoning. Shake the bag to coat the wings. Repeat with the remaining half. Alternatively, you can use a spoon to sprinkle some of the dry mixture onto one side of the raw chicken wings, then flip each piece and coat the other side.
Brush or spray the air fryer rack with avocado oil or coconut oil to prevent the wings from sticking. Place the seasoned wings onto the rack and place the rack into the air fryer basket. Cook at 360°F for 15 minutes.
Flip the wings over and bump up the temperature to 400°F. Air fry for an additional 5-10 minutes or until they are cooked through.*
Remove the wings from the air fryer and place them on a clean plate. If you have to air fry the second batch, tent the cooked wings with aluminum foil to keep them warm.
Repeat steps 3-5 with the second batch of wings. Serve the wings as-is or with a 5-minute keto ranch dressing.
Notes
For quick thawing of frozen wings, place them in the microwave and use the "defrost bone-in poultry" setting.
Since all air fryers cook differently, I recommend checking to see if the wings are done after the first 5 minutes of air frying at 400°F.
The chipotle powder is optional. It only gives the wings a tiny amount of heat so if you want spicier wings, use ¼ to ½ teaspoon.
Nutrition Information:
Yield:

3
Serving Size:

1
Amount Per Serving:
Calories:

420
Total Fat:

33g
Saturated Fat:

10g
Cholesterol:

208mg
Sodium:

531mg
Carbohydrates:

2g
Net Carbohydrates:

2g
Fiber:

0g
Sugar:

0g
Protein:

30g
This nutritional information is approximate and is provided for convenience as a courtesy.