This post may contain Amazon affiliate links. I earn a small commission (at no extra cost to you) when you purchase using one of those links. I only recommend products I use and love. Thanks for supporting Stem and Spoon.
Keto almond flour cookies with a sweet maple glaze are here in time for the holidays, a.k.a cookie baking season! They are soft and tender with a maple-flavored glaze, a touch of cinnamon and a "brown sugar" flavor that's so close to the real deal.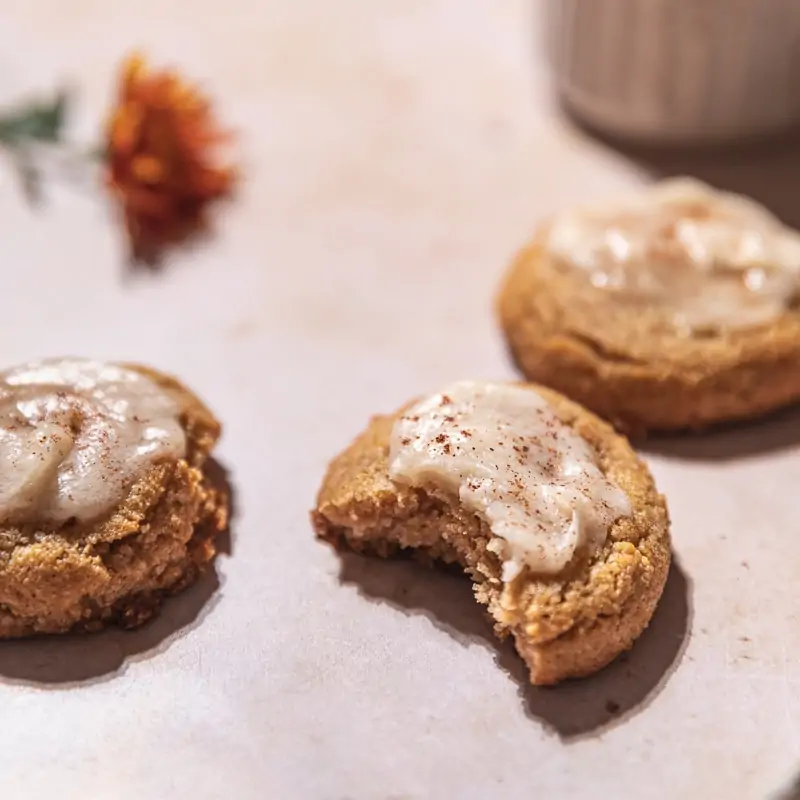 If you've ever made my keto chocolate chip cookies or my keto white chocolate macadamia cookies, you'll notice this recipe is very similar.
Think of it as a base almond flour cookie recipe of sorts. A few simple changes and add-ins can give you a whole new cookie and flavor profile without losing that perfect keto cookie texture!
why you'll love these almond flour cookies
These keto almond flour cookies with maple glaze have a lot going for them. They're melt-in-your mouth good, so easy to make, and are a healthy almond flour cookie that all eaters will enjoy!
These almond flour cookies are:
sugar-free and sweetened with monk fruit
low-carb and keto-friendly
gluten-free and dairy optional
kid-approved and a fun baking project
I created this recipe in partnership with Lakanto for Instagram and it's too good not to post here as well!
watch the recipe video
the ingredients
A couple things to note about this almond flour cookie recipe. I use Lakanto's Brown Monk Fruit Sweetener which makes the biggest difference when it comes to flavor. Its taste is very similar to actual brown sugar- the warm, caramel-y notes stand out here and reduce the "cooling" taste that erythritol can have.
In fact, their brown sweetener is now my go-to choice for keto almond flour cookie recipes! (By the way, I'm a Lakanto affiliate so if you want to try out the product, you can use the promo code STEMANDSPOON at checkout for a 15% discount).
Here's the full ingredient list for the keto almond flour cookies:
grass-fed, salted butter (or coconut oil for dairy-free)
brown monk fruit sweetener
eggs
vanilla extract
blanched almond flour
coconut flour
baking soda
xanthan gum
salt
And for the sugar-free maple glaze:
cinnamon
coconut oil
powdered monk fruit sweetener
unsweetened vanilla almond milk
vanilla extract
maple flavor
how to make almond flour cookies
If you've ever struggled with making healthy almond flour cookies, this recipe is for you! And it's actually quite simple:
Cream the butter, eggs, sweetener and vanilla.
Add the dry ingredients and stir until the cookie dough forms.
Chill the almond flour cookie dough (optional but will give you the best results).
Scoop the dough onto a cookie sheet and bake the cookies.
Cool the cookies, prep the glaze, then top each cookie with a teaspoon of maple glaze.
The combination of almond flour and coconut flour creates a wonderful texture that's not too crumbly. The eggs and xanthan gum helps bind it all together and makes a more workable cookie dough.
tips for the best results
I love using salted butter for cookies. It gives them a great flavor. You can go a step further and brown the butter ahead of time if you'd like.
For a dairy-free almond flour cookie, coconut oil or a vegan butter (I like Milkadamia's for its ingredient list) both work as a great substitute.
Chilling the dough is optional (you can certainly bake them right away!) but I find that it gives the cookies an even chewier texture, possibly because the cookies end up thicker since they don't spread as much. I chill them for at least an hour.
For a really chewy cookie, you can under-bake them slightly. They'll continue baking as they cool on the cookie sheet, and they will have a much chewier texture once they're completely cool.
Wait until the cookies are completely cool before topping them with the maple glaze. If they're even a little bit warm, the glaze will slide right off.
To set the glaze quickly, place the glazed cookies in the freezer for 10 minutes.
For perfectly rounded cookies, place a round cookie cutter over each cookie right after baking. Move it around gently to shape the cookie while it's still hot.
frequently asked questions
Can I use almond flour on keto? With its low-carb profile and versatility, almond flour is the most commonly-used keto-friendly flour. It can sometimes be substituted 1:1 for regular flour, although it lacks gluten and doesn't give you the same results. When choosing almond flours, I always go for blanched almond flour (the skins are removed) that is ground super fine.
How does almond flour affect cookies? Almond flour baked goods will have a much larger crumb than traditional flour which can often make cookies a little more moist and crumbly. Almond flour cookies won't rise as much, even with a leavening agent. It also lacks the gluten found in wheat flours but the addition of xanthan gum will work as a binder and create structure similar to gluten.
variations for almond flour cookies
A few ideas for add-ins or other yummy variations:
Chocolate- Toss in sugar-free chocolate chips or chunks for a chocolate-y spin on these healthy almond flour cookies!
Caramel chips- I love these salted caramel chips by Lily's and they'd add a whole new flavor to these cookies!
Nuts- Chopped pecans, walnuts, or almonds can add a bit of crunch and richness.
Coconut- Shredded, unsweetened coconut (especially toasted coconut) would make a great topping on the glaze. Or stir it into the cookie dough for a light coconut flavor.
These keto almond flour cookies are soft and chewy with a rich, sweet "brown sugar" flavor, even though they're entirely sugar-free!
It's a wonderful recipe for healthy almond flour cookies during the holidays (and year-round!). Keto, dairy optional, gluten-free, DELICIOUS... it really does check all the boxes.
Happy baking!
p.s. If you try out this recipe and love it as much as I do, please consider leaving a star review and/or comment below! I'm always so grateful to hear your feedback and I love hearing what you're making!
more keto almond flour recipes to try
Keto Almond Flour Cookies with Maple Glaze
Total Time:
1 hour
30 minutes
Soft and chewy almond flour cookies with a sweet maple glaze! These are keto-friendly, low-carb, gluten-free and dairy optional.
Ingredients
almond flour cookies
½ cup salted butter or coconut oil, slightly melted
½ cup Lakanto Brown Monk Fruit Sweetener
1 egg, at room temperature
1 egg yolk, at room temperature
2 teaspoons vanilla extract
1 ¾ cups blanched almond flour
1 tablespoon coconut flour
½ teaspoon baking soda
½ teaspoon xanthan gum
¼ teaspoon salt
½ teaspoon ground cinnamon
maple glaze
4 tablespoons coconut oil
2 tablespoons Lakanto Powdered Monk Fruit Sweetener
3 teaspoons unsweetened vanilla almond milk
¼ teaspoon maple flavor
½ teaspoon vanilla extract
Instructions
In a large mixing bowl or standup mixer, beat the butter or coconut oil with eggs and Brown sweetener until creamy. Add the vanilla.
Add the almond flour, coconut flour, baking soda, xanthan gum, salt, and ground cinnamon. Mix until a dough forms.
Wrap the dough in plastic wrap. Place in the refrigerator and chill the dough for 1 hour. This is optional, but it will help the cookies hold their shape, spread less, and result in a thicker, chewier cookie.
Preheat the oven to 350°F. Line a baking sheet with parchment paper.
Scoop dough portions about 1-½ tablespoons in size. Flatten slightly, then place on the baking sheet.
Bake the cookies at 350°F for 10-12 minutes, or until golden around the edges.
Remove from the oven and cool on the pan for 5-10 minutes. If they appear slightly underdone, don't worry- they will crisp up and become more "chewy" as they cool.
When the cookies are completely cooled, whisk together the glaze ingredients. Spoon 1 teaspoon of glaze onto each cookie then sprinkle with cinnamon (opt.).
Place the glazed cookies in the freezer for 10 minutes to allow the glaze to set.
Notes
Wait until the cookies are completely cool before topping them with the maple glaze. If they're even a little bit warm, the glaze will slide right off.
To set the glaze quickly, place the glazed cookies in the freezer for 10 minutes.
For perfectly rounded cookies, place a round cookie cutter over each cookie right after baking. Move it around gently to shape the cookie while it's still hot.
Nutrition Information:
Yield:

12
Serving Size:

1
Amount Per Serving:
Calories:

239
Total Fat:

22g
Saturated Fat:

10g
Trans Fat:

0g
Unsaturated Fat:

10g
Cholesterol:

51mg
Sodium:

165mg
Carbohydrates:

7g
Net Carbohydrates:

5g
Fiber:

2g
Sugar:

3g
Protein:

5g
This nutritional information is approximate and is provided for convenience as a courtesy.