This post may contain Amazon affiliate links. I earn a small commission (at no extra cost to you) when you purchase using one of those links. I only recommend products I use and love. Thanks for supporting Stem and Spoon.
This keto chicken soup is goodness in a bowl! Tender, meaty shreds of chicken, aromatics and herbs swimming in a deliciously flavorful broth is what chicken soup is all about! Not only is this low-carb chicken soup hearty comfort food, it's also full of nutrients and spices that will nourish.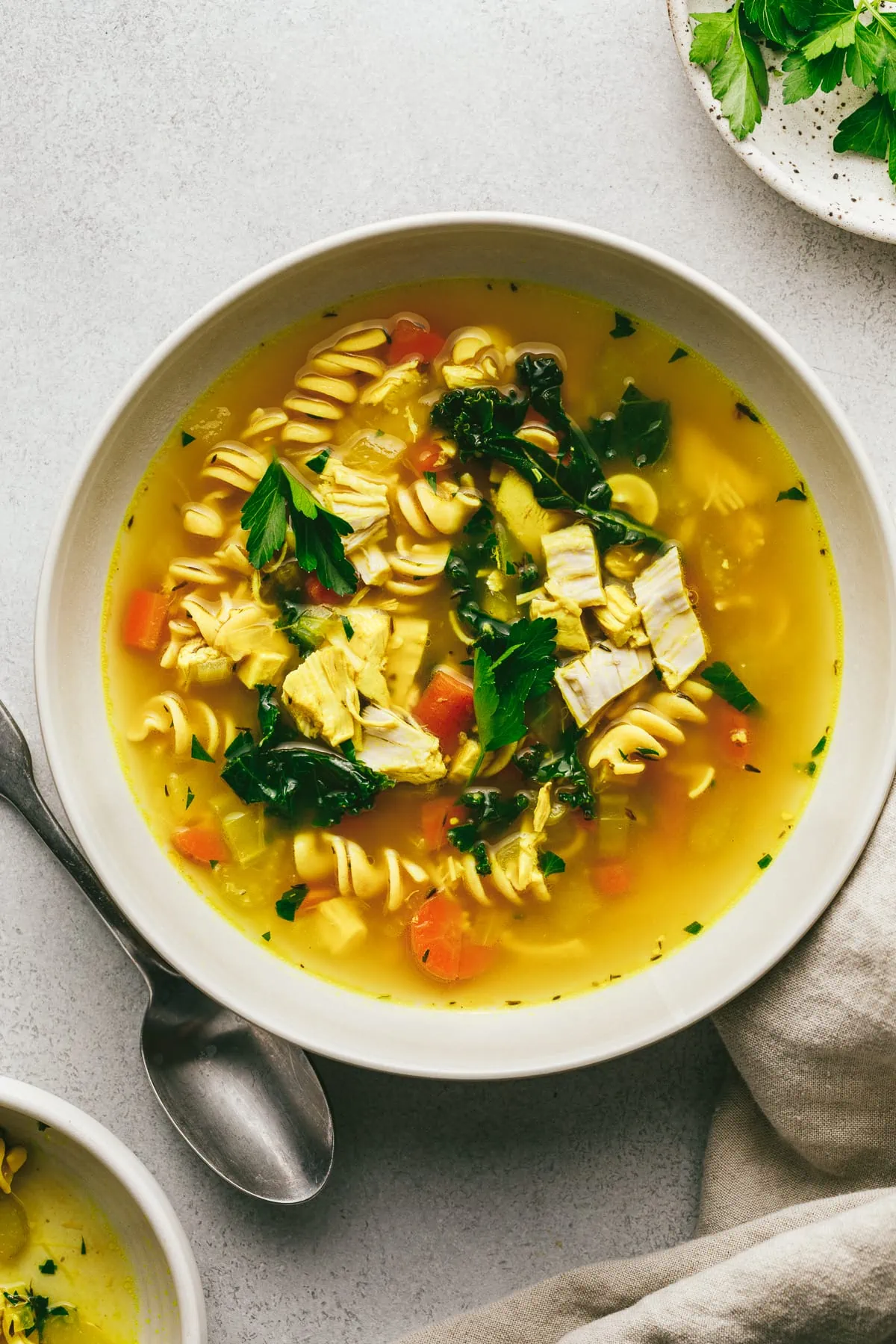 This post was updated with new photos and a few recipe changes in Feb. 2023 to bring you the very best content!
This is my go-to recipe for keto chicken soup and I first shared it in 2020. The original version was a creamy chicken soup chock-full of hearty vegetables, fresh herbs and chicken.
However, I've since updated this post to provide you with the most basic, won't-let-you-down keto chicken soup recipe for those cold winter days when you want something warming and simple.
I took the "extras" of the original recipe - like creamy coconut milk and savory mushrooms- and tossed those ingredients into the recipe notes to give you easy ways to adapt and elevate a simple chicken soup.
I think it's better this way and I hope you do too! 🙂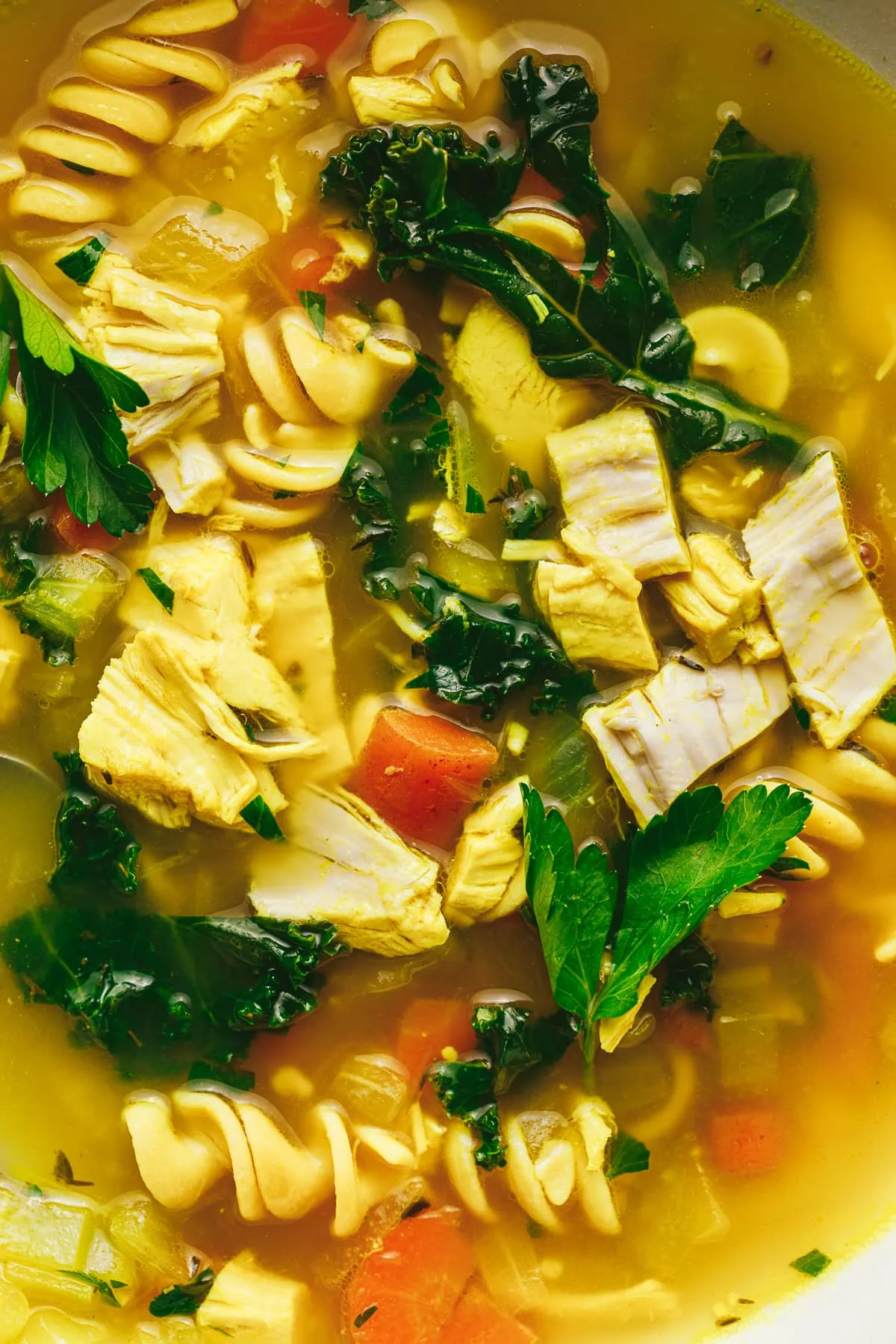 why this recipe works
Let's face it, there's nothing like homemade chicken soup. It's warming, cozy, and full of hearty whole foods. And while it's really good when served immediately, leftovers are even better!
One of the I love about this recipe is that it's so versatile. I've made this keto chicken soup with leftover chicken, leftover turkey, homemade stock and store-bought broth-- any of the above works! It's a nourishing low-carb chicken soup recipe that is also paleo, dairy-free and gluten-free, and comes together in about half an hour.
I add low-carb, high-protein noodles to the soup but it's completely optional and you can also swap the ingredient for other noodle alternatives.
And it's that combination of fresh vegetables, aromatics and chicken that makes this soup hearty, healthy and comforting in every way.
It is:
A soup that works for a variety of eating styles. It's low carb diet and keto diet friendly; a gluten-free chicken soup that's also paleo.
Versatile - change it up with vegetables on-hand or use turkey instead of chicken!
Great for lunches, dinners and meal prep. Plus, leftover soup even tastes better the next day.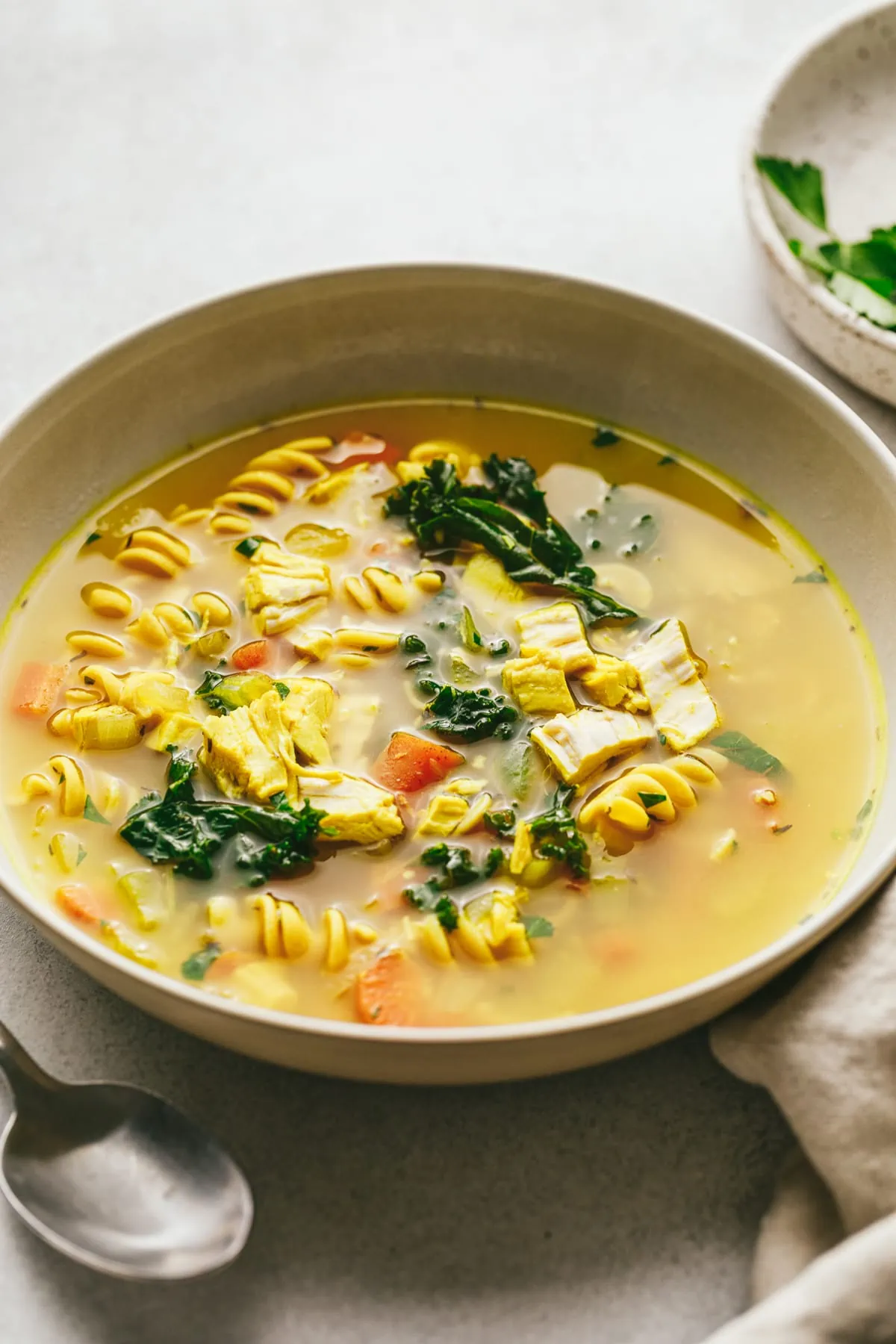 the ingredients
Here's the good news. This is a keto chicken soup without cauliflower rice!
Sure, you can certainly toss it in, but it's not a necessary filler. Instead, this soup is all about the savory vegetables, meaty chicken and aromatics.
Fresh ginger and ground turmeric add a flavorful earthiness to the soup that's just enough to taste, but not enough to where the flavor teeters on the edge of curry territory. (If you're unconvinced, know that my husband is the most averse to turmeric but he will happily go for seconds and thirds of this soup!)
One of the best things about this chicken soup is that it's a great way to use up leftover protein like turkey or chicken, or make use of homemade stock.
It's also extra convenient when you have a nearly-empty fridge with just a few forgotten items in the veggie drawer. 😉
Here's what you will need: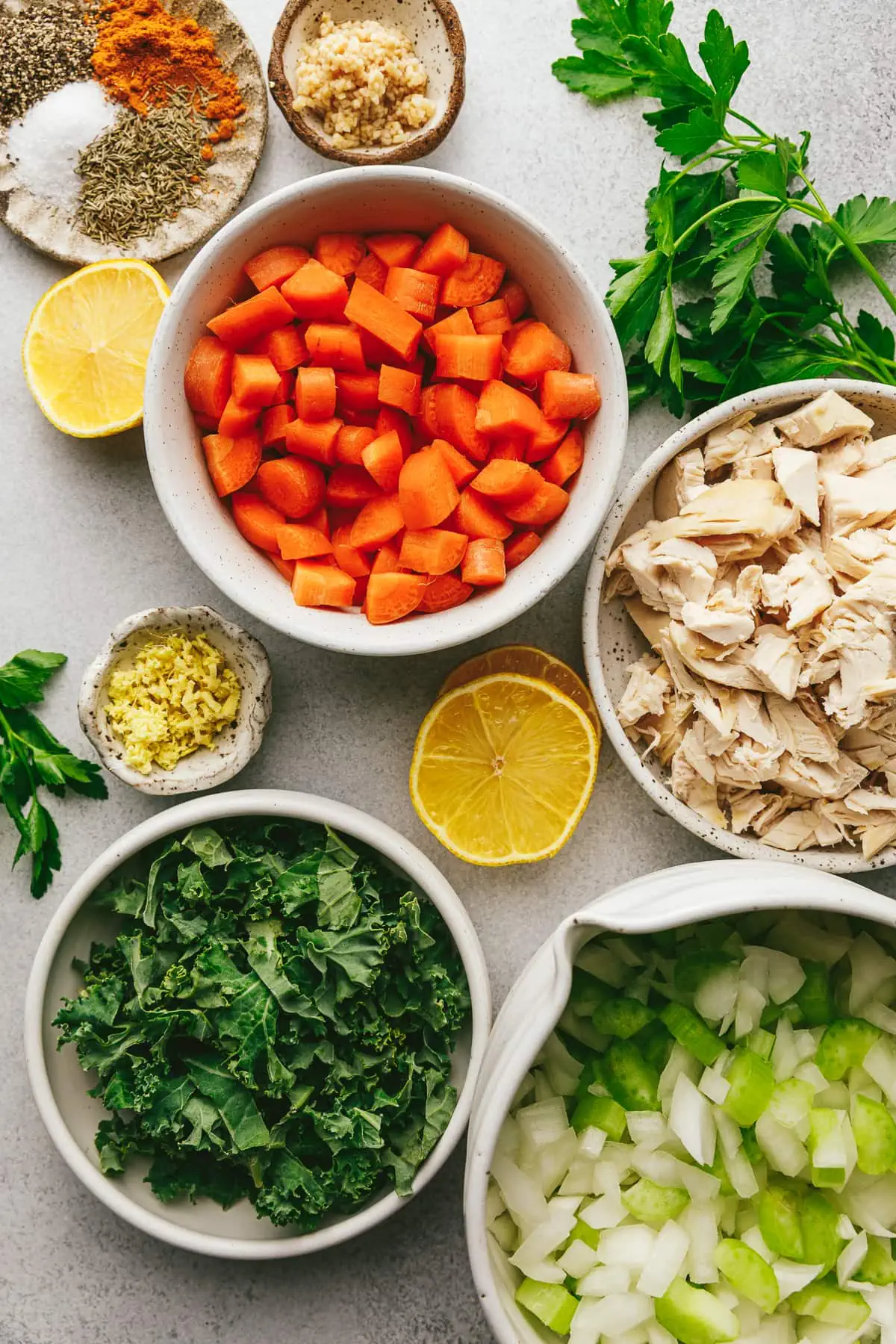 olive oil or avocado oil
carrots
celery
onion
thyme, fresh or dried
fresh ginger, grated
garlic, minced
chicken broth
ground turmeric
salt
pepper
chopped or shredded chicken (make it easy and use meat pulled from a rotisserie chicken)
kale
low-carb noodles (optional)
lemon juice
fresh parsley
how to make keto chicken soup
It doesn't take a whole lot of effort to make this low-carb and gluten-free chicken soup and this is one of those easy recipes that you'll revisit time and time again!
The recipe is simple to follow and so easy to adapt and make your own. It comes together quickly, but I also recommend a longer simmer if you have the time.
Here's a look at the process but be sure to scroll to the bottom of the page to see all the instructions in the printable recipe card.
Sauté the vegetables. In a large pot or Dutch oven set over medium heat, pour in the oil and then add the carrots, celery and onion. Cook the veggies for about 5 minutes over medium-high heat to let them soften.
Simmer the soup. Stir in the grated ginger and minced garlic. Pour in the chicken broth and seasonings. Bring the soup to a boil, then add the dried low-carb noodles (if using dry pasta) and the chicken and simmer over low heat for 5 minutes (and as long as 15 minutes). Stir in the fresh kale and simmer another 3 minutes to allow the kale to wilt.
Serve. Serve the chicken soup with a squeeze of fresh lemon juice and chopped parsley on top.
tips for the best results
Store leftover soup in an airtight container in the refrigerator for up to one week.
For a more complex and richer flavor, you can use homemade chicken stock or chicken bone broth!
This recipe calls already-cooked chicken. You can pre-cook chicken specifically for this (I recommend chicken thighs since they're more flavorful), or use leftover rotisserie chicken or roasted chicken. I like to shred or chop the meat from the roast chicken and then use the carcass to make bone broth. It's a nice way to get the most out of a whole chicken.
For a heartier soup with a rich umami flavor, you can sauté 8 ounces of crimini mushrooms along with the vegetables.
For a creamy soup, mix in heavy cream or coconut cream. You'll want to use less chicken broth. I recommend 4 cups chicken broth and about 1-½ cups cream. Add the cream when you stir in the kale.
Noodle varieties: Noodles are optional, but if you're craving a hearty keto chicken noodle soup, WHY NOT toss them in? My very favorite low-carb pasta brand is Kaizen lupin pasta (the Fusilli pasta is pictured- it's the same brand I use for this low-carb mac and cheese recipe). The dry pasta needs about 7 minutes to become tender. If using zucchini noodles, shirataki noodles or kelp noodles, stir them in at the very end- they really only need 2-3 minutes to heat up.
I haven't tried this recipe in a slow cooker, but if you feel experimental, my one recommendation is to hold on adding the chicken and the noodles until the last 30 minutes of cook time.
I hope you enjoy this easy keto chicken soup! It has amazing flavor and is a simple, good-for-you meal that's cozy, nourishing and delicious.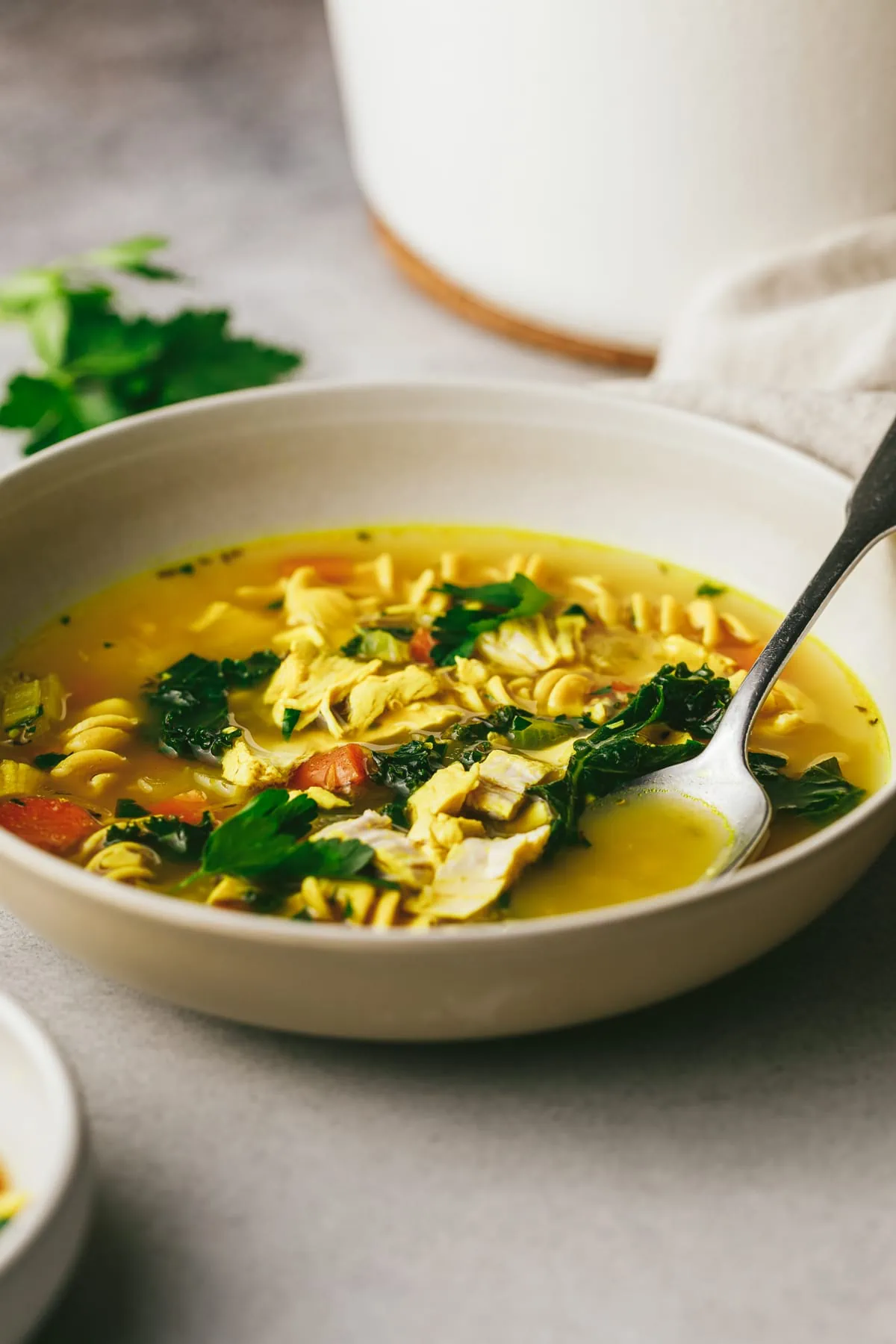 you might also love...
Keto Chicken Soup (Gluten Free, Low Carb)
This keto chicken soup is rich, brothy goodness in a bowl! Shreds of chicken, tender vegetables and bold aromatics create this quick and easy soup that is flavorful and nourishing.
Ingredients
2 tablespoons olive oil or avocado oil 
2 carrots, chopped small
2 celery, chopped small
1 yellow onion, chopped small
1 tablespoon grated ginger
2 teaspoons minced garlic
1-2 teaspoons chopped fresh thyme (or sub ½ teaspoon dried thyme)
6 cups chicken broth
½ teaspoon ground turmeric
½ teaspoon fine sea salt
½ teaspoon ground black pepper
2 cups cooked chicken, chopped or shredded
3-4 ounces low-carb pasta (optional, *see notes)
1 cup Lacinto kale, cut into thin ribbons
2 tablespoons fresh parsley, chopped
juice of ½ a lemon 
lemon wedges for serving (optional)
Instructions
Place a large pot or Dutch oven on the stovetop over medium heat. Pour in the oil and heat for about a minute. Add the chopped carrots, celery, and onion. Cook for 5-8 minutes to soften the vegetables. To speed up the process, cover the pot with a lid to help the veggies steam and cook quicker.
Stir in the grated ginger, minced garlic and thyme. Cook for 1 minute, then add in the chicken broth, turmeric, salt and pepper. Stir.
Increase the heat to medium-high and bring the soup to a boil. Once it boils, add in the chicken and the dried low-carb pasta (see notes if using other noodles). Decrease the heat to low-medium and let the soup simmer at a gentle boil for 5 minutes.
Taste the broth and add more salt, if needed. I usually add another ¼-1/2 teaspoon. Stir in the fresh kale and parsley. Simmer another 3-5 minutes or until the kale wilts.
Remove from heat. Stir in the lemon juice.
Ladle into soup bowls and serve with extra parsley (optional).
Notes
I like Lacinto (or Tuscan) kale in soups, but a curly kale or other sturdy green can be substituted.
Noodle options: I love Kaizen's lupin pasta (the soup is pictured with Kaizen's fusilli pasta). It's a dry pasta so it works best to add it to the soup mixture along with the chicken since it does require a few minutes to cook. Other "noodle" options include: zucchini noodles, shirataki noodles, kelp noodles and edamame noodles. Any of these should be added during the last 5 minutes of cook time.
Storing: Store leftover soup in an airtight container in the refrigerator for up to one week.
Variations:
Adding mushrooms: For a heartier soup with a rich umami flavor, you can sauté 8 ounces of crimini mushrooms along with the vegetables.
For a creamy soup, mix in heavy cream or coconut cream. You'll want to use less chicken broth. I recommend 4 cups chicken broth and about 1-½ cups cream. Add the cream when you stir in the kale.
Nutrition Information:
Yield:

6
Serving Size:

1
Amount Per Serving:
Calories:

223
Total Fat:

13g
Saturated Fat:

3g
Trans Fat:

0g
Unsaturated Fat:

10g
Cholesterol:

47mg
Sodium:

1183mg
Carbohydrates:

11g
Net Carbohydrates:

8g
Fiber:

3g
Sugar:

7g
Protein:

14g
This nutritional information is approximate and is provided for convenience as a courtesy.