This post may contain Amazon affiliate links. I earn a small commission (at no extra cost to you) when you purchase using one of those links. I only recommend products I use and love. Thanks for supporting Stem and Spoon.
Keto gingerbread cookies are warmly spiced, chewy and soft, the ultimate trio for melt-in-your-mouth delicious gingerbread! This one-bowl recipe is so easy to make, perfect for the holidays, and perfectly low-carb.
Cozy up with a couple of these and a big cup of hot tea or keto egg nog for an idyllic treat during the holiday season. 
Confession: we are early Christmas people, known to set up a tree as early as Nov. 1. Yes, we are those people.
Christmas music going through all of November and December, and I've been making holiday baked goods since before the temperatures here in Arizona dipped below 100°F. 
I say all of this to let you know these keto gingerbread cookies have been tried and tested and approved by a family of people who take the holiday season very seriously.
And the fact that these gingerbread cookies with almond flour are also gluten free, dairy free, and grain-free is an extra bonus because that just means you can indulge in all the holiday cookies you like, completely guilt-free!
A few other keto cookies to try are my Keto Peanut Butter Blossoms, Salted Caramel Chip Cookie Pops and these Almond Flour Peanut Butter Cookies.
why this recipe works
If you're a fan of gingerbread, these low carb gingerbread cookies might just become your favorite cookies during the holidays!
They are not crisp like traditional gingerbread cookies. Instead, I went for soft, tender, chewy gingerbread cookies that pack big flavor.
Sort of like a slice of my Keto Gingerbread Loaf in cookie form. 😉 
Made with low carb ingredients, these sugar-free gingerbread cookies are also blood sugar friendly.
That means they're perfect if you're diabetic or trying to maintain a keto or low glycemic diet and want a little sweet treat here and there. 
They are:
Quick and easy. Keto gingerbread cookies come together in one bowl and in just a few minutes of prep!
Full of flavor. Blackstrap molasses and spices give these cookies that classic gingerbread flavor that is equally sweet, cozy and warming.
A healthy holiday treat. This recipe checks all the boxes- it is low carb, gluten free, grain free and keto diet friendly- so you can still get in the holiday spirit with this healthier version.
the ingredients
To make keto gingerbread cookies, you will need the following low-carb ingredients (check out the recipe card at the bottom of the page to view the entire recipe and exact measurements). 
Monk fruit sweetener. I prefer a brown sweetener like Lakanto Golden. It is a brown sugar substitute with a lovely caramel flavor. However, you can use your favorite type of granulated monk fruit sweetener. 
Coconut oil. Melted and slightly cooled.
Molasses. This ingredient will give your cookies that classic gingerbread flavor we're going for.
Egg. A key ingredient in keto baking. An egg helps bind the ingredients and is especially important in almond flour baked goods.
Orange zest. Just a touch of orange zest brings out the spices and adds a lovely citrus note to the cookies.
Vanilla extract. For a delicious yet subtle vanilla flavor!
Almond flour. Use superfine almond flour that is blanched (not almond meal) for the best results.
Coconut flour. A little bit of coconut flour combines with the almond flour to create the perfect soft cookie texture.
Baking soda and salt. Pantry staples you'll need in this low-carb gingerbread cookie recipe!
Xanthan gum. This ingredient is completely optional. Xanthan gum is a gluten replacer that will help bind the cookies a little better. 
Spices. Classic gingerbread calls for warm spices and this recipe is no different! You will need ground ginger, cinnamon, and allspice. 
Note: If you're questioning the use of molasses in the recipe, know that molasses is the main ingredient that gives gingerbread its classic flavor.
Fortunately, it doesn't take a lot. My gingerbread cookies recipe calls for a tiny amount in the entire batch and only adds an additional 1g of carbs and sugar per cookie. 
I say it's a worthy tradeoff to get the most flavorful gingerbread results!
Optional: serve them plain or dust some powdered monk fruit sweetener on top for an extra pretty, wintry look.
the recipe
To make keto gingerbread cookies, you only need one bowl, an electric mixer or standup mixer, a baking sheet, and 10 minutes of prep time!
Here's a look at the process but be sure to scroll to the bottom of the page to view the printable recipe card. 
Combine the ingredients. In a large bowl (or bowl of a stand mixer) beat together the melted coconut oil and granulated monk fruit sweetener with a hand mixer.
Add the tablespoon of molasses, orange zest, egg, and vanilla, mixing for about 1-2 minutes until all of the ingredients are well-incorporated.
Add the dry ingredients and mix for another couple of minutes until a cookie dough forms.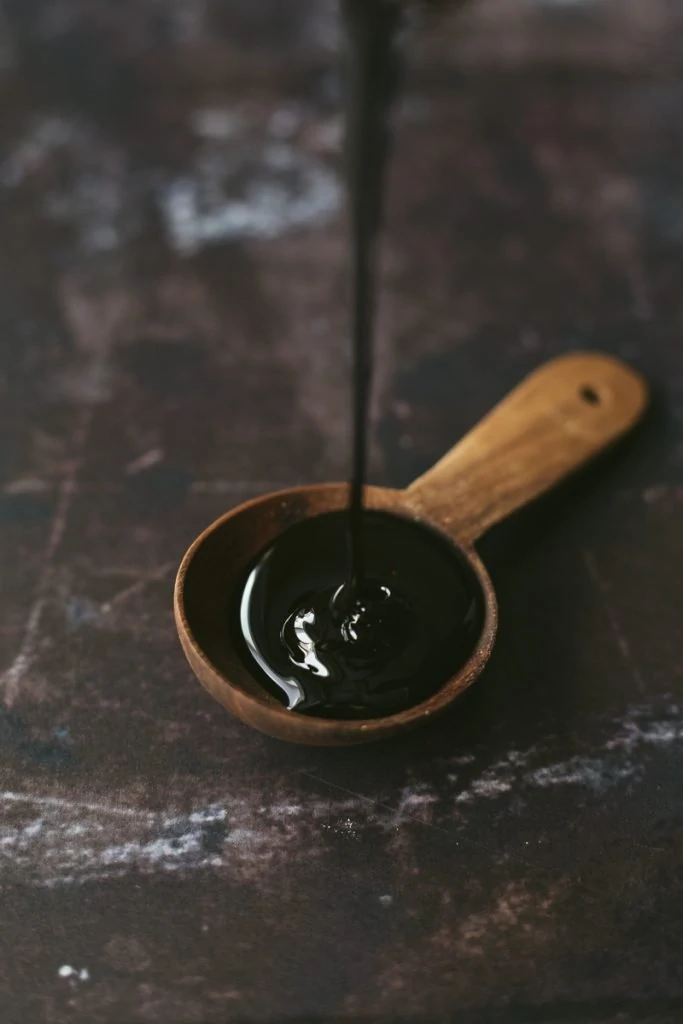 Bake the keto gingerbread cookies. Scoop out spoonfuls of the gingerbread dough, about 1-½ tablespoons per cookie.
Roll into a dough ball and slightly flatten in between the palms of your hands. Place each cookie on a large baking pan and bake for 10-11 minutes.
Remove the tray from the oven and let the cookies cool on the cookie sheet for at least 5 minutes.
If you want to add a pretty dusting of monk fruit sweetener, let the cookies cool completely before adding the powdered sweetener. 
tips for sugar-free gingerbread cookies
This is a pretty easy recipe and there aren't too many tricks to getting the perfect keto gingerbread cookies, but do watch how long they bake. The cookies will appear a tad underdone when you take them out of the oven, but they will continue to bake on the sheet and will harden slightly as they cool. 
I use a metal spatula to transfer the cookies from the baking sheet to a cooling rack after about 5 minutes, and allow them to finish cooling on the rack. When eaten warm, the cookies will be a bit more crumbly, so if you don't mind that, enjoy them straight out of the oven. 
Store any extra cookies in an airtight container or covered in plastic wrap at room temperature for up to one week. The spices and flavors will intensify the day after the cookies are baked.
you might also love...
Keto Pecan Pie. So rich and decadent and surprisingly refined sugar-free!
This easy Keto Chocolate Sauce recipe takes just a few minutes to prep and has so many uses! Drizzle it on brownies, keto ice cream or your favorite chocolate dessert. 
Keto Gingerbread Cookies (Gluten-Free, Sugar Free)
Additional Time:
5 minutes
These keto gingerbread cookies are soft, chewy, and packed with warm spices! They are gluten-free, dairy-free, and low-carb, so you can indulge in holiday cookies guilt-free.
Ingredients
⅓ cup + 1 tablespoon coconut oil, melted
1 tablespoon molasses
1 large egg
1 heaping tablespoon orange zest
2 teaspoons vanilla extract
1-½ cups blanched almond flour
2 tablespoons coconut flour
½ teaspoon baking soda
½ teaspoon xanthan gum (optional)
¼ teaspoon salt 
2 teaspoons ground cinnamon
2 teaspoons ground ginger
½ teaspoon allspice
Instructions
Preheat the oven to 350°F. In a large mixing bowl or bowl of a standup mixer, combine the granulated monk fruit sweetener and the melted coconut oil. Beat the two together for about 1 minute, until they're well combined. Mix in the tablespoon of molasses.
Add the egg, orange zest, and vanilla extract. Mix on medium speed for about 1-2 minutes.
Next, add in the almond flour, coconut flour, baking soda, xanthan gum, salt, cinnamon, ground ginger, and allspice. Mix the cookie dough for another 1-2 minutes, or until it is well combined.
Scoop out spoonfuls of the dough, about 1-½ tablespoons per cookie. Roll the dough into a ball and flatten very slightly between the palms of your hands. Place the cookies on a baking sheet, spread out about 2 inches apart.
Bake for 10-11 minutes, then remove the baking sheet from the oven and let the cookies cool 5 more minutes on the sheet. Transfer to a cooling rack to let them cool completely.
Notes
The cookies may appear slightly underdone when you remove them from the oven. They will continue to bake resting on the hot cookie sheet and will harden a bit more as they cool.
Nutrition Information:
Yield:

14
Serving Size:

1
Amount Per Serving:
Calories:

185
Total Fat:

18g
Saturated Fat:

7g
Trans Fat:

0g
Unsaturated Fat:

8g
Cholesterol:

13mg
Sodium:

8mg
Carbohydrates:

7g
Net Carbohydrates:

3g
Fiber:

4g
Sugar:

2.7g
Protein:

7g
This nutritional information is approximate and is provided for convenience as a courtesy.