This post may contain Amazon affiliate links. I earn a small commission (at no extra cost to you) when you purchase using one of those links. I only recommend products I use and love. Thanks for supporting Stem and Spoon.
Is it weird to be so excited about this recipe for the easiest (ever!) sugar-free jam? Because I totally am, and if you're not, read on and you will be, too. I promise it'll come in handy! It has so many uses, some personal faves being these peanut butter and jelly cookies and in these keto dark chocolate almond butter cups. So, if you feel like making up a big batch of this super simple, keto jam, let me just say you won't be sorry you did.
To make the EASIEST (and it really is) sugar-free jam, you'll need your choice of berries, chia seed, and a keto-friendly sweetener. In fact, this basic jam recipe only requires 5 ingredients and 10 minutes to make. Did I mention there's no canning involved? ZERO. Doesn't it sound just wonderful? (You might also love this low-carb strawberry rhubarb chia jam, too!)
Chia seeds are the wonder ingredient here- I typically use them to make keto chia pudding, this chocolate chia mousse, or I toss them into smoothies.
let's make the easiest sugar-free jam
This sugar-free jam recipe is so simple and tasty, and a healthy, sugar-free option for anyone on a keto or low-glycemic diet. Raspberries, strawberries and chia seeds are also very nutrient-dense, so this is a great way to get some extra fruit in your diet (and chia!), without all the added sugars that you find in most store-bought jams. Here's what you'll need:
raspberries and strawberries (or other types of berries), fresh or frozen
lemon juice and zest
monkfruit/erythritol sweetener blend (like Lakanto)
chia seeds
Usually homemade jam recipes call for pectin since it creates that jel-like consistency. However, chia seeds soak up fluid and expand, which means they're the perfect pectin substitute. Plus, they're packed with omega-3, fiber, and antioxidants. 🙂
sugar-free jam in three steps
Cook the fruit, lemon juice/zest and the sweetener for about five minutes or until it comes to a slow boil.
Stir in the chia seeds and cook about five minutes longer, breaking down the fruit with a fork or a masher, then remove from heat.
Taste for sweetness and adjust, if needed. Cool and then refrigerate the jam until it's chilled and ready to enjoy!
more to love about sugar-free jam
This sugar-free jam recipe will work with a mix of berries, fresh or frozen (I've made it with frozen blueberries and blackberries too). Frozen berries are usually more affordable and work just as well, but they may need a few minutes of extra cook time to break down. This sugar-free jam recipe is also a great way to use up those fresh berries that are on the verge of going bad!
The best part about this berry jam is it has no preservatives or added sugars- it's a clean recipe for a berry fruit spread that tastes like REAL fruit (plus, there's less than 1g of sugar and net carbs per serving!). Spread it on your low-carb bread, enjoy it with granola, or sit back and eat it by the spoonful with ZERO guilt. 🙂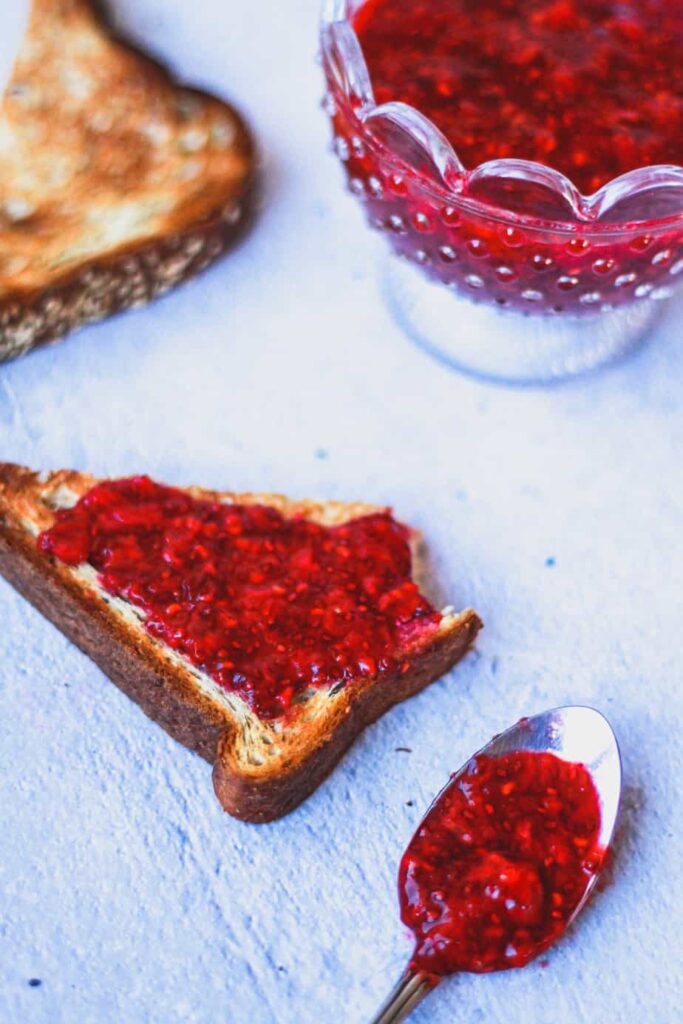 enjoy your keto jam with...
the easiest sugar-free jam
Additional Time:
5 minutes
The EASIEST sugar-free jam recipe made with berries, chia seed and monkfruit sweetener. A simple, naturally-sweetened, keto jam that tastes like real fruit!
Ingredients
1 cup raspberries, fresh or frozen
1 cup sliced strawberries, fresh or frozen
½ lemon, juice and zest
1-½ tablespoons monkfruit/erythritol sweetener blend (see notes if you prefer stevia)
1 heaping tablespoon of chia seeds
Instructions
Pour the sliced strawberries and the raspberries into a medium saucepan. Add the lemon zest and juice, and the monkfruit sweetener (or stevia- see notes). Cook the mixture on medium heat, stirring occasionally, for about 5 minutes, or until it comes to a slow boil.
Stir in the chia seeds and continue to cook for another 5 minutes, using a fork or a masher to break down the larger pieces of fruit.
Remove from heat and allow the jam to cool for at least 5 minutes before transferring to a jar or other container to refrigerate.
Notes
*if using frozen berries, you will likely have to cook the mixture for an additional five minutes
*the jam will thicken as it cools and the chia seeds expand, but if you want the consistency to be thicker, you can stir in an extra teaspoon of chia seeds after it has cooled (they will expand even in the fridge)
*I prefer Lakanto monkfruit sweetener, but if you like stevia, you won't need as much- be sure to taste and adjust sweetness after every teaspoon of stevia added
*store the jam in a covered container in the fridge for up to one week
*this recipe works with most berries so modify away!
Nutrition Information:
Yield:

20
Serving Size:

1
Amount Per Serving:
Calories:

10
Total Fat:

0.2g
Saturated Fat:

0g
Trans Fat:

0g
Unsaturated Fat:

0g
Cholesterol:

0mg
Sodium:

1mg
Carbohydrates:

1.6g
Net Carbohydrates:

0.6g
Fiber:

1g
Sugar:

0.6g
Protein:

0.3g
This nutritional information is approximate and is provided for convenience as a courtesy.