This post may contain Amazon affiliate links. I earn a small commission (at no extra cost to you) when you purchase using one of those links. I only recommend products I use and love. Thanks for supporting Stem and Spoon.
These homemade air fryer veggie tots are healthy little morsels packed with nutrients and flavor! Shreds of zucchini, chopped spinach, onion and spices make delicious, homemade vegetable tots that are a great alternative to store-bought veggie tots.
Not only are these fresh and free of artificial flavors, but they're low carb, gluten-free and keto friendly! Plus, they make yummy finger food which is always more FUN.
The base of this air fryer veggie tot recipe is a mix of fresh, shredded zucchini, chopped spinach, onion and protein add-ins like Parmesan cheese, nutritional yeast and egg.
They're tasty zucchini tots that are much healthier than traditional tater tots made with potatoes.
The best part is you can modify this recipe if you'd like- add in some cauliflower rice or other vegetables you have on hand as long as the ratios stay the same.
why you'll love these air fryer veggie tots
Let's file air fryer zucchini tots under "healthy, easy recipes my kids will actually eat." That's the biggest recipe endorsement there is, am I right? (To be honest, they are also big fans of this keto zucchini bread and air fryer broccoli.)
Veggie tots in the air fryer can be a quick meal, a side dish or a snack served with your favorite dipping sauce. You know those frozen veggie tots sold at grocery stores? This is the homemade version that's low-carb, high in fiber and nutrients.
Here's what I love about these air fryer zucchini tots:
you don't really need an air fryer- using one will cut the cook time in half, but you can easily bake these in your oven, too!
they're a great way to get kids (and us big kids, too) to eat more veggies!
these zucchini tots are dairy-optional as well as paleo-friendly, grain-free, gluten-free, and keto approved!
keto air fryer recipe love
And while an air fryer isn't technically required for these zucchini tots, it's my cooking method of choice for so many things (ALL THE THINGS) these days.
Some of my favorite keto air fryer recipes include sticky sesame air fryer chicken wings, crispy air fryer cauliflower, air fryer chicken thighs and these keto air fryer pork chops and onions.
Here's why I love it:
it's more energy efficient to heat up an air fryer vs. an entire oven
the air fryer gives foods that crispy, fried outer layer without having to stand there and fry over hot, splashing grease (reason enough right there)
it cuts down cooking time
Speaking of cooking time, A License to Grill has developed an air fryer calculator plus a helpful cheat sheet that lists air fryer cooking times for all kinds of vegetables. It's a great resource and I've referred to it several times.
ingredients for air fryer zucchini tots
These easy air fryer tots with zucchini and spinach require 10 simple ingredients and are simple enough to make with little ones, too!
You will need:
large or medium zucchini, grated
white or yellow onion, chopped
spinach, chopped
garlic granules (or garlic powder)
large egg
coconut flour
salt and pepper
nutritional yeast
parmesan (optional- omit if dairy-free)
let's make air fryer zucchini tots
The cooking process is simple but note that all air fryer models cook a bit differently so keep an eye on the zucchini tots. I have tested this recipe with a basket style air fryer (affiliate link).
Before you do anything... Prep the zucchini!
When working with freshly grated zucchini, you'll want to salt it and let it sit for about 10-15 minutes. This helps release any liquid in the vegetable. Transfer the grated zucchini to a clean dish towel (or paper towels) and squeeze out all of the water before using it. Please don't skip this step or your zucchini tots won't have the right consistency.
To make air fryer veggie tots, follow these simple steps (see the full recipe in the recipe card at the bottom of the page):
Grate the zucchini into a large bowl and toss it in the salt. Let it sit for 10-15 minutes.
Spread out a clean kitchen towel or tea towel and place the shredded zucchini in the center. Pick up the edges and squeeze out as much excess water as you can.
Transfer the zucchini to a mixing bowl and add the onion, spinach, seasonings, egg and coconut flour. Use a fork to stir the mixture, then add in the parmesan (if using).
Preheat the air fryer to 400°F. Scoop some zucchini mixture into the palm of your hand and shape it into a small roll (similar to a tater tot shape). Set it on a plate or cookie sheet and repeat with the remaining mixture.
Spray a small amount of nonstick cooking spray (like olive oil or avocado oil spray) into the preheated air fryer basket or line with parchment paper. Place each zucchini tot into the basket, about a ½-inch from each other in a single layer.
Air fry veggie tots for 8-10 minutes. When they're done, remove and let them cool for about 5 minutes. Serve them with your favorite sauces, dip and enjoy just like classic tater tots!
recipe tips for the best results
I like to rotate the zucchini tots about halfway through the bake time. This isn't necessary, but I find it helps them brown more evenly.
You can store any leftovers in an airtight container in the refrigerator for up to five days. The best way to reheat them is by placing them back in the air fryer. Heat them for about 3-4 minutes at 350°F.
Make sure to cut the parchment paper to fit the size of the basket. You don't want excess paper blowing around inside of the air fryer when they're cooking.
I like to stir the mixture in a large mixing bowl but you can also combine everything in a food processor. Pulse it just enough to mix the ingredients well.
To bake these in a conventional oven, place the zucchini tots on a parchment-lined baking sheet and bake at 400°F for 20-25 minutes or until they're golden brown.
You can substitute the parmesan for your cheese of choice. Cheddar cheese and mozzarella are great swaps.
I love easy keto air fryer recipes and these zucchini tater tots makes a great side dish that's at the top of my list at the moment!
Not only is it a tasty way to enjoy fresh veggies but it's also quick, healthy, and kid-friendly, which is always a winning combination.
If you try out these air fryer veggie tots let me know! Drop a comment below, rate this recipe, and/or share on Facebook or Instagram and tag me, @stemandspoon! Enjoy!
you might also love...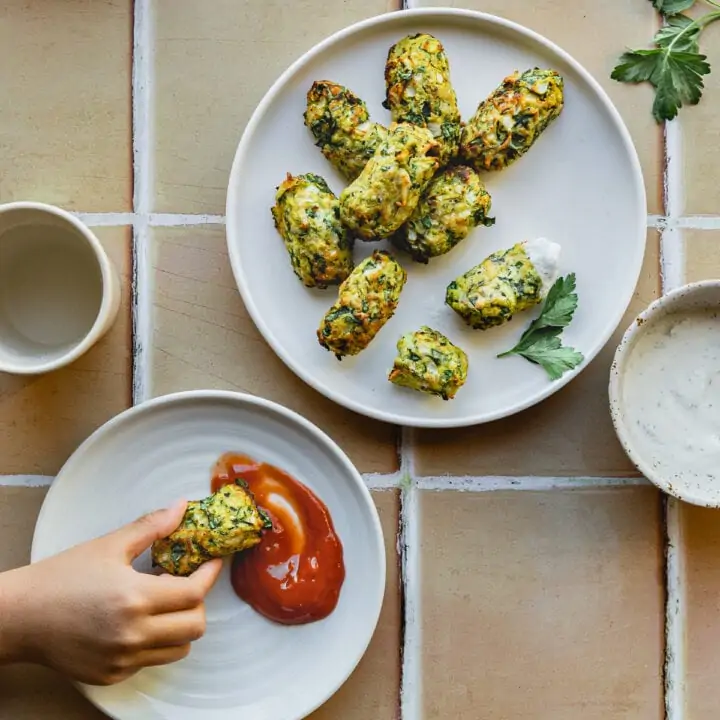 Homemade Veggie Tots in Air Fryer (Keto, Gluten-Free)
Additional Time:
15 minutes
Air fryer veggie tots are so easy to make and a delicious way to eat your veggies! Each veggie tot is packed with fresh zucchini, spinach, and yummy seasonings. Enjoy them as a healthy snack or an easy side! They're kid-friendly, gluten-free, dairy-optional, and low-carb.
Ingredients
2-½ cups grated zucchini (approx. 1 large zucchini or 1-½ medium)
1 teaspoon sea salt
¼ cup onion, chopped small
⅓ cup spinach, chopped small
½ teaspoon garlic powder
1 egg
½ teaspoon pepper
3 tablespoons coconut flour
⅓ cup freshly shredded parmesan cheese (or substitute an extra ½ tablespoon nutritional yeast if dairy-free)
Instructions
Grate the zucchini using the large side of a box grater. Once you have 2-½ cups worth, sprinkle the teaspoon of salt over the grated zucchini and stir to combine. Allow it to sit for 10-15 minutes. I usually prep the other ingredients during this time.
Transfer the zucchini to a clean dish towel and gather the ends at the top. Squeeze out all of the water. Place the "dried" zucchini into a large mixing bowl.
Add the rest of the ingredients to the bowl with the zucchini. Stir until the mixture is well combined.
Preheat the air fryer to 400°F (see notes if using an oven). Use a large spoon or tablespoon and scoop out a portion (about 1 to 1-½ tablespoons in size), placing the mixture in the palm of your hand. Gently squeeze it in the palm of your hand to pack the mixture somewhat tightly into a small roll (similar to a tater tot shape). Repeat with the rest of the mixture.
Cut a piece of parchment paper to fit the air fryer basket. Arrange the zucchini tots into the basket, spaced out about ½-inch apart. Depending on the size of your air fryer, you may need to cook them in two batches.
Place the air fryer basket into the air fryer and cook for about 8-10 minutes at 400°F. Check on them after 5 minutes and rotate the tots for even cooking, if needed.
When they're done, allow them to cool for 2-3 minutes, then transfer them out of the air fryer onto a plate. If cooking in two batches, tend the cooked veggie tots with foil to keep warm.
Notes
Oven-baked zucchini tots:
To bake these in the oven, follow steps 1-4. When your zucchini tots are ready to bake, place them on a parchment lined baking sheet, evenly spread out. Bake at 400°F for 20-25 minutes or until they're golden brown.
Recipe notes:
Make sure to cut the parchment paper to fit inside the basket to avoid having loose parchment paper corners lifting up when the air fryer is on (fire hazard).
If you want to skip using parchment paper, brush or spray on a light coating of coconut or avocado oil onto the air fryer tray before cooking.
Nutritional information is an estimate for 1 piece.
Nutrition Information:
Yield:

14
Serving Size:

1
Amount Per Serving:
Calories:

41
Total Fat:

2g
Saturated Fat:

1g
Trans Fat:

0g
Unsaturated Fat:

1g
Cholesterol:

15mg
Sodium:

194mg
Carbohydrates:

3g
Net Carbohydrates:

1.5g
Fiber:

1.5g
Sugar:

0.7g
Protein:

3.1g
This nutritional information is approximate and is provided for convenience as a courtesy.