This post may contain Amazon affiliate links. I earn a small commission (at no extra cost to you) when you purchase using one of those links. I only recommend products I use and love. Thanks for supporting Stem and Spoon.
Broccoli almond soup is smooth and creamy, and a delicious addition to soup season. Blanched almonds, fresh broccoli florets and aromatics create the base for this tasty soup. It all simmers together for a short while, and a quick blend creates that silky-smooth texture.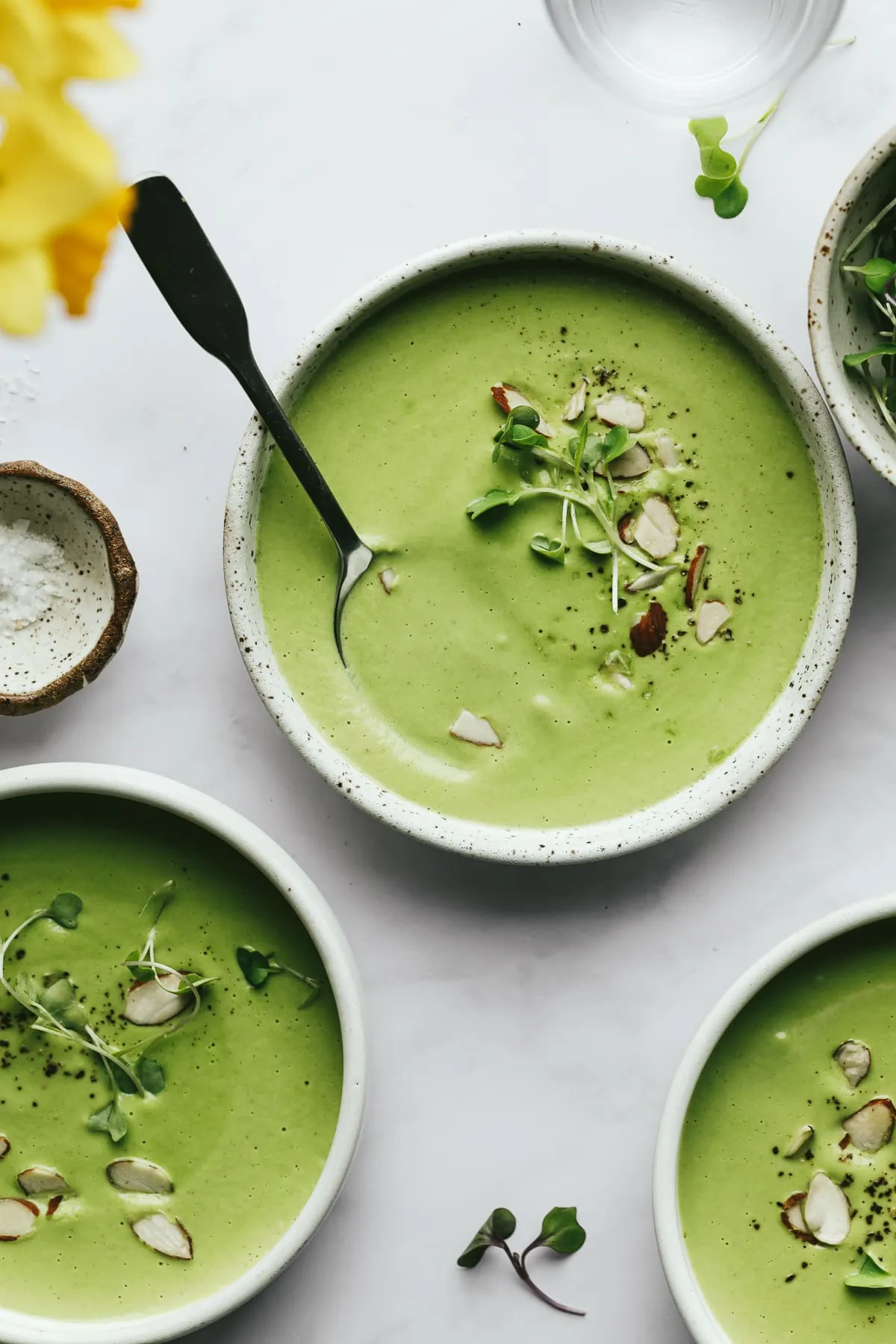 Broccoli and almond soup is thick and comforting- the most perfect meal for chilly days. But its fresh flavor and vibrant color means it's really an all-seasons kind of soup you can enjoy any time.
With a texture similar to keto broccoli jalapeño soup and my cauliflower soup with roasted garlic, this broccoli almond soup recipe is just as tasty and just as simple to make.
Here's a look at what we'll cover:
why this recipe works
If you're a fan of creamy broccoli soup, you'll love this healthy and delicious soup recipe!
Almonds are a great source of healthy fats, fiber, vitamin E, protein and magnesium. Broccoli is a nutritious powerhouse with loads of vitamin C and antioxidants that can help neutralize free radicals.
Bottom line: this easy broccoli almond soup offers major nutritional value and amazing phytonutrients!
Broccoli and almond soup is:
a healthy, wholesome soup that's ready in under 30 minutes
smooth, creamy and delicious
a great source of vitamins K, C and antioxidants
low carb, keto friendly, vegan and paleo.
ingredients for broccoli almond soup
Here's what you'll need:
avocado oil or olive oil
slivered almonds (or blanched almonds with skins removed)
small onion, diced
garlic cloves, minced
fresh broccoli (either broccoli florets or a mix of florets and chopped broccoli stems)
vegetable broth (or vegetable stock)
salt and black pepper
heavy cream (optional)
optional garnishes like sliced almonds, microgreens or Parmesan cheese
I prefer using slivered almonds versus whole almonds because it eliminates the step of removing almond skins off whole almonds.
If you want to use whole almonds, you'll have to blanch them first, then peel off the skins. So, please save yourself some time (and preserve your sanity) and go with raw slivered almonds instead!
Note: A high-powered blender is a must to get the ideal consistency of the soup. You'll need it to blend the mixture really well and an immersion blender (hand blender) just won't cut it. Truly creamy broccoli almond soup takes 1-2 minutes of blend time to process the almonds really fine.
the recipe
Just a few ingredients and easy steps are all it takes to make a smooth and creamy broccoli almond soup.
Here's a look at the process but be sure to check out the recipe card at the bottom of this page.
Toast the slivered almonds in a large pot over medium heat for a few minutes or until golden brown.
Add the chopped onions and chopped broccoli stalks. Cook for 2-3 minutes to soften, then add the chopped garlic and cook about 30 seconds.
Pour in the vegetable broth. Increase the heat to high and bring to a boil. Add the broccoli florets, then reduce the heat and simmer for 10 minutes, uncovered.
Ladle half of the soup into a blender and blend for 1 minute until smooth. Repeat with the second batch.
Pour both batches back into the soup pot and add cream (if using). Ladle into bowls and top with sliced almonds and microgreens (optional).
tips for the best results
Whenever blending hot liquids, make sure that the blender vent is open on the lid. This will prevent the hot soup from creating a buildup of high pressure inside the blender. An easy way to vent it is by placing a clean dish towel on top of the open vent when you're blending the soup.
For an extra vibrant green color, add a handful of fresh baby spinach to the soup when blending.
Store leftovers in an airtight container in the refrigerator for up to five days.
For a thinner soup, add a bit more broth or even a splash of unsweetened almond milk after blending the soup.
substitutions
For a simple vegan broccoli almond soup, substitute full-fat coconut milk (canned) or macadamia milk for the optional heavy cream. When it comes to dairy-free milk, I've found that these are the best options for getting a similar creaminess.
For a cheesy flavor, add a ¼ cup of Parmesan cheese or nutritional yeast if you're vegan/dairy free.
what to serve with broccoli almond soup
This healthy and delicious soup works well as a side or main course! Here are a few ideas for other low-carb items that go great with it:
you might also love...
Healthy mushroom soup is dairy-free and ultra flavorful! Thyme, shallot, garlic and heaps of mushrooms create a medley of flavors in this cozy, comforting soup that's perfect for a cold winter evening.
Broccoli crunch salad is a quick, fresh and crunchy salad that you can enjoy just like you would coleslaw! Serve it with your favorite picnic foods or make it your main course topped with a protein. Fresh broccoli, sweet blueberries and salty bacon are tossed in a creamy, maple-flavored dressing and the combination is irresistible.
Broccoli Almond Soup (Low Carb, Dairy Optional)
This creamy broccoli almond soup is tasty and nutritious, made with fresh broccoli florets, toasted almonds and aromatics. It's ready in under 30 minutes and is a gluten-free, low-carb and dairy-optional recipe.
Ingredients
2 tablespoons avocado oil (or sub olive oil)
1 cup raw slivered almonds
1 small yellow onion, chopped
16 ounces fresh broccoli (all florets OR florets + chopped broccoli stalk)
2 garlic cloves, minced
4 cups vegetable broth
½ teaspoon sea salt
½ teaspoon black pepper
⅓ cup heavy cream (optional)
shredded Parmesan, sliced almonds and/or microgreens (optional garnishes)
Instructions
Set a large pot over medium heat and add the oil. When it glistens, add the raw slivered almonds to the pot. Gently stir the almonds, toasting them for about 3-5 minutes or until they're a light golden brown.
Add the onion and chopped broccoli stalks to the pot (reserve the broccoli florets for later). Cook for 2-3 minutes to soften.
Stir in the minced garlic. Cook for 30 seconds.
Pour in the vegetable broth and add salt and pepper. Increase the heat to high and bring the mixture to a boil.
Once it's boiling, add the broccoli florets. Reduce the heat to medium-low and let the mixture simmer uncovered for 8-10 minutes or until tender (you should be able to pierce the broccoli stems with a fork).
Remove the pot from the heat. Carefully ladle half of the soup mixture into a high-speed blender. Vent the lid to prevent pressure build-up (very important when blending hot liquids). I like to drape a clean dish towel over the top of the vented lid to prevent any liquids from splashing out. Blend the soup for 30 seconds on high or until the mixture is smooth. Transfer to a medium bowl. Repeat with the second half of the soup.
Pour both blended batches back into the pot and set it over low heat. Stir in the cream (if using) and heat for 1-2 minutes. Taste and adjust, adding salt and pepper if needed.
Ladle the hot soup into bowls and garnish with toppings of choice (freshly-grated Parmesan cheese, sliced almonds or microgreens are all great options).
Notes
Use slivered almonds since they are already blanched and have skins removed.
For an extra vibrant green color, add a handful of fresh baby spinach to the soup when blending.
If the soup is too thick, add a bit more broth or even a splash of unsweetened almond milk after blending the soup.
Dairy-free/vegan alternatives for heavy cream include full-fat coconut milk, coconut cream or unsweetened macadamia milk.
For a cheesy flavor, stir in ¼ cup of shredded Parmesan cheese into the soup after blending. If vegan, use ¼ cup nutritional yeast.
Store leftovers in an airtight container in the refrigerator for up to five days.
Nutrition Information:
Yield:

8
Serving Size:

1
Amount Per Serving:
Calories:

237
Total Fat:

20g
Saturated Fat:

4g
Trans Fat:

0g
Unsaturated Fat:

15g
Cholesterol:

12mg
Sodium:

503mg
Carbohydrates:

11g
Net Carbohydrates:

6g
Fiber:

5g
Sugar:

3g
Protein:

7g
This nutritional information is approximate and is provided for convenience as a courtesy.