This post may contain Amazon affiliate links. I earn a small commission (at no extra cost to you) when you purchase using one of those links. I only recommend products I use and love. Thanks for supporting Stem and Spoon.
Broccoli crunch salad is crisp and full of flavor. Fresh broccoli florets, blueberries, bacon and red onion are tossed in a creamy dressing that's equally sweet and savory. It's a crunchy broccoli salad for all occasions but especially fitting for the season of sunshine and picnics and barbecues.
This is not any old broccoli salad recipe. It's the ultimate easy broccoli salad - with delicious flavor combinations and perfect textures- that meets our no-fuss salad prep expectations.
Fresh broccoli is responsible for most of the crunchy texture, but crispy bacon, red onion and chopped pecans add extra crunch and extra deliciousness.
The salad dressing is creamy and tangy and maple-flavored, made with simple dressing ingredients.
why this recipe works
This healthy broccoli crunch salad recipe makes a go-back-for-seconds salad that might just give you a little more appreciation for fresh broccoli.
It's similar to a coleslaw, but with crunchy broccoli florets instead of cabbage, and delicious add-ins that create a yummy medley of flavors.
If you've ever had the Taylor Farms Broccoli Crunch salad kit or the popular broccoli crunch salad from Whole Foods, this is similar. But easily made low carb and sugar free.
It is:
quick to make and ready in about 15 minutes
easy to prep in advance since leftovers keep well for a couple of days
made with simple salad ingredients
low carb and keto friendly, gluten free and paleo.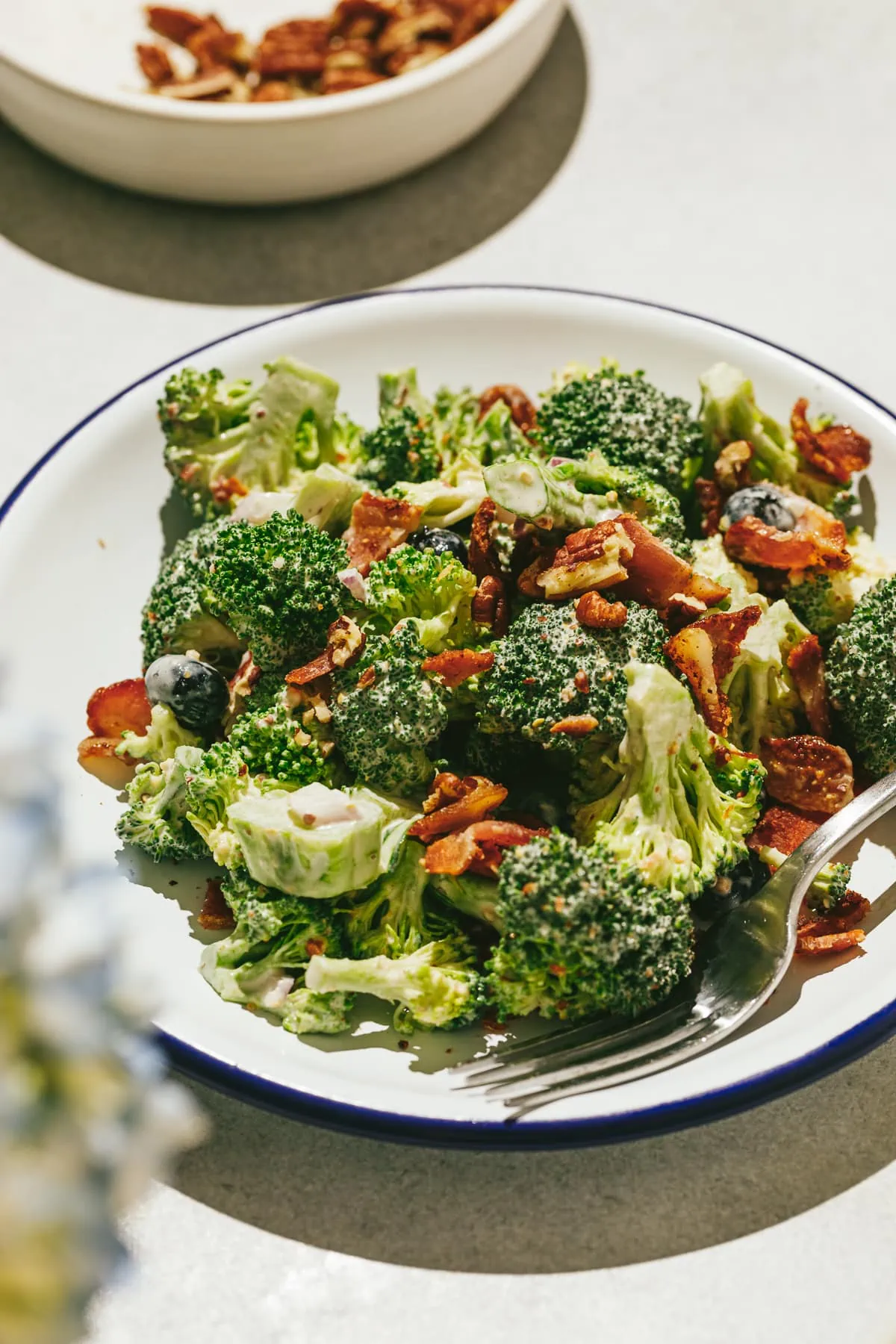 the ingredients
To make this easy broccoli crunch salad, you will need:
broccoli florets, cut small (think bite-sized)
red onion, chopped small
thick-cut bacon (sugar-free and uncured, if possible), plus some of the reserved bacon grease
blueberries
avocado mayonnaise (I like this one by Chosen Foods)
Dijon mustard
sugar-free maple syrup (for a keto broccoli salad) or real maple syrup (see below for subs)
plain unsweetened almond milk or other dairy-free milk
pecans, walnuts, pumpkin seeds or crunchy sunflower seeds (optional toppings)
Sweetener options: You can use real maple syrup to sweeten the dressing if you're not concerned about the sugar content.
To make this a sugar-free and keto broccoli salad, you can sweeten the dressing with a monk fruit "maple syrup" like this one from Lakanto (affiliate link).
Other substitutes include a liquid sweetener like allulose, monk fruit or stevia drops, or powdered monk fruit sweetener. For that maple flavor, use a little bit of maple extract.
About the mayonnaise: The type of mayo used is key! Make sure you're familiar with the ingredient list in your mayonnaise and use a brand that does not contain inflammatory oils high in omega-6.
Vegetable oil, soybean or canola mayonnaise are types to avoid. Look for mayo made with healthy fats like avocado oil, olive oil and coconut oil.
A quick tip: don't rely on the label alone- check the ingredient list to make sure there are no other added oils (which is often the case).
the recipe
This delicious salad only takes 3 steps and about 15 minutes to make!
Here's a quick look at the process but be sure to scroll to the bottom of the page to check out the printable recipe card.
Before making the salad: Fry the bacon in a large skillet until crisp. Place cooked bacon on a plate lined with paper towels. Let the bacon and bacon grease cool while you prepare the salad.
In a large bowl, combine the broccoli, diced onion and blueberries. Chop the cooled bacon into small pieces and add it to the salad.
In a small bowl, combine mayonnaise, vinegar, mustard, sweetener, bacon grease (and maple extract if needed). Whisk the ingredients together and taste.
Tip: Adjust the sweetness of the dressing, if needed, or add a touch of sea salt or black pepper for flavor. Whisk in the non-dairy milk to thin down the dressing (optional).
Pour the dressing over the broccoli mixture and toss until the broccoli is evenly-coated.
Transfer to a serving bowl and top with pecans or other topping of choice.
recipe tips
Make sure you're using a big bowl that's large enough to toss the broccoli salad. A large serving spoon and slotted spoon work well.
You can enjoy this broccoli salad right away or allow it to chill in the refrigerator for a few hours before serving.
The dressing will become more flavorful after it sits for a little while.
Store leftover broccoli salad in an airtight container in the refrigerator. It will hold up well to enjoy the next day and will even stay fresh for up to 3-4 days.
When cutting the florets, don't waste the broccoli stems! I trim off most of the stalk but I slice the longer stems into small pieces to toss into the salad. They have a nice flavor and add extra crunch to the raw broccoli salad.
The bacon grease in the dressing is optional, but it will add amazing flavor!
Broccoli crunch salad has potential to become your new favorite salad! It's a great way to get in a good serving of raw broccoli, and it's also the perfect salad for all of your summer BBQ and picnic needs.
If you make this, I'd love to hear! Drop a comment below or connect with me on Facebook or Instagram.
Enjoy!
you might also love...
These keto "buttermilk" biscuits are delicious and incredibly quick to whip up! With less than 2 grams net carbs each, it's a keto-friendly treat you'll love!
You'll love the flavors of this tangy citrus slaw! A medley of fresh cabbage, broccoli slaw and kale create the base to this crunchy slaw. The dressing is sweet, tart and bursting with zippy citrus flavor.
Keto blueberry muffins with crumb topping are the best keto blueberry muffins you'll ever have! Packed with juicy blueberries, this almond flour muffin is a delightful, low-carb treat, any time of day.
Broccoli Crunch Salad (Keto, Gluten Free)
This broccoli crunch salad with bacon is an amazing combination of textures and flavors.
Crunchy broccoli florets, blueberries, crumbled bacon and pecans are tossed in a creamy maple dressing that is sugar free, dairy free and gluten free. This delicious salad is the best way to eat your broccoli!
Ingredients
6-7 cups broccoli florets, cut small (about 2 large heads of broccoli)
⅓ cup red onion, diced
5-6 pieces bacon, thick-cut (sugar-free and uncured, if possible)
1 cup fresh blueberries
1 cup avocado mayonnaise
1 tablespoon apple cider vinegar
1 tablespoon Dijon mustard
2-3 tablespoons sugar-free maple flavored syrup (see notes for subs)
3 tablespoons bacon grease (optional)
1-2 tablespoons almond milk (or other non-dairy milk)
optional toppings: chopped pecans, walnuts, sunflower seeds or keto granola
Instructions
Fry the bacon in a large skillet over medium heat, until crisp (about 3-5 minutes on each side). Set the bacon on a paper towel-lined plate to cool. Save the bacon drippings (for the maple dressing).
While the bacon is frying, toss together the broccoli florets, diced red onion, and blueberries in a large bowl.
Once the bacon cools, chop it into bite-sized pieces and add to the salad.
In a small bowl, whisk together the avocado mayonnaise, apple cider vinegar, Dijon mustard, sweetener, reserved bacon grease (optional) and maple extract (if using). Check for taste and adjust as needed (i.e. more maple syrup if you want it sweeter, more bacon grease, salt and pepper, etc.).
Add the non-dairy milk, whisking in one tablespoon at a time to thin down the dressing to your desired consistency.
Pour the dressing over the broccoli salad, tossing the salad in the dressing until it evenly coats the broccoli.
Chill in the refrigerator or serve immediately, topped with pecans, walnuts or sunflower seeds.
Notes
Rinsing the chopped red onion will help mellow the strong onion flavor.
When cutting the florets, don't waste the broccoli stems! I trim off most of the stalk but I slice the longer stems into small pieces to toss into the salad. They have a nice flavor and add extra crunch to the raw broccoli salad.
This broccoli crunch salad will keep 2-3 days in the refrigerator stored in an airtight container.
Sweetener substitutions:
Here are some other sweetener options. They are not all 1:1 swaps for the sugar-free maple syrup. If using one of the substitutions, make sure to sweeten the dressing to taste. Suggested amounts are included below.
real maple syrup (1-2 tablespoons)
liquid monk fruit (about ¼ teaspoon) or stevia drops (to taste)
liquid allulose (2-3 tablespoons)
sugar-free simple syrup (2-3 tablespoons)
powdered monk fruit sweetener (1-2 tablespoons)
If using a different sweetener, you can add ¼ teaspoon maple extract for maple flavor.
Nutrition Information:
Yield:

6
Serving Size:

1
Amount Per Serving:
Calories:

407
Total Fat:

40g
Saturated Fat:

8g
Trans Fat:

0g
Cholesterol:

50mg
Sodium:

304mg
Carbohydrates:

6g
Net Carbohydrates:

5g
Fiber:

1g
Sugar:

2g
Protein:

5g
This nutritional information is approximate and is provided for convenience as a courtesy.