This post may contain Amazon affiliate links. I earn a small commission (at no extra cost to you) when you purchase using one of those links. I only recommend products I use and love. Thanks for supporting Stem and Spoon.
This healthy mushroom soup recipe fits right into my fall food plans of enjoying all things hearty, cozy and comforting.There's nothing quite like cozying up to a bowl of warm soup, especially during the chillier months. And this one's so, SO good.
It's a dairy-free cream of mushroom soup recipe featuring thyme, shallot, garlic and a boatload of fresh mushrooms. And despite the fact that this is a healthy mushroom soup recipe without cream, there's absolutely no skimping on flavor!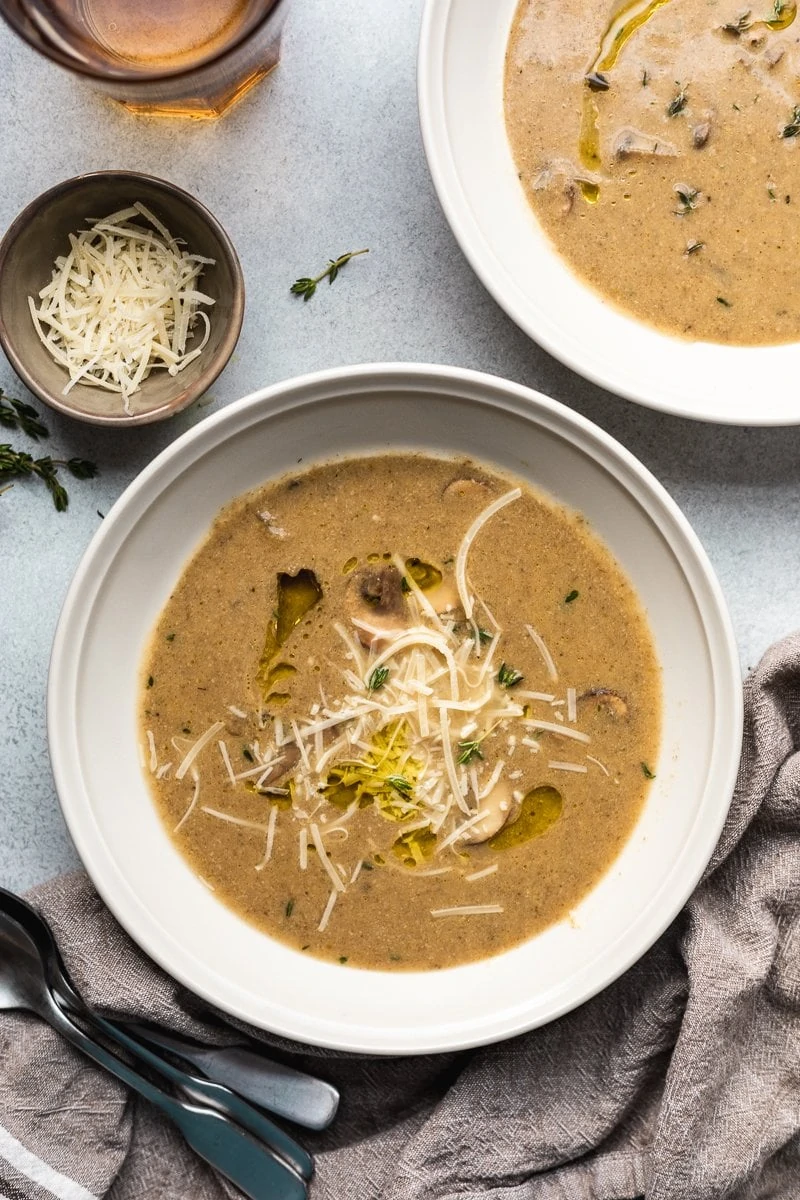 This healthy mushroom soup recipe makes a deliciously creamy soup in under 30 minutes. It is savory and hearty and packed with so much meaty, mushroom flavor.
Seriously, it's the winner of all soups! (I'm somewhat partial to mushroom, can you tell?)
And here's why you'll love it. It is:
a comforting soup that is gluten-free, paleo, dairy free, and low-carb/ keto diet friendly
super easy to make
comfort food in a flash and perfect for meal prepping
a healthy soup that is kid-friendly! (I've tested this myself!)
Perfect for the mushroom lover, this healthy mushroom soup recipe without cream calls for fresh ingredients and a LOT of cremini mushrooms.
The base of the soup uses chicken broth and coconut cream instead of heavy cream but the great thing about this healthy mushroom soup recipe is you can make it with or without dairy!
The topping options are endless too- sprinkle this soup with a handful of fresh parmesan or drizzle on a bit of garlic-infused olive oil (my favorite ingredient at the moment!).
Since my kids won't go for any of that, I know for a fact this healthy, gluten free mushroom soup also tastes incredible plain, ladled into little colorful bowls. Or sip on it from a mug for extra ease and coziness.
why you'll love it
Mushrooms are amazing little vegetables.
They are low in carbs and extra rich in vitamins and other nutrients. They're anti-inflammatory and can boost your immune system. Plus, mushrooms carry an immense amount of flavor, which adds a nice component to many healthy dishes.
This dairy free cream of mushroom soup recipe is one of my favorite ways to enjoy mushrooms. It's rich, thick and cozy, and you'll need just a few simple ingredients to pull it off.
the ingredients
This recipe is written as dairy-free, but it's technically dairy optional.
I use coconut cream (the thick part at the top of a can of coconut milk) to give this healthy mushroom soup more creaminess.
But you can always swap in heavy cream and garnish the soup with parmesan or cheddar cheese for extra flavor.
And by the way, if you do choose to use dairy, you can always substitute butter for the olive oil. And in that case, brown it a few minutes before adding the shallot, will you? The brown butter will give the soup a deliciously complex flavor.
(I mean, butter and mushrooms. Is there a more perfect pair?)
Here are the ingredients you'll need for this dairy-free cream of mushroom soup recipe:
olive oil
shallot (or small onion), chopped
garlic
cremini mushrooms (also called baby bellas)
tamari (a type of soy sauce that is gluten-free)
fresh thyme
broth or stock of choice- vegetable broth, vegetable stock, chicken stock, or beef stock will all work well (or mushroom broth if you have it)
salt and black pepper
nutritional yeast (optional)
coconut cream
optional garnishes like chopped parsley or green onions, a drizzle of olive oil, thyme sprigs, or shredded parmesan or cheddar
Want to know the secret to this easy healthy mushroom soup?
There are so many mushrooms. That, along with the delicious aromatics, give this soup an incredibly rich, deep mushroom flavor that I cannot get enough of.
my healthy mushroom soup recipe
This easy mushroom soup comes together with little effort.
The process goes like this: sauté, simmer in broth, blend, then add the coconut cream.
Simple, right?
You can customize it, too. I've tried it with riced cauliflower. Smoked paprika and cayenne for more of a spicy mushroom soup.
It's a tough one to mess up, partly because that delicious mushroom flavor always shines through.
By the way, you will need a blender for this recipe. It's not an absolute must, as in, you can still enjoy this soup without blending it. But for the creamiest healthy mushroom soup without cream, I recommend using a high-speed blender or immersion blender.
Here are the basic steps (but be sure to read the full recipe card at the bottom of the page).
Sauté. In a large soup pot or Dutch oven, heat the olive oil (or ghee or butter-- brown the butter for a few minutes for extra flavor!), then add the chopped shallot or onion and cook for a couple of minutes over medium-high heat. Add the garlic, then the mushrooms and cook until they're slightly caramelized.
More add-ins. Stir fresh thyme into the cooked mushrooms. Pour the tamari and vegetable broth into the pot and add the salt and pepper.
Blend. Ladle about half of the soup into the blender. Blend on high speed for about 30 seconds, or until smooth. Pour it into a large bowl and blend another ¼ of the soup. Pour all of the blended soup back into the pot. Stir in the coconut cream and the nutritional yeast, then simmer on low for 5-10 minutes or until the soup is hot.
Garnish and serve. Ladle the hot soup into serving bowls. If desired, you can top it with some shredded cheese or a dollop of sour cream. Or, drizzle a little bit of olive oil and add fresh parsley and/or thyme.
recipe tips for healthy mushroom soup
You can blend all of the soup if you'd like, but I prefer to only blend about ¾ of the soup. That way, there are still some larger mushroom and onion pieces mixed in, and it has a texture similar to traditional cream of mushroom soup.
When blending the soup in a high-speed blender, make sure that you're only blending a small amount at a time and that the vent on the lid is propped open. Without proper venting, pressure from the hot liquid will build up so this is really important. I remove the vent cover and drape a kitchen towel over it to prevent the soup from splashing out of the blender.
You can replace a small amount of the broth with ¼ to ⅓ cup of dry white wine, if desired.
For this healthy mushroom soup recipe without cream, I've found that coconut cream is the best substitute for heavy cream. However, you can also swap in unsweetened almond milk or even macadamia milk. Neither one is as creamy as coconut cream, but they're the next best options if you need to keep this dairy-free.
I like cremini mushrooms but you can certainly substitute your favorite kind. White button mushrooms or even a combination of mushrooms will work well too.
Store leftover dairy-free mushroom soup in an airtight container in the refrigerator for up to one week. Reheat in the microwave or on the stovetop over medium heat until the soup is hot. If you'd like to freeze this soup, store portions in a freezer-safe container or freezer bag. It will keep in the freezer for up to two months.
Wondering what to serve with this healthy cream of mushroom soup? How about this savory almond meal bread? Or a couple of warm, keto buttermilk biscuits? For a fresh side that still has the dreamiest fall flavors, this autumn kale salad with pumpkin vinaigrette is a must-make!
As always, if you try this out, let me know what you think of this delicious creamy mushroom soup and leave a star rating below!
I SO appreciate your feedback and love reading comments and seeing your food pics on Instagram! Keep them coming.
more keto soup recipes to enjoy!
Looking for more healthy soup recipes? Here are a few other cozy soups to enjoy!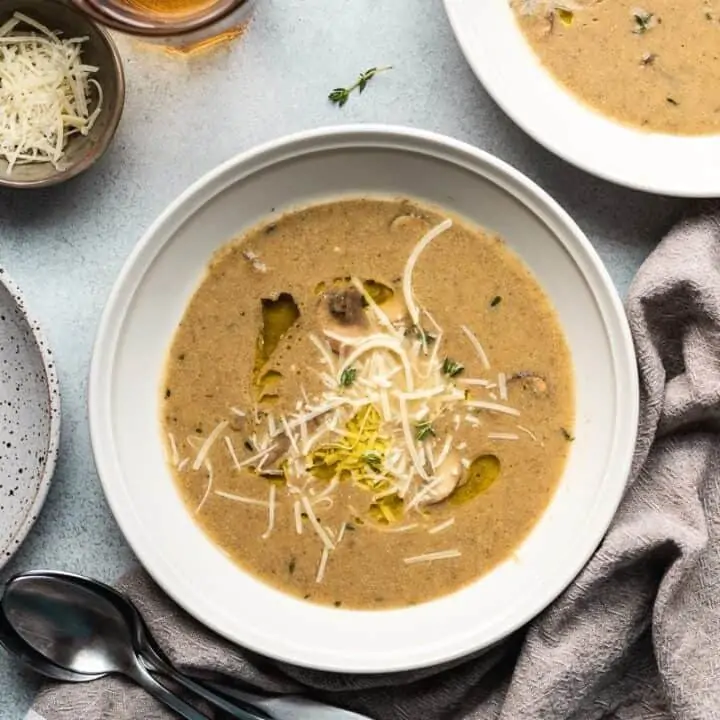 Healthy Mushroom Soup Recipe (Dairy-Free, Low-Carb)
This healthy mushroom soup recipe makes a creamy, flavorful, and dairy-free mushroom soup in under 30 minutes!
Ingredients
3 tablespoons extra virgin olive oil (see notes for using butter)
1 shallot or small yellow onion, diced
3 cloves garlic, minced (about 2 tsp)
4-5 cups sliced crimini mushrooms
1 tablespoon tamari
½ tablespoon fresh thyme, chopped
½ teaspoon salt
½ teaspoon pepper
3 cups vegetable broth (or broth of choice)
2 tablespoons nutritional yeast
½ cup coconut cream 
optional garnishes: chopped parsley or thyme, grated parmesan or cheddar, drizzle of olive oil
Instructions
Heat the olive oil in a large pot over medium heat (see notes below if using butter). Add the chopped shallot or onion, and cook for about 3 minutes. Stir in the minced garlic and cook another 30 seconds.
Add the sliced crimini mushrooms to the pot, stirring them in to the shallot/garlic mixture. Cook the mushrooms, stirring occasionally, for about 5 minutes. If the mixture looks dry, add a touch more olive oil or butter as needed.
Pour in the tablespoon of tamari and add the fresh thyme, salt, and pepper. Pour in the broth and stir, continue cooking for a couple of minutes.
Remove the pot from the heat. Carefully ladle about ¾ of the soup into a blender or food processor, (leave the remaining soup in the pot). Blend/process the soup on high for about 30 seconds or until smooth.
Pour the blended soup back into the pot, combining it with the remaining, non-blended soup. Return the pot to the stovetop on low heat. Stir in the coconut cream and the nutritional yeast. Simmer the soup on low for about 5-10 minutes.
To serve, ladle into bowls and top with optional garnishes.
Notes
This keto soup recipe is dairy-optional. If you choose to use butter instead of olive oil, you can brown the butter in the pot first to give the soup extra flavor. Simply cook it over medium heat for about 5-7 minutes, stirring frequently, until the milk solids toast (the small specks in the butter) and it turns a golden brown color. Add the shallot and garlic and proceed with the recipe.
Since hot liquids can build pressure inside of the blender, I keep the opening at the top covered (with a dish towel) but not completely shut.
This keto mushroom soup will keep in the fridge for up to one week. To store in the freezer, transfer cooled soup to an air-tight container and freeze- it will be good for up to three months.
Nutrition Information:
Yield:

6
Serving Size:

1
Amount Per Serving:
Calories:

161
Total Fat:

11.5g
Saturated Fat:

4g
Trans Fat:

0g
Cholesterol:

5.5mg
Sodium:

340mg
Carbohydrates:

6g
Net Carbohydrates:

4.5g
Fiber:

1.5g
Sugar:

2g
Protein:

5.5g
This nutritional information is approximate and is provided for convenience as a courtesy.