This post may contain Amazon affiliate links. I earn a small commission (at no extra cost to you) when you purchase using one of those links. I only recommend products I use and love. Thanks for supporting Stem and Spoon.
This keto Tuscan soup is far from your traditional zuppa Toscana. It's more like a Tuscan-style beef and veggie soup that is hearty and rich and beefy and brothy. Packed with Italian spices and aromatics. Hold the heavy cream, be generous with the veg. Loaded with flavor, a bowl of this is warming comfort food and a simple 30-minute meal.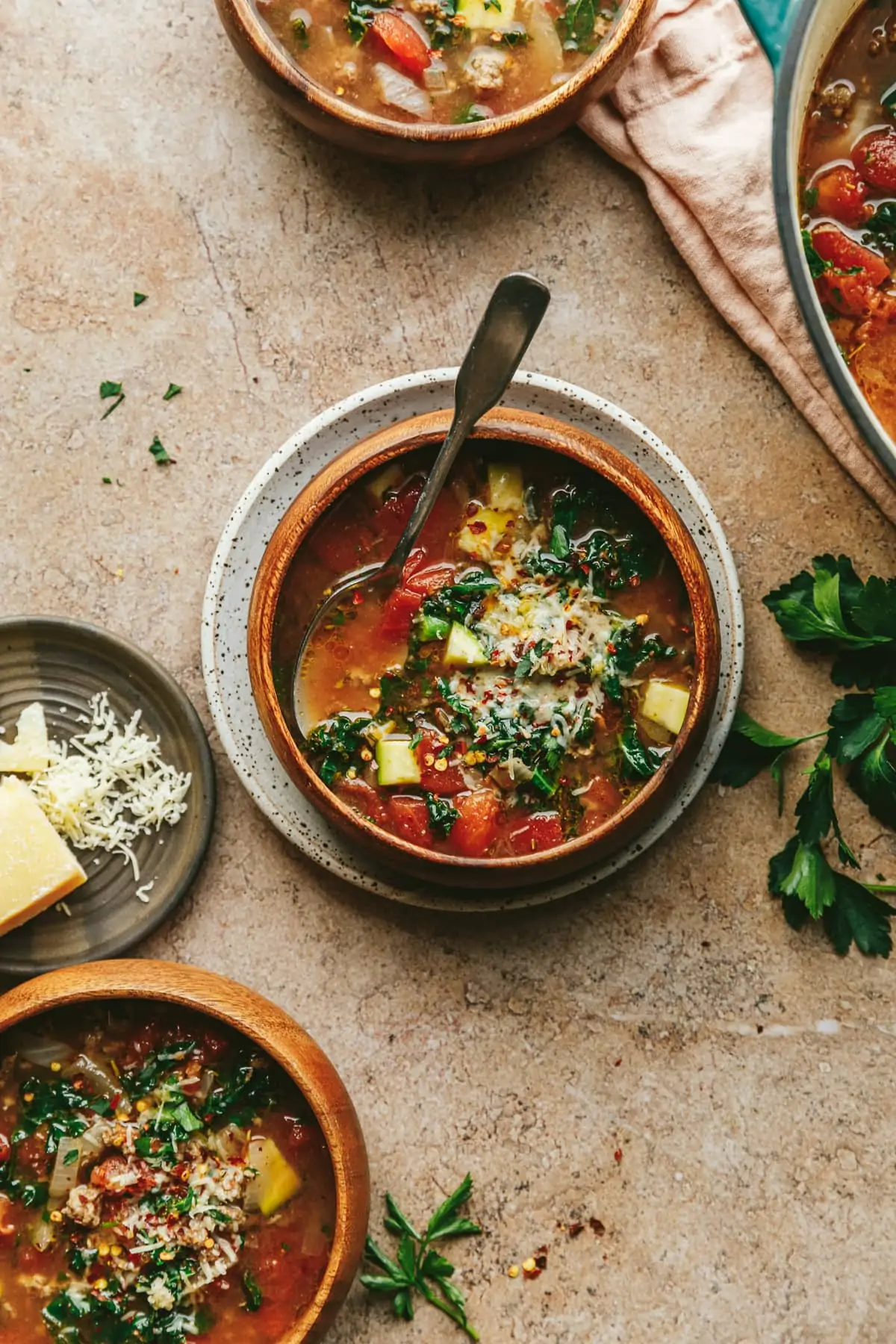 This low-carb Tuscan soup is the result of several delicious soup recipes that have inspired me lately, plus a recent sick day at home when a hearty soup was loudly calling my name (enough to crawl off the couch and make one which is really saying a lot). Basically, this soup was meant to be.
It's an adaptation of Minimalist Baker's Tuscan-style beef and lentil soup and Roberto, an off-the-cuff soup recipe first developed by Helen Rosner that is Instafamous.
Both are delicious recipes but neither of them are very low-carb, so I created this version, which introduces easy swaps but maintains all of the flavor.
And perhaps what's most appealing about this recipe is that it's the best way to make a quick and easy soup when you have the most basic ingredients on hand.
I first shared this recipe in 2019 and have since updated the post to give you the very best content.
However, the original recipe remains untouched. I love it so much, and to this day, it is one of my family's favorite soups. Especially with buttery keto cornbread or biscuits.
why this recipe works
This keto Tuscan soup includes diced tomatoes, onion, chopped kale, fresh parsley and zucchini for a good serving of veggies. Grass-fed ground beef for protein and fat. Garlic and heaps of spices for depth and a robust flavor.
What I love about soup recipes is that they're easy to customize and make your own. This one is no different.
While I like this extra brothy version, I've also tried it with a little bit of coconut cream and heavy whipping cream (there's something about a creamy broth that just hits different). If you're a fan of creamy soups, you can certainly go that route.
Feel free to play around with this keto Tuscan soup recipe by adding in your own veggies or using fresh tomatoes and herbs instead of canned/dried.
I like extra Parmesan cheese (stirred into the soup and also sprinkled on top) but meltier cheeses (hello, Gruyere) would be delicious.
Low-carb Tuscan soup with beef and tomatoes is:
a 30-minute, one-pot recipe
keto, gluten free and dairy optional (simply omit the Parmesan cheese to make it dairy-free)
cozy and comforting
hearty and nutritious with amazing flavor.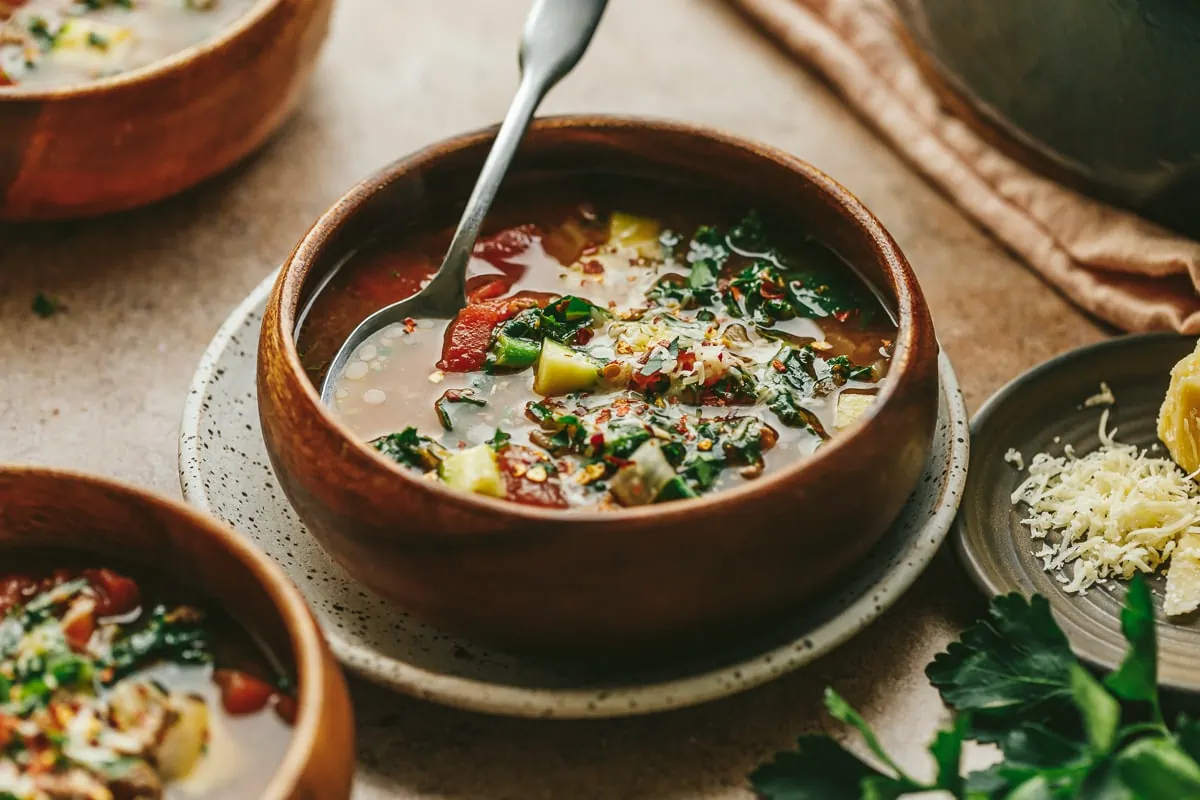 the ingredients
To make this loaded keto Tuscan soup, you will need:
olive oil
yellow or white onion
minced garlic
ground beef, preferably grass-fed
ground cayenne
smoked paprika
red pepper flakes
Italian seasoning
salt and pepper
diced tomatoes, canned
beef broth
dried oregano
fresh parsley
zucchini
kale (pick your favorite variety)
parmesan cheese (optional)
lemon (optional)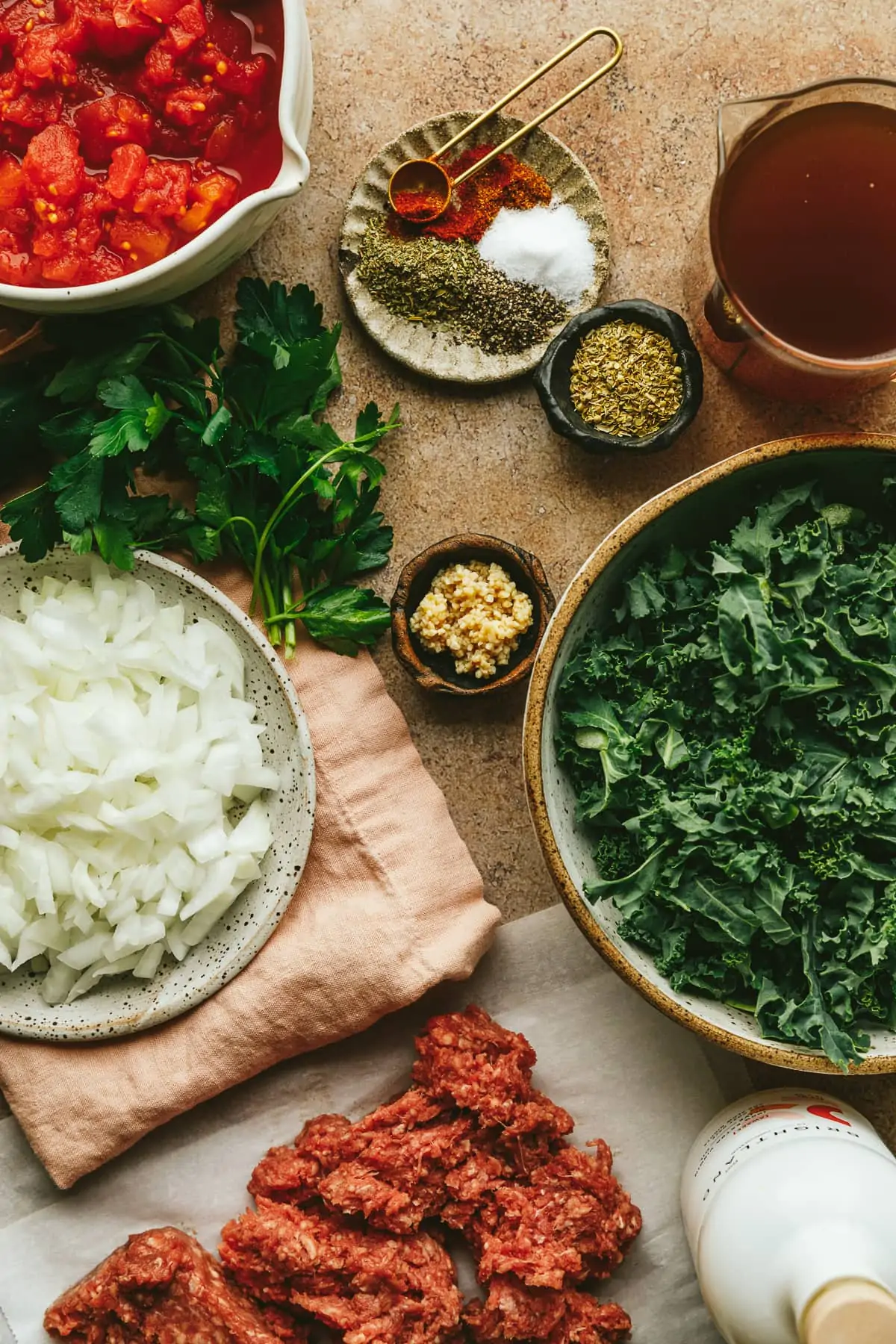 a brothy, beefy keto Tuscan soup recipe
The whole soup-making process is easy and has an extra quick prep time. It takes about 30 minutes and only requires one pot!
Here's a look at the steps involved but be sure to scroll to the bottom of the page to view the printable recipe card.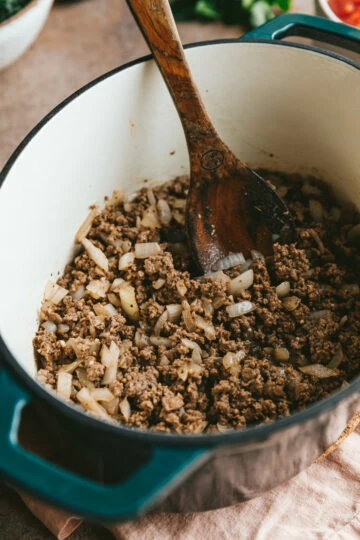 In a large pot (either a heavy-bottomed soup pot or Dutch oven), heat the olive oil and add in the onion. Sauté, then add the minced garlic and ground beef. Cook to brown. Add the cayenne, paprika, red pepper flakes, Italian seasoning, salt and black pepper.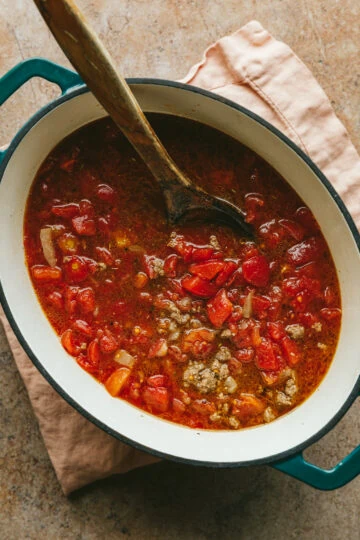 When the meat is done, pour in the canned tomatoes and broth. Add the dried oregano and fresh parsley. Bring the soup to a boil over medium-high heat, then reduce to a simmer and let it cook for about 10 minutes.
Mix in the zucchini and cook for a couple of minutes. Remove from the stove top heat and stir in the chopped kale and grated parmesan (if using).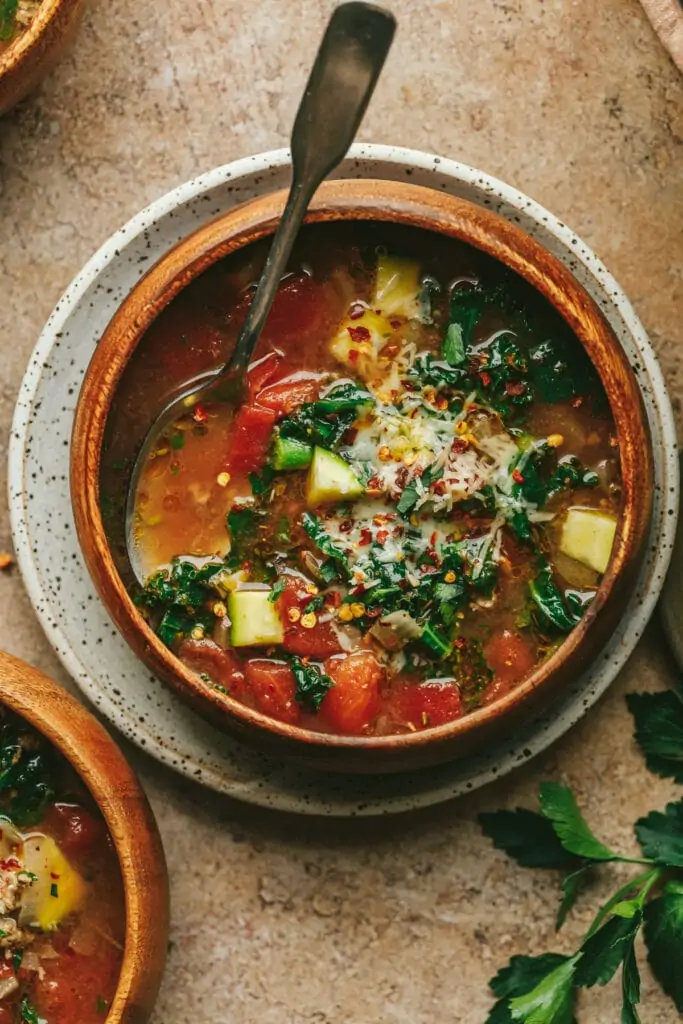 Ladle into serving bowls and squeeze fresh lemon juice (optional) over each serving. Garnish with more fresh parsley, parmesan and/or red pepper flakes.
tips for the best results
After stirring in the chopped kale and parmesan, taste the soup and adjust to your liking with salt and pepper. You can also add more parmesan (for savory saltiness) and more red pepper flakes (for spice).
The spices in the recipe are meant to infuse the flavor of spicy Italian sausage into the grass-fed ground beef. If you're opting to use Italian sausage instead of beef, then you'll only need dried oregano, red pepper flakes, and salt and pepper (omit the cayenne, paprika and Italian seasonings).
Store leftover soup in the refrigerator for up to five days. If freezing, store it in an airtight, freezer-safe container for up to three months.
substitutions and different variations
You can swap the ground beef for any type of ground Italian-style meat (pork, beef, chicken).
One serving of this soup has less than 10 net carbs. If you keep your carb count to a strict minimum, you can reduce the amount of canned tomatoes by half and add one extra zucchini. I personally believe tomatoes are a wonderful vegetable to incorporate into a keto or low-carb diet. They offer so many health benefits and canned tomatoes especially are an excellent source of the antioxidant lycopene.
For a creamy broth, stir in ½ cup to ⅔ cup heavy whipping cream (or coconut cream) at the very end, along with the kale and parmesan.
Kale is my go-to for this soup but other sturdy, leafy greens like collard greens and chard work well too.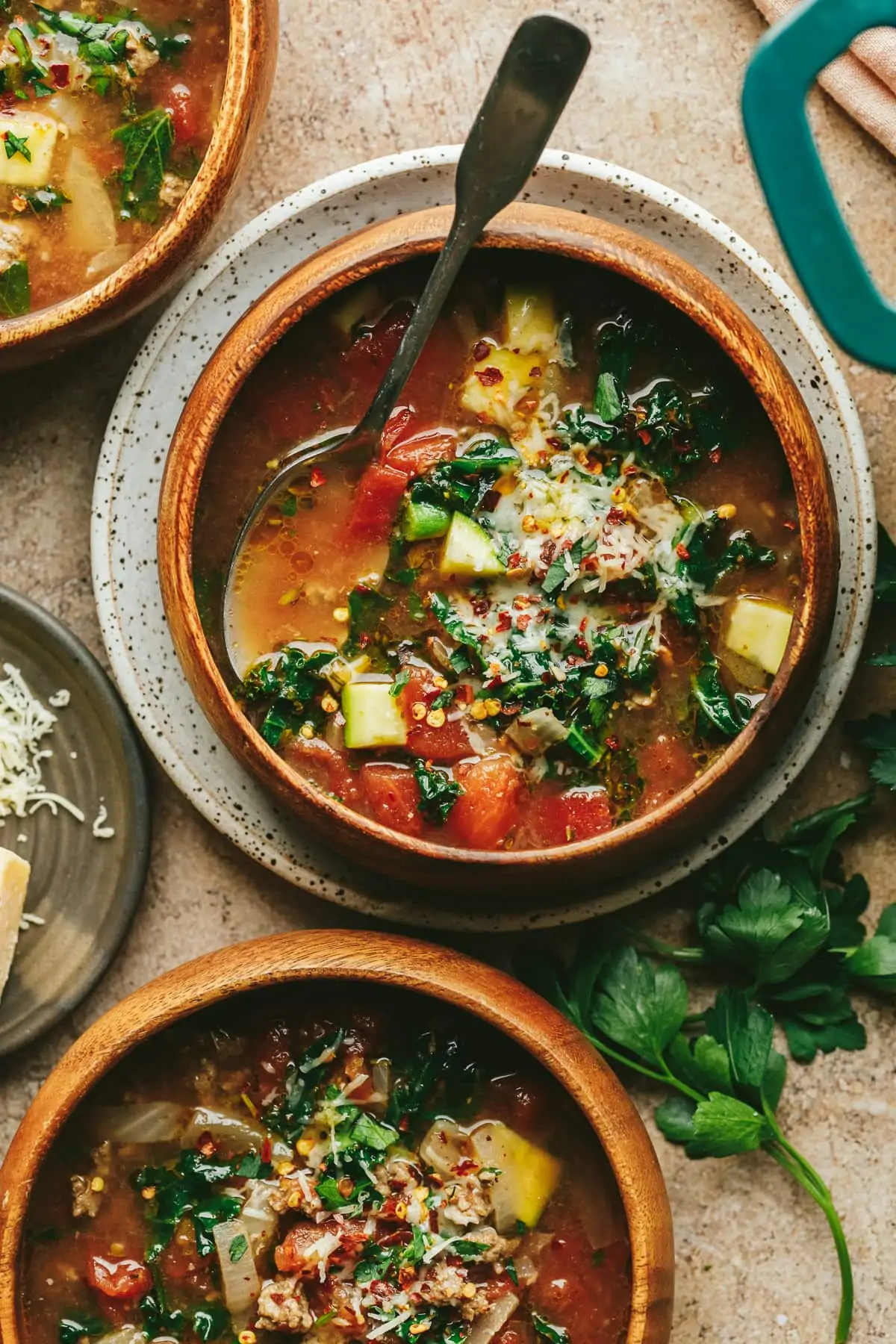 This keto Tuscan soup is the perfect recipe to make the most of basic ingredients with very little effort required.
It's a good choice for any meal plan, too! You'll have a healthy and hearty soup that makes enough to feed a family (or feed you for days). And it's worth pointing out that leftovers taste even better the next day.
I hope you enjoy this Tuscan-style beef and vegetable soup! It's savory and hearty and spiced to perfection, just enough heat to warm you up on a cold day.
Soup season = best season, right? 🙂
If you give it a try and love it too, drop a comment below or give it a five-star rating. And if you share it on social media, feel free to tag @stemandspoon- I love seeing what you're making.
you might also love...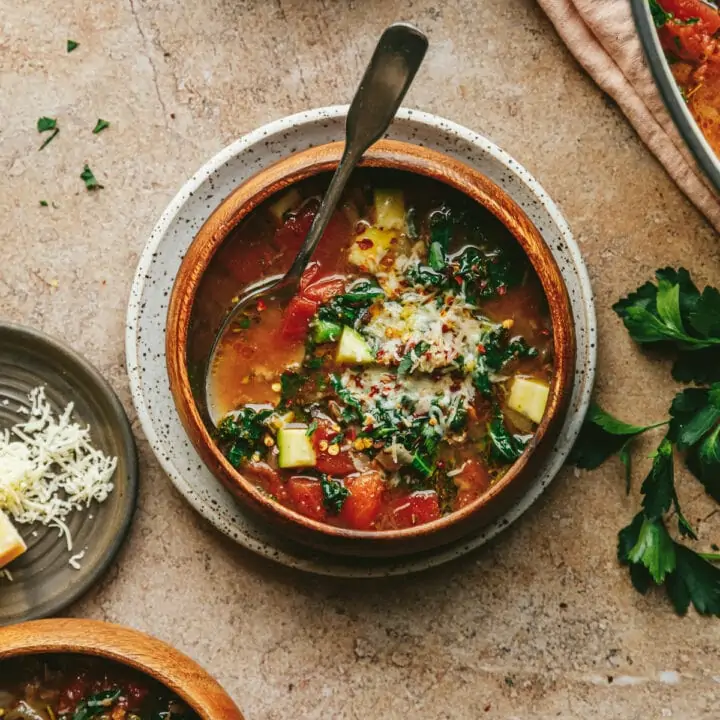 Keto Tuscan Soup with Beef and Vegetables
A one-pot, 30-minute soup recipe, this keto Tuscan soup with beef and vegetables is hearty, flavorful, and spiced with just the right amount of heat.
Ingredients
2 tablespoons olive oil
1 large yellow onion, chopped
5 cloves garlic, minced
1 pound grass-fed ground beef*
¼ teaspoon ground cayenne 
¼ teaspoon paprika
¼ teaspoon red pepper flakes (more or less based on spice preference)
1 teaspoon Italian seasoning
salt and pepper (at least 1 teaspoon of each)
2, 14-oz. cans diced tomatoes (with juice)
1 quart (4 cups) beef broth or stock
1 tablespoon dried oregano
2 tablespoons parsley, chopped
1 medium zucchini, chopped
2-3 cups kale, chopped
¼ cup grated parmesan (optional)
½ lemon (optional for serving)
Instructions
In a large pot, heat the olive oil for about 1 minute over medium heat. Add the chopped onions and sauté for 2-3 minutes. Stir in the minced garlic and cook for another minute or so but be careful not to burn the garlic.
Add the grass-fed ground beef to the onions and garlic and use your spoon to break it apart into bite-sized chunks. Add the ground cayenne, paprika, red pepper flakes, Italian seasoning and a generous amount of salt and pepper (at least 1 teaspoon of each). These seasonings are to spice the meat (hold the parsley and oregano until later). Cook until the ground beef is browned (4-5 minutes).
Pour in the diced tomatoes and broth. Add the chopped parsley and dried oregano to the soup, stir it well and bring it to a boil. Reduce the heat and let let it simmer uncovered for 10 minutes.
Add the diced zucchini and let it cook for about 3 minutes before adding in the chopped kale. Stir well, mixing in the kale until it's slightly wilted. Remove from heat.
Stir in the grated parmesan and taste. Add more salt and pepper as needed (I did a generous amount here), more red pepper flakes for extra heat, and/or more parmesan if you'd like.
Ladle the soup into serving bowls and squeeze the juice of a lemon wedge over each serving (optional). Garnish with more parmesan, red pepper flakes and fresh parsley, if desired.
Notes
*The first batch of spices/seasonings are intended to flavor the ground beef similar to spicy Italian sausage. If you opt to use Italian sausage instead of ground beef, omit the spices (except for the oregano, red pepper flakes and parsley, which the recipe calls for later).
*If you're dairy-free, omit the parmesan or try a vegan parmesan. If you omit the cheese altogether, add more salt, to taste.
*This recipe was adapted from Minimalist Baker and Helen Rosner.
Nutrition Information:
Yield:

6
Serving Size:

1
Amount Per Serving:
Calories:

294
Total Fat:

18.2g
Saturated Fat:

6.7g
Trans Fat:

.7g
Unsaturated Fat:

7g
Cholesterol:

57mg
Sodium:

469mg
Carbohydrates:

11.3g
Net Carbohydrates:

9.6g
Fiber:

1.7g
Sugar:

6g
Protein:

21g
This nutritional information is approximate and is provided for convenience as a courtesy.