This post may contain Amazon affiliate links. I earn a small commission (at no extra cost to you) when you purchase using one of those links. I only recommend products I use and love. Thanks for supporting Stem and Spoon.
This roundup of easy keto chicken thigh recipes will make dinner a breeze and give you all kinds of low-carb meal inspiration!
Chicken thighs are tender, flavorful, and contain extra fat which makes them well-suited for a low-carb or keto diet. They are simple to prep and there are so many ways to enjoy them.
why you'll love these low carb chicken recipes
If you've ever found yourself staring aimlessly at a pack of chicken thighs and not feeling inspired to do anything with it- I hear ya. I've been there and I can definitely feel stuck in my low-carb dinner rotation.
But fortunately, there are so many ways to prepare keto chicken thighs and this specific cut of meat is pretty fool-proof! They retain moisture and they don't overcook as easily as chicken breasts.
Why keto chicken thigh recipes are a must if you follow a keto or low-carb lifestyle:
chicken thighs are high in protein with a moderate amount of fat, which makes them keto-friendly when it comes to macronutrients
they're tender and flavorful
chicken thighs are budget-friendly
the range of keto chicken thigh recipes are endless!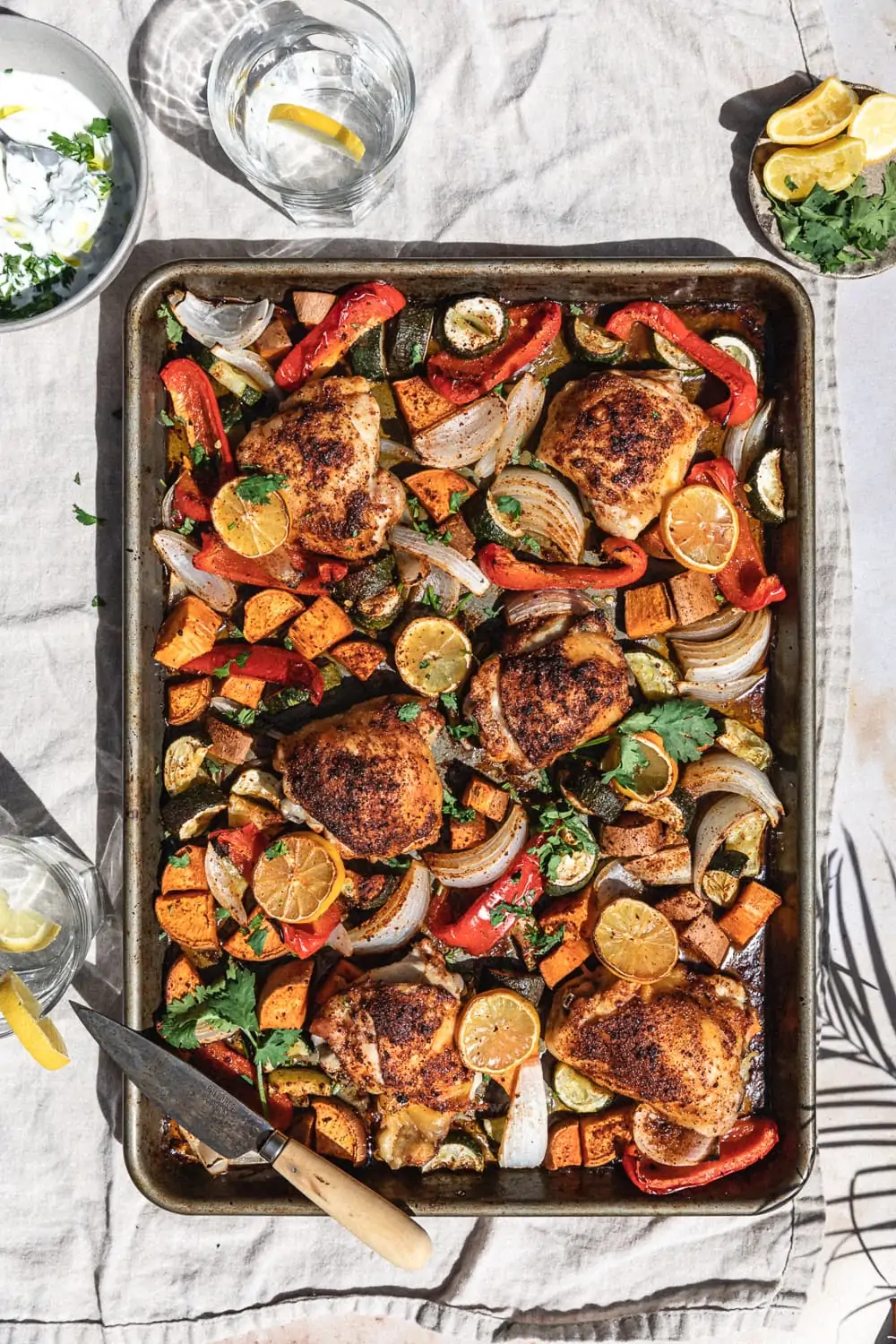 This roundup of keto chicken thigh recipes includes the best chicken dishes and flavors that run the gamut from simple soups to one-pan dinners to flavor-packed salads.
They are:
simple to prepare and doable for any day of the week
delicious recipes that range between 3g and 15g net carbs per serving
nutritious, kid-friendly and recipes the entire family will love!
Click on any of the recipes below to view each separate post, including all of the instructions in the printable recipe card and nutritional information.
And, if you're hungry for more deliciousness, check out this list of 25 high-protein keto recipes!
15 delicious keto chicken thigh recipes
pro tips
Regardless of which keto chicken thigh recipe you go with, consider these tips:
Choosing chicken thighs: Pay attention to whether the recipe calls for boneless/skinless chicken thighs or bone-in thighs with chicken skin. This will make a difference. For instance, my keto air fryer chicken thigh recipe requires skin on the chicken pieces and that's what makes them extra crispy.
Difference in cook time: If you're ever substituting bone-in chicken thighs for boneless chicken thighs, you will likely need to increase the cooking time. It's always a good idea to use a meat thermometer to check the internal temperature of the chicken.
Most cost-friendly cuts: Bone-in chicken thighs are always more affordable than boneless/skinless chicken thighs.
Preparing the chicken thighs: Many of these keto chicken thigh recipes require patting dry the chicken very well before cooking. Chicken already releases a lot of moisture as it cooks so removing as much water as possible will give you the best results.
How to use leftovers: Don't be afraid to repurpose leftovers! For instance, you can make a low-carb quesadilla with leftover Filipino chicken adobo or cut up the chicken to make this Filipino pancit.
favorite keto chicken thigh recipes
Looking for new recipes and you're not sure where to start? Here are my favorites:
frequently asked questions
Are chicken thighs or breasts better for keto? Both will work well and are a great source of protein, but chicken breasts are a leaner cut of meat with about half of the fat per serving as chicken thighs. If your goal is to maintain a "classic keto" or even "modified keto" macronutrient ratio, chicken thighs are a better source of fat than chicken breasts.
How many net carbs are in chicken thighs? Chicken thighs alone contain 0g carbohydrates and 0g sugar, so 0g net carbs. The carb count will change based on how you prep the chicken. For instance, all of my keto chicken thigh recipes range between 3g net carbs per serving and 15g net carbs per serving, based on the dish.
Are boneless skinless chicken thighs healthy? Yes, boneless and skinless chicken thighs are a healthy source of protein and fat. To add more fat to the dish (especially if you're following a keto diet), make use of keto chicken thigh recipes that call for the skin-on pieces, like these harissa chicken thighs with roasted vegetables.
chicken thigh nutrition
Here is chicken thigh nutritional information, according to the USDA:
Serving size: 1 thigh without skin (about 116g)
Total fat: 10g (2.6g saturated fat)
Cholesterol: 157mg
Sodium: 101mg
Carbohydrates and sugar: 0g
Dietary fiber: 0g
Protein: 28g
serve this with keto chicken thighs
Now that you have a variety of low-carb chicken thigh recipes all in one place, how about a few side ideas?
If you try any of these keto chicken recipes, I'd love to hear what you think! Leave a star rating under your favorite recipe and/or drop a comment below!
Have any questions about a specific recipe? Feel free to leave a comment or send me a message on Instagram @stemandspoon. Enjoy!