This post may contain Amazon affiliate links. I earn a small commission (at no extra cost to you) when you purchase using one of those links. I only recommend products I use and love. Thanks for supporting Stem and Spoon.
This bruschetta chicken bake is one of those meals you'll keep coming back to, for any occasion, any season. Chicken thighs are infused with a balsamic marinade, then baked in a casserole dish and topped with a sweet basil and balsamic tomato mixture that adds bold flavor and freshness. It's especially good in the summer months when fresh tomatoes are in peak season.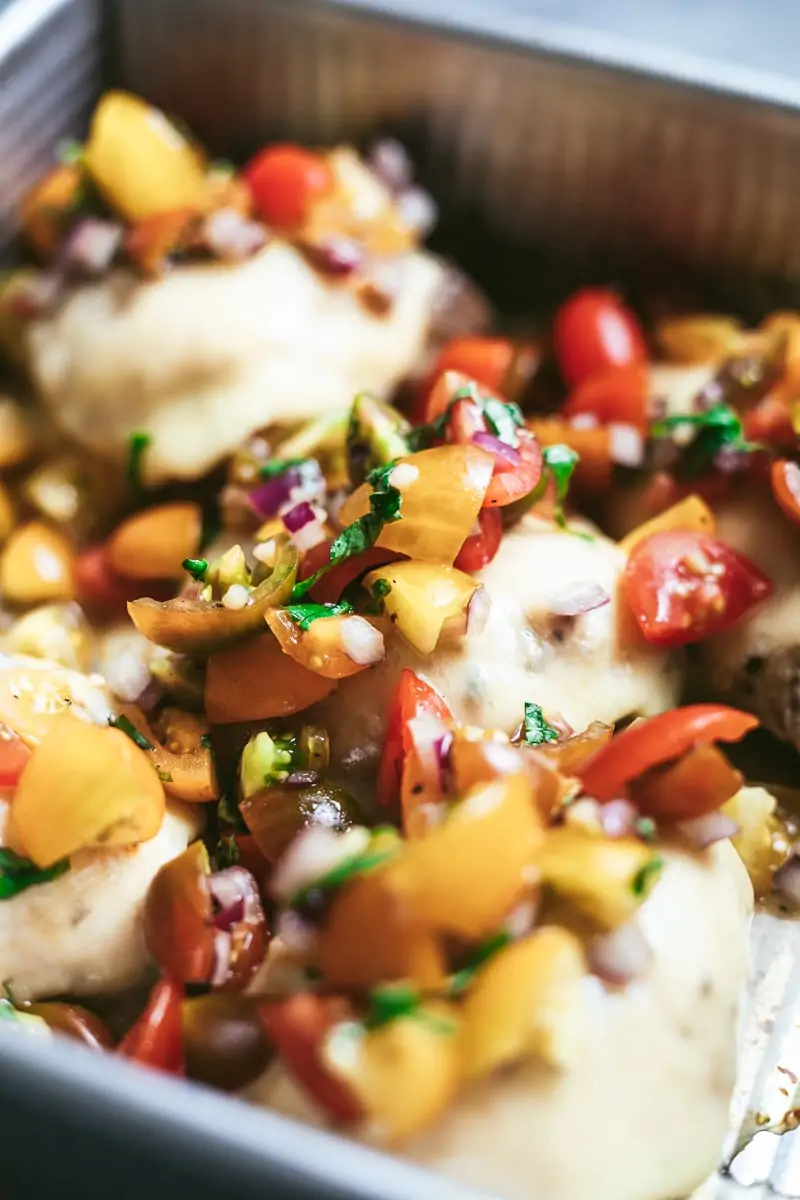 why you'll love it
The classic bruschetta- thin slices of toasty bread rubbed with olive oil and topped with an herb-y, tomato mixture- is one of my favorite foods that I still enjoy once in a while.
This simple and healthy meal features the same fresh ingredients, but uses chicken as the vessel to top all of that tomato-balsamic goodness. I love it just the same.
My easy bruschetta chicken bake recipe is super flavorful and simple to follow. I'm actually sharing a couple of variations because baked bruschetta chicken and grilled bruschetta chicken are equally good in different ways.
This bruschetta chicken bake is:
simple to prep
full of flavor
low-carb, keto-friendly, gluten-free and dairy optional.
Grilled bruschetta chicken is light and summery. It's extra good when tomatoes are at their peak, but what I really love about this dish is that it works any time of year.
the ingredients
Another plus for this baked bruschetta chicken recipe: make swaps as needed, it's hard to mess up.
I use chicken thighs but you can certainly substitute chicken breasts if you'd like. Choose your favorite tomatoes. Go extra on the basil, or don't if you're like me and prefer just a hint of the fresh herb.
To make it, you will need these simple ingredients:
Bruschetta chicken marinade: Olive oil, balsamic vinegar, Dijon mustard, garlic, dried basil, dried oregano (or Italian seasoning), onion powder, salt and pepper.
Chicken thighs: Choose boneless and skinless thighs.
Tomatoes: I've made this with several varieties, including Roma tomatoes, heirloom tomatoes and kaleidoscope cherry tomatoes. Cut them small.
Aromatics: Red onion and garlic cloves, finely chopped. Cut the fresh basil into thin strips, aka chiffonade.
Pantry staples: Olive oil and balsamic vinegar for the tomato blend. Salt and pepper to taste. (Choose a balsamic vinegar with low sugar).
Cheese: Sliced Mozzarella or Monterey Jack for topping the chicken, parmesan for topping the tomato mixture (cheeses are optional- omit them or replace with vegan substitute if you're dairy-free).
the process
Bruschetta chicken is an easy weeknight meal! These instructions are for my bruschetta chicken bake recipe but keep reading if you're looking to make it on the grill instead.
Be sure to read the full recipe card at the bottom of the page for all of the details.
Marinate the chicken thighs. Place chicken in a medium baking dish. Whisk together the marinade ingredients and pour it over the chicken. Let the chicken marinate for 20 minutes.
Bake the chicken. Transfer the baking dish to the oven to bake at 425°F for 25 minutes. Add a slice of cheese to each piece and bake an extra 2-3 minutes to melt the cheese.
Make the tomato topping. Combine the cut tomatoes, onion, garlic, and fresh basil. Add the olive oil, balsamic vinegar, and salt and pepper. Stir and chill the mixture while waiting on the chicken.
Top the chicken. When the chicken has cooled about 5 minutes, spoon the tomato mixture on top of the chicken. Sprinkle grated parmesan and serve.
bruschetta chicken bake recipe video
recipe tips
This low-carb and keto bruschetta chicken recipe can also be done on the grill. To make it, cook the chicken thighs on a grill (over medium-high heat) about 4-6 minutes per side. This will vary based on the size of your chicken thighs.
Adjust the tomato topping based on your taste, adding more basil or salt and pepper if needed.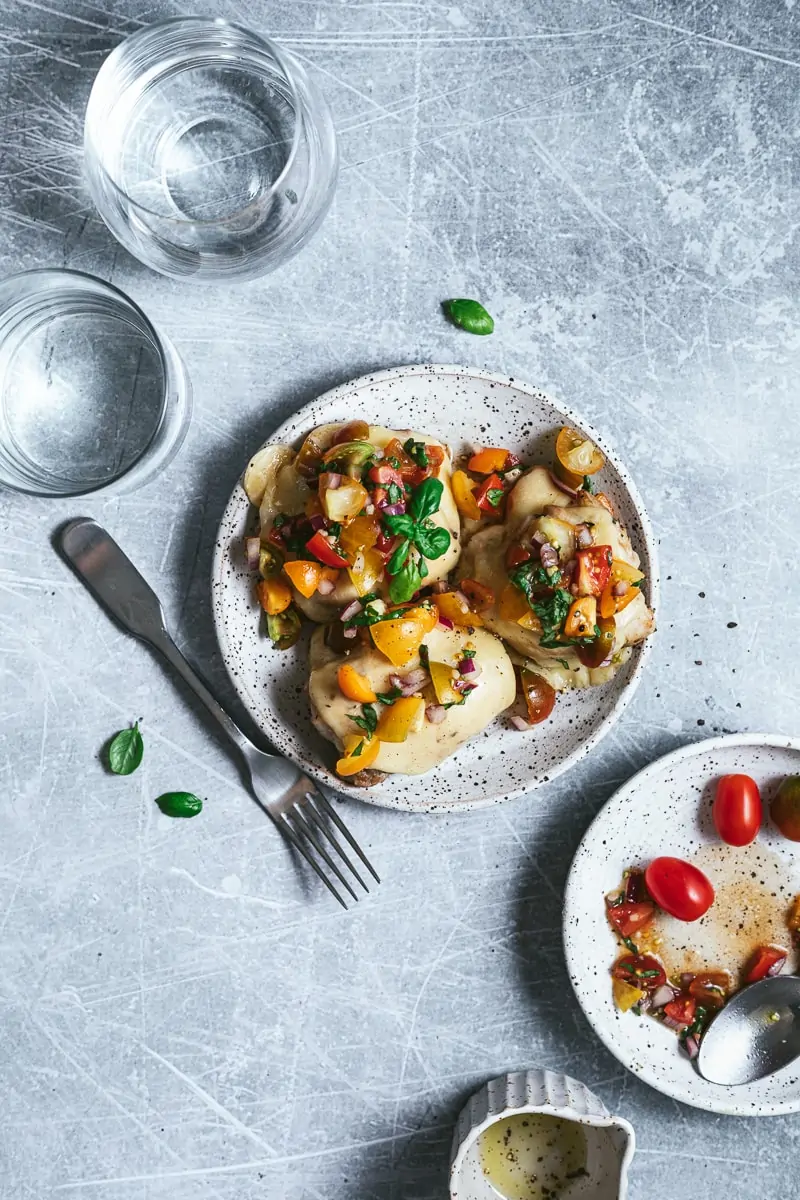 frequently asked questions
Why is my bruschetta watery?
For the best bruschetta chicken, drain out any excess tomato juice that may accumulate in the bowl after mixing the tomato topping. When tomatoes are mixed with salt they can get slightly watery. Draining this before serving will prevent too much water in your tomato topping.
Can I make bruschetta chicken bake with chicken breasts?
Yes! If you prefer tender chicken breasts instead of thighs, you may need to adjust the cook time depending on the thickness of the chicken.

Cook boneless skinless chicken breasts at the same temperature but note that they may need to cook a little bit longer. The internal temperature should register 165° with a meat thermometer in the thickest part of the chicken breast.
what to serve with bruschetta chicken
This low-carb bruschetta chicken recipe makes a delightfully light and fresh dish that will go with so many things. If you're looking for inspiration, here are a few low-carb side dish ideas:
The whole family will love this tasty, healthy, simple meal! With classic Italian flavors and much fewer carbs than a traditional bruschetta recipe, this bruschetta chicken bake is the perfect easy dinner.
If you give this flavorful dish a try and love it too, please consider leaving a star rating and a comment below!
And have you checked out this roundup of low-carb thicken thigh recipes? It has all your keto chicken dinner inspiration in one place. 😉
Bruschetta Chicken Bake (Low Carb, Keto)
Bruschetta chicken bake is a fresh and flavorful meal! Tender, marinated chicken thighs are baked (or grilled), then topped with mozzarella and a tomato mixture infused with basil and balsamic.
Ingredients
bruschetta chicken marinade
1 tablespoon balsamic vinegar
2 tablespoons olive oil
1 teaspoon minced garlic
1 teaspoon Dijon mustard
½ teaspoon dried basil
½ teaspoon dried oregano
½ teaspoon salt
½ teaspoon ground black pepper
½ teaspoon onion powder
bruschetta chicken bake
1-½ pounds chicken thighs, boneless and skinless (about 4-5 pieces)
8 ounces tomatoes, cut small (will measure about 1 to 1-¼ cups when chopped) 
2 tablespoons red onion, finely chopped
½ teaspoon garlic, minced
1 tablespoon basil, chiffonade (sliced into thin ribbons)
1 teaspoon olive oil
1 teaspoon balsamic vinegar
½ teaspoon lemon juice (optional)
salt and pepper
4-5 slices fresh mozzarella or Monterey Jack (optional)
2-3 tablespoons grated parmesan (optional)
Instructions
In a small bowl, mix together the marinade ingredients. Pat dry the chicken thighs and place them in a baking dish. Pour the marinade over the chicken. Let the chicken marinate for 20 minutes.
Preheat the oven to 425°F.
When the chicken is done marinating, transfer the baking dish to the oven (see notes for cooking on the grill). Bake the chicken for 25 minutes. Remove from the oven and top each piece with a slice of cheese, then return the pan to the oven and bake 2-3 minutes or until the cheese has melted.
While the chicken bakes, prepare the tomato topping. In a medium bowl, combine the cut tomatoes, onion, garlic, and fresh basil. Add the olive oil, balsamic vinegar, lemon juice, salt and pepper. Stir gently to combine.
When the chicken is done baking, remove the pan from the oven. Let it cool for 5 minutes. Spoon the tomato topping over each piece of chicken. Sprinkle with grated parmesan (optional).
Notes
For grilled chicken bruschetta:
Heat the grill to medium-high.
After marinating the chicken, place each piece on the grill and cook for 4-6 minutes per side.
Top with cheese and let it cook an additional 2-3 minute, or until the cheese melts and the chicken is done.

Cooking chicken:
The chicken thighs are done once the internal temperature is 165°.
If substituting chicken breasts for the chicken thighs, they may need a longer cook time depending on the thickness of the chicken pieces.
Tomato topping tips:
Adjust the tomato topping based on your taste, adding more basil or salt and pepper if needed.
Drain any excess tomato juice that may accumulate in the bowl after mixing the tomato topping to prevent it from getting too watery.

To make this dairy-free, omit the cheese or substitute with a vegan cheese alternative.
Leftovers:
The chicken will keep for up to 4 days stored in the refrigerator, however the tomato topping is best served fresh. It will keep for about a day or so but the basil will look a little wilted.
Nutrition Information:
Yield:

4
Serving Size:

1
Amount Per Serving:
Calories:

396
Total Fat:

24g
Saturated Fat:

7g
Trans Fat:

0g
Cholesterol:

159mg
Sodium:

239mg
Carbohydrates:

4.5g
Net Carbohydrates:

4g
Fiber:

.5g
Sugar:

2.3g
Protein:

38g
This nutritional information is approximate and is provided for convenience as a courtesy.