This post may contain Amazon affiliate links. I earn a small commission (at no extra cost to you) when you purchase using one of those links. I only recommend products I use and love. Thanks for supporting Stem and Spoon.
Learn the simple process of how to make chicken bone broth using leftover chicken bones and vegetables scraps! This keto bone broth recipe is easy, flavorful and packed with health benefits!
Homemade chicken stock is a great way to make use of a whole chicken carcass. If you've made my Simple Whole Roasted Chicken or Whole Air Fryer Chicken make sure to save the bones so nothing goes to waste! You can easily make your own chicken bone broth that tastes better than store-bought. Add a few aromatics, a long simmer time, and you'll end up with flavorful homemade chicken bone broth for soups or sipping.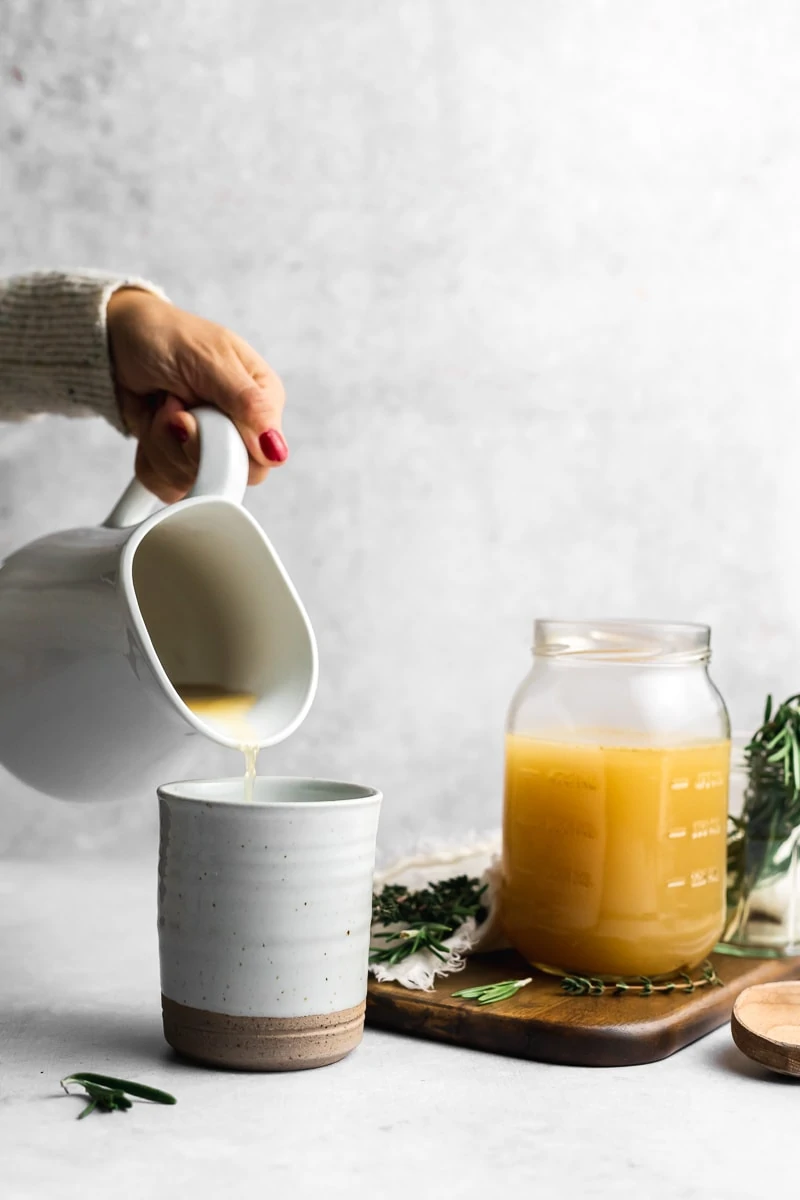 bone broth vs. stock
What is the difference between bone broth and chicken broth? Like many people, I usually use these terms (and ingredients) interchangeably when it comes to recipes. And while chicken broth, chicken bone broth and chicken stock are each made with similar ingredients and a similar process, there is a difference between the three.
Chicken broth
Chicken broth is made by simmering chicken in water (sometimes with other aromatics) for a short amount of time. This results in a lightly flavored broth that's ready for soups, sauces, etc.
Chicken stock
A medium-long simmer (a few hours) of chicken bones, aromatics and water will give you a hearty chicken stock.
The main difference here is that stock uses bones (likely with a bit of meat on them) while broth uses meat, no bones.
Chicken bone broth
This is made by simmering leftover bones with aromatics for a long time. The goal with bone broth is to allow for a long cooking time to break down the connective tissue and bone marrow and release collagen-rich gelatin and amino acids that are in animal bones.
Homemade bone broth will be thicker than regular broth, with a deep color and a rich flavor. When chilled, the gelatin in the bone broth will solidify- a sign that it's nutrient-rich. Re-heating will return it to a liquid.
It can be sipped on by itself and is great if you're following a low carb or keto diet or you're simply looking to get more protein and nutrients.
Bone broth is the perfect way to slowly start introducing food back into your routine if you are intermittent fasting and may even help minimize the symptoms of keto flu. And, the benefits of bone broth continue. It is believed that bone broth may support your immune system and digestive health, even weight loss, gut health and joint health (as always, seek your own professional medical advice).
Note: In this chicken bone broth recipe, I'm also referring to it as homemade chicken stock since you can use the same process and simply reduce the cook time.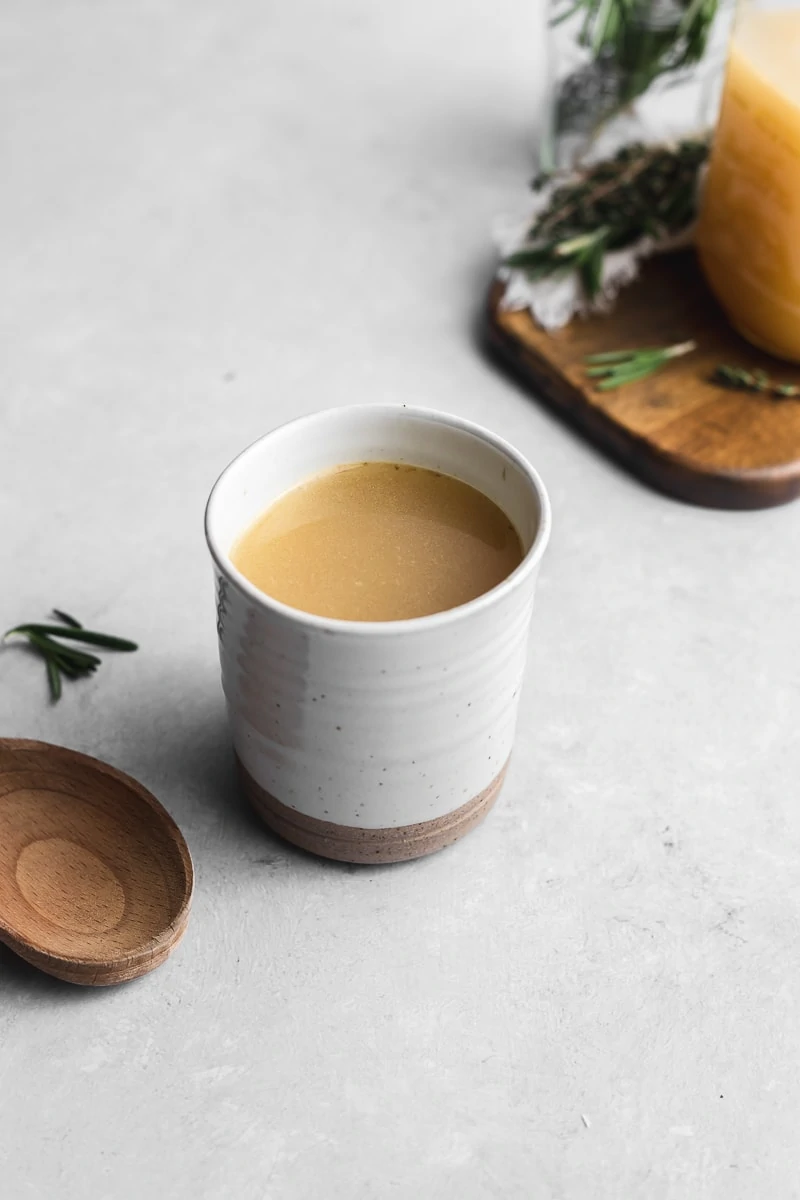 why you'll love it
Sure, you can purchase organic chicken bone broth from the grocery store and I often do. But homemade chicken bone broth is my favorite way to repurpose chicken scraps. Plus, you have full control over what's in the broth.
If learning how to make chicken bone broth sounds a tiny bit intimidating, rest assured it's incredibly simple!
This chicken bone broth recipe is:
easy to follow
a no-fuss recipe
adaptable- make homemade chicken stock or chicken bone broth
a healthy chicken bone broth recipe that's packed with flavor and nutrients
keto, low-carb and paleo friendly
the ingredients
For this chicken bone broth recipe, you'll need the following ingredients:
bones from a whole roasted chicken (including legs and wing bones)
onion and garlic cloves
celery
fresh herbs like organic thyme and rosemary (feel free to modify this, i.e. sage or bay leaves or other herbs you'd like to add)
sea salt
peppercorns (or ground black pepper)
organic apple cider vinegar
filtered water
Tip: If you have a rotisserie chicken with most of the chicken meat used up, save the chicken carcass and use it for bone broth!
how to make chicken bone broth
My keto chicken bone broth recipe is easy to prepare! Throw the handful of ingredients in a pot, add a long simmer time (12+ hours), and you'll get a collagen-rich chicken bone broth that's better than anything you can find on store shelves.
Combine everything in a large soup pot or Dutch oven.
Heat the mixture on high and bring it to a boil. Reduce to a simmer and cook, covered, for 12-14 hours. Check on it occasionally and skim any foam off the top.
Strain the chicken bone broth and cool.
Use immediately or pour the bone broth into airtight containers.
chicken bone broth recipe tips
How to make chicken stock: Simply reduce the simmer time. Cook the mixture for 6-8 hours for a flavor-packed chicken stock!
For the chicken bones, I'm using the leftover bones from a 3 to 4-pound chicken (wings and legs, too!), about 1-½ to 2 pounds of bones.
To store chicken bone broth, pour it into glass jars or storage bags and refrigerate/freeze. If freezing the bone broth, leave a couple of inches at the top of the jar for expansion.
This chicken bone broth can be stored in the refrigerator for up to 5 days or in the freezer for up to 3 months.
If sipping on a cup of bone broth, taste the broth and add a bit of salt, if needed.
How to make keto chicken bone broth in the slow cooker: Follow the instructions but place all of the ingredients into a Crock Pot or similar slow cooker. Cook on low for 12-16 hours or until done.
watch the video
frequently asked questions
How do I know when my bone broth is done? Bone broth is done after it has simmered at least 12 hours but you can definitely go longer than that, even up to 24 hours (but I don't find that to be necessary). In my experience, 12 hours of cook time results in a homemade bone broth that is collagen-rich and has great taste. If you cook the bone broth for two long, the other ingredients can break down too much and alter the taste of the broth.
Do you put chicken skin in bone broth? Yes, absolutely. Chicken skin will add more flavor to the broth and I definitely use it.
Which part of the chicken is best for bone broth? For ease, I use a whole chicken carcass, including the wings and legs (you can even throw in chicken feet if you have them!). The bones of a whole roasted chicken are really easy to save and you can feel good knowing you're making use of the entire thing- nothing goes to waste. Since there is often bits of chicken meat on the bones, this results in a really rich, flavorful bone broth too.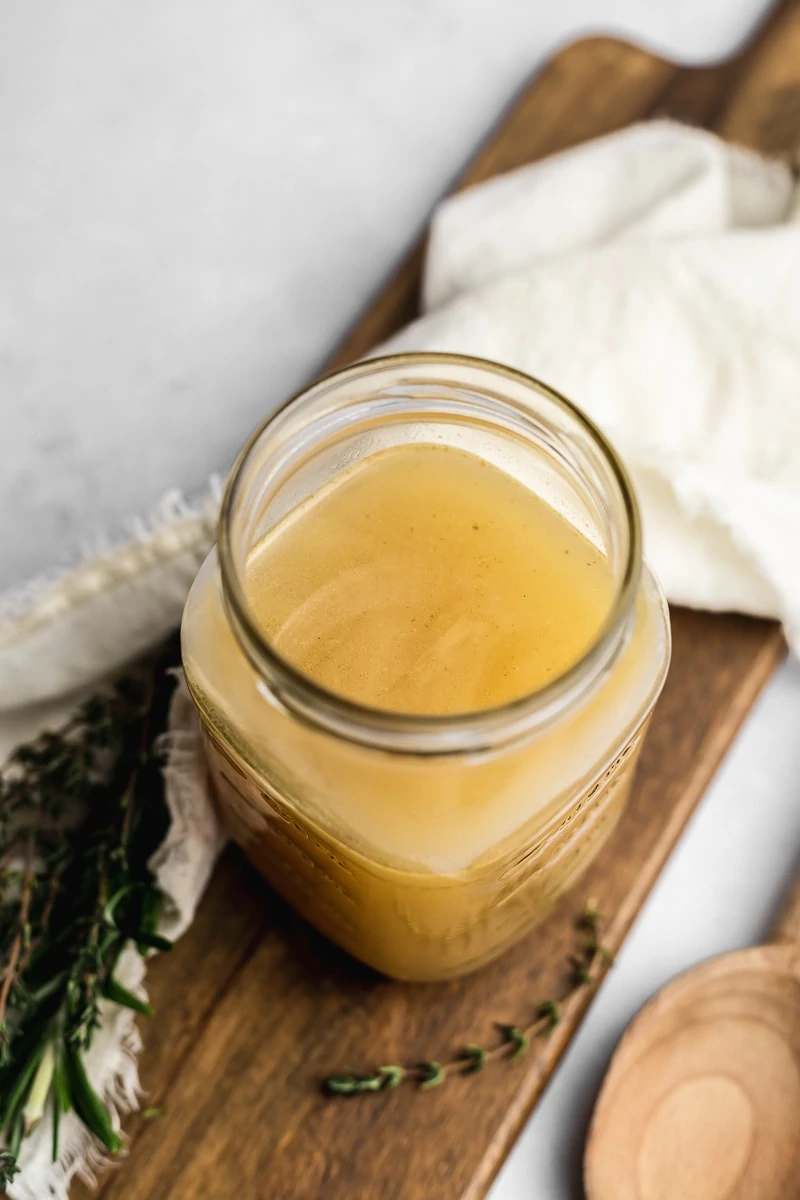 uses for homemade chicken bone broth
What's great about this chicken bone broth recipe is you can sip it straight or use it in healthy soups, sauces, etc. Here are a few gluten-free, low-carb and keto soup recipes to try out:
Enjoy this chicken bone broth recipe, friends. It's a great one to have on-hand, especially during chilly months when a cup of hot bone broth will be exactly what you need.
you might also love...
How to Make Chicken Bone Broth
Total Time:
12 hours
5 minutes
This homemade chicken bone broth recipe results in a rich, nutrient-packed broth made from leftover roasted chicken bones.
Ingredients
bones/carcass from a 3-4 lb. whole roasted chicken, including legs and wings
1 large onion, quartered
2 celery stalks, cut in half
2-3 sprigs fresh thyme
1-2 sprigs fresh rosemary 
1 teaspoon fine sea salt
½ teaspoon ground black pepper (or a few whole peppercorns)
2 tablespoons apple cider vinegar
12 cups filtered water
Instructions
Place the bones, onion, and celery pieces into a large soup pot or Dutch oven.
Add the herbs, salt and pepper, apple cider vinegar, and filtered water.
Heat over high on the stovetop, bringing the liquid to a boil.
Once it boils, reduce to a low simmer and cover.
Cook for 12-14 hours, occasionally skimming any foam off the top.
Set a fine mesh strainer over a large bowl. Pour the chicken bone broth through the strainer and discard the bones and veggie scraps.
Use the bone broth immediately or let it cool for storing. To store, pour it into glass jars (or other air-tight storage containers) and refrigerate for up to 5 days.
Notes
I like to use the inner part of the celery stalk (usually leafy).
You can bundle the fresh herbs with butcher's twine if you have it.
To make chicken stock, simply reduce the simmer time to 6-8 hours.
If freezing the bone broth, make sure to leave 1-2 inches at the top of the glass jars for expansion. It will keep in the freezer for up to 3 months.
The long simmer time allows the bones to break down and release collagen. This means the broth will gel up a bit when it's cold. Once reheated, it will return to liquid.