This post may contain Amazon affiliate links. I earn a small commission (at no extra cost to you) when you purchase using one of those links. I only recommend products I use and love. Thanks for supporting Stem and Spoon.
Keto egg salad is creamy, fresh, and so easy to make! This low-carb egg salad recipe is simple yet full of flavor and includes ideas for all of the different ways to enjoy a classic egg salad. Serve it with your favorite keto bread, low-carb biscuits, low carb tortillas or make delicious lettuce wraps. Or pile it onto a bed of greens for a non-boring salad situation. Stir in fresh herbs, add a celery crunch, pile on a couple of bacon strips... the best part about creamy egg salad is that anything goes!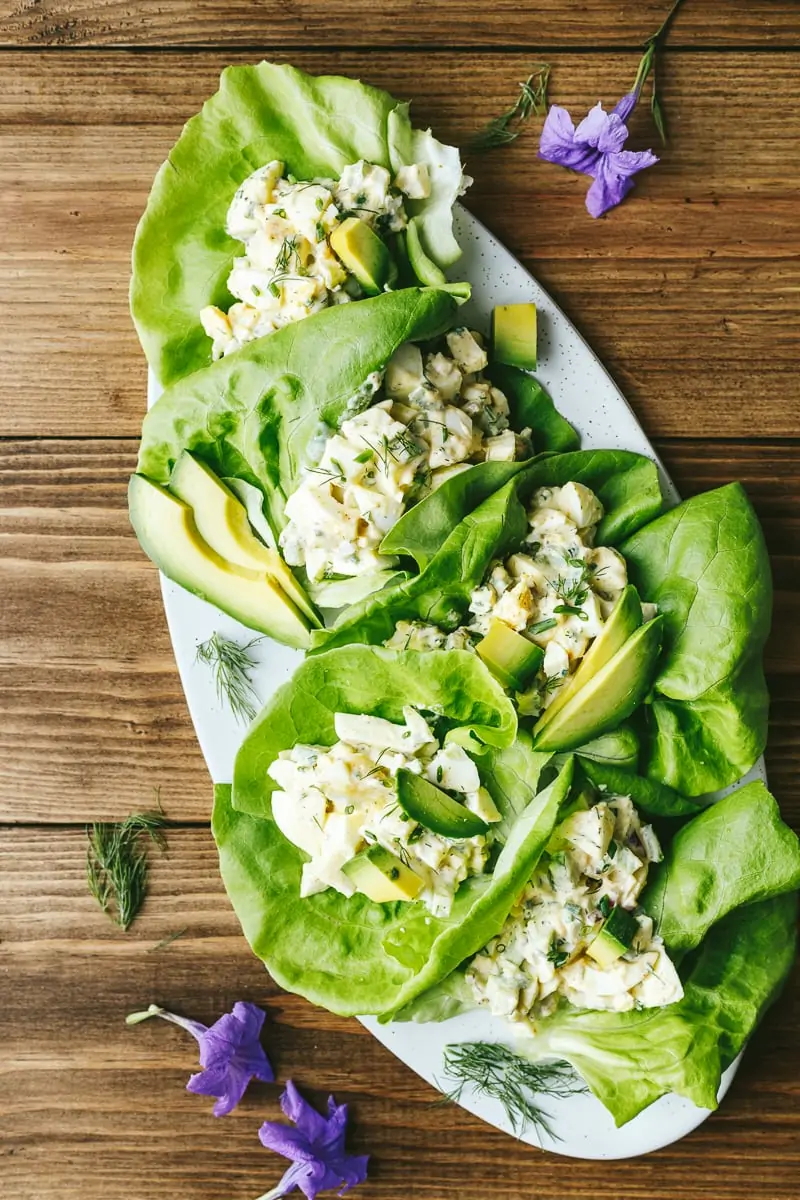 Is egg salad underrated? I definitely think so.
For me, egg salad used to trigger memories of a packed school lunch with a semi-drippy, questionably warm and pungent egg salad sandwich inside.
I was the child whose mom packed whole hot dogs (and no bun), leftover Filipino food that, while delicious, required the use of a microwave... and egg salad sandwiches (I still love you, mom!).
Fast forward two decades and I've now come to the conclusion that egg salad doesn't deserve such a bad rep after all!
Make it fancy and French, like this keto asparagus with gribiche, or keep it simple for an an easy, healthy lunch or dinner.
why this recipe works
Truth: egg salad is already very keto-friendly.
Hard-boiled eggs, mayo, herbs/spices of choice. It doesn't get more low-carb-high-fat than that, right?
This is a classic egg salad recipe made with simple ingredients. It is:
a combination of the perfect flavors and textures
packed with healthy fats and protein
an easy keto egg salad recipe that comes together with minimal effort
low-carb, gluten-free and keto diet friendly.
keto egg salad tip
This low-carb egg salad recipe is just like many other egg salads out there with one exception- and perhaps the most important difference- choose your mayo wisely.
This one ingredient swap is what I believe makes this a healthy egg salad.
Most types of store-bought mayonnaise are made with high omega-6 oils (like canola oil and vegetable oil) which are pro-inflammatory. Even varieties labeled as "olive oil mayonnaise" only contain a small amount amount of olive oil and are primarily vegetable or canola oil (take a peek at the ingredient list!).
So, which kind of mayonnaise works best? I use an avocado oil mayonnaise (Primal Kitchen and Chosen Foods are both good) or you can certainly swap in a homemade olive oil/avocado oil mayo.
the ingredients
This low-carb egg salad recipe is easy to make and can come together in minutes, especially if the eggs are already boiled.
Here's what you'll need to make the perfect keto egg salad:
large eggs, pasture-raised when possible
fresh chives (or sub green onions)
fresh dill
red onion
mayonnaise, preferably a paleo-friendly mayo made with healthy, non-inflammatory oils like avocado oil
fresh lemon juice or apple cider vinegar
spicy brown mustard
salt and black pepper
garlic powder
smoked paprika
optional add-ins like celery (if you like a bit of crunch in the egg salad), avocado cubes, and crumbled bacon
the process
The most simple keto egg salad recipe only requires three steps. Check out the process below but be sure to read the printable recipe card for all of the details.
Boil the eggs. The first thing to do is to make the hard boil eggs. The cooking process is best done ahead of time to allow the eggs to chill in the fridge. However, you can also submerge the boiled eggs in a bowl of ice water for a while to cool them down.
Mix the ingredients. Chop the boiled eggs, toss them into a large bowl. Add the chives, dill and onion (and optional add-ins). In a separate dish, whisk together the mayo, mustard, vinegar/lemon juice, and salt and pepper. Pour the mixture over the eggs and herbs, then toss to combine. Add smoked paprika, to taste.
Serve the keto egg salad. Just because it's low-carb doesn't mean you have to skip the bread. You can spoon this egg salad into your favorite low-carb tortillas or low-carb bread, on top of this savory almond meal bread, or onto romaine or butter lettuce for easy lettuce wraps.
tips for the perfect keto egg salad
If using celery, make sure it's finely-diced. If the pieces are too large, you'll get a low-carb egg salad with more "crunch" than "creamy."
Keto avocado egg salad is another easy way to up the healthy fats and flavor. Slice the avocado and serve it on top of the egg salad or chop it into cubes and gently fold it in at the end.
Add more salt, pepper, and paprika to taste. You can stir the paprika in or sprinkle some on top at the end.
Since there is mayonnaise in this, store it in the refrigerator in an airtight container and make sure it remains chilled.
Immediately submerge the hard-boiled eggs into an ice bath (a bowl of cold water and ice) to stop the cooking and cool them down. Keep them in the ice bath for at least 15 minutes before peeling each whole egg and prepping your egg salad.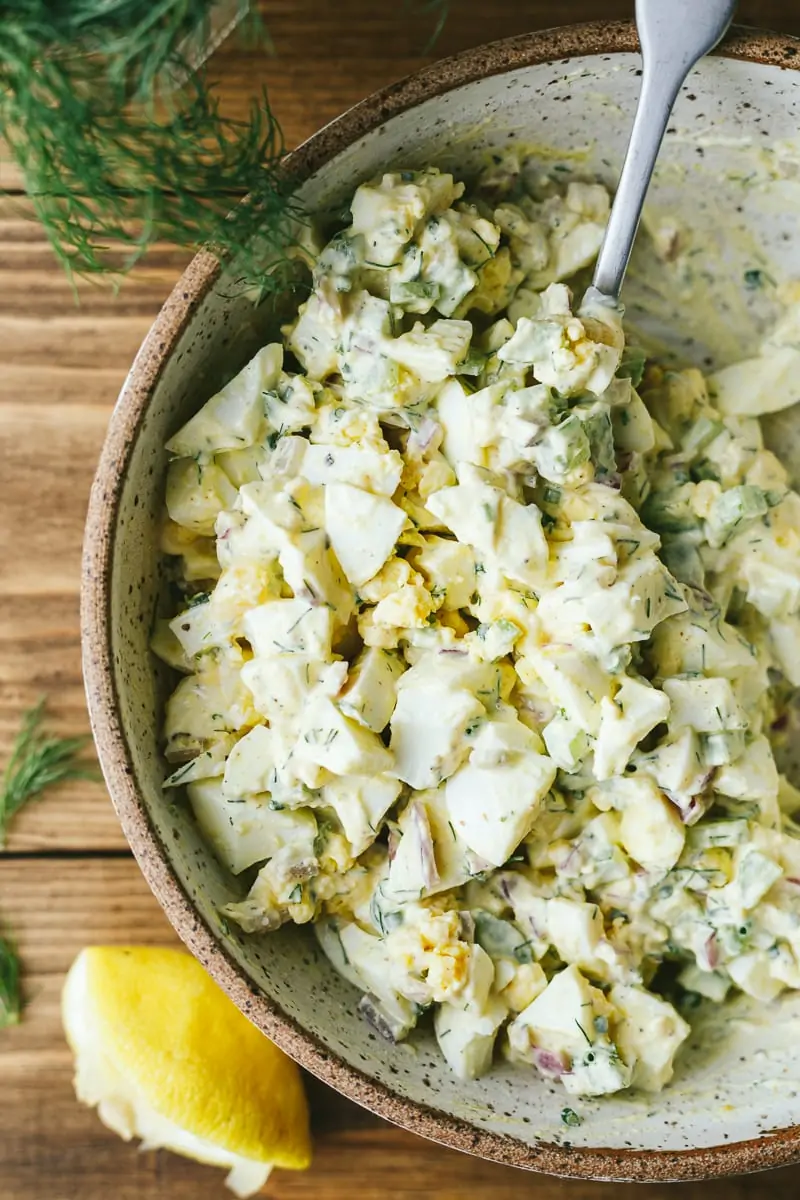 frequently asked questions
Can you have boiled eggs on keto? You certainly can! With their moderate fat, high protein, low-carb makeup, eggs are an ideal keto food.
What can I use instead of mayonnaise in egg salad? For this low-carb egg salad recipe, you can substitute mayonnaise with a low-carb/low-sugar Greek yogurt, sour cream or a dairy-free ricotta.
How many net carbs are in egg salad? This keto egg salad has only 2g net carbs per serving!
how to serve low-carb egg salad
The best thing about this keto egg salad recipe is that it's a handy one that will leave you with many meal or snack options. Egg salad sandwiches aren't the only way to eat it.
As an egg salad lettuce wrap: My favorite lettuce to use is butter lettuce. Even thought it's delicate, it's pliable and easy to wrap. Chard and romaine leaves are a great option if you prefer a more hardy green.
On bread or toast: There are many store-bought options for low-carb bread these days which means a classic egg salad sandwich isn't completely out. Take it next-level by making it BLT-style, pile on dill pickles or pepperoncinis for extra flavor, or spread it on toast with a drizzle of sriracha and avocado slices for one epic breakfast.
In a tortilla: Both store-bought and homemade low-carb tortillas are an easy vessel for this low-carb egg salad. Any and all sandwich variations can be wrapped into a tortilla for a quick lunch.
On meats or veggies, a la gribiche: Have you tried gribiche sauce? It's so similar to this keto egg salad recipe, and serving it on meat or veggies is a great way to add a whole lot of flavor to a meal.
As a dip or spread: Enjoy with a plate of raw veggies or eat it with your favorite low-carb crackers.
On greens: Get your greens in and go the salad route! This keto egg salad is perfect on top of fresh greens, another protein if you'd like, and with other salad add-ins.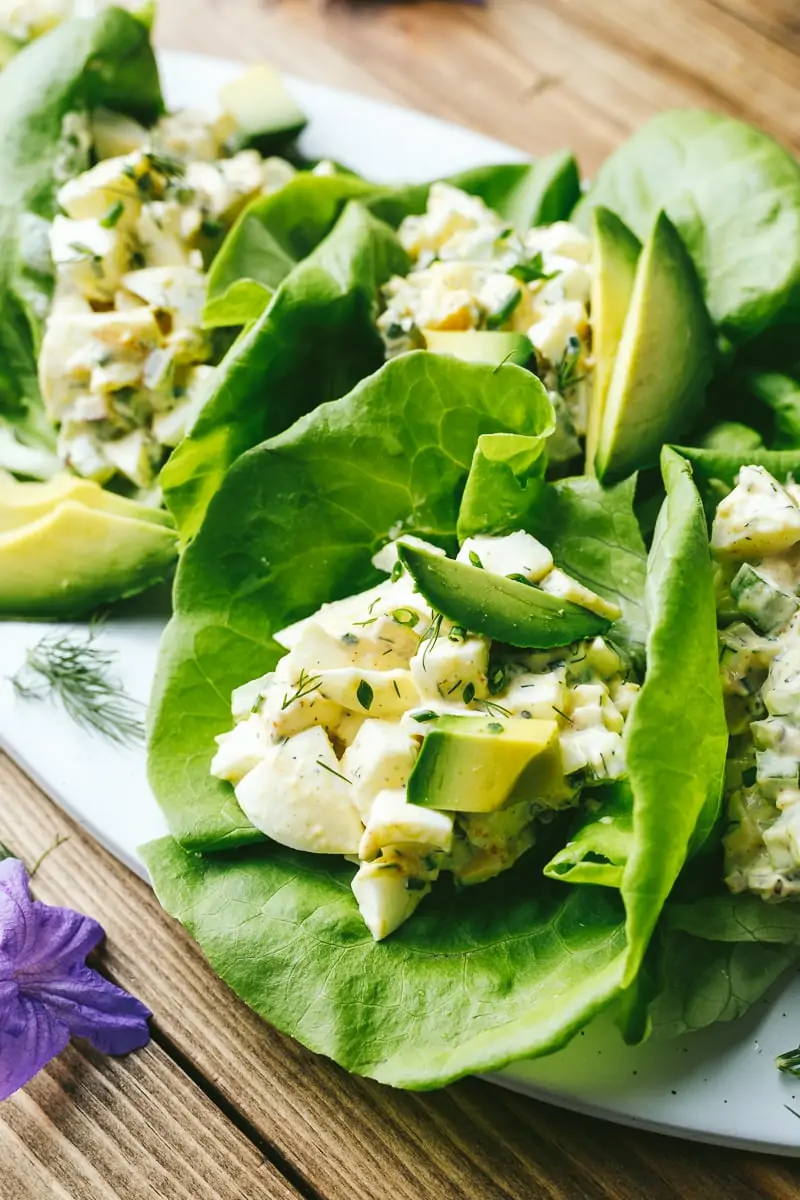 Hopefully this keto egg salad recipe makes meal prep-whether it's breakfast, lunch or dinner- a tad easier for you! It's a classic, easy recipe, and so versatile too.
you might also love...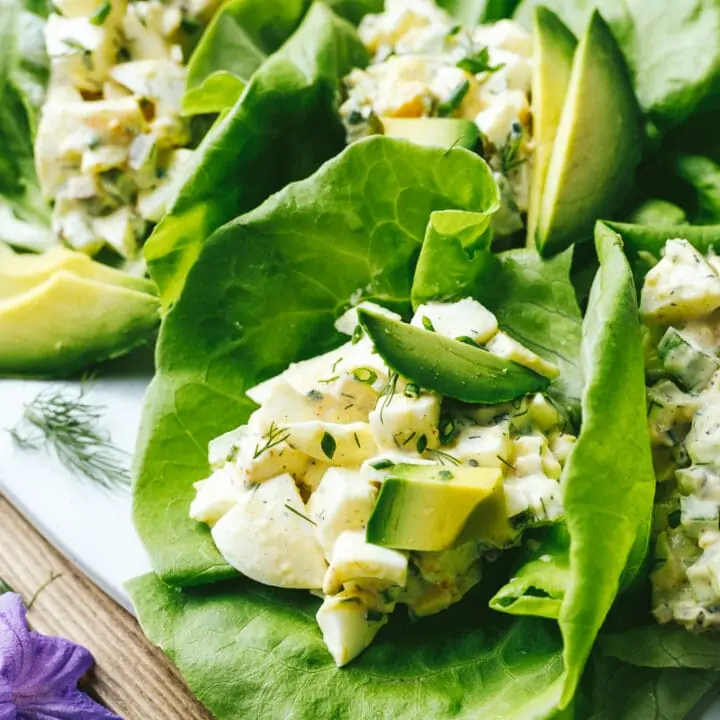 Keto Egg Salad (Low-Carb, Gluten-Free)
This low-carb egg salad recipe makes an easy, delicious, keto egg salad with so many uses!
Ingredients
6 eggs (pasture-raised when possible)
2 tablespoons red onion, chopped
1 tablespoon fresh chives, chopped
1 tablespoon fresh dill, chopped
1 celery stalk, finely chopped (optional)
⅓ cup mayonnaise (preferably avocado oil mayo)*
1 tablespoon Dijon or brown mustard
½ teaspoon salt
½ teaspoon pepper
⅛ teaspoon garlic powder
1 teaspoon lemon juice or apple cider vinegar
smoked paprika, to taste
Instructions
Fill a pot with enough water to boil 6 eggs (they should be submerged completely). Bring it to a boil, then reduce the heat to a simmer and gently lower the eggs into the boiling water. Boil the eggs for 12-14 minutes, then remove the eggs from the heat and transfer them into a bowl of ice water. Once they're cool, remove the shells. Use immediately or chill them in the refrigerator some more (they shouldn't be warm).
Chop the cooled eggs into rough, bite-sized pieces and place them in a medium mixing bowl.
Add the chopped onion, chives and dill (and celery, if using). Toss to combine.
In a small dish, whisk together the mayonnaise, mustard, salt, pepper, garlic powder and lemon juice. Pour it over the egg mixture and gently mix until everything is well combined.
Stir in smoked paprika, to taste. Serve immediately or chill in the fridge.
Notes
Optional add-ins: avocado cubes, crumbled bacon, capers, chopped dill pickles or dill pickle juice.
If using celery, make sure it's finely-diced. If the pieces are too large, you'll get a low-carb egg salad with more "crunch" than "creamy."
Add more salt, pepper, and paprika to taste. I prefer smoked paprika but regular paprika is fine too.
Since there is mayonnaise in this keto egg salad, store it in the refrigerator and keep it chilled.
This keto egg salad will keep for up to 5 days (or until the fresh herbs start to wilt).
Nutrition Information:
Yield:

4
Serving Size:

1
Amount Per Serving:
Calories:

242
Total Fat:

21g
Saturated Fat:

4g
Trans Fat:

0g
Unsaturated Fat:

16g
Cholesterol:

287mg
Sodium:

611mg
Carbohydrates:

3g
Net Carbohydrates:

2g
Fiber:

1g
Sugar:

1g
Protein:

10g
This nutritional information is approximate and is provided for convenience as a courtesy.