This post may contain Amazon affiliate links. I earn a small commission (at no extra cost to you) when you purchase using one of those links. I only recommend products I use and love. Thanks for supporting Stem and Spoon.
Braised beef shanks is a rich, hearty meal perfect for a dinner party or special occasion. Braising beef shank may sound like a chore, but it's in fact quite simple. The beef shanks cook for hours in the oven in a rich braising liquid made with beef broth, red wine and aromatics to create the most tender beef shanks loaded with rich flavors.
Made with simple ingredients and with little active prep time required, this recipe is surprisingly easy to make but will impress any guest at your dinner table.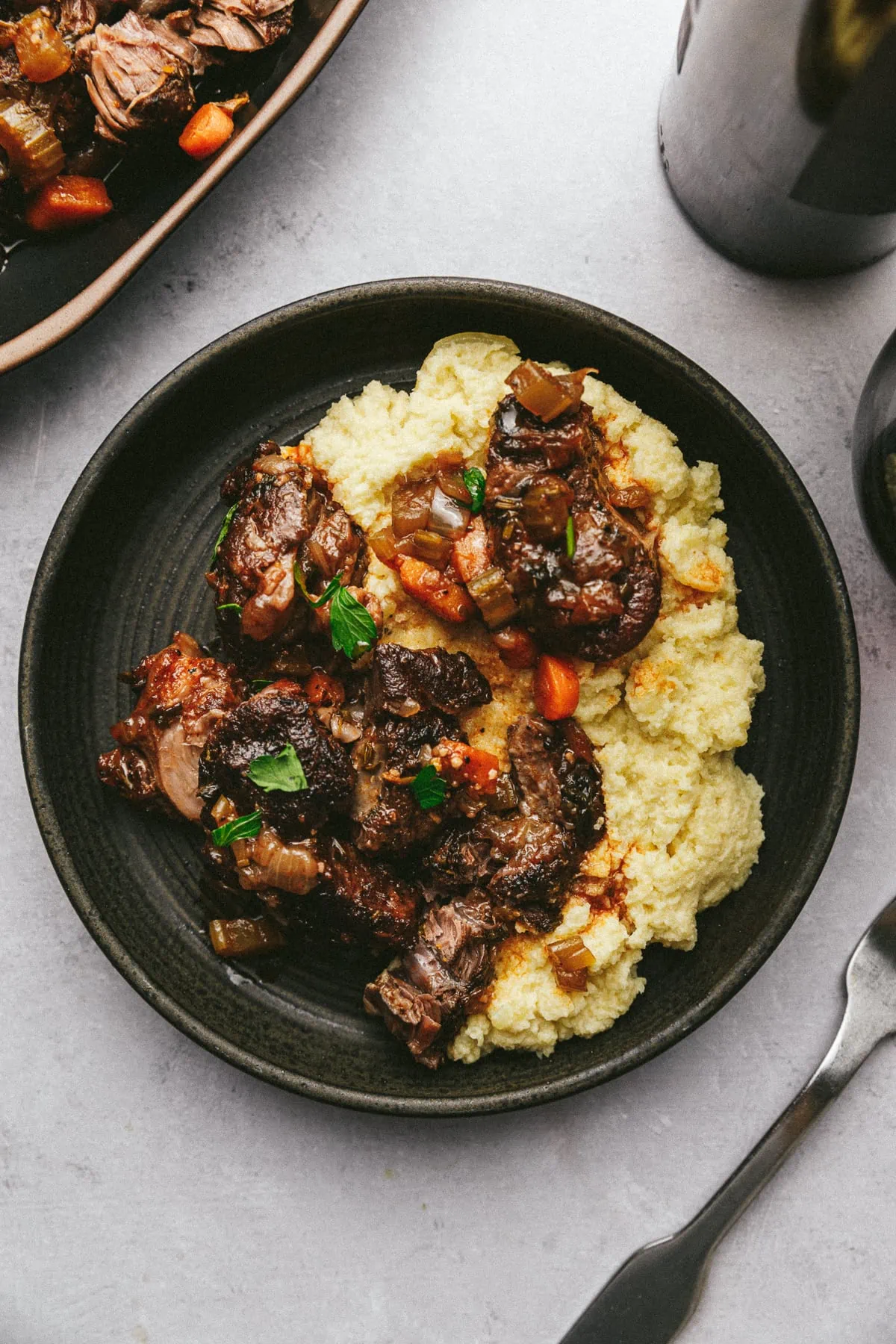 Nothing beats juicy and tender beef shank meat that melts in your mouth like a dream.
This beef recipe is a more elevated version of my Low-Carb Braised Beef and Keto Pot Roast, but it isn't complicated to make at all. It's slow-cooked to perfection, and the result is scrumptious meat that literally falls off the bone.
what are braised beef shanks?
The key ingredient in this recipe is beef shanks, sometimes called beef shins, which you can often find at most large supermarkets.
Beef shanks are a more affordable cut of beef and when cooked low and slow in the savory braising liquid, this "budget cut" transforms into fall-apart shreds of meat that are melt-in-your-mouth tender.
Also known as Osso Buco, the name for this classic Italian dish translates to "bone with a hole," and is traditionally made with veal shanks. However, beef osso buco is just as popular these days.
The dish sounds more intimidating to make than it actually is. But braising beef shank is a surprisingly simple process!
Brown the beef shanks, add in some veggies and aromatics, create your flavorful braising liquid, and cook in the oven until fork-tender and mouthwatering. It's a simple, one-pot dinner that'll taste like it's straight out of the restaurant.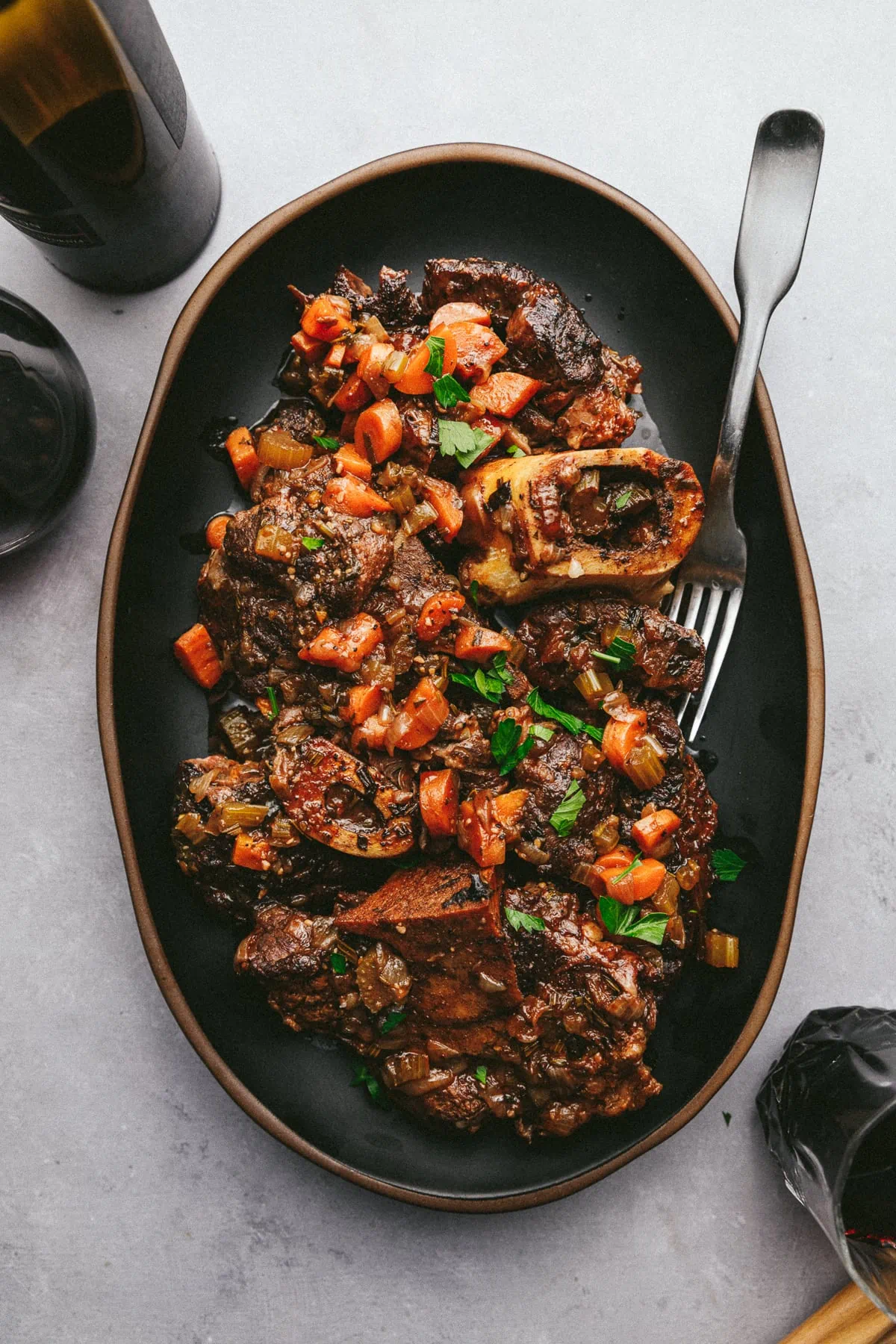 why this recipe works
I love treating my loved ones (and myself!) to a hearty, elevated meal that won't leave me with a pile of dirty dishes. Especially during the holidays when cozy, comfort food recipes that feel extra special are in high demand.
This braised beef shanks recipe checks all the boxes when it comes to a fancy, fuss-free dinner that'll make you look like a gourmet chef. It's all about developing deep, rich flavors with minimal effort.
While some recipes call for a good amount of wine in the braising liquid, my braised beef shank recipe calls for a much smaller ratio (about one part dry red wine to three parts beef stock).
The wine adds a depth of flavor and richness to the dish. The slow cooking process also allows for all the flavors to meld together perfectly, creating an absolute delight for the taste buds.
It's also easy to keep this braised beef shank recipe keto-friendly, whether you enjoy it with low-carb pasta, cauli rice, my Roasted Mashed Cauliflower or Dairy-free Cauliflower Mash.
That way, you can dig into a delicious and hearty meal without worrying about your macros.
My braised beef shanks recipe is:
One of the best beef shank recipes for low-carb and gluten-free eaters.
An easy dinner recipe that delivers a gourmet taste.
Perfectly braised in a rich sauce that you'll want to spoon onto everything.
An elevated, one-pot meal that involves minimal prep and cleanup.
ingredients for braised beef shanks
(Note: These are only the featured ingredients in the recipe. For a more detailed list of ingredients and their measurements, view them in the recipe card below.)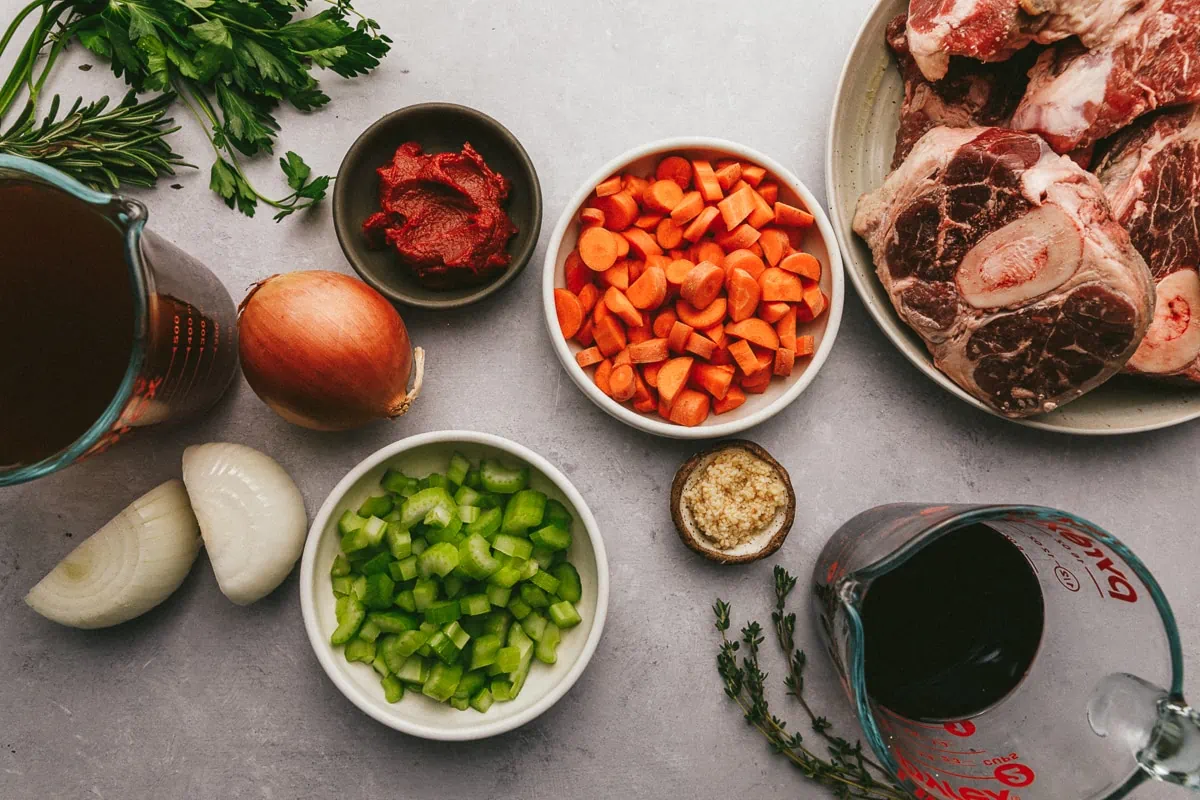 Beef shanks. This tough cut of meat is perfect for braising as it contains lots of connective tissue and fat that break down during the cooking process, resulting in a tender and flavorful beef.
Veggies. I cooked my beef shank with vegetables like celery, carrots, onion, and garlic cloves for a hearty, savory meal.
Tomato paste. This adds a rich umami flavor to the braising liquid.
Fresh herbs. You'll need traditional osso buco herbs like fresh parsley, thyme, and rosemary.
Dry red wine. Red wine adds richness to the cooking liquid.
Beef stock. This is mixed in with the wine and other ingredients to create the braising liquid.
Dry red wine substitute: You can also use a dry white wine for this recipe. Only 1 cup of wine total keeps the carb count low and creates a healthier dish. If you prefer to omit the wine entirely, you can substitute it for ⅓ cup balsamic vinegar + ⅔ cup extra beef stock.
Beef stock substitute: If you don't have any beef stock, beef broth and beef bone broth work just as well!
braised beef shanks in the oven
One of the best things about this braised beef shanks recipe is that it's a low-stress special occasion meal that will give you perfectly-cooked beef every time.
The most important part is to let the beef cook low and slow, allowing all the flavors to develop and the meat to tenderize.
With this beef shank recipe in the oven, you'll have a couple of hours to relax or focus on preparing side dishes.
Here's a look at the process for braising beef shank but be sure to check out the printable recipe card at the bottom of the page:
Heat a large dutch oven on the stovetop over medium-high heat. Preheat your oven to 350°F.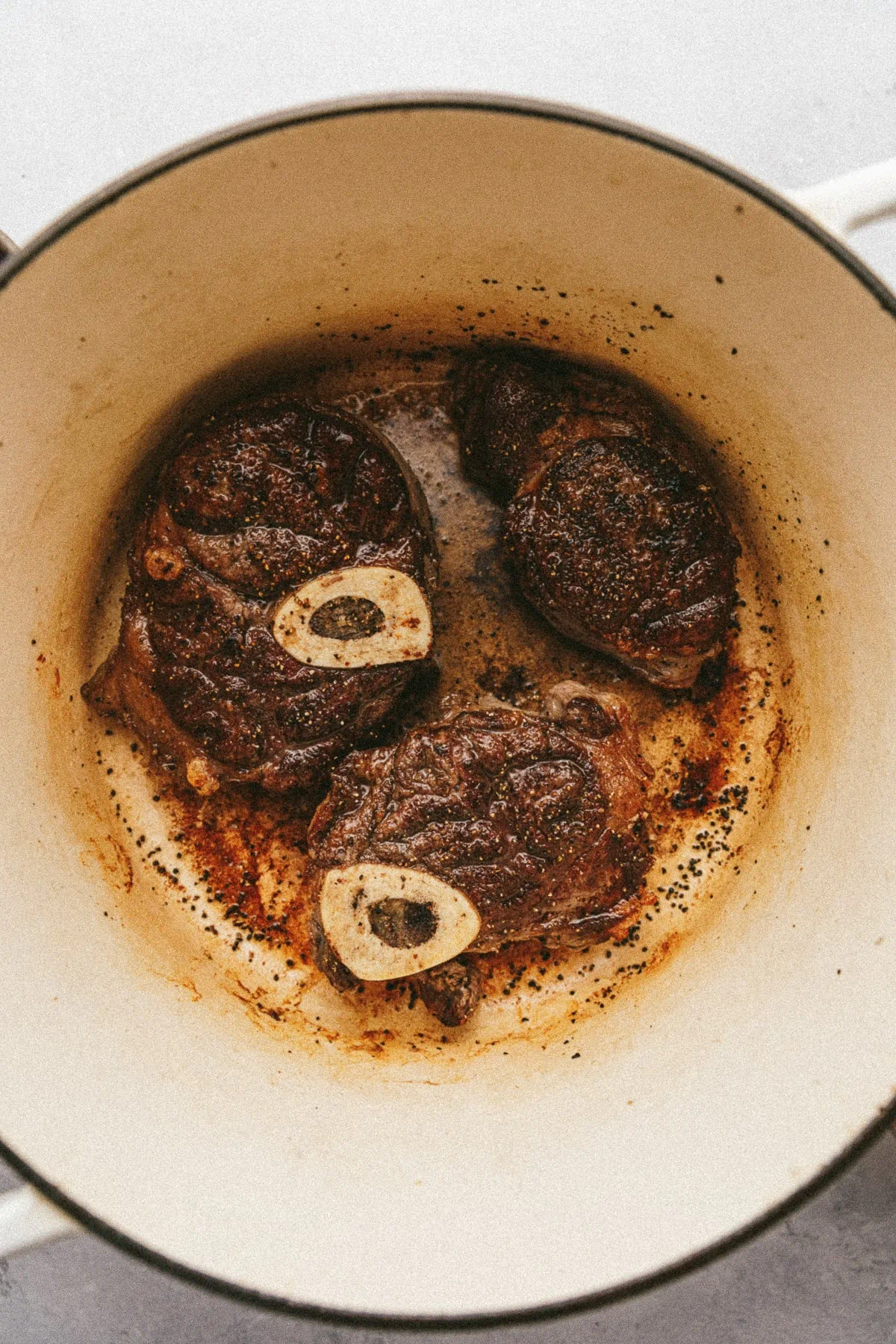 Pat dry the beef shanks with paper towels cut any extra large shanks in half. Trim off excess fat, if needed. Season them generously with salt and pepper. Brown the beef shanks in batches and set them on a plate.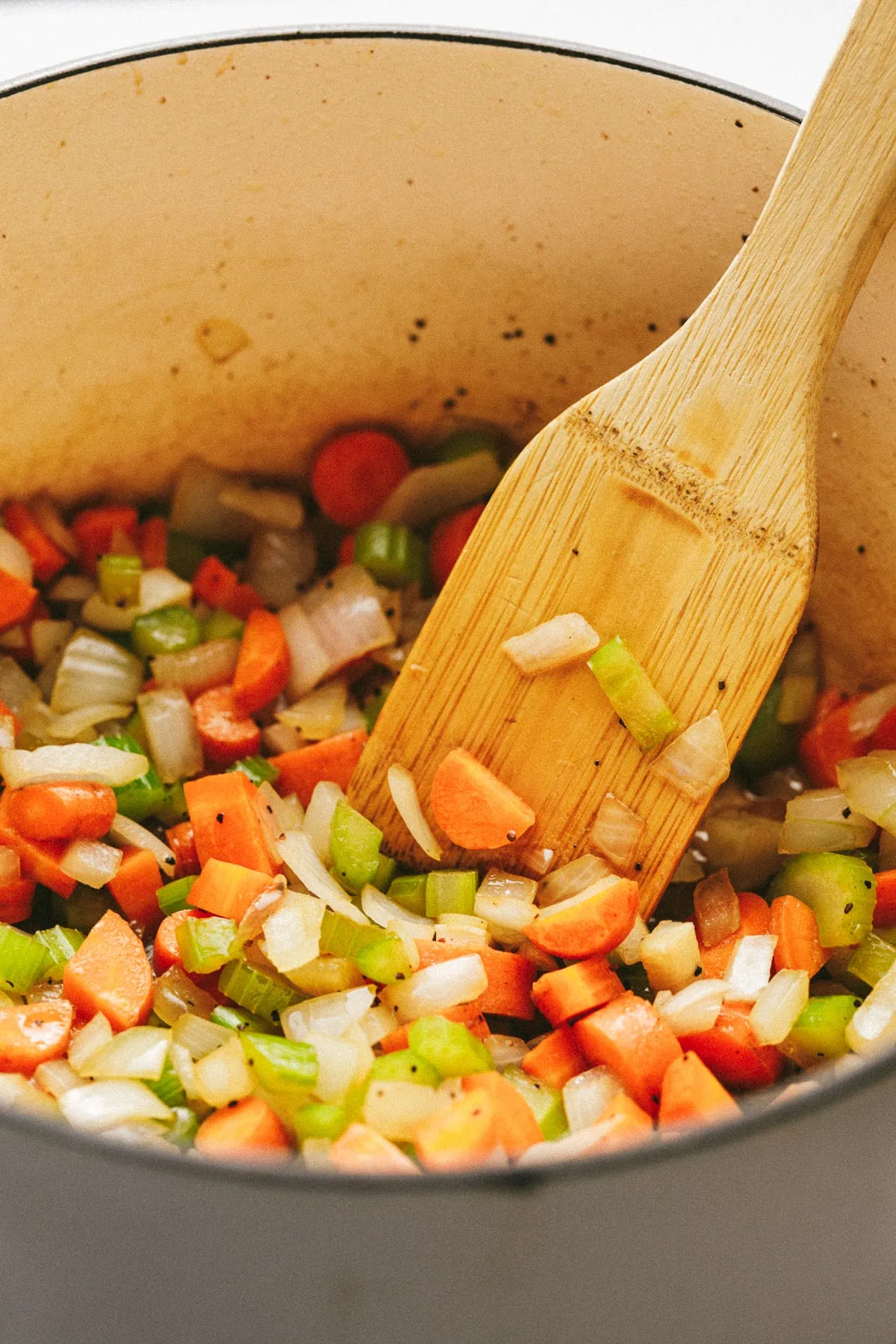 Reduce the heat to medium and add your veggies, stirring them into the brown bits on the bottom of the pot. Cook for 5 minutes.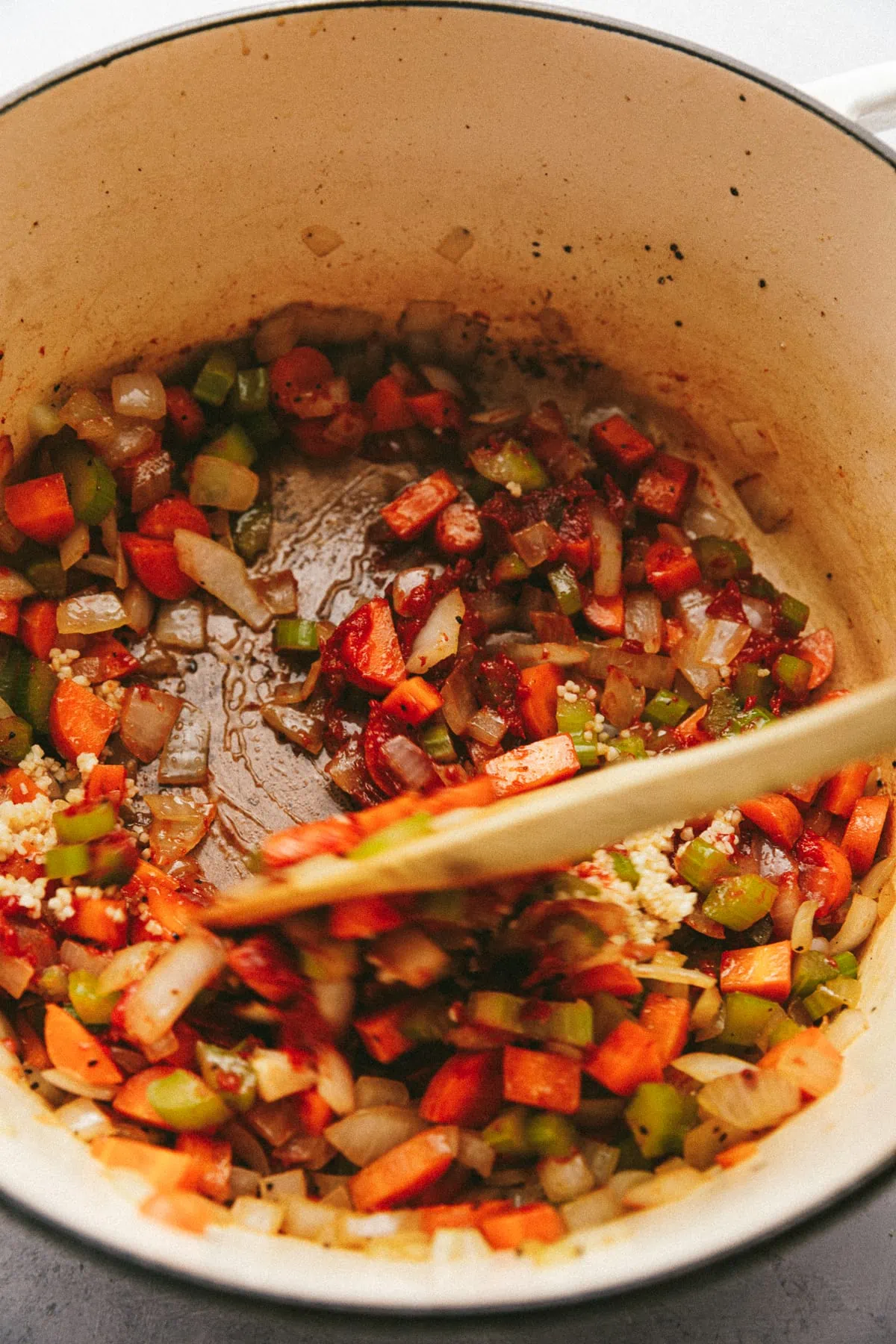 Add garlic, tomato paste, herbs, salt, and pepper, and cook for another minute. Pour in the wine and broth, scraping any browned bits off the bottom of the pan.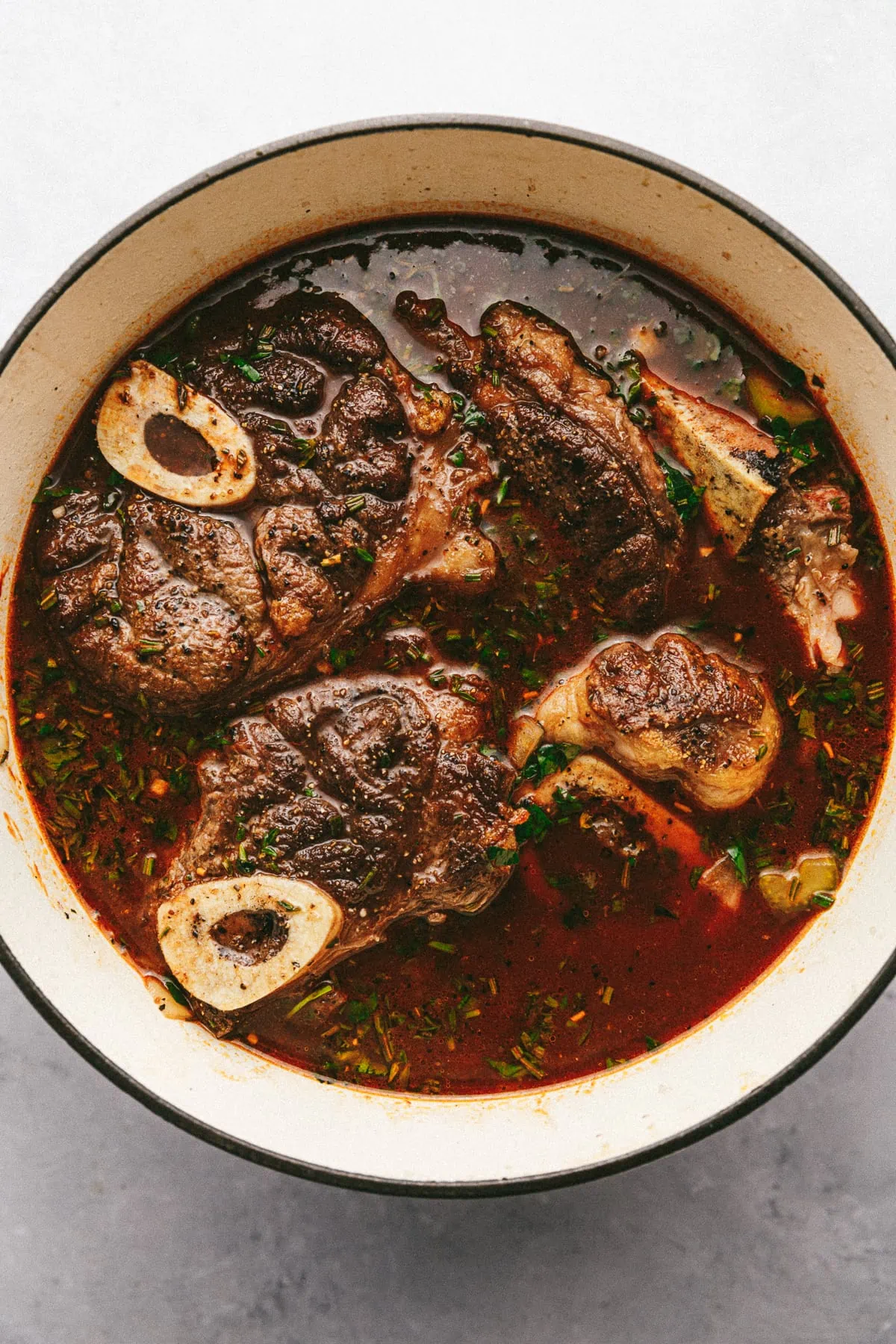 Then transfer your beef shanks back to the pan and bring to a simmer. Remove the pan from the heat, cover it, and transfer to the oven.
Cook for 2-½ to 3 hours at 350°F or until the meat is fork tender.
Now it's time to dig in! Serve over a base of choice (low-carb pasta, cauli rice, or cauli mash) with pan juices drizzled on top.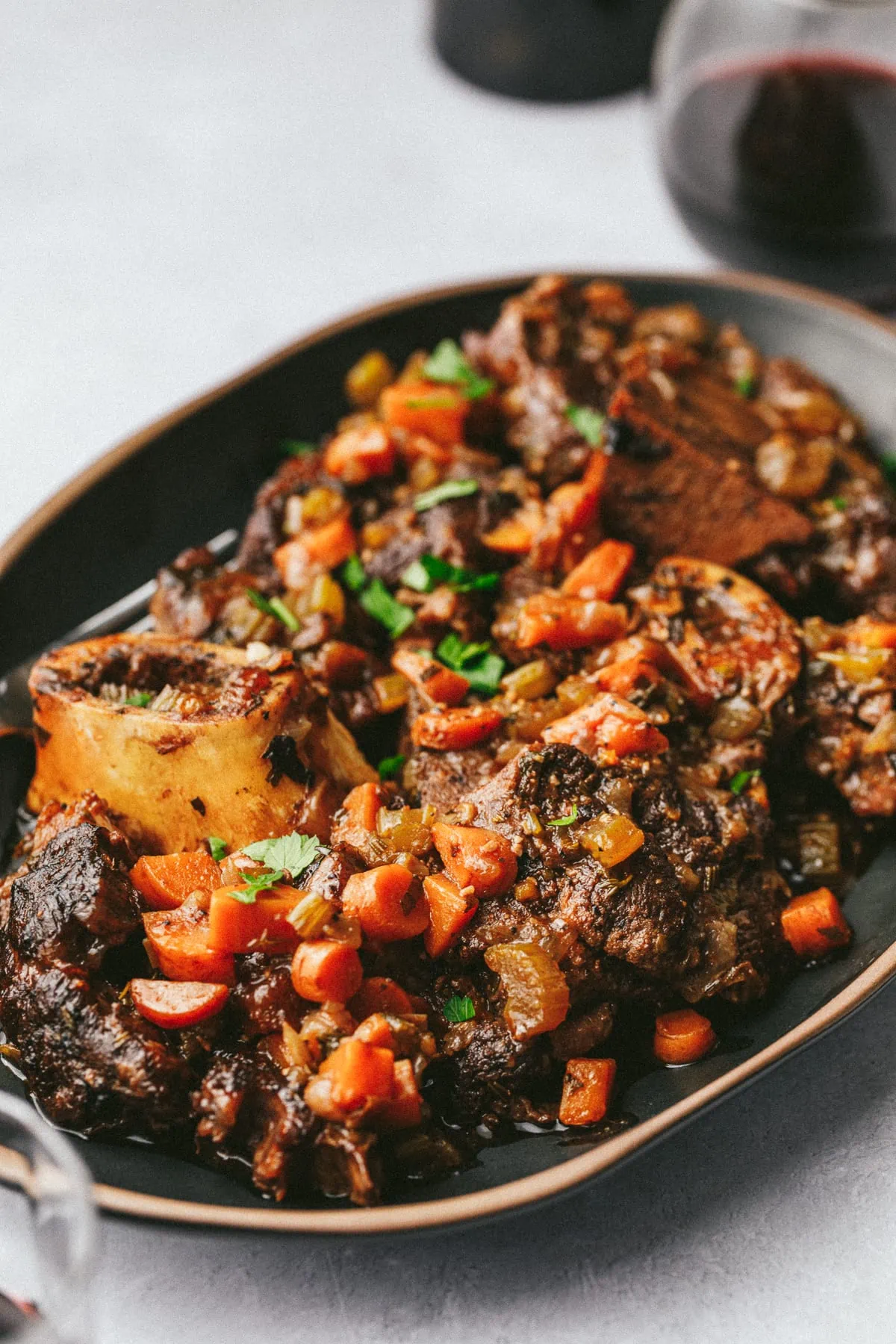 tips for best results
You'll know the meat is done when it can be easily pulled apart with two forks.
I recommend using a dry red wine like a cabernet sauvignon, merlot or malbec. Use a mid-shelf variety that you would enjoy a glass of. If desired, you can also make this braised beef shanks recipe with a dry white wine.
Store leftover braised beef shanks in an airtight container in the refrigerator for up to 5 days. When chilled, any excess fat will separate and rise to the top. Simply scrape it off the top and reheat in the microwave or over the stovetop.
serving suggestions
This braised beef shanks recipe is classic paired with a glass of red wine. But what about the perfect base or side dish to soak up all the yummy juices?
My Creamy Cauliflower Risotto, Creamiest Cauliflower Mash and Gluten Free Sweet Potato Casserole are all amazing low-carb substitutions for mashed potatoes.
No special occasion meal is complete without an assortment of delicious sides and this Fall Kale Salad with Pumpkin Maple Vinaigrette or Pomegranate Feta Salad with Roasted Broccolini would be the perfect companion.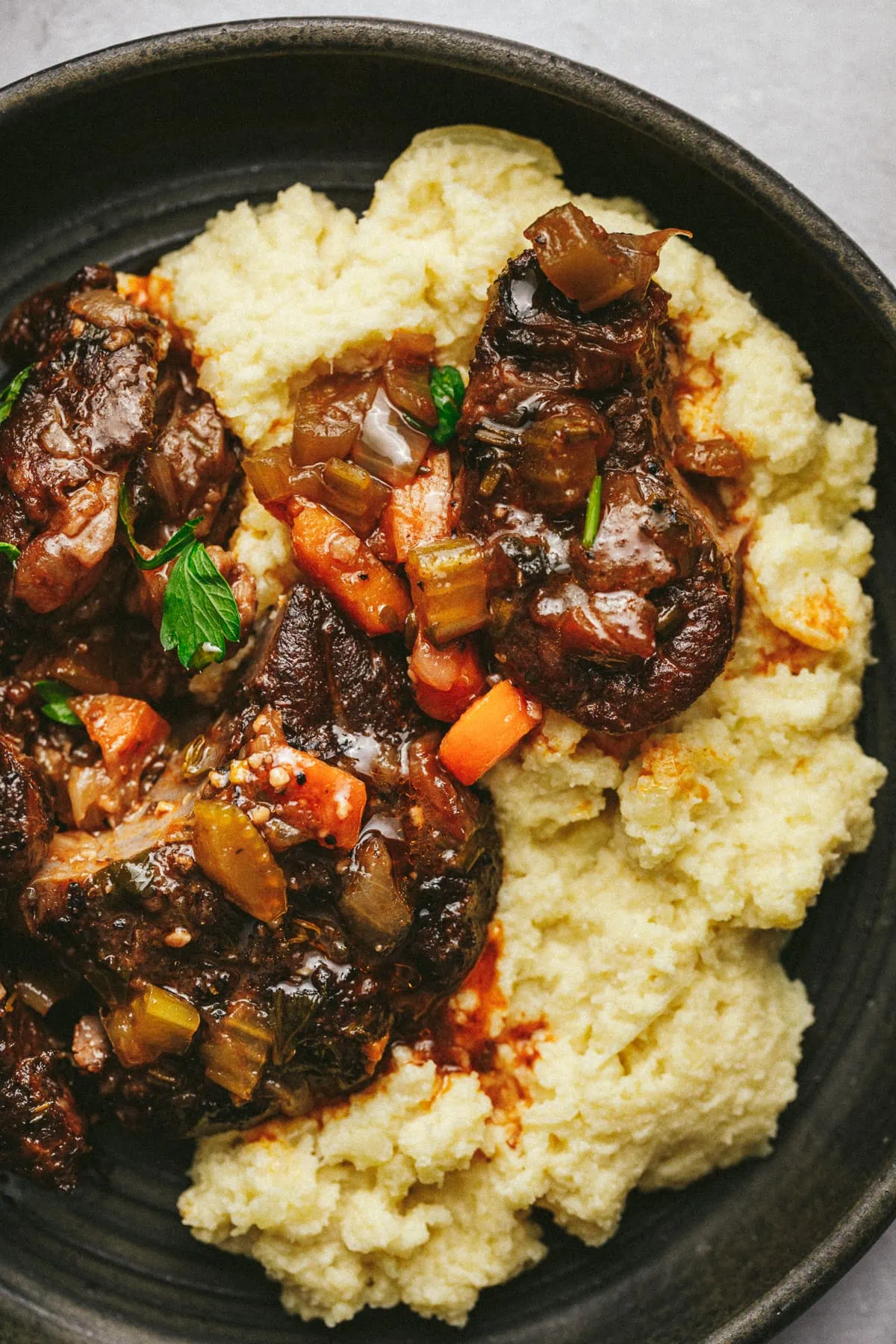 you might also love
This Smoked Chuck Roast is a delicious and versatile dish that is sure to become a new favorite for any meat lover! It's prepared with a dry rub made from simple ingredients, giving it a rich and smoky flavor that infuses into the meat. This makes it a great option for meal prep, as the flavors only get better and better with time.
Everyone loves sheet-pan meals, and this Sheet Pan Cheesy Chicken and Cauliflower Rice is no exception. It's everything you love about a traditional chicken and rice casserole, but without all the carbs! Quick, easy, and super flavorful, this recipe is perfect for those busy weeknights when you need dinner on the table fast.
Perfect on a chilly day, this Keto Chili Recipe is a hearty and flavorful dish that will keep you cozy and satisfied. My low-carb version of chili is loaded with hearty vegetables, ground beef, and chorizo that are perfectly seasoned to create a meaty dish without the added carbs.
Craving burgers, but can't have the carbs? I feel you. These Healthy Burger Bowls with Mushrooms and Truffle Sauce are an easy, delicious solution to satisfy those burger cravings and still keep it low-carb. Enjoy juicy ground beef, savory sautéed onions, and mushrooms, all topped with a rich and flavorful sauce made with black truffle oil.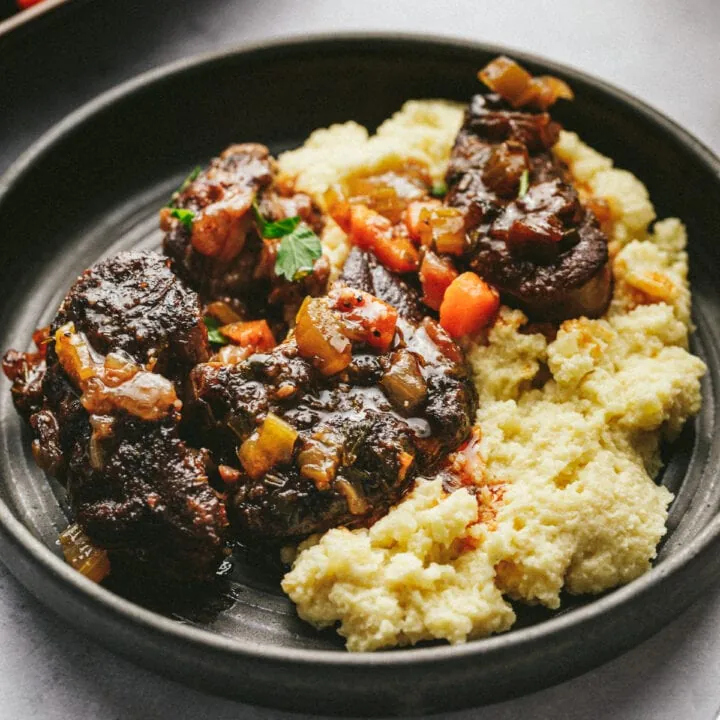 Braised Beef Shanks (Oven Recipe)
Cook Time:
2 hours
30 minutes
Braised beef shanks are a simple, elevated meal with meaty, savory, flavor. Beef shanks cook in the oven in a rich and hearty braising liquid until they're fall-apart-tender. Serve them over creamy cauliflower mash for a special occasion meal that's gluten free and low carb.
Ingredients
4-5 large beef shanks (about 4-½ pounds), cut into smaller pieces if needed
2 tablespoons avocado oil or olive oil
2 celery ribs, chopped (about 1 cup)
3 medium carrots, chopped (about 1 heaping cup)
2 medium onions, chopped (about 2 cups)
1 tablespoon minced garlic
3 tablespoons tomato paste
¼ cup chopped fresh parsley (plus more for garnish)
1 tablespoon chopped fresh thyme
1 tablespoon chopped fresh rosemary
1 teaspoon salt
½ teaspoon pepper
1 cup dry red wine like Malbec, Cabernet or Merlot
3 cups beef stock
Instructions
Preheat oven to 350°F.
Add the oil to a large Dutch oven set over medium-high heat.
Pat dry the beef shanks with paper towels. Season them generously with salt and pepper.
Brown the beef shanks in batches, cooking each side for about 4 minutes. Set them on a plate to rest as you brown the remaining beef shanks.
Reduce the heat to medium and add the chopped celery, carrots and onions, cooking for another 5 minutes or until onions are translucent.
Stir in the minced garlic, tomato paste, herbs, salt and pepper and cook another minute.
Pour in the wine and broth. Add the beef shanks back to the Dutch oven and bring the liquid to a simmer.
Remove from heat, place the lid on the pot, and transfer it to the preheated oven. Cook for 2-½ to 3 hours or until fork tender (I like to check it after about 2 hours).
Remove from the oven and let it rest for a few minutes before serving. Spoon off excess fat that rises to the top of the braising liquid, if desired.
Serve the beef shanks on top of your base of choice with cooked vegetables and braising liquid spooned over the top.
Notes
Beef shanks naturally have a lot of fat which renders out of the meat as it slow cooks and adds flavor to the sauce. Try to choose beef shanks that have a larger ratio of meat. If your beef shanks have a lot of excess fat, you can use kitchen shears to trim it off before starting.
You can use a dry white or red wine for this recipe. Only 1 cup of wine total keeps the carb count low and creates a healthier dish. Feel free to substitute the wine for extra beef broth or use ⅓ cup balsamic vinegar + ⅔ cup beef broth as a substitute for the 1 cup wine.
The meat is done when it can easily pull apart with two forks. The internal temperature should be about 195°F when checked with an instant-read meat thermometer.
Store leftover braised beef in an airtight container in the refrigerator for up to five days. The fat in the braising liquid will rise to the top when cold. Scrape it off and discard before reheating.
Nutrition Information:
Yield:

6
Serving Size:

1
Amount Per Serving:
Calories:

348
Total Fat:

12g
Saturated Fat:

3g
Trans Fat:

0g
Unsaturated Fat:

8g
Cholesterol:

55mg
Sodium:

671mg
Carbohydrates:

11g
Net Carbohydrates:

8g
Fiber:

3g
Sugar:

4g
Protein:

28g
This nutritional information is approximate and is provided for convenience as a courtesy.