This post may contain Amazon affiliate links. I earn a small commission (at no extra cost to you) when you purchase using one of those links. I only recommend products I use and love. Thanks for supporting Stem and Spoon.
Homemade almond milk is so simple and delicious, if you've never made it before, a fair warning: you might just get hooked. It tastes way better than a carton of store-bought almond milk, and has no preservatives or added ingredients. This almond milk recipe only requires two ingredients, and you can add keto-friendly sweeteners or extracts to play around with the flavor. It's a great, dairy-free milk option that you can easily make at home, especially in times like these when it's slim pickings at grocery stores.
I'm also excited to share a bonus recipe below... a keto-friendly coffee creamer made with homemade almond milk. It's the perfect, healthy alternative to store bought creamers, and it's easy and delicious!
use what you have
I don't know about you, but this quarantine situation has given me a new and heightened perspective on using the food I have. I'm playing with recipes, and swapping in substitutions more. While I'd sometimes run to the store for one specific ingredient, that's no longer an option during these unsettling times. So, there's a lot of improvising happening in the kitchen, perhaps for you too, which I think challenges us to be extra creative!
how to make nut milk
It's the same for this almond milk recipe. If you don't have almonds but want to try another type of nut, you can. Cashews are my next best choice, or macadamias, if you have them. But I'm sure this would work for any kind of nuts you have stashed away in your cupboards, as long as they're raw. Feel free to riff here and use what you have. It's why I'm sharing this recipe right now.
how to make almond milk
To make plain, unsweetened almond milk, you only need raw almonds and water. A blender, too. This goes for any kind of nut milk, in fact. Make sure to soak the nuts overnight so they're soft and ready for blending. If you want to slash the soak time in half, you can place the almonds in very hot water and soak for about four hours instead of overnight.
Here's the process:
Place the raw almonds in a bowl and cover them completely with water. Set aside to soak overnight (or for at least eight hours).
Drain the soaking water and discard. Place the almonds in the blender with about four cups of fresh, filtered water. If you want plain, unsweetened almond milk, you can blend at this time. If you want vanilla (or other flavored) sweetened milk, add the vanilla and sweetener of choice (I prefer monk fruit extract but I've also made this with stevia drops or finely-granulated stevia). Blend for two minutes, or until the mixture looks creamy.
If you have a nut milk bag, pour the milk through the bag to strain. Alternatively, you can use a clean and very thin towel or cheesecloth (you may need to fold the cheesecloth so the milk strains through a couple of layers). Spread the towel over a bowl and pour the milk into the center of the towel. Then, carefully lift the towel from the bowl, and squeeze out all the almond milk from the almond pulp. (Discard the pulp or save it for later use - see more below).
Transfer the almond milk into a container - glass jar or pitcher- for storing. Refrigerate and enjoy!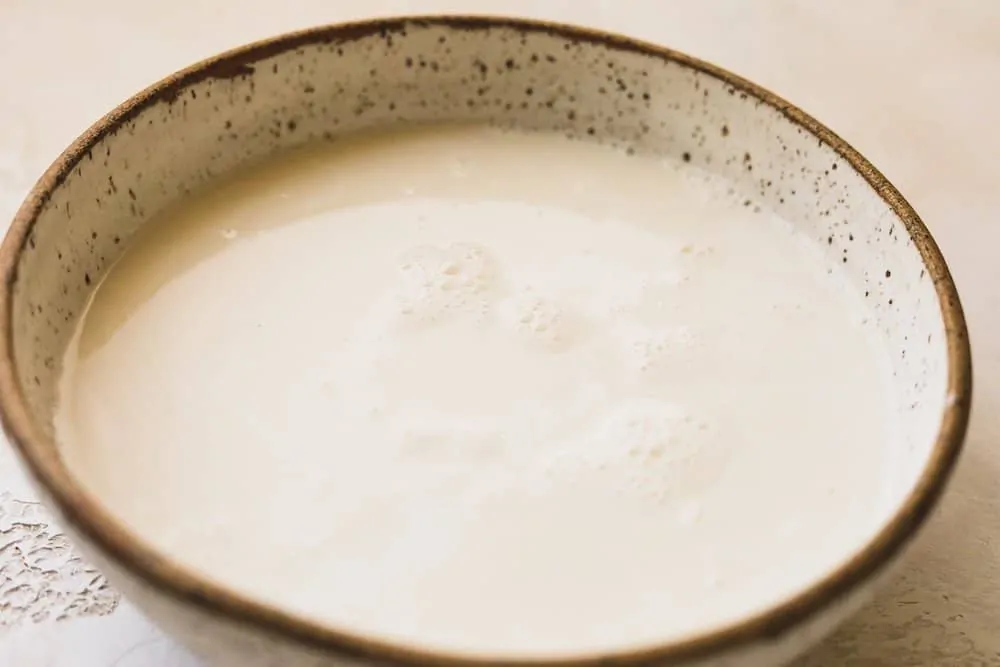 is almond milk keto
Almonds are a keto-approved nut, and makes a healthy, low-carb, dairy-free milk option. Homemade almond milk can definitely be more keto-friendly, since it doesn't have any added sugars that you'll find in many store-bought brands. When I don't have homemade almond milk, I usually keep a carton of store bought, unsweetened almond milk in our fridge. But these products still contain preservatives and other additives, and while you can select brands that have fewer than others, it's nice to skip all of that guesswork. Agree? I like knowing what's in our milk. Also, you can taste the difference with homemade almond milk!
Homemade almond milk only contains 1-2 grams of carbs per serving, so if you're wondering "is almond milk keto," the answer is YES.
what to do with almond pulp
Tip: you don't have to toss out all that almond pulp you collected. It takes two extra steps to save it, but they're so worth it!
I spread out all the almond pulp onto a baking sheet and dry it out in the oven by baking at 220°F for about 45 minutes to an hour.
Half way through, you can mix the pulp and break apart any large clumps that still remain.
Afterward, I let it cool overnight and then blitz it in a blender or food processor until it's fine. Ta-da! Homemade almond meal. Keep the almond meal stored in sealed container (or bag) in your pantry.
You can use the almond meal in keto baking, add it to keto oatmeal or even meatballs for some extra nutrients. One thing about almond meal made from almond pulp, is that it's different than traditional almond meal/almond flour. It's lighter and not as dense since a lot of the fat from the almonds is lost in the process. I don't suggest completely swapping it for almond flour in your low-carb baking, but you can definitely use a blend of the two (points for zero waste and making that bag of almond flour last!).
what to make with almond milk
There are the standard uses for almond milk, which I'm sure you're aware of. It's one of the most common dairy-free milk alternatives out there. Besides sipping on a glass of this homemade almond milk, pouring it over low-carb granola, or using it for some keto cookie dunking, here are a few other ideas of what to make with almond milk.
Add a couple of tablespoons of unsweetened baking cocoa or cacao powder to the blender for keto-friendly, dairy-free chocolate milk!
Use plain, unsweetened almond milk for a touch of creaminess in soups and sauces.
Add the almond milk to beverages like smoothies or a bulletproof matcha latte.
bonus: an almond milk creamer recipe!
If you're a coffee drinker, here's a bonus for you! I like to mix up my own coffee creamer when I have fresh almond milk chilling in the fridge. It's easy, quick, and once again- has no preservatives or additives! Here's the recipe:
Mix 1 cup of homemade almond milk with 1 cup of full-fat, canned coconut milk (unsweetened). I use most of the coconut cream for extra creaminess.
Add in a sweetener of choice, and adjust the amount to taste. Again, I like monk fruit extract here because it's liquid. Stevia drops will work fine too.
Add vanilla or other extracts/flavors (think coconut, hazelnut, maple, etc.). You can usually start with about ½ teaspoon and adjust to taste. Some flavors are more intense than others so definitely rely on your taste buds here!
Store in a jar in the fridge. Shake it before using because both the coconut milk and almond milk tends to separate.
Enjoy this homemade almond milk recipe! I have been making this for a couple of years now, and here's why:
it tastes better than store bought brands
it's more budget-friendly
it's a healthier option, free of sugar and preservatives
you know what's in it!
It's hard to beat homemade almond milk, and I'm sure you'll agree once you try it!
you might also love...
homemade almond milk
Total Time:
8 hours
5 minutes
This two-ingredient homemade almond milk is creamy, nutty and delicious! It's a low-carb, dairy-free beverage that you can flavor or slightly sweeten. Enjoy this almond milk however you like, the options are endless!
Ingredients
1 cup raw almonds
4 cups filtered water
1 teaspoon vanilla (optional)
10 drops monk fruit extract or stevia (optional)
Instructions
Place the raw almonds in a bowl and pour water over them until they're completely covered. Soak the almonds in the water overnight, or at least 8 hours.
After soaking the almonds, drain the water and transfer the soaked almonds to a high-speed blender.
Pour in the water. Add the vanilla and monk fruit extract (if you're making a sweetened vanilla almond milk).
Blend on high for 2 minutes or until the mixture looks creamy.
Use a nut milk bag or cheesecloth to strain the almond milk into a large bowl, or use a very thin, clean dish towel. (Drape the towel over a bowl and pour the milk into it to strain).
Gather the sides of the thin towel and gently pull the edges up together, holding it firmly at the top. Use your hands to squeeze any excess almond milk out of the almond pulp in the bag. Remove the almond pulp from the towel and either discard or set aside for later use.
Transfer the almond milk into a large jar or pitcher and store in the refrigerator for up to 10 days. Shake before using because homemade almond milk will separate.
Notes
To make almond milk creamer:
Combine 1 cup of homemade almond milk with 1 cup of full-fat, canned coconut milk (use most of the coconut cream at the top of the can).
Add 1 teaspoon vanilla and 10 drops monk fruit extract. You can also substitute the vanilla for hazelnut or coconut extracts, or other flavors of choice.
Store the coffee creamer in a jar in the refrigerator for up to a week.