This post may contain Amazon affiliate links. I earn a small commission (at no extra cost to you) when you purchase using one of those links. I only recommend products I use and love. Thanks for supporting Stem and Spoon.
Is pumpkin keto, how many carbs are in pumpkin, how can I include it in my keto diet... If you're wondering whether or not this seasonal autumn staple is totally off limits, I'm sure you'll find this post helpful!
Not only are we going to break down the nutritional facts about this quintessential winter squash, but you'll also discover how you can best incorporate it into a keto or low-carb diet.
The good news: pumpkin is generally considered to be keto-friendly, all within moderation, of course. And thank goodness for that!
Keto pumpkin recipes are in no short supply here on Stem and Spoon, and I'm including a list of favorites below that you can easily enjoy all autumn and winter long!
health benefits of pumpkin
Pumpkin is considered to be a superfood fruit, a type of squash that's high in essential vitamins and minerals and low in calories.
According to Cleveland Clinic, it's rich in vitamin A, which can strengthen your immune system and eyesight.
This nutrient-dense superfood also packs a punch of vitamin C, E, fiber, iron, potassium and antioxidants like carotenoids that can each play a role in heart health and even cancer prevention.
It's also worth noting that the pumpkin flesh is not the only part of the pumpkin that's good for you. Other parts of the pumpkin are just as nutrient-dense.
Save those pumpkin seeds and roast them up- they're mighty little morsels packed with protein and other nutrients that carry some of the same health benefits of its fleshy counterpart.
Plus, they make a great on-the-go snack, salad topping, add-in for homemade granola, yogurt and chia pudding. Make them a go-to for whenever you need a bit of crunch!
is pumpkin high in carbs?
Can I eat pumpkin on a keto diet? The short answer is YES!
Many new to a low-carb and ketogenic diet lifestyle often wonder if it's a food item to steer clear of. While that's certainly the case with a classic Starbucks Pumpkin Spice Latte or a slice of traditional pumpkin pie, that doesn't mean pumpkin is totally out. 
When it comes to pumpkin recipes, you'll need to be mindful of the added carbs and sugar content from other ingredients as well as the amount of pumpkin used.
As for pumpkin itself? Here's a quick breakdown of its nutritional value:
Cubed pumpkin, raw (1 cup serving):
Calories: 30
Total fat: 0.1 g
Total grams of carbohydrates: 7.5g
Dietary fiber: 0.6g
Sugar: 1.6g
Protein: 1.2g
Net carbs: about 7g
Canned pumpkin (1 cup serving):
Calories: 83
Total fat: 0.7g
Total carbohydrates: 19.8g
Dietary fiber: 7.1g
Sugar: 8.1g
Protein: 2.7g
Net carbs: 12.7
(Nutritional data sourced from Verywell Fit nutrition calculator.)
If you consider the net carbs for each above, make sure to take into account what your actual portion size will be.
For instance, you will likely not consume a whole cup of pumpkin puree on your own. In fact, that's the amount in an entire loaf of my Keto Pumpkin Bread, which will give you about 8-10 servings.
So with nearly 20 grams of carbs, 7 grams of fiber and about 12.7 grams of net carbs from the canned pumpkin alone, the pumpkin is adding only 1-2 net carbs per slice!
is pumpkin keto-friendly?
Given what we know about pumpkin's macronutrients, the next step is determining how you will be enjoying pumpkin and how it aligns with your own personal goals for following a diabetic, keto, or low-carb diet.
(As always, if you're diabetic or have a health condition that requires low glycemic index foods, I recommend checking with your doctor or dietician if you have any questions on how pumpkin might affect your blood sugar.)
Pumpkin on its own, and within moderation (i.e. appropriate portion sizes), is definitely ketogenic diet friendly!
Whether you're trying to maintain ketosis or you're simply reducing carbs for weight loss, you can rest easy knowing this winter flavor can still be part of your favorite seasonal foods.
But, proceed with caution, since it all comes down to the exact recipe of what you're making! For a list of keto-friendly and low carb diet pumpkin recipes, keep scrolling.
​are pumpkin seeds keto?
Not only is pumpkin low-carb, but pumpkin seeds- also known as pepitas- make a wonderful keto snack. They're a great way to add crunch to your favorite salads, and you can easily season and roast them up with different flavor profiles.
Here's a look at the nutritional value in 2 tablespoons of pumpkin seeds.
Pumpkin seeds (2 tablespoons):
Calories: 36
Total fat: 2g
Total carbohydrates: 4g
Dietary fiber: 2g
Protein: 2g
Net carbs: 2g
best keto pumpkin recipes
These low carb pumpkin recipes will satisfy your pumpkin spice craving!
From sweet to savory, including keto pumpkin desserts to creamy pumpkin soup, these are all healthy, easy, low-carb recipes you can enjoy during pumpkin season and beyond.
When it comes to keto desserts with pumpkin, this one tops the list. A flaky, buttery, almond flour crust and creamy pumpkin pie filling makes this one of my go-to desserts during the holidays! Spiced to perfection and easy to make dairy-free if needed, this keto pumpkin pie hits all the right flavor notes!
Tender and packed with pumpkin flavor, these easy pumpkin muffins are a one-bowl muffin recipe with the perfect balance of sweet and spice. Bake up a batch to enjoy as a quick morning breakfast or after-school snack. They're gluten free, dairy free and low carb which makes them a muffin for all eaters!
This creamy, savory soup combines pumpkin, carrot and spicy ginger for a delicious balance of flavors! A touch of nutmeg and a hint of chili powder adds a hearty, warming note to the soup which makes it perfect for cool, autumn days.
Along with being low carb, this simple soup recipe is also dairy free, vegan and gluten free!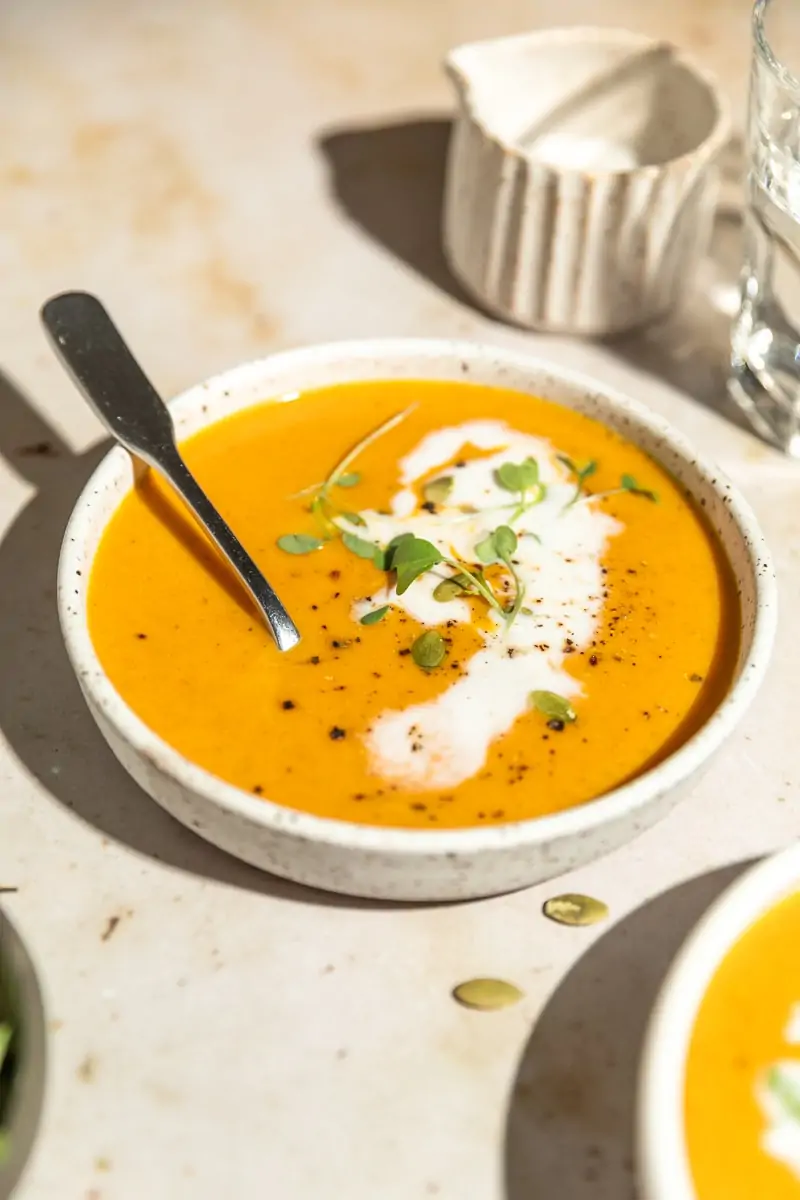 Take a Basque burnt cheesecake, add a little bit of pumpkin and spice and you've got this tasty pumpkin version that is sure to impress! And in true burnt Basque cheesecake form, it's completely crustless which means it comes together with ease.
Soft and chewy with bold pumpkin spice flavor and chunks of chocolate, these cookies are so dreamy. They come together quickly and make the ultimate pumpkin cookie texture that you can feel good about!
A tender pumpkin cake is filled with a rich and tangy cream cheese frosting spiral that is as pretty as it is delicious!
This jelly roll style cake might seem a little more complicated but this straightforward recipe is simple enough for a baking novice!
These low-carb pumpkin cheesecake bars are rich and creamy with a maple shortbread almond flour crust! The pumpkin flavor runs deep and this simple recipe is sweetened with pure monk fruit.
Delicious flavors of pumpkin and cinnamon shine in this low-carb pumpkin bread made with a mix of almond flour and coconut flour. It's a great option if you're craving a sweet treat and a simple fall baking project!
Ultra moist, tender and flavorful, it has the perfect balance of warm spices and fall flavors.
If you're still wondering if pumpkin is keto and how its net carbs might affect your own macro goals, make sure to take a look at the nutrition information that is included in each of the recipe cards (it's at the bottom). Or, use your own favorite recipe nutrition calculator to make your own calculations!
There are so many reasons to add pumpkin into your cooking and baking and I hope you found this post helpful!
you might also love...
Sugar Free Whipped Cream is the perfect topping for all of your favorite low-carb desserts! Make it with or without dairy- this simple recipe gives instructions for both options.
Looking for more tasty recipes to satisfy your sweet tooth (but without the sugar)? This roundup of sugar-free cake recipes has a sweet treat for any occasion!
Fudgy Keto Brownies with Coconut Flour are dense, chewy and so simple to make! Mix in sugar-free chocolate chips and top with sea salt to elevate the flavors and create the ultimate fudgy brownie!