This post may contain Amazon affiliate links. I earn a small commission (at no extra cost to you) when you purchase using one of those links. I only recommend products I use and love. Thanks for supporting Stem and Spoon.
Is garlic keto? If you're new to low-carb eating, the list of keto-friendly ingredients may feel incredibly short at first, but you might be surprised about which foods get the green light for a ketogenic diet.
In this article, we'll cover everything you need to know about garlic regarding its carb content, numerous health benefits, and many of my favorite recipes that use this versatile, flavorful ingredient.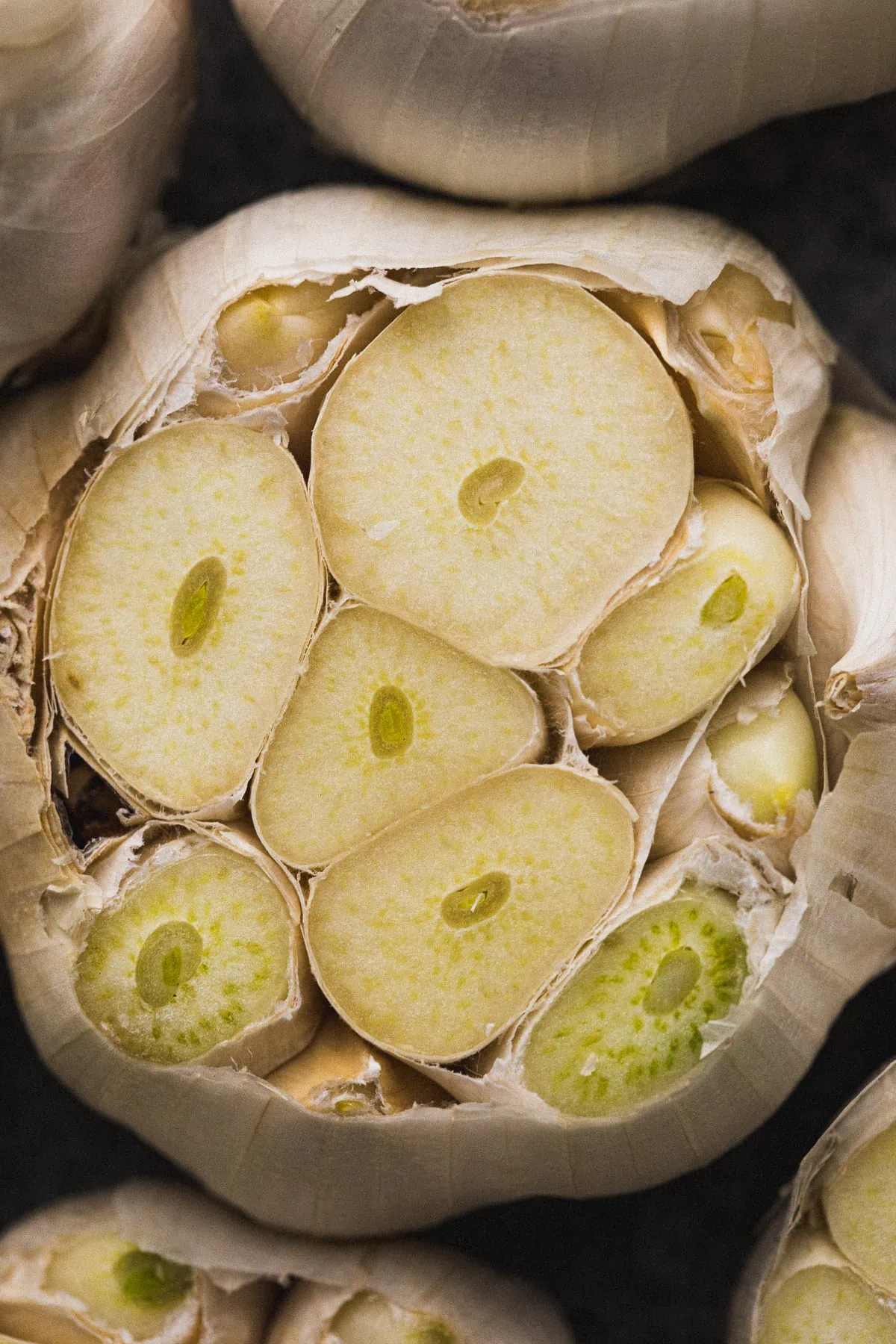 I know I've left you hanging, so I'll start by saying: yes, garlic is incredibly keto-friendly!
In fact, even a generous amount will hardly affect your macro goals. Great news, right? If you're like me and believe there's no such thing as too much garlic, I'm sure you're relieved.
As a fellow garlic lover, I love to include garlic in my keto recipes. So definitely check out my recipe list below so you can reap all the benefits of this low-carb vegetable!
health benefits of garlic
Garlic has been used as a medicinal herb for thousands of years, and it's no wonder why. According to the University of Missouri, this pungent bulb has been proven to provide numerous health benefits.
Some of the earliest uses of garlic included warding off the common cold, acting as a prophylactic for disease, and serving as an antibiotic. 
Recent studies show immense benefits related to common diseases like cancers, cardiovascular disease and metabolic disorders.
So that's the magic of garlic as medicine. What about garlic as a delicious food? The two often overlap, as many people enjoy the flavor of garlic in their meals while also reaping its health benefits.
Garlic is known for its anti-inflammatory properties. It also contains antioxidants that can help fight against free radicals and protect the body from oxidative stress.
Overall, garlic is an incredibly versatile and beneficial plant that is valued for both its culinary and medicinal perks.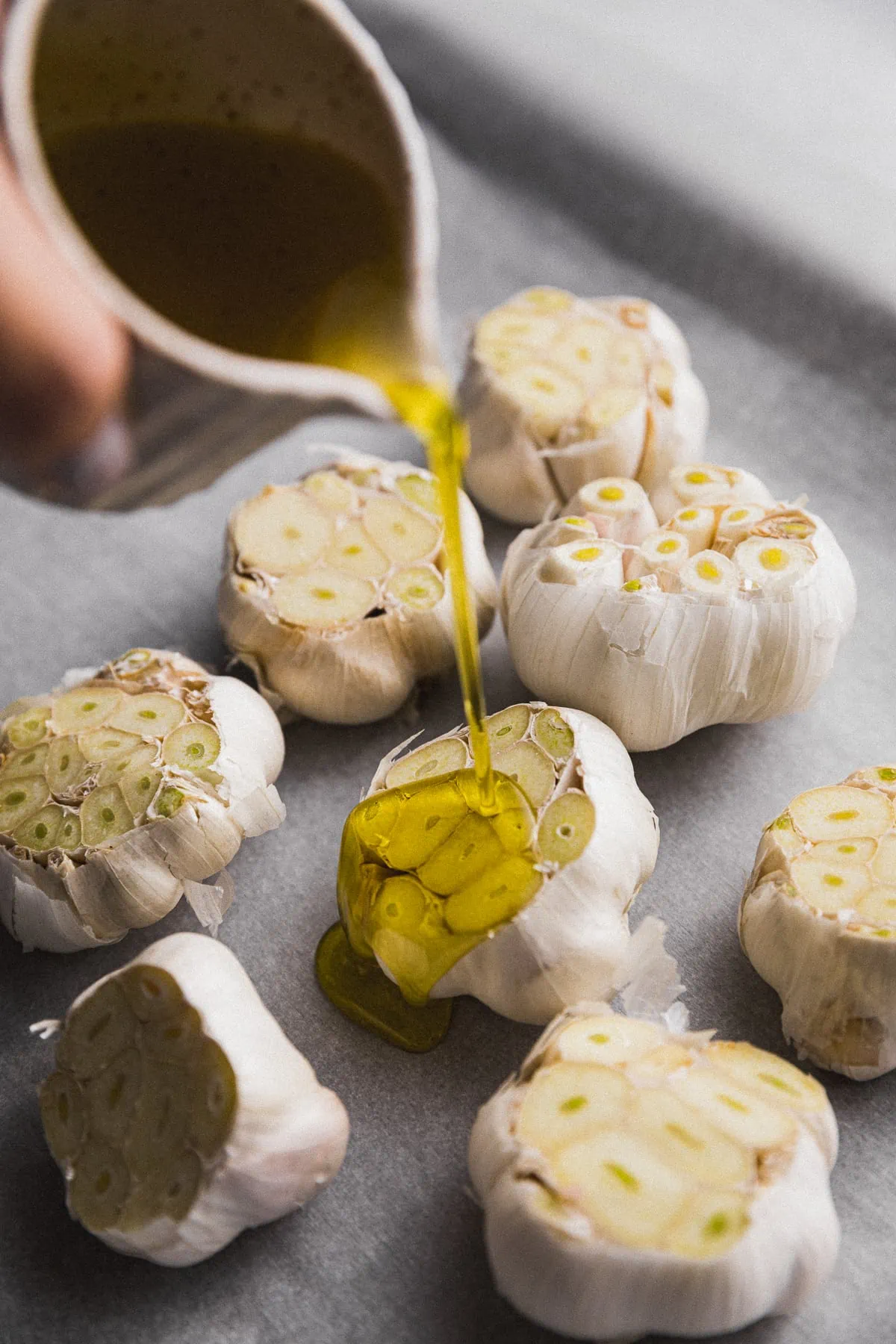 is garlic high in carbs?
Garlic is often referred to as a high-carb vegetable, but this can be misleading.
Although it contains more carbs per weight than other vegetables, its strong taste and aroma result in a very low amount consumed in one sitting.
One clove of garlic contains only 1 gram of carbs. A small amount of the carbs come from fiber, which we can subtract from the total carb count to come up with grams of net carbs.
After some quick math, you'll find that the carb intake from garlic is actually quite low compared to other high-carb vegetables. In one clove, the net carbs are less than 1 gram.
Here's a breakdown of its nutritional value:
1 garlic clove (3 grams), raw or cooked:
Calories: 4.5
Total fat: 0 g
Total grams of carbohydrates: 1 g
Dietary fiber: 0.1 g
Sugar: 0 g
Protein: 0.2 g
Net carbs: 1 g
(Nutritional data are estimates sourced from nutritionvalue.org.)
Of course, the grams of carbs in your garlic keto meals will vary depending on what other ingredients are included in the recipe. And if you want to go heavy on the garlic, it's unlikely that you'll consume multiple cloves in one meal.
So, while garlic may technically be a high-carb vegetable, it's very easy to fit into a low-carb or keto diet.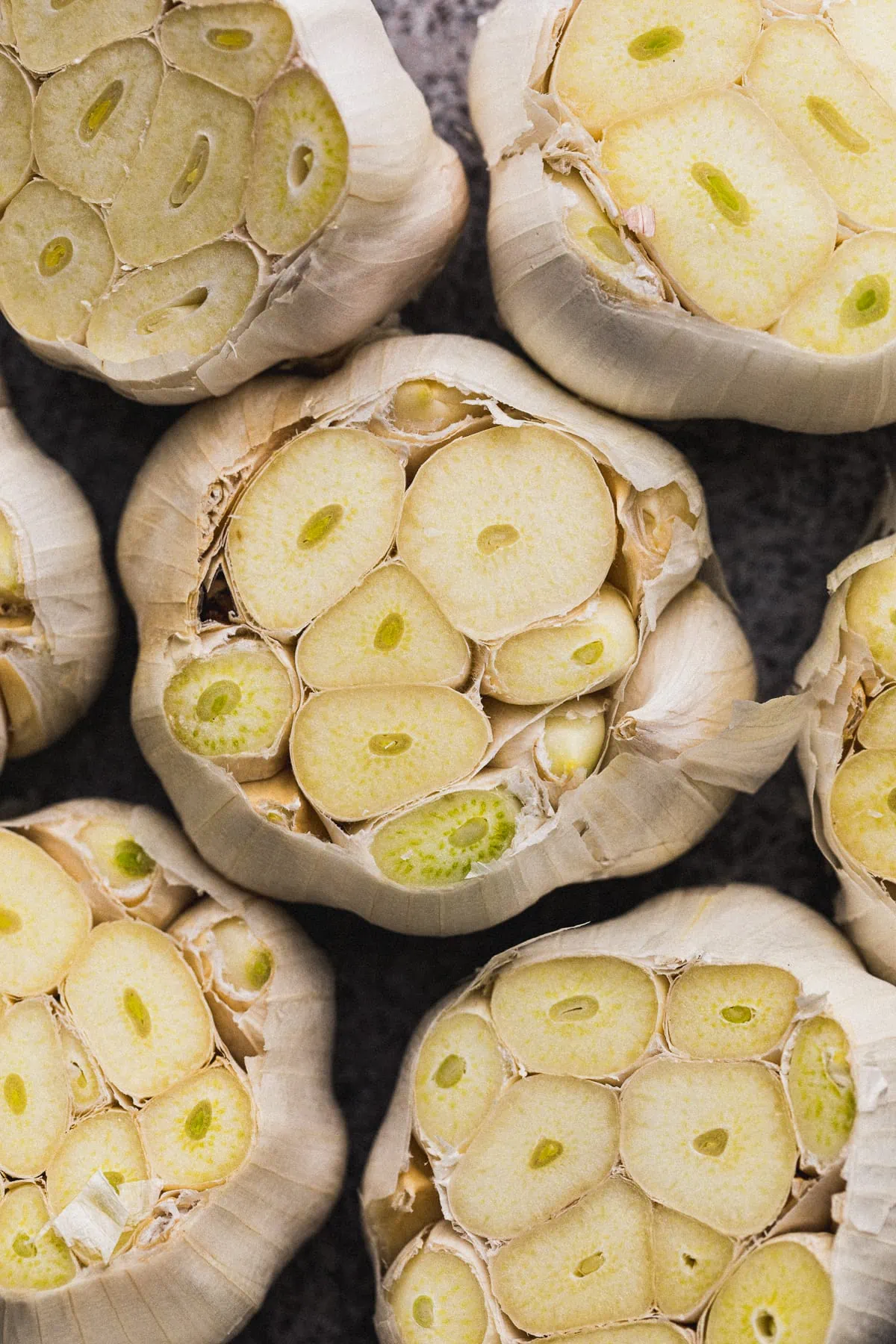 is garlic keto-friendly?
Given what we know about garlic's macronutrients, the next step is determining how this tasty aromatic aligns with your own personal goals for following a diabetic, keto, or low-carb diet.
(As always, if you're diabetic or have a health condition that requires low glycemic index foods, I recommend checking with your doctor or dietician if you have any questions on how garlic might affect your blood sugar levels.)
Garlic, on its own, is certainly keto-friendly! Whether you're trying to maintain ketosis or you're reducing carbs for other health reasons, you can rest easy knowing that the delicious flavor of garlic won't throw you off track.
Just keep in mind the amount that you're consuming as well as the other foods you are cooking it with.
If you'd like some guidance on what garlic recipes to make, check out the list of keto recipes below. Each one is low carb and has a garlicky element that adds bold, savory flavor!
best garlic recipes
These low carb garlic recipes are delicious, nutritious, and fully embody the strong flavor of garlic we all know and love.
From breakfast, lunch, and dinner, these simple recipes incorporate flavorful cloves of garlic in all the best ways, while keepin' it keto-friendly!
The lemon-y, garlic-y, nutty Parmesan dressing is what truly makes this Tuscan kale salad stand out.
The combination of savory flavors and crisp texture make it a perfect side dish for any meal. Add some protein like chicken or salmon to make it a filling main course.
This creamy, garlic parmesan wing sauce on keto chicken wings are a great addition for game day or any occasion that calls for finger-licking food.
The homemade garlic parmesan cheese sauce is seriously next level, and you'll want to put it on everything. Use it as a dipping sauce or for all kinds of snacking, it's irresistibly good.
Roasted garlic will make any soup taste better, but combined with the creamy texture of roasted cauliflower, it's pure magic.
This keto and gluten-free soup is perfect for cozy nights in or when you're craving comfort food without all the carbs. Plus, it's a great way to sneak in some extra veggies.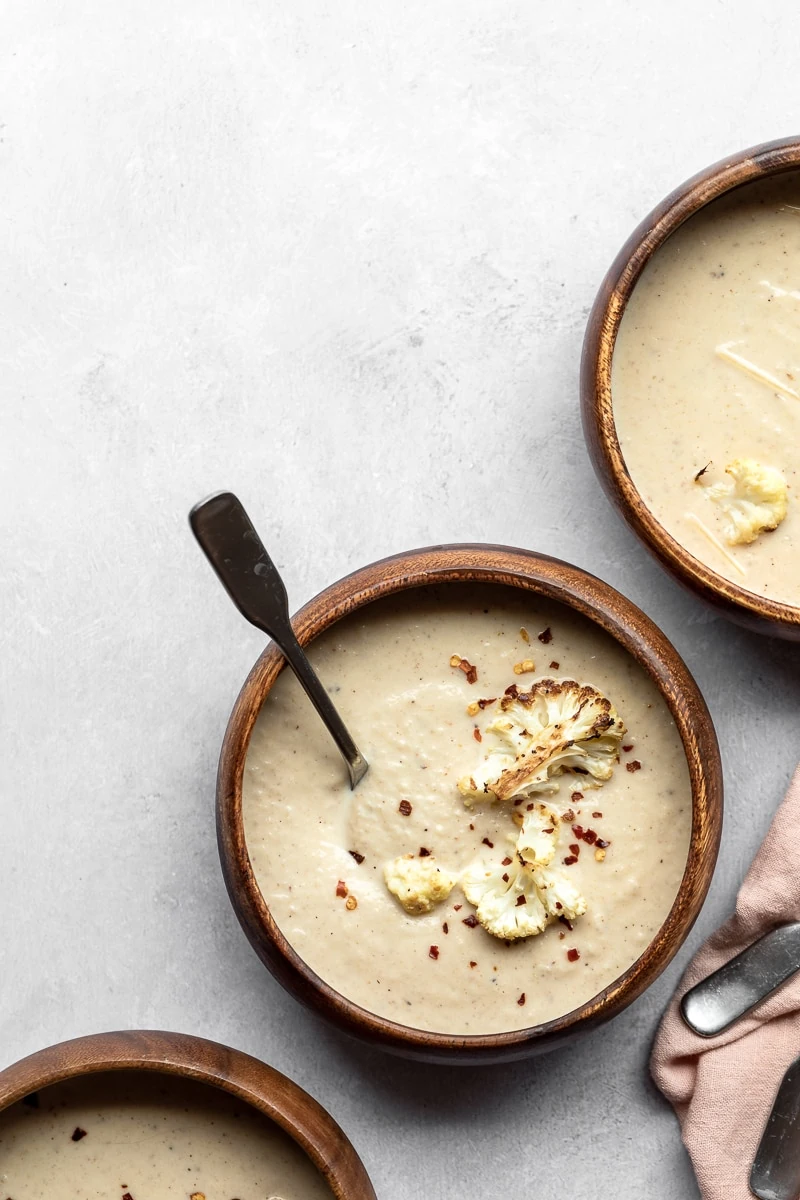 Packed with flavor, protein, and veggies, this garlic chicken and steak stir fry recipe is a must-try for any busy weeknight.
The marinade for the meat is simple but makes all the difference in creating tender, juicy bites of chicken and steak.
Plus, it's ready in under 30 minutes — perfect for those nights when you just can't spend hours in the kitchen.
You're going to be obsessed with these fries, and not just because they're a low-carb alternative to traditional potato fries.
The combination of cilantro and garlic adds a burst of flavor to each bite, and the garlic aioli dipping sauce takes the deliciousness even further. These fries are perfect for snacking or as a side dish to any meal, like Healthy Burger Bowls or Keto Chili.
With only four ingredients required, this simple butter garlic sauce is an easy way to add bold, buttery, garlicky flavor to steaks, salmon, halibut, and veggies.
It's so quick and easy to make and you can go light on the garlic with just a small amount added, or increase it as you please for extra flavor.
(p.s. you can also use this sauce to spread on low-carb bread for a simple keto garlic bread!)
I'm sure you've heard of roasted garlic, but have you ever tried smoked garlic? This easy, two-ingredient recipe is a simple way to infuse whole garlic bulbs with a deep, smoky flavor from a pellet grill or smoker.
Soft, buttery cloves with a mellow and caramelized garlic flavor can add a delicious smoky, garlicky spin on any dish that calls for it.
I don't know about you, but I like a punch of garlic in my Caesar dressing and that's exactly what this homemade Caesar calls for!
A creamy, five-minute Caesar packs a whole lot of flavor. Crisp romaine, Parmesan cheese and flavorful grilled steak is tossed in the dressing for a delicious and healthy meal.
If there's one dish really highlights this versatile ingredient, it's chicken adobo. Classic Filipino chicken adobo features tender chicken that simmers in a salty, tangy marinade packed with garlic, bay leaves and peppercorns.
My version doesn't lack the bold aromatics of the original recipe, but it does create a healthier adobo recipe with much fewer grams of net carbs.
Salmon and garlic, is there a better match? This grilled Traeger salmon is coated in a thick layer of butter that is packed with shallot, fresh herbs and garlic powder, but you can certainly swap in fresh garlic too!
It slow bakes in the Traeger (or similar pellet grill) at a low temperature to create extra moist, tender and flaky salmon that is infused with so much savory flavor.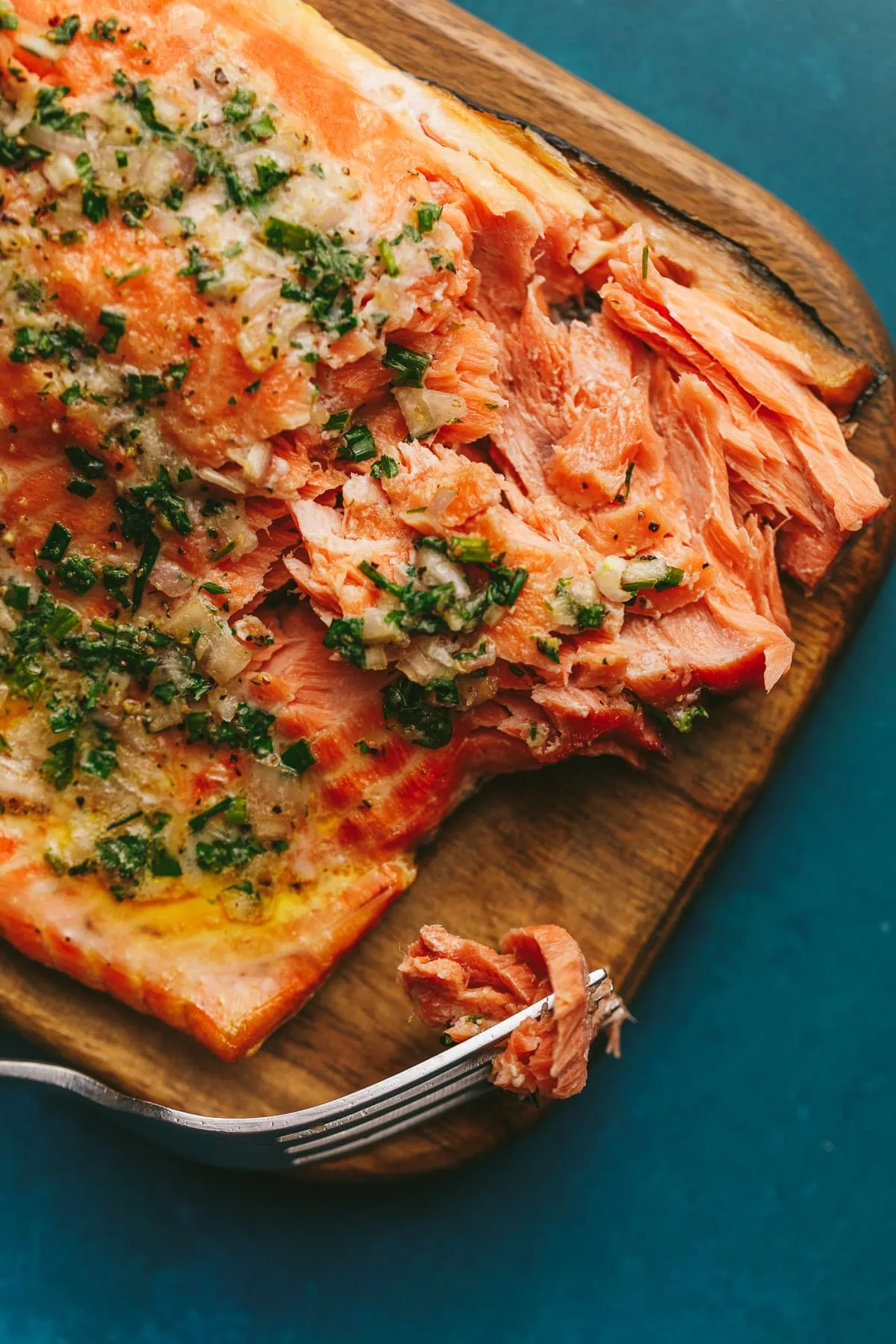 you might also love...
You've found out everything you need to know about garlic, but is pumpkin keto friendly? If you're wondering whether or not this seasonal autumn staple is totally off-limits, I'm sure you'll find this post helpful! We break down the nutritional facts and show you how to best incorporate this winter squash into a keto or low-carb diet.
Easy Air Fryer Onions are the quickest way to get golden brown, caramelized onions for all your topping needs! Tuck them into a wrap or sandwich, serve them on pork chops or add them to soup.
Roasted Cabbage Sausage soup is a cool-weather staple in our house. The smoky sausage, savory broth and tender veggies create a hearty, comforting meal that comes together with minimal effort.