This post may contain Amazon affiliate links. I earn a small commission (at no extra cost to you) when you purchase using one of those links. I only recommend products I use and love. Thanks for supporting Stem and Spoon.
This low-carb apple crisp makes a wonderful autumn treat for any time of day! Apples and zucchini are flavored with vanilla and cinnamon, topped with a pecan and coconut crumb topping, then baked until warm and bubbly. Keto apple crisp with zucchini is one of my favorite apple desserts (topped with vanilla ice cream, of course), but it also makes a great breakfast or snack.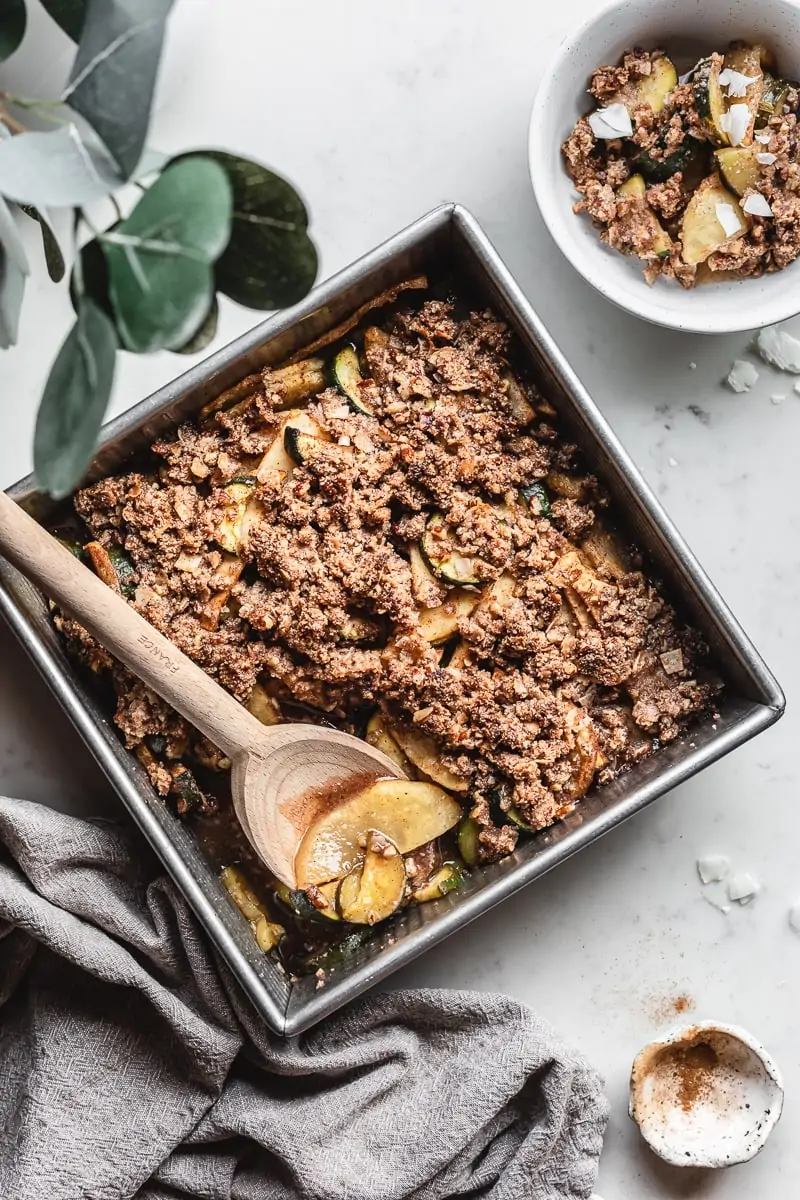 Zucchini is a wonder vegetable, isn't it?
You can enjoy it as veggie tots or sneak it into sweets (like these keto chocolate zucchini muffins and keto zucchini bread), shred it or slice it or even toss it with cinnamon and sweetener and call it faux apples!
Well, that last one has always been trickier for me.
I know a lot of keto apple recipes out there require all zucchini or chayote squash as an apple replacement but... I just can't.
An apple is an apple and zucchini will never be that.
But here's the great thing. Zucchini is so neutral in flavor that you can mix it with a higher-carb ingredient (like apples!) to bring the carb/sugar count down a tad.
I've used this trick in my low-carb zucchini gratin with sweet potatoes and in my keto apple cake. 😉
It works so well in this keto and gluten-free apple crisp. Equal parts apple and zucchini results in a smaller amount of natural sugars in the dish. It's a great way to enjoy real apples this time of year, even if you're a low-carb, keto or modified keto diet eater.
why you'll love this recipe
Apples are natural sweeteners and even though we're only using a small amount, the apple flavor really pulls through in this low carb apple crumble.
Both the apple and the apple pie spice helps to mask the zucchini and gives this low-carb dessert the best flavor.
Why you'll love it:
it's a low carb apple crisp recipe that comes together easily
the ingredient list (and prep time) is short
with almond flour, pecans and coconut in the topping, this is naturally a grain-free and gluten-free apple crumble
it is also dairy-free and vegan but doesn't have to be (swap in grass-fed butter for even more flavor).
While this low-carb recipe makes quite a few modifications to a traditional apple crisp, that irresistible, seasonal flavor of apples and cinnamon still shine. Plus, you can feel good about the ingredients in this healthy apple dessert recipe. 🙂
the ingredients
To make this keto apple crisp, you will need:
Apples and zucchini. The real MVPs of this dish. Any kind of apples will do but I like to use a combination of tart (like Granny smith apples) and sweet (Honeycrisp). Peel them and slice them about ¼" thick. Choose medium zucchinis and slice them the same thickness, then cut them in half again so they're moon-shaped.
Monk fruit sweetener. This is what makes it a sugar free apple crisp. I prefer Lakanto's Brown Sweetener for both the filling and the topping, but you can also use their Golden monk fruit sweetener (affiliate links). They both have subtle caramel notes that resemble brown sugar and they're both 1:1 substitutes for regular sugar.
Arrowroot powder. This helps thicken the filling, don't skip it! It's especially necessary with this recipe since zucchini releases water as it cooks. For a substitute, you can use a ½ teaspoon of xanthan gum instead of arrowroot.
Spices. Cinnamon is used in both the filling and the topping. You'll also need salt, nutmeg, and allspice (optional).
Pecan pieces, coconut flakes and almond flour. These combine to make the keto apple crumble topping. Use blanched almond flour (not almond meal) and raw pecans cut into small pieces.
Coconut oil. For the topping. If you prefer to use unsalted butter, feel free to substitute! It should be softened or even slightly melted.
Vanilla and maple flavor. Vanilla extract is used in the filling and topping. The maple flavor is a nice touch for the topping but is completely optional.
how to make low-carb apple crisp
This keto apple crisp with zucchini is such a simple sugar free dessert. The topping is surprisingly easy and good. It has a crunchy kind of texture that resembles a true crisp made with oatmeal, but it's completely grain free and gluten free.
Here's a quick look at the steps in this low-carb apple crisp recipe, but be sure to view the recipe card for all of the instructions and ingredient amounts.
Make the filling. Peel and slice the apples and zucchini. In a large mixing bowl, toss them with the arrowroot powder, lemon juice, sweetener, vanilla, cinnamon and salt. Pour the apple and zucchini mixture into a 8x8" baking dish.
Prepare the low-carb apple crisp topping. In a food processor or blender, pulse the pecan pieces and coconut flakes. Combine them with the remaining ingredients- the almond flour, sweetener, spices, coconut oil, vanilla extract and maple flavor, if using. Stir well, the mixture should hold together.
Bake the keto apple crisp. Crumble the topping over the apples/zucchini. Bake until the top is golden brown. Cool, then enjoy!
tips for the best results
For the best apple zucchini crisp, keep this in mind:
The pecan and coconut should be the size of large crumbs. Don't blitz them any longer than a few seconds, in fact, just a few pulses will do. If you don't have a food processor or blender, roughly chop the coconut flakes and pecan pieces really small.
Cover the top of the crisp with a sheet of parchment paper or aluminum foil after the first 20 minutes of baking. This will prevent the top from browning too much.
Once the crisp is done baking, let it cool for at least 10 minutes. The juices will thicken as it cools and will thicken even more when the crisp is refrigerated.
Store this low-carb apple crisp in an airtight container in the fridge for up to 7 days. To reheat, pop it in the oven at 300°F for 10-20 minutes or until it is warm.
keto apple crisp recipe video
Note: This video was sponsored by Lakanto, originally created for Instagram.
This sugar-free apple crisp recipe makes a delicious and healthy treat that works for breakfast, snack, dessert, you name it!
It's a wonderful fall recipe that closely resembles the real thing, and it's the best way to make use of autumn apples. In fact, this delicious keto dessert (with actual apples!) might just become one of your new favorite desserts.
If you give it a try and love it too, please consider leaving a comment or star rating below or connect with me on Instagram! I'd love to hear what you think.
you might also love...
Low-Carb Apple Crisp with Zucchini (Gluten-Free, Vegan)
Additional Time:
10 minutes
Total Time:
1 hour
10 minutes
Apples and zucchini are covered with a cinnamon-maple "crisp" topping and baked until tender and bubbly. It's a grain-free, keto friendly, gluten-free and vegan treat!
Ingredients
filling
2 large apples, any variety, peeled and sliced ¼" thick
2 medium zucchini, sliced into ¼"-thick rounds and cut in half again
2 tablespoons arrowroot powder
2 teaspoons cinnamon
2 teaspoons vanilla extract
1 teaspoon fresh lemon juice
topping
½ cup pecan pieces
⅓ cup unsweetened coconut flakes
⅓ cup almond flour (blanched)
1 teaspoon cinnamon
⅛ teaspoon salt
½ teaspoon nutmeg
¼ teaspoon allspice (optional)
4 tablespoons softened coconut oil (or sub softened butter)
1 teaspoon vanilla
¼ teaspoon maple flavor (optional)
Instructions
Preheat the oven to 350°F.
In a mixing bowl, toss the apples and zucchini slices with ⅓ cup Brown monk fruit sweetener, arrowroot powder, 2 teaspoons cinnamon, 2 teaspoons vanilla and lemon juice. Pour into a 8x8" baking dish.
Use a food processor or blender to blitz the pecan pieces with the coconut flakes to roughly chop them (you'll only need to pulse a few times). Pour them into a bowl, then stir in the almond flour, sweetener, and salt and spices.
Pour in the coconut oil, vanilla and maple flavor (optional). Stir to combine. The mixture should be slightly thick and easy to press together.
Use your hands to crumble the topping evenly over the apples/zucchini.
Bake at 350°F for 40-45 minutes or until the apple slices are tender. After 20 minutes of baking, place a sheet of aluminum foil or parchment paper over the top of the crisp to prevent the topping from burning.
Remove from the oven and let it cool 5-10 minutes before serving. The juices will thicken as it cools.
Notes
Instead of using a food processor or blender, you can also roughly chop the pecans and coconut flakes really small.
Don't forget to cover the crisp after 20 minutes of baking. I set a sheet of parchment paper or aluminum foil on top of the pan. It will prevent the topping from burning.
This zucchini apple crisp can be stored covered in the fridge for up to 7 days. To reheat, place it in the oven at 300°F for 10-20 minutes or until it is warm.
Nutrition Information:
Yield:

9
Serving Size:

1
Amount Per Serving:
Calories:

138
Total Fat:

11g
Saturated Fat:

5g
Trans Fat:

0g
Cholesterol:

0mg
Sodium:

2mg
Carbohydrates:

9g
Net Carbohydrates:

7g
Fiber:

2g
Sugar:

5g
Protein:

1g
This nutritional information is approximate and is provided for convenience as a courtesy.