This post may contain Amazon affiliate links. I earn a small commission (at no extra cost to you) when you purchase using one of those links. I only recommend products I use and love. Thanks for supporting Stem and Spoon.
Keto chocolate cake is tender and light with an intense chocolate flavor. This simple, low-carb chocolate cake is rich, wholesome, and unfussy- the best kind of recipe. Top it with a 5-minute keto chocolate frosting, sugar-free whipped cream or this creamy chocolate chia mousse to satisfy your sweet tooth!
Or, enjoy it as a frosting-less snacking cake. There is, without a doubt, no wrong way to indulge in this sugar free chocolate cake!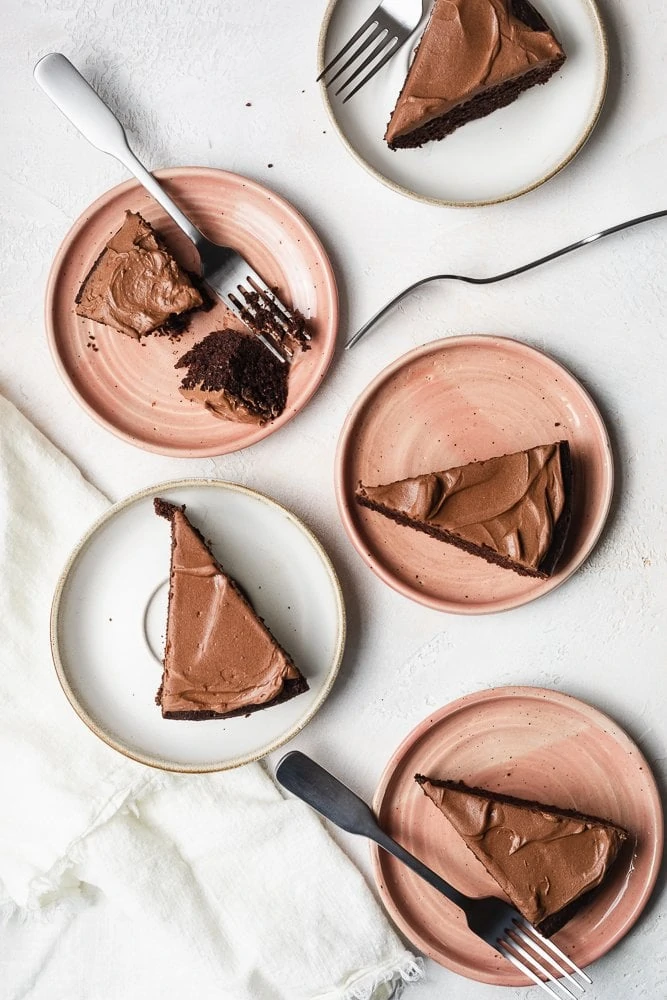 why this recipe works
The recipe for this keto chocolate cake is one that has taken me some time to develop (much to my family's delight).
I needed it to be simple, really chocolate-y, and as close to the "real thing" as possible for it to be the best keto chocolate cake recipe.
If you're baking for a special occasion, you can easily double the recipe (eight eggs, I know, but it's worth it).
I have an inkling that a fruity, low-carb strawberry jam would make a delicious cake filling in between chocolatey cake layers but a batch of my keto chocolate frosting will work here too.  
This sugar free chocolate cake is:
low carb, gluten free, dairy optional and keto diet friendly
light and spongy, especially for an almond flour chocolate cake
a quick and easy chocolate keto cake recipe
simple to adapt to fit your own dietary preferences.
If you like this easy recipe, you might also love this roundup of diabetic and keto cake recipes. From a keto cheesecake to an orange low carb cake, there's a cake for everyone and every occasion on this list! 
the ingredients
On to the good part. This keto chocolate cake recipe doesn't require too many special ingredients. You can throw it all into a mixing bowl and combine for a super easy cake batter, or go the extra mile and whip the egg whites separately.
The whipped egg whites make it more of a light and spongy cake that's closer to what a classic chocolate cake recipe gives you. I have done both, and I prefer the latter.
Almond flour. Make sure to use super fine almond flour(not almond meal). And in case you're wondering, coconut flour is not a substitute and will give you very different results. 
Granulated monk fruit sweetener. I prefer Lakanto's Golden Monkfruit Sweetener (affiliate link) over other low-carb sweeteners because of its rich, caramel-like flavor. However, feel free to use your favorite 1:1 sugar substitute.
Flaxseed meal. Just a little bit mixed in with the almond flour ensures an extra moist and fluffy texture. 
Baking powder. For leavening! Use aluminum-free baking powder if you can. 
Dutch-process cocoa powder. It has a smoother cocoa flavor and intense chocolate taste. See notes for substitions. 
Sea salt. A pinch of salt helps bring out the chocolate flavor. 
Large eggs, at room temperature. Separate the egg yolks and whites. The egg whites are whipped until fluffy which gives the cake extra height and structure. 
Extra virgin olive oil. Oil keeps the cake extra moist for days afterward.   
Full-fat, unsweetened coconut milk. This dairy-free ingredient also adds to the rich and moist flavor and gives the cake the best texture. If you don't need it to be dairy free, you can swap in heavy cream or a bit of sour cream with a splash of almond milk. 
Vanilla extract. A splash of vanilla adds a sweet note to this chocolate cake. 
Strong coffee. Coffee is a secret ingredient for getting an extra moist cake while also enhancing the rich chocolate flavor. If desired, you can even stir in a ½ teaspoon of espresso powder into the coffee for an even more intense flavor. 
Fresh lemon juice (or apple cider vinegar). Adds a slight tanginess to the cake. 
a simple keto chocolate cake recipe
I've tested this easy keto chocolate cake in a round, 9-inch cake pan as well as a rectangular, 7 x 11-inch baking dish. The temperature and baking time were about the same for both sizes.
You can combine all of the ingredients in one large mixing bowl with a hand mixer or use a standup mixer if you have one.
Here's a look at how to make this sugar-free chocolate cake but be sure to scroll to the bottom of the page to view the printable recipe card.
Mix the batter. Combine all the dry ingredients (except for ¼ cup monk fruit sweetener- set aside) in a large bowl.  Separate the eggs. Add the wet ingredients (the yolks, olive oil, coconut milk, lemon juice, coffee and vanilla) into the dry ingredients, and whisk it all together.
Beat the egg whites. In a separate mixing bowl, beat the egg whites until they become foamy. Add the reserved monk fruit sweetener and continue to whip the egg whites until they become stiff and soft peaks form. Spoon portions of the egg whites into the chocolate cake batter and gently fold them in until everything is well combined. 
Bake the cake. Pour the batter into a prepared cake pan (I line it with parchment paper for easy cake removal). Bake at 325°F for 35-40 minutes, then allow it to cool for 15-20 minutes in the pan. 
Frost and enjoy! Remove the cake from the pan by inverting the pan onto a cooling rack or plate. Let the cake cool completely before frosting it. Spread your frosting of choice over the entire cake and around the edges. Slice and serve.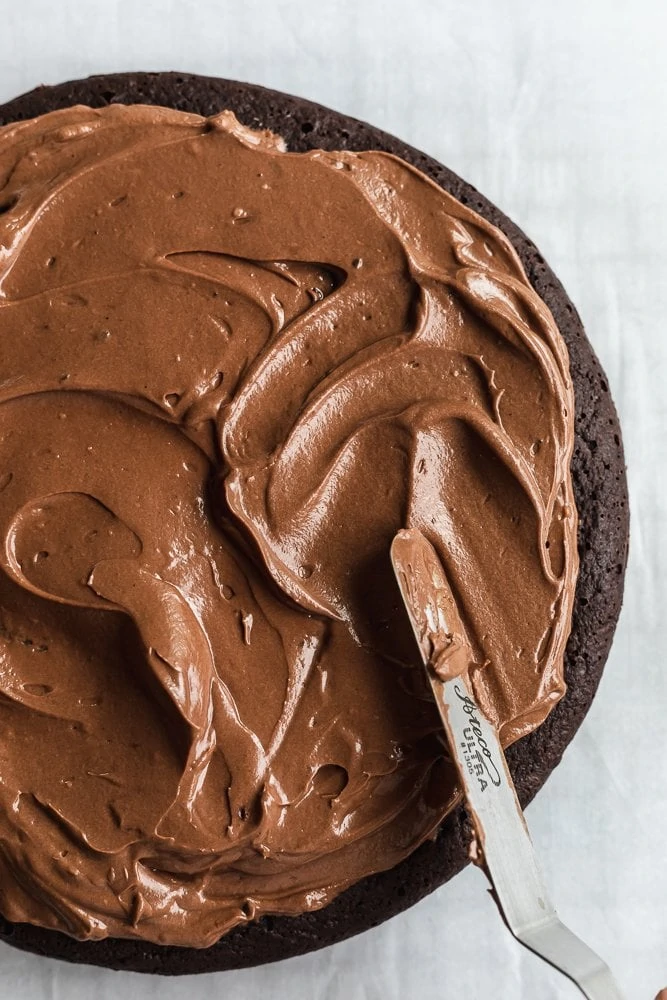 tips for the best results
cocoa powder
I like Dutch-process cocoa powder in this recipe because it has a really smooth and deep chocolate flavor, but natural unsweetened cocoa powder will also work.
This cake does not use baking soda as a leavening agent, so you can use either types of cocoa powder without it really affecting the cake's rise. You can read more about the difference between Dutch-process and natural cocoa here. 
how to prepare the cake pan
I always line my cake pans with parchment paper because it's the easiest way to get the cake out of the pan!
I trace the shape of the pan onto the paper and cut it out, along with two separate strips to fit up around the sides. Use a bit of coconut oil or butter to get the paper to stick to the pan. 
baking pan sizes
Based on the amount of batter this recipe makes, I wouldn't choose a cake pan that's too large. Almond flour cakes don't rise in the same way as a cake made with regular flour, and unless you're doubling the recipe, your cake may turn out too thin if baked in a large pan. My cake pan recommendations are: a round, 9-inch cake pan; a 7 x 11-inch rectangular pan; or an 8 or 9-inch square pan. You can also use an 8 or 9-inch springform pan. 
how to store keto chocolate cake
Store this keto chocolate cake in an airtight container at room temperature (like a cake stand or storage container with a lid). The cake will stay fresh and moist for up to five days.
topping options for keto chocolate cake
This is the best cake if you're on a low carb diet, diabetic or watching your sugar intake. And the great thing about it is you can use a variety of different topping options!
Here are some ideas for frostings and toppings:
peanut butter frosting
buttercream frosting
cream cheese frosting
strawberry frosting
I can't wait for you to try this keto chocolate cake! If you do, let me know what you think by leaving a comment, rating the recipe below, or tagging me on Instagram (@stemandspoon)! I LOVE to see what you're making, especially when there's chocolate involved. 🙂
HAPPY BAKING, friends.
you might also love...
These gluten free and keto desserts!
This keto chocolate pound cake combines chocolate and nutty, almond flavor, topped with a rich, chocolate ganache. A chocolate lover's dream. 
Keto French silk pie has a lovely mousse filling with a whipped cream topping and Oreo-inspired crust! 
Keto Chocolate Cake Recipe (Sugar Free, Gluten Free)
Additional Time:
15 minutes
Total Time:
1 hour
5 minutes
Meet the most amazing keto chocolate cake around! It's light, tender, and intensely CHOCOLATE. Made with almond flour, olive oil, and sweetened with monk fruit, this keto chocolate cake is ultra moist and a no-fuss recipe you'll make over and over. Gluten-free, grain-free, dairy-free, and low-carb.
Ingredients
2 cups almond flour
¾ cup granulated monk fruit sweetener (like Lakanto), divided into ½ cup and ¼ cup
½ cup Dutch-process baking cocoa
2 tablespoons flaxseed meal
2 teaspoons baking powder (aluminum-free and gluten-free)
¼ teaspoon salt
4 eggs, separated (pasture-raised when possible)
⅓ cup extra virgin olive oil
1 teaspoon vanilla extract
½ cup unsweetened, full-fat coconut milk (or heavy cream)
1 tablespoon fresh lemon juice
2 tablespoons strong brewed coffee
Instructions
Preheat the oven to 325°F. Prepare the cake pan by lining it with parchment paper (I trace and cut sections to fit into the pan and use a bit of coconut oil to help it stick).
In a large mixing bowl, combine the almond flour, ½ cup monk fruit sweetener (set aside the remaining ¼ cup for the egg whites), baking cocoa, flaxseed meal, baking powder, and salt. Stir the dry ingredients together and make a well in the center.
Separate the eggs, and place the egg whites in a large mixing bowl (or the bowl of a standup mixer). Add the egg yolks, olive oil, vanilla, coconut milk, lemon juice, and coffee to the well of the dry ingredient mixture. Whisk the liquid ingredients together in the center, then working your way outward, stir with the dry mixture until it's well combined.
Beat the egg whites with a hand mixer or standup mixer for about 1 minute, until they turn foamy. Add the reserved ¼ cup monk fruit sweetener, and continue to beat the egg whites for another 3-4 minutes or until they turn stiff and soft peaks form.
Fold ¼ of the egg whites into the chocolate cake batter, and repeat until all of the egg whites are combined. Be careful not to over-mix.
Pour the batter into the cake pan and bake at 325°F for 35-40 minutes, or until the center looks set and an inserted toothpick comes out clean.
Remove the cake from the oven and allow it to cool in the pan for about 15 minutes. To remove the cake from the pan, place a plate or cooling rack over the top of the pan and in a swift motion, invert the cake pan. The cake should fall right out. Remove the parchment paper pieces and allow the cake to cool completely before frosting it.
Frost with keto chocolate frosting (optional).
Notes
My cake pan recommendations are:
a round, 9-inch cake pan;
a 7 x 11-inch rectangular pan;
or an 8 or 9-inch square pan.

All of these sizes should also bake at the same time and temperature, but I recommend checking the cake at 30 minutes.
Nutrition information is for the cake only, without frosting. The nutritional estimate does not factor in the monk fruit sweetener since it's 0 calories, 0 net carbs, and 0 glycemic index.
Nutrition Information:
Yield:

10
Serving Size:

1
Amount Per Serving:
Calories:

149
Total Fat:

13g
Saturated Fat:

2g
Trans Fat:

0g
Cholesterol:

74mg
Sodium:

106mg
Carbohydrates:

4g
Net Carbohydrates:

1g
Fiber:

3g
Sugar:

0g
Protein:

4g
This nutritional information is approximate and is provided for convenience as a courtesy.